At this point, the Sabres' loss to the Philadelphia Flyers Sunday was predictable. The team has won just nine games in regulation in their last 40. Points of any kind are hard to come by. Goals feel like a fluke. Though there are still two-thirds remaining in this abbreviated season, the franchise is destined for a 10th straight year watching the playoffs, establishing a new level of futility in the NHL.
Players Are to Blame for Sabres' Misery
Unlike some years when the team lacked any star power, this season, there's some legitimate NHL talent on this team. The problem is they can't score. They can't defend. They can't stay healthy. And they can't catch a break.
Pick any stat you want… this team just isn't producing.
Jack Eichel, Taylor Hall, Eric Staal, Jeff Skinner and Kyle Okposo… $33 million in salary has produced three goals through 19 games.
The top-three in Sabres shots on goal this season all have shooting percentages under 4%: Eichel (3.8%), Rasmus Dahlin (2%) and Hall (1.9%).
Curtis Lazar leads the team in even-strength goals–he has as many as Eichel, Victor Olofsson, Sam Reinhart and Hall. Combined.
The Sabres have a league-worst 21 goals at 5-on-5 and 42 goals total through 19 games.
In what time continuum is it possible that Lazar leads the team in even-strength goals? How is it possible that so many goal scorers come to Buffalo and can't find the back of the net? It's like they immediately forget how to score.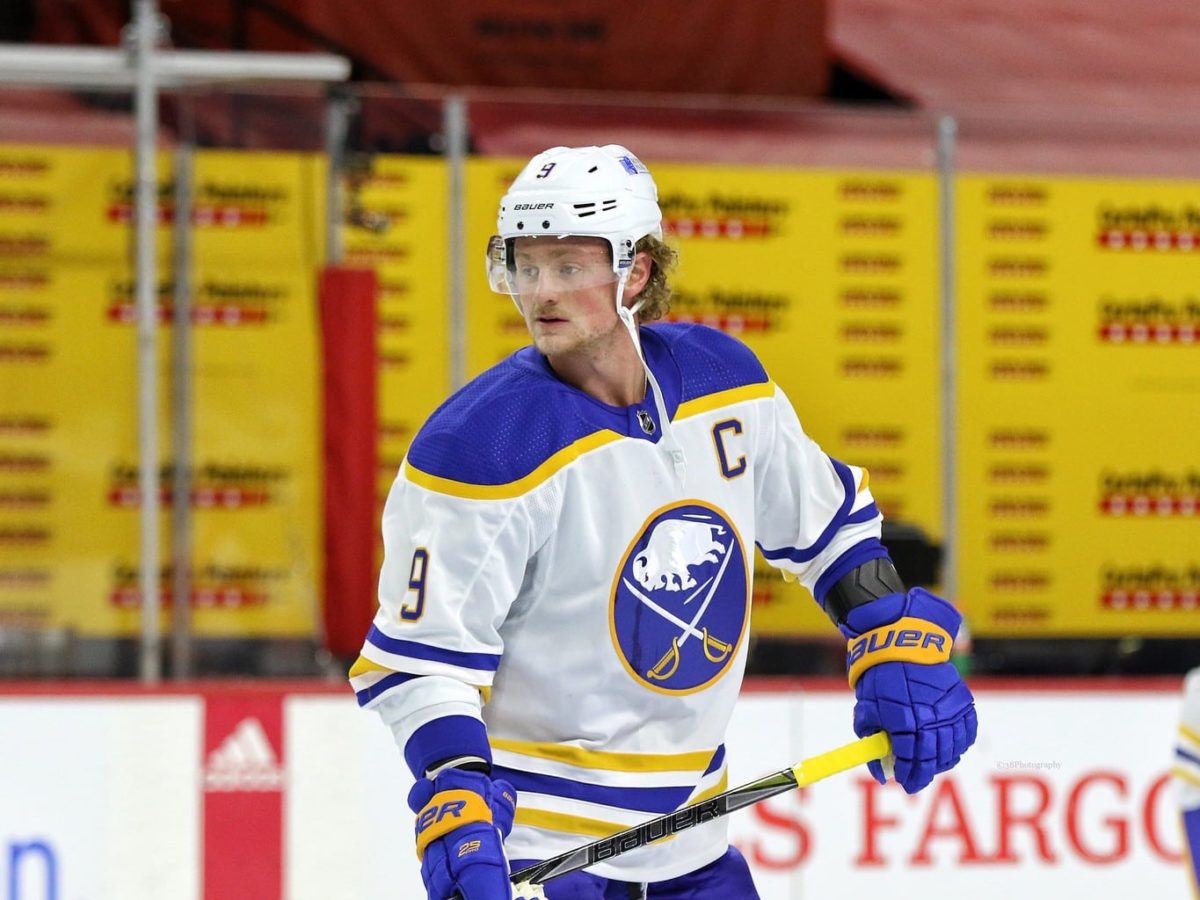 "For whatever reason, it seems like we're just pedaling really hard uphill," said Sabres veteran forward Eric Staal. "When you're struggling with confidence and you're struggling offensively, I feel like a lot of times with a lot of guys you're guilty of maybe doing too much and just not executing on the smaller details. Swimming hard, but just not all in the right direction. It kind of feels that way right now. It's frustrating, it's frustrating for everybody. But the only way you can get out of it is to get on the ice and we get a chance to do that tomorrow."
The 17-year veteran and Cup-winner can describe the problem but not define it. Hmmm. That's the coach's job. And it is the coach's job to share it and lead/coach his team out of it. If Ralph Krueger can't do it, he should be replaced. If he can decipher the problem but the players can't execute, then the players need to be replaced.
Krueger is to Blame for Sabres' Misery
After the second of two 3-0 shutout losses to the Flyers this weekend, Eichel was quick to deflect the blame away from his coach. "The coach is not on the ice. We're on the ice. That's the way I see it. It just seems like we're off. Doesn't seem like we're on the same page."
While Krueger's not on the ice to score a goal or make a save, his system and style of leading clearly aren't working. Like his predecessors Phil Housley and Dan Bylsma, he's having a hard time finding points, let alone a goal, or a faceoff win.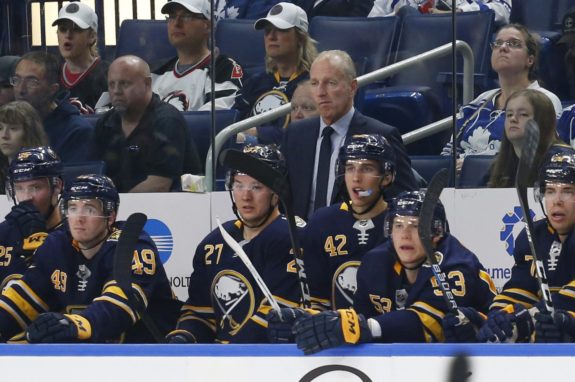 Krueger, previously thought to be a well-spoken, motivating leader has had some real doozies lately. Recently everything he says sounds either like a tired cliché or requires such a stretch that fans just don't want to hear.
"You can see that pretty well right through the night they just had a higher level of energy in the battles," said coach Krueger after the loss Saturday.
Skinner and the System
Sitting Jeff Skinner, a veteran goal scorer with a hefty $9 million contract, for three games is just silly, if not obstinate and stubborn. Deploying him in the defensive zone for nearly two-thirds of his shifts isn't a good look either. The underlying feud does not reflect well on either individual or the organization.
Hockey is an absurdly fast game requiring instincts and positioning. Is Krueger's system so cerebral that it's overcomplicating his players? Is it holding back players from success? Are the players just not dialed into his Tony Robbins leadership style? It's hard to believe that every player on this team is a notch below their opposition. A roster with Eichel, Hall and Staal as C1, C2, C3 and Ramus Ristolainen and Dahlin as the top two defensemen should be a playoff team at the least. Is it possible that with the possible exception of Olofsson, every other player is just not good enough?
Heart Issues
In his first game back from being seriously ill with COVID and having cardiac complications, how in the world can Krueger play Ristolainen over 15 minutes through two periods? He finished with 22 minutes, 18 seconds of ice time–the most of any Sabres player, let alone among defensemen.
Speaking of heart issues, where's the team's heart? Teams can lose and still show a fight. For too many nights, this team looks as though the effort isn't there. A great coach would have his players killing themselves for one another.
Struggling first overall pick Dahlin looked completely stymied in his post-game interview Sunday. "I'm very embarrassed. This is not acceptable," he said. "We have to find the competitiveness in the team. We will keep losing if no one is competing. Do all the gritty stuff. Hit someone. A fight. I don't know. But the team we have right now should not be losing like that."
Short Leash for Krueger?
Krueger's NHL coaching record with the Edmonton Oilers and Sabres is 55-62-18. That's 55 wins in 134 games. Hockey is a sport, but it's also a business and this team is failing miserably. While bringing in a new coach won't solve all the ills–it may be the right move. Be it Scotty Bowman, Bruce Boudreau or Gerard Gallant, this team desperately needs a proven coach that has had success. There's no time to roll the dice with new blood and hope winning follows.
When asked Sunday if he had any concerns about his employment status as the Sabres coach, Krueger quickly replied with a wide grin, "Absolutely not."
Krueger's style may be very good, but it's not at all a match for the current roster. Very few players have blossomed under him.
Scouting Is to Blame for Sabres' Misery
Where's the pipeline of new, game-changing blood? Where's the hard-hitting defenseman that strikes fear or at least some hesitation into opposing forwards? Where's the power forward that can create space with some snarl and nastiness?
Oh, that's right, the entire amateur scouting department was basically let go in a bloodbath of cuts last summer. This franchise, despite having nearly a dozen first-round picks on their roster, fails nightly.
General Manager Is to Blame for Sabres' Misery
Newbie general manager Kevyn Adams, who replaced Jason Botterill, was forced to fill holes on a roster that had the third-most unrestricted free agents of any team after the end of the 2020-21 season. He inherited a mess and flipped much of the roster in very little time.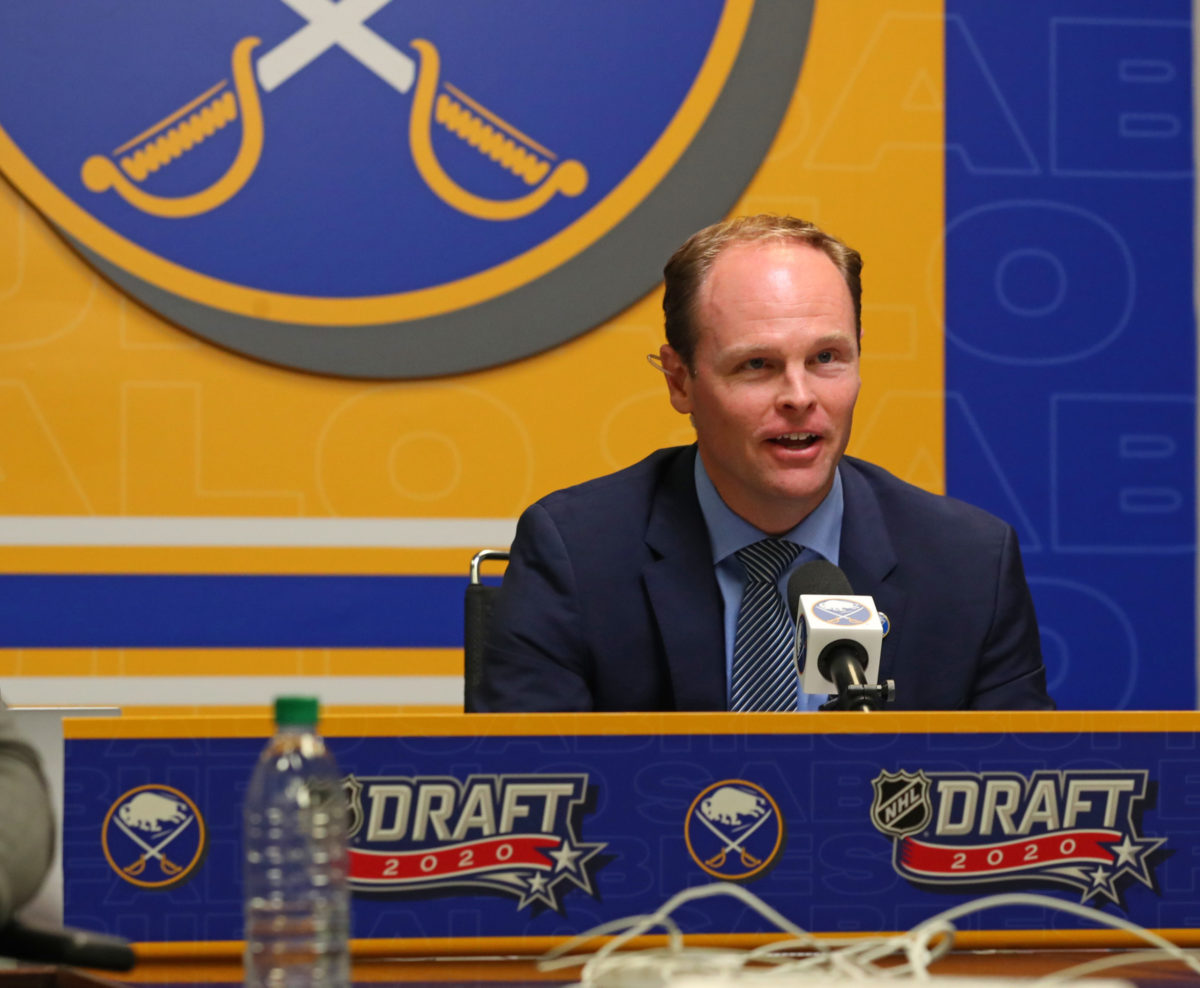 Adams brought in former NHL MVP Hall, veteran and Stanley Cup winner Eric Staal as well as Tobias Reider and Cody Eakin. He tried. Were these stop-gap measures for a season or just an utter lack of understanding of what the team needs?
In a league where half the teams make the playoffs every season, trying isn't good enough. Being new, cleaning an inherited mess, having no general manager experience, etc, are all excuses. Welcome to the top league in the world. This is no time to learn or try. Listen to Yoda; "Do. Or do not. There is no try." Recognize that your team has been terrible and still is. Recognize that your $100 million star is exasperated. Take action!
Ownership Is to Blame for Sabres' Misery
Terry and Kim Pegula are very successful business people; they're not hockey gurus. They've hired multiple guys who wanted to form a "caring" relationship with the players, the "friend" model; the "have a cup of coffee" with them thing. That certainly can work. But almost as often, the Bowman-Herb Brooks-Jack Adams-Mike Keenan-Pat Burns-John Tortorella intense fear style works.
At the season-ending media day, Ristolainen, an eight-year veteran with more than 500 games played as a Sabre basically said that he thinks the team needs to be held to a higher standard.
"I've been in Buffalo for seven years, and I've been losing every single year. It's tough, and I hope we're done," said Ristolainen in 2019. "I think winning, it's tough and maybe I would like to see sometimes in practice or in the room when you guys don't see guys going after each other, you know… It's not easy to win here. Everyone in the room should be hard on each other."
"Thank god I'm not the GM or management, so I don't need to think about all of those things. I've been [thinking] and I don't really have the answers."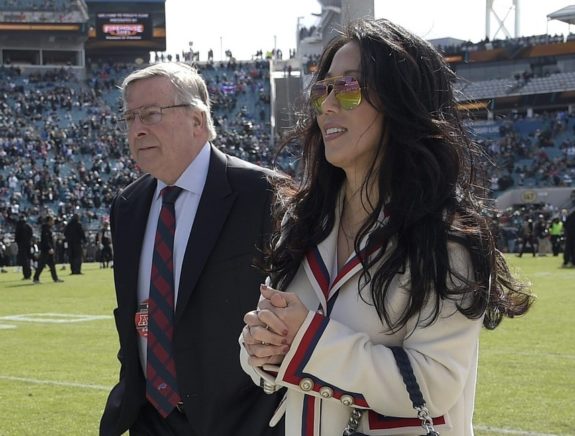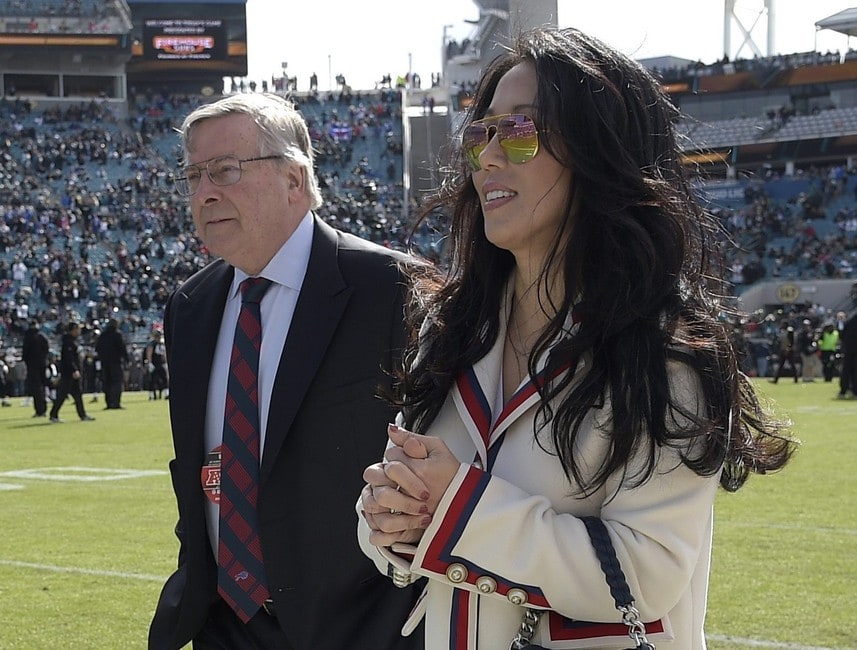 It's doubtful they're going to pink slip Krueger. They're already paying several others in their empire not to coach.
Since the Pegulas took over, the Sabres have fired three general managers and five head coaches. Not to be forgotten, Ryan O'Reilly was run out of town after admitting that he had become complacent with losing. His personal accountability of needing to be better after losses was fuel for being dealt. We won't even go near the details of that trade. Even captain Jack Eichel told reporters last year that he was "fed up" with losing.
The Pegula tandem consistently thinks they know what's right. "We believe in acting and not reacting to certain situations," said Terry Pegula in June 2020. "We as owners had a vision to where we need to go during these uncertain times."
They are clearly part of the problem, rubber stamping substandard results and hiring unknowns. What is their plan? It should be to hire a truly competent Director of Hockey Operations and then get out of the way.
One Consistent: Sabres Fans Are Suffering and Miserable
Regardless of where any of the blame falls–and there's more than enough to go around– one thing is certain: Sabres fans are suffering. It's a new low for the franchise. This team is just painful to watch.
Sabres fans have thick skin. They're willing to support their team in good times and in bad. This year's team is struggling in so many absurd ways that for many, it's testing their will to continue rooting for them. They're becoming numb to the misery. It's just no longer any fun. Even the cardboard cutouts in the stands have been leaving the game early in the third period.
It's almost a blessing that there's a pandemic going on, as fans don't have to witness this team in person. Even when doors open up to fans, the performance on the ice­–not COVID-19–will be the reason fans stay away.
Turning Things Around in Buffalo
Clearly, something's not right in Sabreland and it hasn't been for over a decade. This franchise still has not recovered from two seminal moments­: July 1, 2007, arguably the darkest day in Sabres history when Chris Drury and Danny Briere were not re-signed and walked away for nothing, and Nov. 12, 2011, when Milan Lucic steamrolled Ryan Miller.
It's been more than a decade since this franchise has played a meaningful game in March, much less competed for the playoffs. The team is broken in so many ways and the blame can be found in many places.
This may be a case of a coach not getting enough from his players. Or it could be that the players just aren't good enough. Or both. Fans are miserable. The players may be, too. The front office had better figure this out quickly before lifelong fans don't just leave. Worse, they become apathetic. Diehard fans who once set a clock or mark their calendars now only. casually watch a period here or there for fear of wearing the grief that goes with such a pathetically performing team. That notion would've been unthinkable a decade ago. Sabres fans still want to see their team succeed but know the feeling of regret all too well­– that the two and a half hours they've spent will never be recouped.
Last May, Ristolainen spoke candidly. "So, I mean, Buffalo has a bright future. But we've been saying the bright future for seven years now, when I've been here, and not sure when is it."
"Obviously, it seems like Groundhog Day I'm sure for a lot of the guys who have been here and just saying, 'Oh, we're going to be better next year, we need to be better,'" said Okposo. "But it's something that requires action and it requires a change."
The irony of the content and who's saying it is palpable.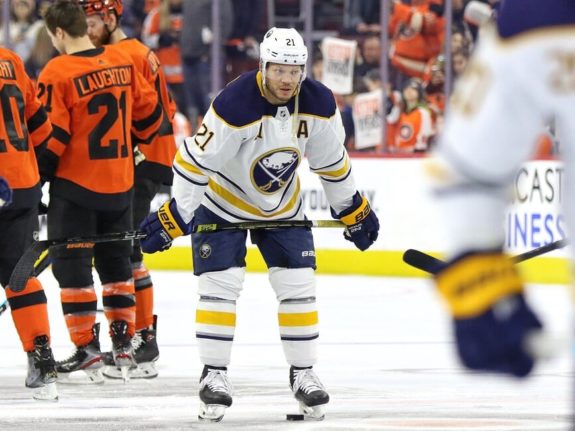 In 2011, after purchasing the franchise and being introduced as the fourth owner in franchise history, Terry Pegula proclaimed. "Starting today, the Buffalo Sabres' reason for existence will be to win a Stanley Cup."
Since Pegula took over 10 years ago, the Sabres have had some of their worst seasons in franchise history. They have fewer wins than any other team [excluding the Vegas Golden Knights, who joined the league in 2017-2018.] They own the longest playoff drought in the NHL and have a 281-355-94 record.
Pegula went on to state that Buffalo would be Hockey Heaven. Truth is, it's a lot closer to H, E, double hockey sticks.
---
---
Jeff has been covering the NHL for over a decade for various sites. He's been with The Hockey Writers as a lead Sabres writer three years, while also writing a satire column called "Off the Crossbar."