The Buffalo Sabres are suffering from a cold spell and constant roster movements will only make things worse. In the wake of another loss to a top-end team, they have continued to look flat beyond only a handful of players contributing. Alex Tuch, Owen Power, and Tyson Jost all have been the best players the Sabres have in recent games, and it is time that coach Don Granato starts moving the lines around to maximize the abilities of each of them.
The Sabres' top line is still a constant scoring threat due to the sheer skill possessed by each of them, but in recent games it has been Tuch driving the plays more than the other two. The second line was torn apart as Granato sat both JJ Peterka and Jack Quinn in favor of Rasmus Asplund and Vinnie Hinostroza, but they all have failed to produce anything offensively. The third line has been reliable and hardworking, and it has given a jump to goal scorer Victor Olofsson's numbers. Their fourth line is the epitome of work ethic, and captain Kyle Okposo is the key piece of any line he is a part of. As the line combinations of late have not been producing like before, it is time that they shuffle things up to reinvigorate all aspects of their game.
Sabres' Goalie Carousel Needs to Stop
The Sabres recently called Ukko-Pekka Luukkonen back up to their team, and that has put them in a small bind since they now have three goalies on the active roster. He has shown that he deserves the bulk of starts between him and Eric Comrie, so the question remains, which goalie takes the backup position? Comrie has not looked very good since his return from injury, but he has youth on his side. Craig Anderson has been the Sabres' best goalie all year, but his age has not allowed him to play a starting role this year, so they can only use him at a limited capacity. Anderson should be the one backing up whoever starts between Comrie and Luukkonen, but Granato is more likely to run with his youthful goalies on nights Anderson does not play.
---
Latest News & Highlights
---
They need to pick a starter and then commit to a backup, or the rotation will be strange as they try to shuffle three goalies in. This will throw off the team as a whole and the momentum any of the three goalies gains from winning games will be lost. They have a great call-up option in Malcolm Subban who plays for the Rochester Americans, so they have added insurance in the minors should anything injury related come up. The best choice for starting is Luukkonen, and the best choice for a backup is Anderson. Comrie should be moved to another team in order to establish the tandem that they want to use going forward.
Sabres' Defense Needs More Chemistry
The defensive line pairings have been fairly consistent when the key roster players are healthy. Rasmus Dahlin plays with Mattias Samuelsson, Owen Power plays with Henri Jokiharju, and Jacob Bryson plays with Ilya Lyubushkin. As of late, these combinations have not been nearly as good as they should be, and that makes it the best time to adjust them. Dahlin has looked average for the last couple of games, and that does not bode well for his All-Star vote hopes. Power, on the other hand, has looked fantastic in both zones. He finally looks like he is gaining the confidence that he needed earlier in the year, and he is creating more scoring chances while being a top-end defensive option in the Sabres' own end.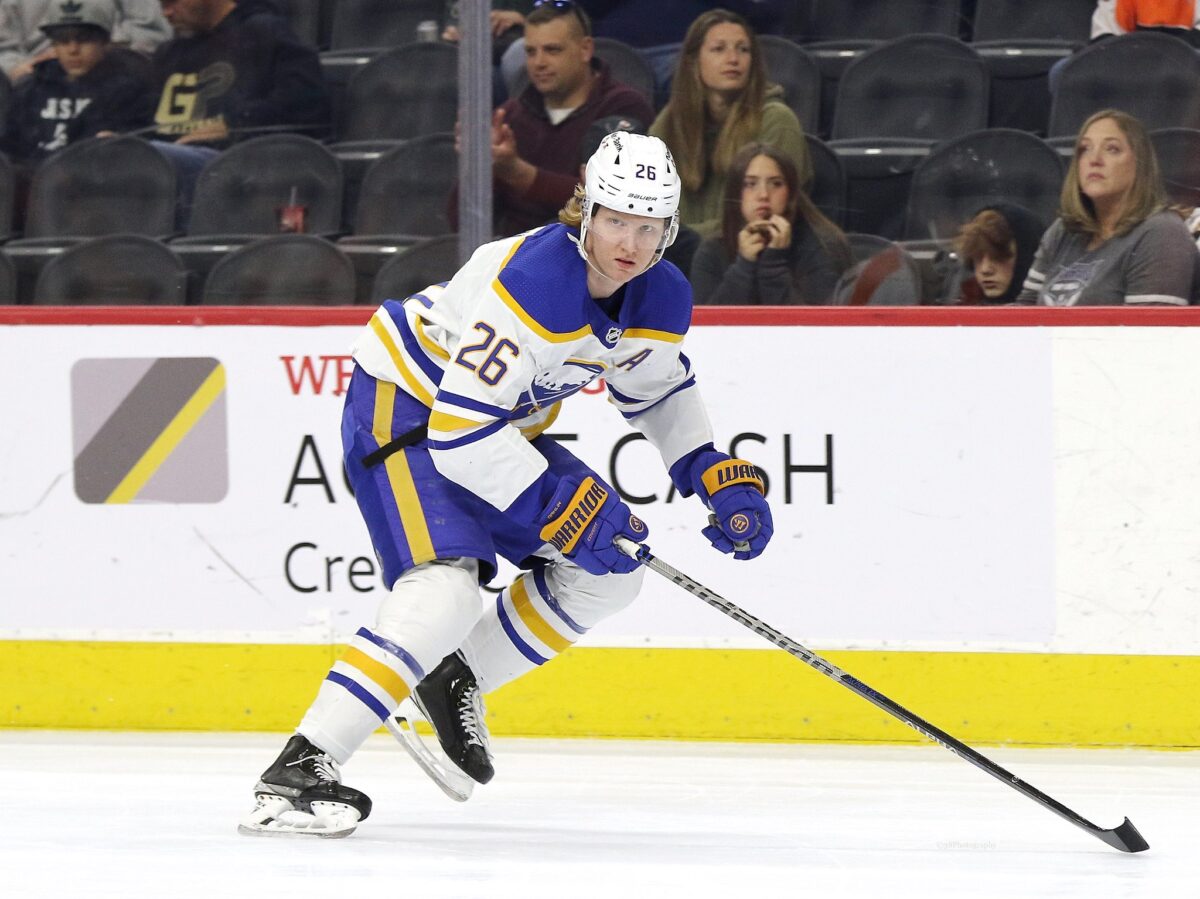 The rest of the defense has looked fairly average as a whole, so switching things up to give a spark is exactly what they need. The defensive pairings that would provide a different, but better, look would be as follows:
Pair 1: Rasmus Dahlin – Owen Power
Pair 2: Mattias Samuelsson – Ilya Lyubushkin
Pair 3: Kale Clague – Henri Jokiharju
Coach Don Granato has consistently used the Dahlin and Power pairing late in games when they need to score, so pairing them together more regularly makes sense from an offensive standpoint. Both of them are playmakers, but Dahlin has a better finishing ability than Power, so they both can play off each other's strengths. Samuelsson is easily the best defensive option that the Sabres have each night, and it would benefit the team as a whole if he had a partner that played similarly to him. They need a designated "shutdown" pairing to put out in pressure situations, and Samuelsson and Lyubushkin would act as that pairing. The third pair of Clague and Jokiharju would lock down any ice time being unused by the top two pairs, while Jacob Bryson is the odd man out. Dahlin and Power both have good defensive instincts, but they are both more offensively inclined, and prone to mistakes leading to scoring chances the other way; a lesson Dahlin learned firsthand against the Winnipeg Jets during their most recent home game.
The Sabres need to make these adjustments in order to get more consistency from their defensive and offensive players. As the defense shores up its problems, the offense will only improve along with it.
Sabres' Offense Needs To Maximize Scorers
The Sabres need to start making proper use of players that put the puck in the back of the net. In recent games, rookies Quinn and Peterka have been scratched in favor of Asplund and Hinostroza, and they were simply substituted into the lineup alongside Dylan Cozens. They do not possess the same level of offensive talent as the two kids do, and are better suited in a lower part of the lineup. Cozens has been one of the best offensive contributors this year, and he deserves to have wingers that can match his energy, or finish the chances he creates.
The top line of Tage Thompson, Alex Tuch, and Jeff Skinner remains their best scoring threat, but on nights where they are being shut down, there needs to be offense coming from players other than Cozens and Dahlin. The third line of Casey Mittelstadt, Tyson Jost, and Victor Olofsson has been very good at contributing, but their skills can be moved to different lines as things get spread out. The fourth line of Peyton Krebs, Kyle Okposo, and Zemgus Girgensons is the hardest working line on the team, and they create chances by sheer will. The Sabres need to maximize the skills being shown by these different players, and they could do so with lines that look like this:
Line 1: Tuch – Thompson – Skinner
Line 2: Olofsson – Cozens – Jost
Line 3: Peterka – Krebs – Mittelstadt
Line 4: Okposo – Girgensons – Quinn
The first line can stay intact, as the only thing that needs to be fixed there is the effort level on some nights. That line does not need to be changed, because when at least one of them is going strong, the others follow suit. The second line gives Cozens exactly what he needs; a goal scorer who can finish what he starts, and a workhorse to match his motor and energy. Jost has been playing some great hockey, and he deserves a look in the top-6 forward group. Putting him with Cozens will only benefit them both as the top-6 gets stronger.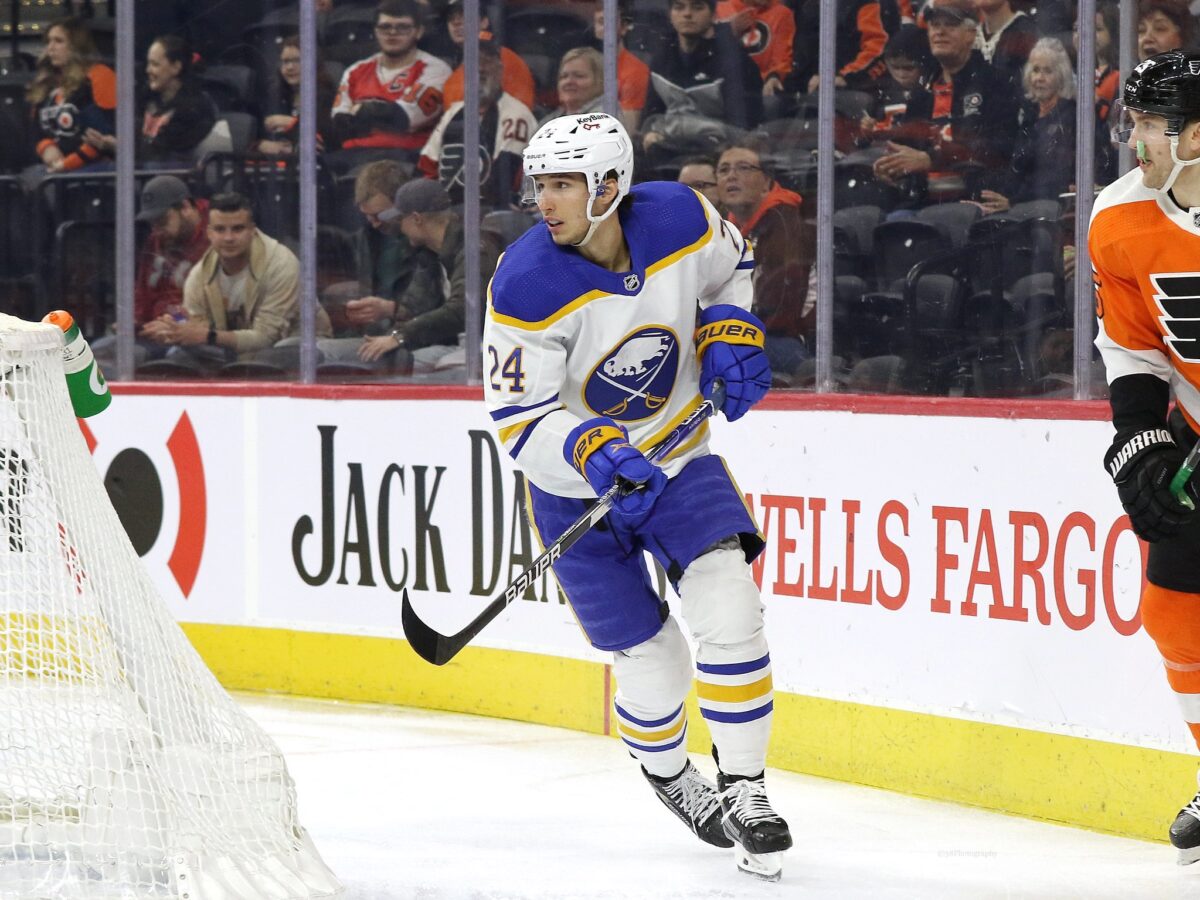 The third line rewards Krebs for all of the effort he has been putting in on the bottom line, and puts him with a couple of players that have just as much creativity as he does. Mittelstadt is the finisher of the line, but he has good enough playmaking skills to set up either of the other two. The bottom line still features Okposo and Girgensons, but it adds in Quinn who needs to learn the same lessons that Krebs has been. On nights where he is invisible (which is most) he needs to be contributing elsewhere in the game, and there is nobody better than the captain to teach him.
Sabres Power Play Needs Adjustments
The Sabres do have one of the best power plays in the league, but they rely too heavily on Dahlin and Thompson for their success in that department. They play a strategy that sets players up for one-timers, but they fail to have a man standing in front to take away the goalie's eyes. The skill of the players used on each unit is not the problem, but rather it is their utilization. To optimize their power play, the lines should look like the following:
PP1: LW Thompson – C Cozens – RW Tuch – LD Dahlin – RD Olofsson
PP2: LW Quinn – C Mittelstadt – RW Skinner – LD Power – RD Peterka
To explain the position choices, they run an umbrella style power play, so the breakdown would be: the left defensive position is the lone point man, the right defensive position is the one-timer option for the right side, the left wing position is the one-timer on the left side, the center position is the net-front player, and the right wing spot is for the one working things down low and behind the net.
Related: Sabres Must Find Consistency in Second Half of the Season
The Sabres need to start using one-timer options from both side of the ice for their power play, so not every shot is expected to come from Dahlin or Thompson. Olofsson is the best left-handed shot they have, and opposing teams should be quaking in fear wondering which side the 100 MPH slap shot will be coming from. The second unit uses more finesse than the first, so they can adapt to a slightly different strategy if the power driven strategy is failing on a particular night.
Adjusting Will be Important if Sabres Hope to Make the Playoffs
Granato has not been shy to adjust his lines on the fly when things aren't going well, but the changes need to be made to the core of the lineup. Changing how everything is setup on the defensive end will make them more efficient, changing the goalie structure will give the defense more consistency, and the optimized use of the offensive players will only make the goal totals go up. The Sabres have all the tools that they need to make the playoffs, but now they need to shift and make necessary changes like a playoff team can. They cannot get stuck in their habits, or they will end up on the outside looking in for yet another year.
---
---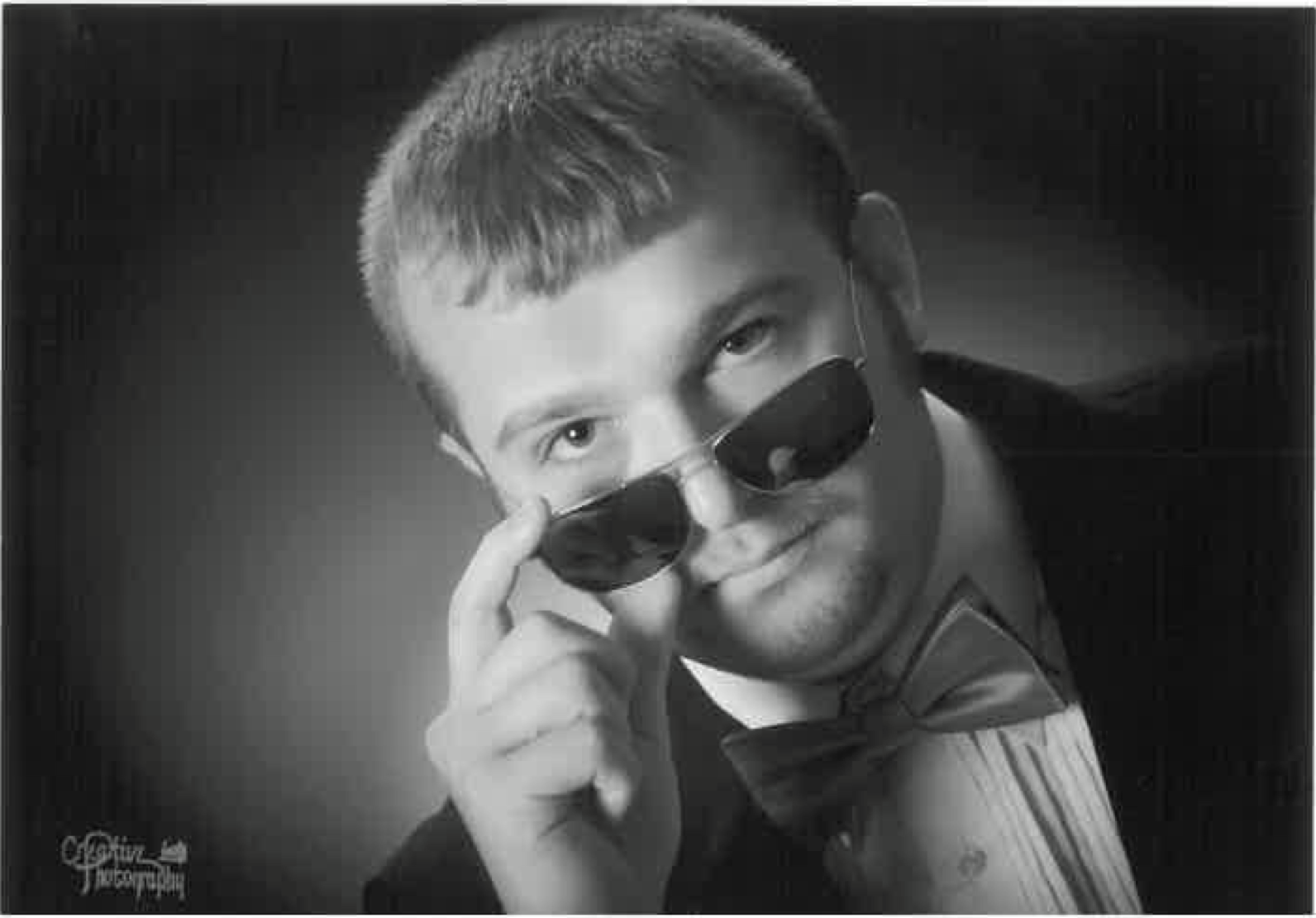 I have been a hockey and Buffalo Sabres fan since I was in middle school. Through the good times and the very long bad times, I have stuck by this team with the hope that one day we would become a powerhouse in the NHL. Now I join The Hockey Writers as I hope to talk about this Buffalo Sabres team on an upswing. I love this team with all my heart, and I take pride in my ability to know players, prospects, and so much more. As a hockey fan I have a particular taste for young players and prospects; doing mock drafts, looking up stats, guessing potential, doing player comparisons, all of it. The idea of the future skill in the NHL is one of my favorite things to think about, write about, and talk about. I am also an avid NHL gamer with a top ranked team in the "Threes Eliminator" mode.