On Friday (Feb. 24), the Buffalo Sabres beat the Florida Panthers 3-1 on the road. They were led by Jeff Skinner, who scored two goals, and goalie Craig Anderson, who made 53 saves. The Panthers are Anderson's former team – he spent three seasons with them. Interestingly, his off-season home is close to the stadium.
Related: They Wore It Once: Sabres Players and Their Unique Numbers
With the win, the Sabres have now reached 64 points. With the Detroit Red Wings losing on Saturday night, the Sabres remain in a three-way tie with Detroit and Florida for the final playoff spot in the Eastern Conference. Should the Sabres make the Stanley Cup playoffs, it will be the first time since 2011. That's currently the longest postseason drought in the NHL.
---
Latest News & Highlights
---
Other than Skinner's two goals, Alex Tuch scored the team's third goal. It came with the man advantage. Thompson registered three helpers, and Skinner's second goal of the night was his 24th of the season. 
The Sabres' tenacity was not lost on head coach Don Granato, who praised his team's grit, competitiveness, and pride. 
In this edition of Sabres' News & Rumors, I'll take a look at the news emerging from the game as well as other thoughts about the team as it continues its push toward the postseason.
Item One: Tage Thompson Has Second-Straight Three-Point Game
Thompson had a strong game against the Panthers, registering three assists (one came on the power play). Although the Sabres are not yet an elite NHL team, they have an elite NHL line. Thompson is part of the Sabres' top line, which also includes Skinner and Tuch. That threesome scored all of the team's goals in Friday night's game.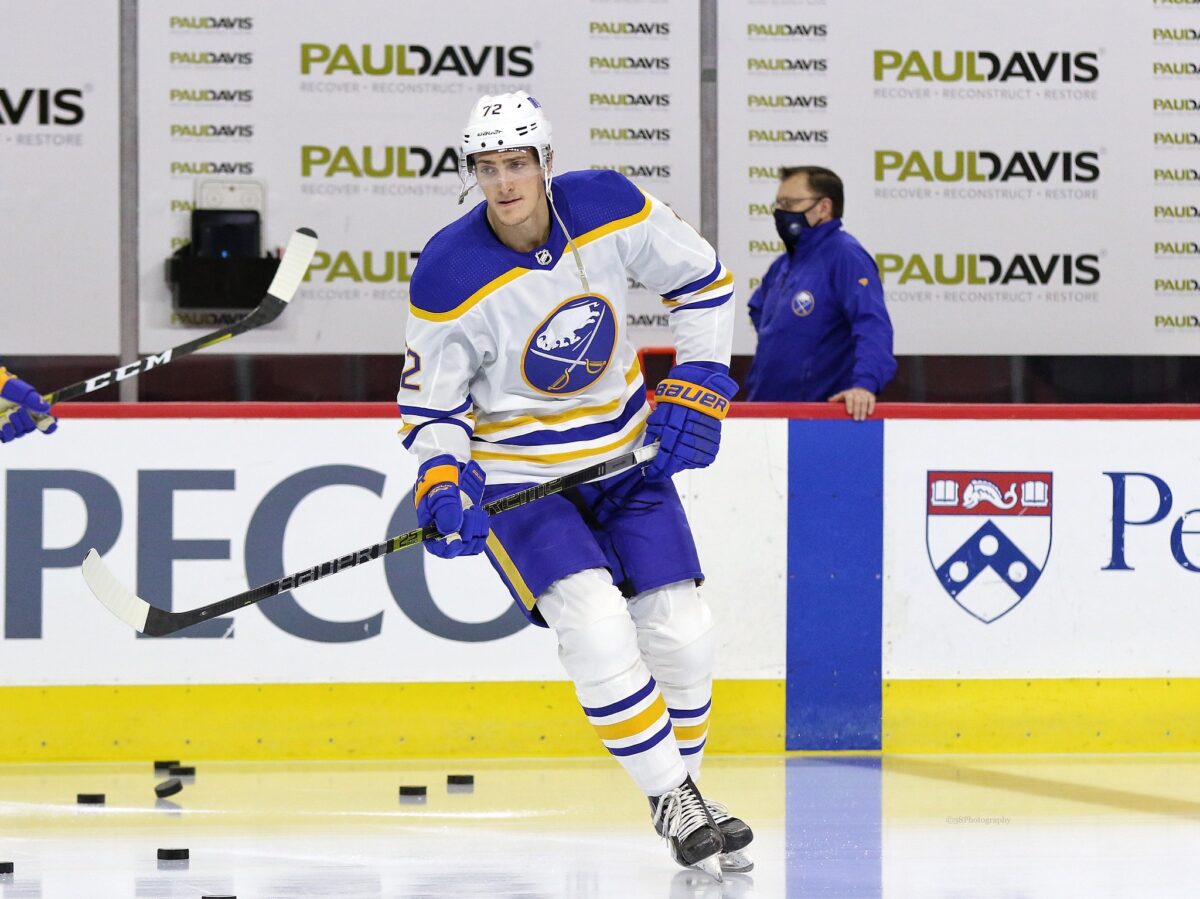 It was also Thompson's second straight game where he collected three points. He had scored a hat trick in his team's 6-5 overtime win in Tampa Bay against the Lightning. 
What a great season for Thompson. In his 57 games played, he's now only a single goal away from reaching his first-ever 40-goal season. Furthermore, he's now within two points of reaching 80. That ties him for fifth place in NHL scoring with Matthew Tkachuk. The only players ahead of him are the two Edmonton Oilers' stars Connor McDavid and Leon Draisaitl, Tampa Bay's Nikita Kucherov, and the Boston Bruins David Pastrnak.
Item Two: Goalie Craig Anderson Certainly Doesn't Act His Age
When Zdeno Chara retired from the NHL prior to the season, Anderson became the oldest active player in the league. He turned 41 years of age last May. When the Sabres signed him to a one-year deal, who would have believed he could play this well? 
Related: Senators News & Rumors: Murray, Gudbranson, Watson & More
Friday night, Anderson made 53 saves to steal one from the Panthers. Although his team was outshot 54-35, he took a shutout into the third period. It was his first win since Jan. 23. 
Those 53 saves tied his career high and set a new Sabres franchise record for stops in a win. In addition, he became the first goalie in his 40s in NHL history to make 50 or more saves in a game.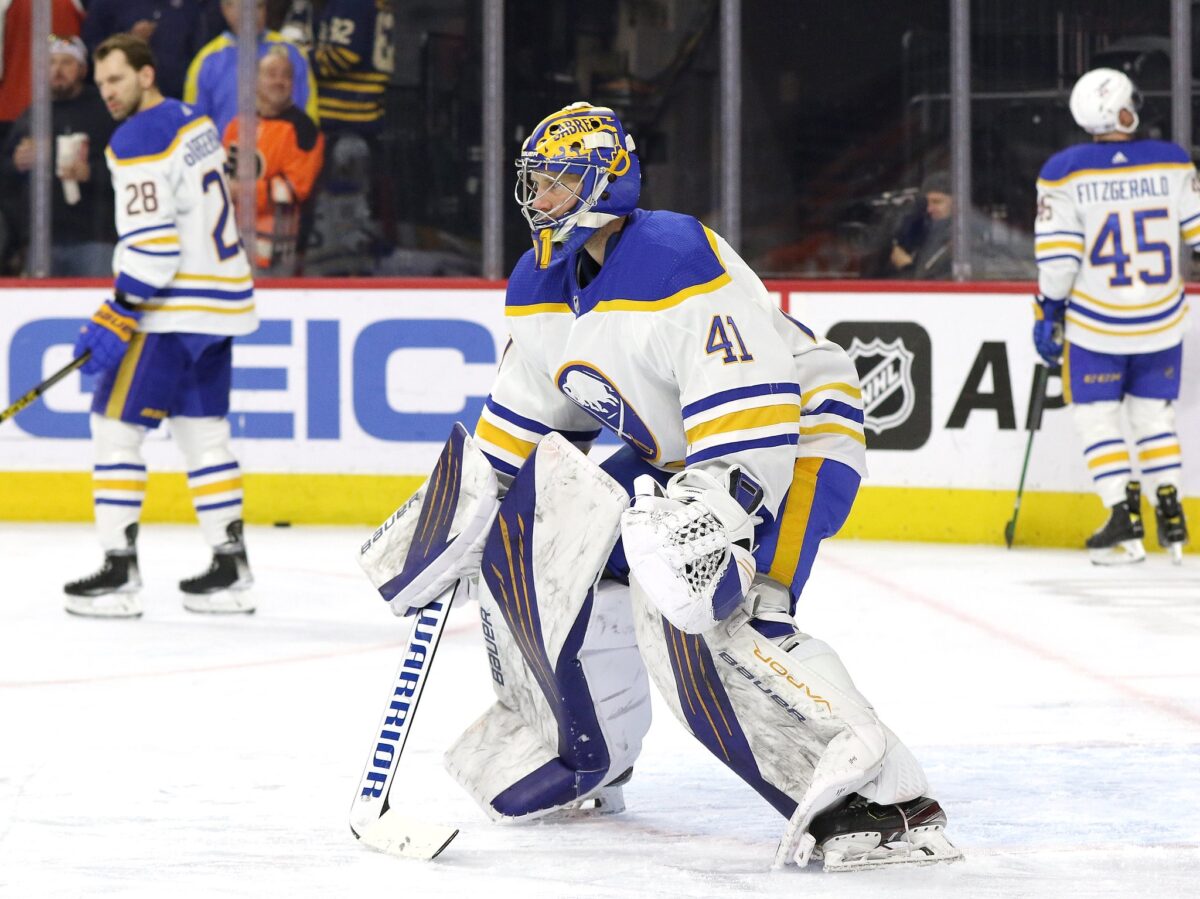 It was Anderson's second-straight solid game. Tuesday night, he stopped 17 of 18 shots in a relief appearance against the Toronto Maple Leafs. After Friday night, in 20 games this season, his record on the season stood at 9-7-2, with a goals-against average of 2.70, and a save percentage of .920.
Item Three: Jeff Skinner Is Having His Second-Straight Strong Season
It's becoming transparently clear which team won the Aug. 2018 trade that brought Jeff Skinner from the Carolina Hurricanes to the Sabres. In exchange for the productive left-winger, the Sabres gave up Cliff Pu, a second-round pick in the 2019 Draft (Pyotr Kochetkov), a third-round pick in the 2020 Draft (Alexander Nikishin), and a sixth-round pick in the 2020 Draft (Evgeniy Oksentyuk). Three of those players who moved to Carolina are now playing in the Kontinental Hockey League (KHL) and the third (Kochetkov) plays with the American Hockey League's Chicago Wolves.
Related: Sabres Continue to Disappoint in Important Games
In Skinner's first season with the Sabres (2018-19), he played all 82 games and scored 40 goals. Those were followed by two COVID-19-impacted seasons where he scored 14 goals (in 2019-20) and seven goals (in 2020-21). However, last season he bounced back with 33 goals and 30 assists (for 63 points) in 80 games. And this season, he's already scored 24 goals and added 34 assists (for 58 points). 
Friday night's game against the Panthers is becoming typical. Skinner scored twice in the 3-1 win. His first goal started the scoring and his second gave his team some space to relax. With these goals, he now has a five-game point streak. In addition, his second goal pushed him to the 600-point mark – exactly.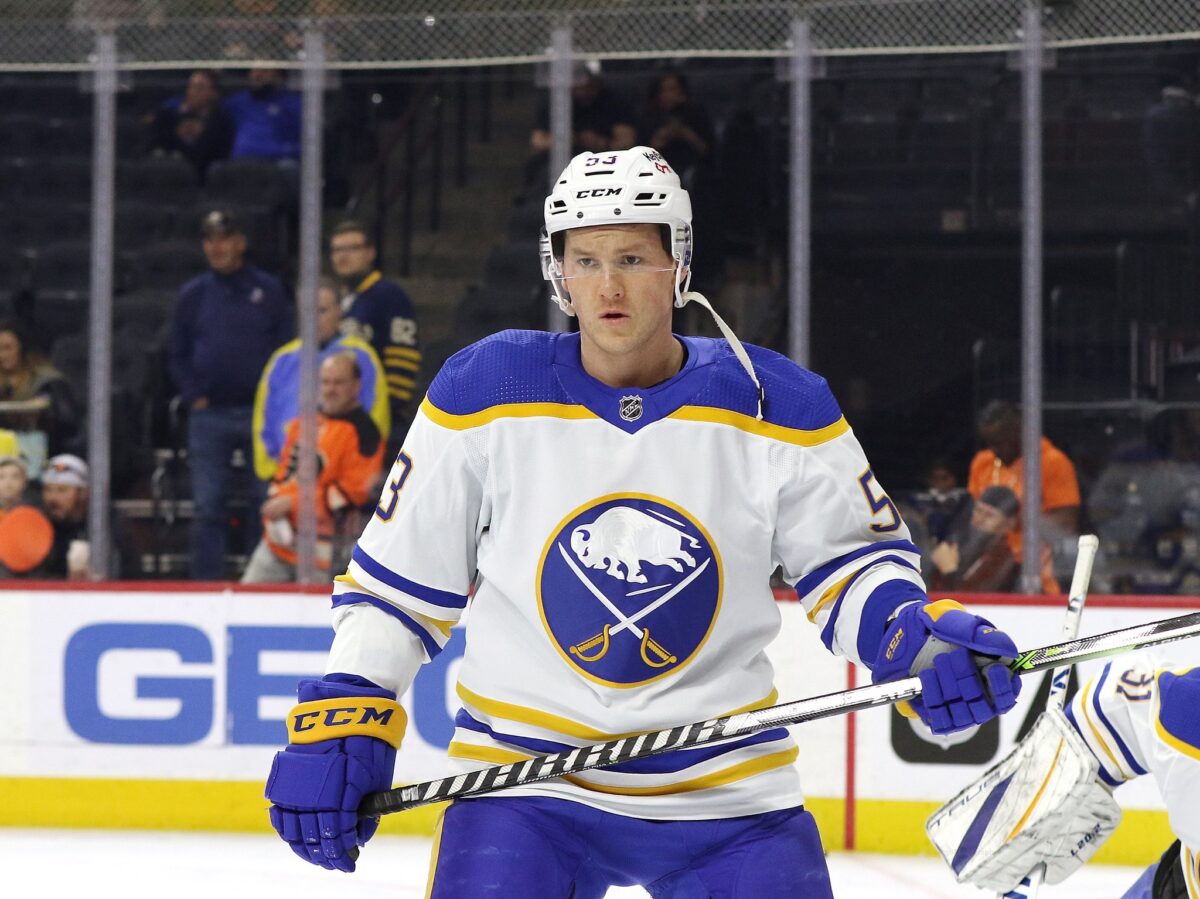 In his last five games, Skinner now has four goals and eight points. He's on pace for a career-best season after only 54 games.
What's Next for the Sabres?
Surprise. Going back a game to Tampa Bay, it's hard not to tip your hat to Ilya Lyubushkin's achievement. Boosh scored a shorthanded, game-winning overtime goal (unassisted by the way) against the Lightning. 
That hasn't happened since 1937 when the New York Rangers' Ott Heller pulled it off. Of all the Sabres' players who might have done it, what are the odds of Lyubushkin being that player?
Related: What We Learned from the Toronto Maple Leafs' Win Over the Sabres
Speaking of odds, given now that sports betters can place a wager on almost everything – including how many times Skinner wipes his visor while he's sitting on the bench during a television commercial – how much do you think the winner of that wager made?
---
---