One of the most discussed topics leading into the 2017-18 season for the Buffalo Sabres was the future of Sam Reinhart. He was coming off a disappointing sophomore season after a promising 23-goal campaign as a rookie.
Those hoping Reinhart would bounce back in year three have been let down and then some through 32 games so far. So what will general manager Jason Botterill do with the former first-round pick moving forward?
Reinhart Struggling to Live Up to the Hype
Other than Robin Lehner, there's no more divisive player on this team for Sabres fans than No. 23. Regardless of how strong the draft class in 2014 was, when Reinhart was the second pick overall, high hopes and expectations were placed on him the minute he donned the blue and gold for the first time.
He was key to the beginning of Tim Murray's plan to rebuild this franchise. However, Sam only has 11 points so far this season and we're left to wonder if he makes it past the Feb. 26 trade deadline as a Sabre.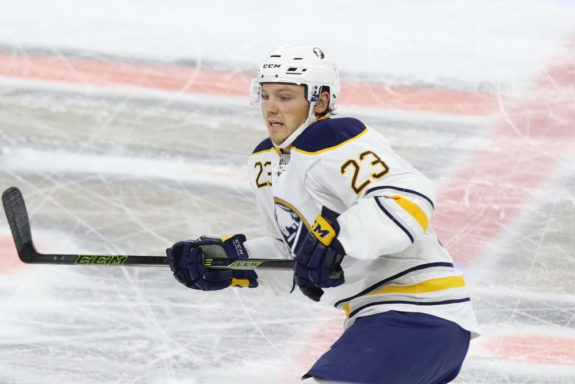 Reinhart's lack of production is all the more obvious by how one-dimensional of a player he is. The 22-year old doesn't kill penalties, block shots or bring any kind of physical presence to the game.
His inability to win one-on-one battles in the corners and his unwillingness to take a beating in front of the net make him an easy target for criticism. Simply put, he's the softest player on a team full of underachievers that have no bite to their game whatsoever.
Sabres Want to Avoid Repeating History
This entire discussion about whether the Sabres should move on from Reinhart brings to mind a former Buffalo player that many would agree the team gave up on too early. After Ray Sheppard scored 38 goals as a rookie in 1987-88, he struggled the next two years and was ultimately sold to the New York Rangers for $1.  Sheppard went on to have eight more 20-goal seasons in the NHL, including a career-high 52 with Detroit in 1993-94.
Although Sheppard wasn't a lottery pick like Reinhart, they share many similarities. Ray was never known for his physical play either, and his lack of grit was the biggest contributor to landing him in the doghouse of then-coach Rick Dudley. However, much like Sheppard, Reinhart has great hands around the net and enough talent to score 25-30 goals in this league.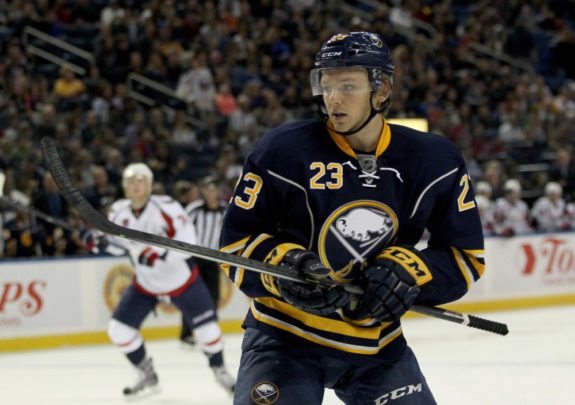 Lucky for Sam, it's Phil Housley behind the bench and not Dudley. The Sabres' rookie coach could benefit, though, from making Reinhart watch video of Theoren Fleury or the poor man's modern-day version of him, Brad Marchand. Something, anything for that matter, that inspires or motivates the young Sabres forward to develop a mean streak in his game.
It's hard to believe that Reinhart's 6-foot-1, because he gets knocked off the puck so easily most nights. If "smaller" offensive players can learn anything from the likes of Fleury and Marchand, it's that a good crosscheck to the face or slash to the back of the legs can earn you some room in the high-traffic areas in front of the net where desire means everything to your success there.
Arbitration Looming?
The two most likely scenarios for Reinhart's future with the team are either a trade or salary arbitration next summer. Unless he has a huge second-half turnaround, it's doubtful the Sabres will offer him a lucrative, long-term deal.
Reports surfaced last year about Reinhart's demeanor and the difference in his work ethic from year one to year two, and his performance thus far this season certainly isn't worthy of a substantial raise. If Botterill doesn't trade him, it seems likely the Sabres would only make a qualifying offer to the restricted free agent. Whether or not he would accept it remains to be seen, if the situation plays out this way.
For argument's sake, let's assume he doesn't. Then the next step is arbitration, which can often have a lasting effect on the relationship between team and player. It would make more sense for the front office to trade him before it came to that, especially if he were awarded a figure from which the Sabres would want to walk away.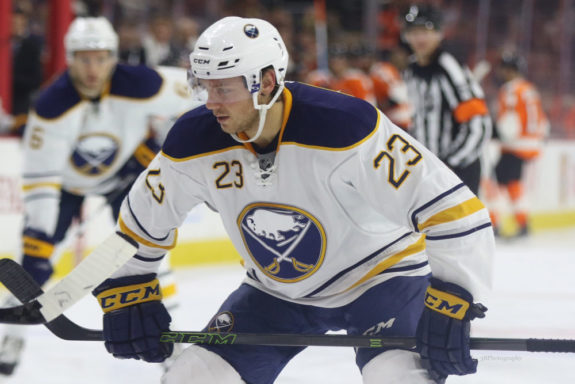 Can Botterill Get Market Value For Reinhart?
The point in bringing up Ray Sheppard earlier was that the Sabres can't just give Reinhart away if dealing him is their answer. There's a fine line Botterill must walk; he can't pull a "Darcy Regier" either and think he's going to get the moon and the stars for a player who is not performing up to his potential.
Despite poking fun at the team's former general manager, let's also keep in mind he's the same guy who somehow got a first-round pick for Paul Gaustad. There's a team out there willing to overpay for Reinhart, and it's Botterill's job to find that team if shipping him out-of-town is the route he chooses.
What everyone involved with this organization really hopes for is a much more desperate player in the second half of the season; a player who looks hungry, and doesn't act or play like he's "arrived." Because if they don't see that, chances are Sam Reinhart's days with the Buffalo Sabres are numbered.