In January, the 2020-21 season looked bleak for the Ottawa Senators. They had just one win in their first game, then dropped the next eight games to finish the month, and were outscored 44-12. Everyone was struggling to get going after their return from a long offseason, and even the bright spots, like the emergence of Nick Paul as the team's most reliable forward, were surrounded by frustration and disappointment.
However, February has been the complete opposite. Though the team still sits firmly in last place in the NHL, their record has improved to seven wins, including a three-game win streak and wins in five of their last eight games. The Senators lost by three or more goals just three times this past month, as opposed to six times in January. Lines have started to click, rookies have taken big steps forward, and the team's top stars have found their rhythms again. No one thought this season was going to be easy, but fans were hoping to see more of what they saw in February.
Third Star: Thomas Chabot
The biggest thing the Senators learned in February was how much Thomas Chabot meant to the team. Like everyone else, the defenseman got off to a slower start, but still put together a respectable two goals and four points and skated roughly 24 minutes a game, leading the team in average ice time. Yet his respectable efforts were overshadowed by Nikita Zaitsev, who had less ice time but registered five points, while newcomer Erik Gudbranson matched Chabot's assist total. On paper, it sure didn't seem that the 2015 first-round pick was that much better than the rest of the defense corps.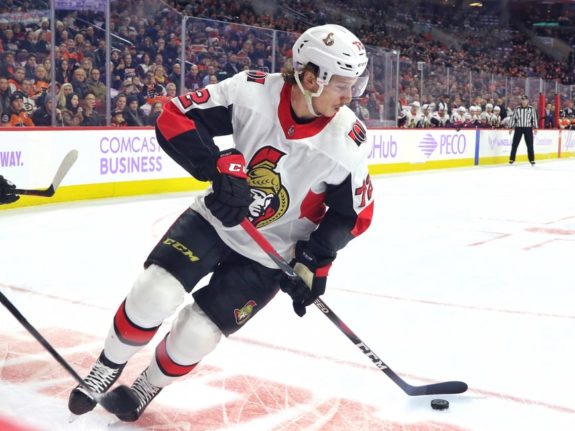 It wasn't until Feb. 18 that the Senators realized just how impactful Chabot had been, despite his low statistical output. After sustaining a mild injury the night before, he was forced to sit out against the Toronto Maple Leafs for the final game of the three-game series. They had beaten them in Game 1 in overtime, then held NHL goal-leader Auston Matthews and company to just two tallies in a tough-fought loss. But in that third game without Chabot, the Senators were easily pushed aside and the Maple Leafs cruised to a 7-3 win.
Chabot returned two games later, on Feb. 23 and his presence was immediately noticeable. The Senators won their next two games, while he recorded five points over the next three matches, including two multi-point nights. The 24-year-old now sits fifth among all-time Senators for multi-point games as a defenseman with 24 since joining the team in 2016-17, and surpassed Zdeno Chara for fifth in all-time assists with 101, setting himself up to break more team records in March.
Second Star: Brady Tkachuk
Had it not been for an incredible performance by the first star, Brady Tkachuk would have retained his title from January. This season, no one has been a bigger force for the Senators than him. He leads the team with nine goals, 16 points, two game-winning goals, 103 hits, and 98 shots and is within the top-five of most other offense categories. He is the biggest reason why the team has won as many games as they have and easily the Senators' MVP for the first part of 2020-21. At just 21 years old, he is making an excellent case to be named the franchise's 10th captain.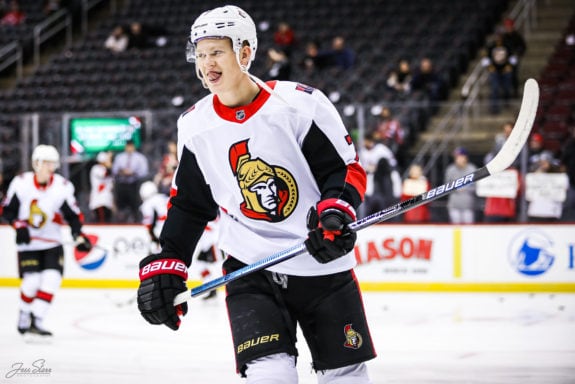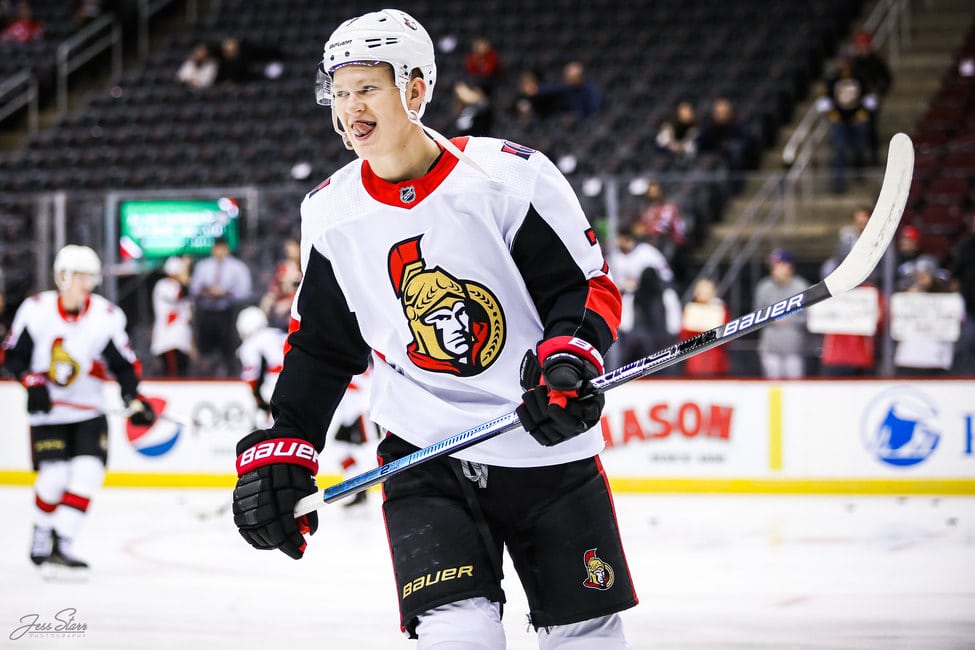 Tkachuk is becoming increasingly consistent, too. In 14 games in February, the power forward had six goals, nine points, and 66 hits, which works out to a 0.64 points and 4.7 hits per game. In January, he had very similar averages with 0.8 points and 3.9 hits over nine games. On his current pace, he'll finish with 38 points, which would be equivalent to 57 points in an 82-game schedule, a career high. His skill and dominance is far beyond his years, and he doesn't look like he'll be slowing down any time soon.
First Star: Drake Batherson
No other Senators player has put together a month quite like Drake Batherson. In the first seven games in February, he was fairly quiet, registering just a single assist despite regularly playing over 20 shifts a night. In the last seven, however, he's been on fire, scoring six goals and nine points, tying Tkachuk's production, but doing so in half the time. He also has strung together a six-game goal streak and put up multi-point games in four of the last five contests. The 22-year-old now sits second in team scoring with 15 points, just one behind Tkachuk's 16.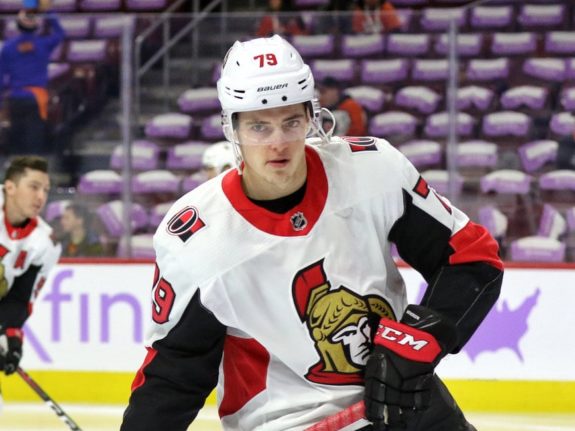 Better yet, Batherson has had a point in all but one of the Senators' wins this season, and he's recently found chemistry with Tim Stützle on the third line. He's also become a vital member of the first power-play unit, where he's chipped in five assists and given the special team some bite it lacked. Senators' fans always knew he was a skilled player, but seeing his recent hot streak have some wondering if even they underestimated him.
Primed for a Breakout
Stützle had a great month alongside Batherson, scoring three goals and 10 points in 14 games, but what really stood out were his 42 shots, which was second on the Senators and only behind Tkachuk's 54. He's also had five points in the last five games, which is a great sign that the German phenom is ready to take another big step forward. He and Josh Norris are now tied with 12 points and could vault both of them into Calder Trophy consideration as the league's top rookie.
Defensemen Artyom Zub and Erik Brannstrom have also had really strong months, both ending with four points, but had limited appearances. Brannstrom has been noticeably effective in the offensive zone, scoring two goals in nine games, while Zub has become a hidden gem for the Senators after just 12 games of NHL experience.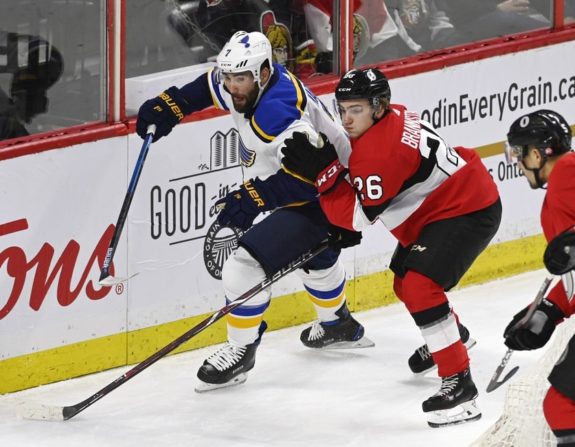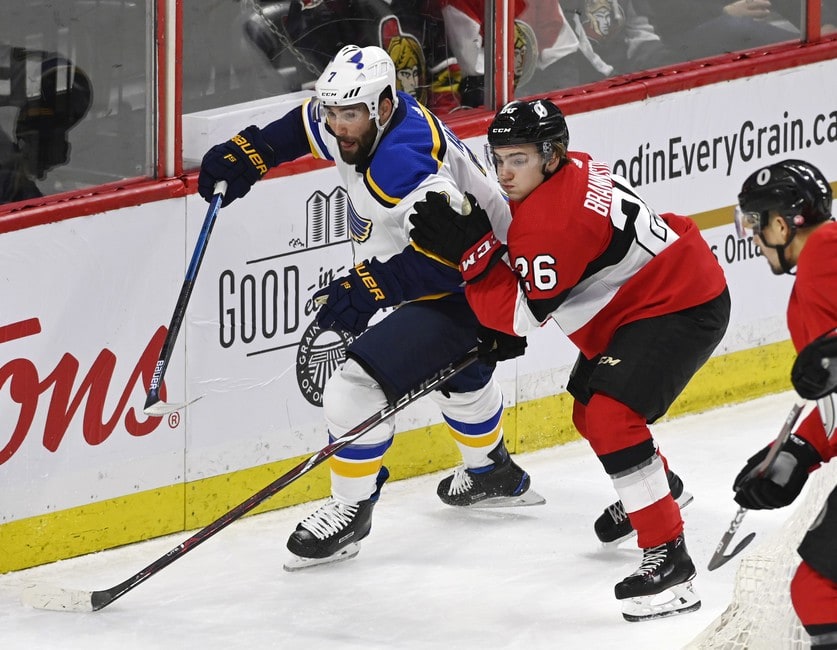 March will be a very interesting month for the team, as they face both the Calgary Flames five times, which may create some heated rivalries between the Tkachuk brothers. They also face the Edmonton Oilers three times and Vancouver Canucks twice, two teams that they have yet to beat, while only taking on the Maple Leafs and Canadiens a total of three times. It will surely be their biggest challenge yet, but with the team hotter than ever, it looks like they'll be able to handle it.
---
---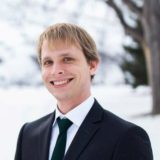 An elementary teacher by day and an avid hockey fan, Dayton joined The Hockey Writers in 2019 and currently covers the Ottawa Senators, World Juniors, and NHL Entry Draft.