As mentioned in a prior article, the San Jose Sharks' depth at center lacks depth and consistency. However, the wing depth has plenty of younger options, mixed with consistent NHLers. In fact, three of the top four wingers are under 25 years old.
Not included in this assessment are players such as Noah Gregor or Alex True, who are listed as centers for San Jose. It also should be noted, only two of the projected starting wingers are right-handed, which is a clear concern. The team's wing depth is somewhat top-heavy, and its success relies on production from unsure sources.
The Certain Top-Six Forwards
Timo Meier is possibly the team's best winger. Last season he led the team in points with 49 and followed only Evander Kane in goals. He's played just three full seasons since being selected ninth overall in 2015, and scored 20 goals during each of those seasons.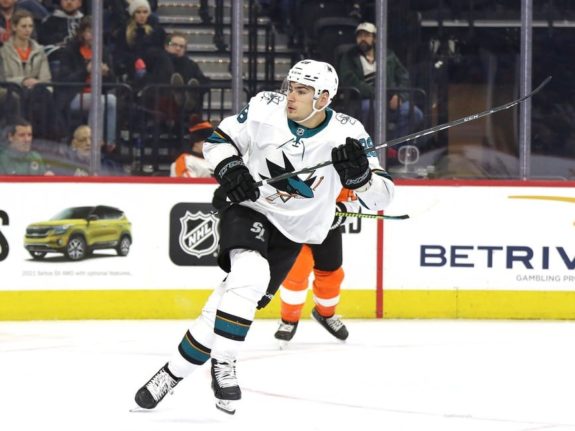 Analytically, the team relies on Meier to create offense. He trails only Tomas Hertl in expected goals per 60 minutes, according to MoneyPuck.com. His Relative Corsi For% ranked behind only Hertl and Kevin Labanc of forwards playing over 10 games. This clearly indicates that the team relies on Meier heavily for offensive production.
Meier is only 24 and still an extremely effective power forward and one of the team's best players. He is great at generating offense and will continue developing into a star for the team.
Next, the goal scoring leader for San Jose, Evander Kane. Kane is a consistent goal scorer, scoring on a pace of at least 20 a season ever since 2010-11, most recently scoring 26 goals last season. He was also dominant on the power play, scoring 14 goals — well ahead of second place Brent Burns with five.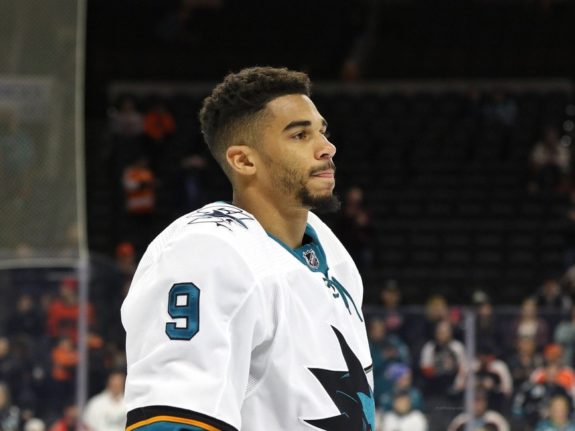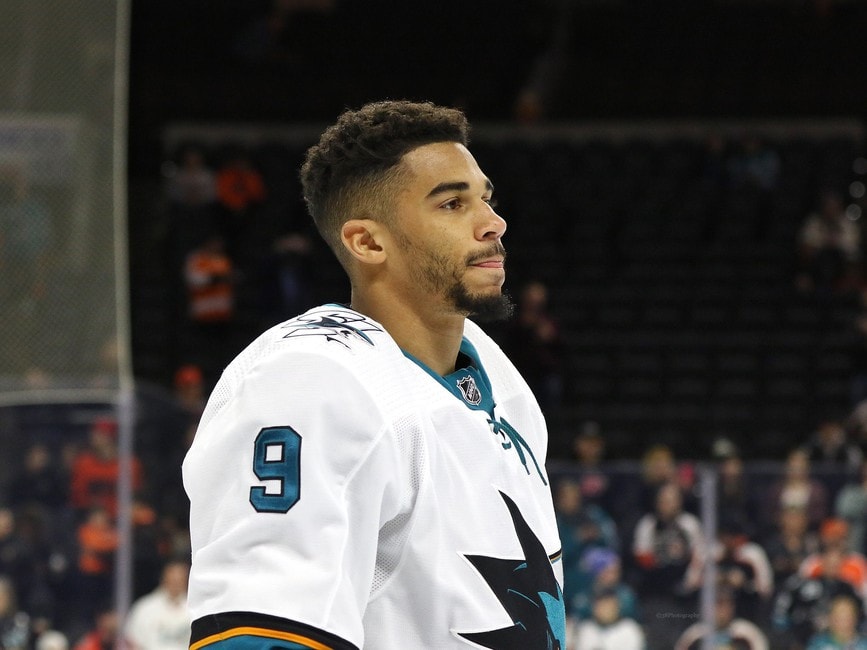 Kane was fourth on the team in expected goals per 60. He doe not generate shots greatly, having a Relasive Corsi For% that was an average 0%. He is quite sensational on the power play, and a capable top-six forward.
Kane has been a model of offensive consistency throughout his career. While suspension and penalty minutes have kept him off the ice at times, he is one of if not the greatest goal scorer on the Sharks' roster.
The Uncertain Top-Six Forwards
The Sharks are in need of Labanc to take the next steps in his development. Labanc inked a four-year extension with the organization this offseason. The question entering the 2019-20 season remains the same, "Is Labanc a top six forward?" The answer… remains uncertain.
The former sixth-round pick played the majority of the 2016-17 and 2017-18 seasons ahead of a stellar 2018-19 season. From the third line, he had 17 goals and 56 points that season. After signing an extremely team-friendly, one-year deal for $1 million, he entered the 2019-20 season needing to fill a top-six role for the team. However, a disappointing 14 goal and 33 points is not signifying of a top-six forward.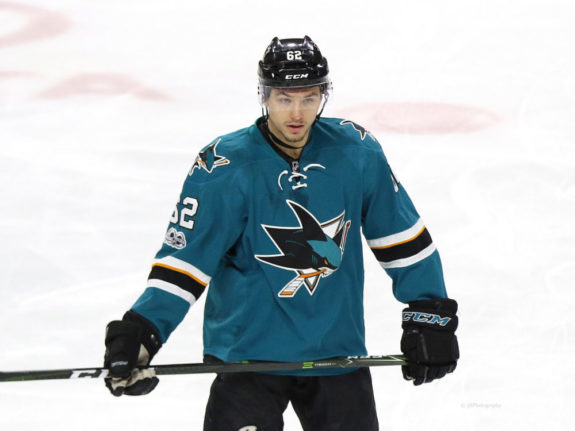 After a four-year extension, Labanc and general manager Doug Wilson both emphasized that Labanc is a top-six forward and a 60-point scorer. With his great talent on the power play and solid transition game, he has the capabilities to do so. At just 24, he has time to develop, but the Sharks are in need of top six forwards now and he must become one for the team to succeed.
Similarly, the Sharks need forward Ryan Donato to emerge as a top-six option for the club. He was acquired by the Sharks this summer from the Minnesota Wild for a third-round pick in 2021. He clearly has upside, but certain status on the first or second line is not as apparent.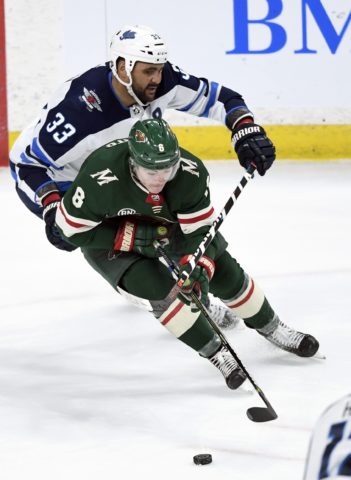 Last season, Donato was tied for first in even strength goals on his team, notching 14. This would rank third to Logan Couture and Meier. This is despite odd hesitation from the Wild to play Donato — he averaged just 10:38 minutes a game.
Donato's .97 expected goals per 60 minutes is considerably ahead of his former teammates, and ranks just under Meier and Hertl in San Jose. He does not control shot attempts all that greatly when on the ice. His 14.7 shooting percentage would rank best on the Sharks among players who skated in more than 10 games.
Related: San Jose Sharks 'Untouchable' Prospects
Overall, Donato is a quality forward. He excels offensively when on the ice, but Minnesota hesitated to give him large amounts of ice time. Fortunately, he will receive lots of ice time in San Jose and will still have time to grow, at just age 24.
Veteran Depth
Sharks legend Patrick Marleau headlines the bottom part of the forward group. After a disappointing stint with the Pittsburgh Penguins, he returns to San Jose again, looking to win his first Stanley Cup. The 1997 second-overall pick had 11 goals and 22 points in 64 games last season. While older, he still retains a roster spot.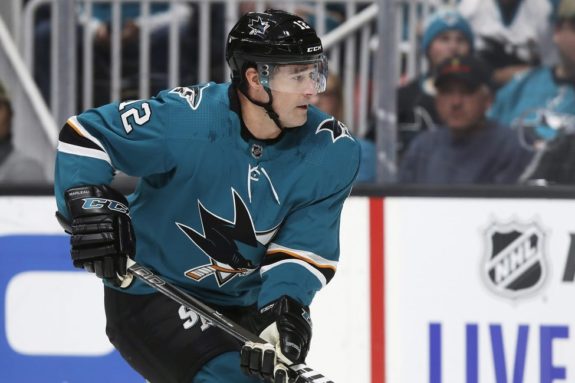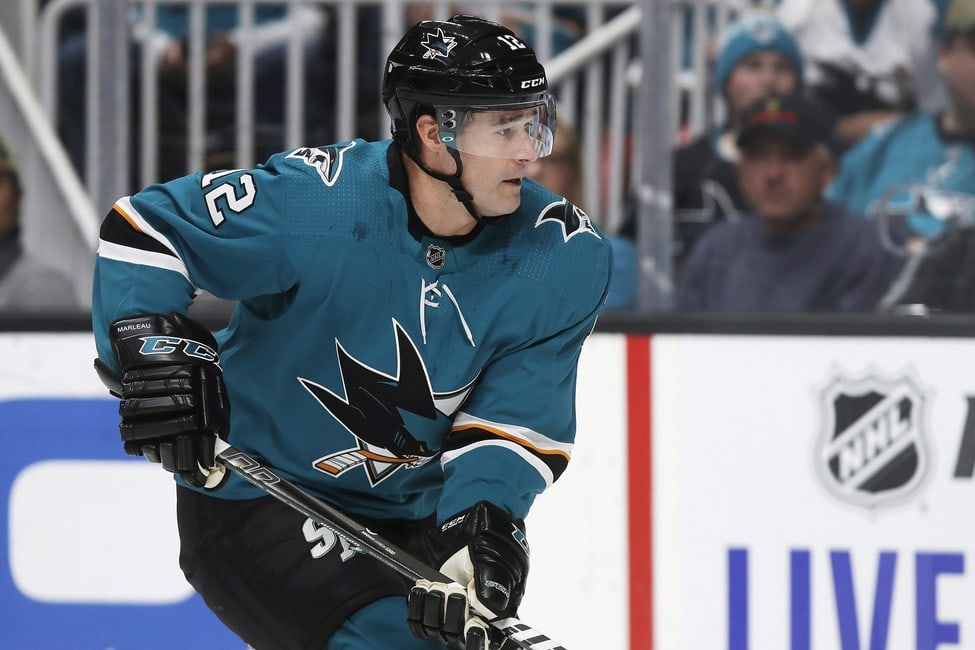 The team also sees Matt Nieto returning to the team. The former Colorado Avalanche had 21 points last season, and played a depth and defensively focused role for the Avalanche. He will look to do the same next season, playing under a new defensive-minded coaching regime.
Stefan Noesen was extended for a year by the organization. After being claimed off waivers, he was shockingly effective. He was third on the team in expected goals per 60 minutes, and had six goals in 34 games. He will only play on the third or fourth line, but is still quite solid.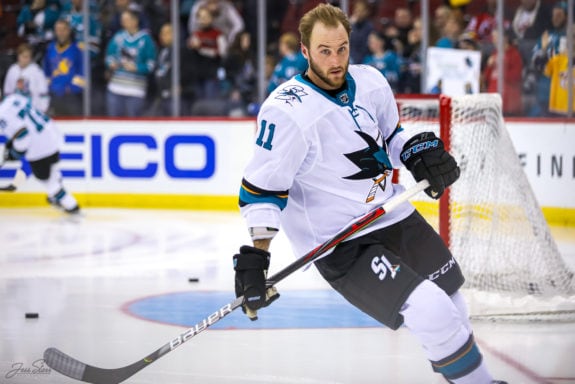 Marcus Sorensen returns to the Sharks on the last year of his contract. After a 17-goal 2018-19 season, he only reached the back of the net seven times last season. He is currently dominating in Sweden, but the second division of Swedish hockey is not as challenging as the NHL. However, his dominance of 24 points in 14 games is nice to see. He and his smooth skating will likely round out the bottom wingers for the club.
Possible Prospects
The Sharks signed three of the projected bottom four wingers this offseason, so it is unlikely many or any prospects see NHL action at wing. However, barring a trade or injury, one of the following could crack the starting lineup.
John Leonard is probably at the top of the list, and one of the team's best prospects. He concluded his final college season with a bang, tallying 27 goals and 37 points in 33 games. He is currently living in San Jose, hoping to play for the Sharks, but likely starting in the AHL with the San Jose Barracuda. At just 22, he has boatloads of potential and is a great sniper.
Joachim Blichfeld will also push for NHL time. Also 22, he was the Barracuda's AHL All-Star with 16 goals and 32 points in 44 games. He also got into three NHL games, but was minus-two and yet to register a point. Blichfeld also has a nice future and could possibly see more NHL time this season.
Overall Grade
The Sharks' winger depth is not in an ideal situation. The top two are extremely solid, but there are not any proven top six forwards after that. Donato and Labanc's emergence as quality options is imperative to the team's success moving forward.
The overall forward depth includes proven NHL talents, which is important. All four potential bottom-line forwards have expiring contracts, and three of them just signed contracts this offseason. This lends us to believe not many prospects could crack the starting lineup, as the team looks to rely on veterans.
Overall, Meier and Kane are certain 30-goal scorers, and there is upside to many of the team's wingers. However, uncertainty still surrounds the impact of many of these wingers.
---
---