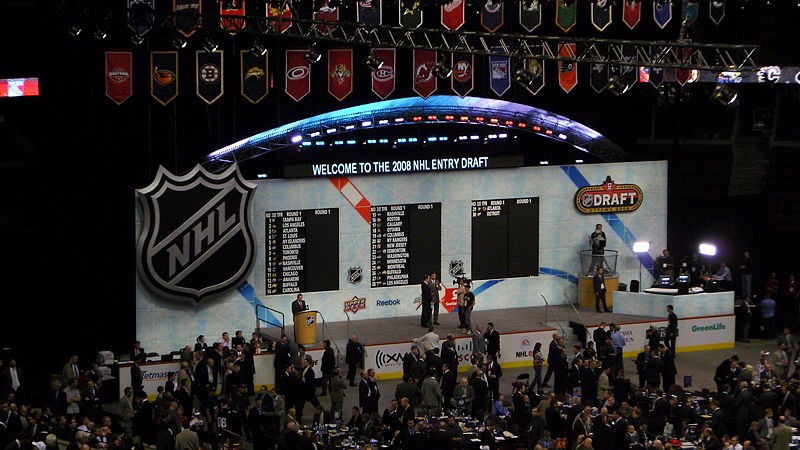 With the Canucks season on the brinks, is it time to dig deep in the franchise's pockets for a solution? Has Mike Gillis provided that answer over his tenure? Or are the Canucks looking in the wrong places?
Much attention throughout the season, and especially during the most recent skid, has been on the Canucks struggling late in games. They are being woefully outscored in third periods since the calendar turned.  The answer posed by the media has been twofold. Firstly, it is inferred that John Tortorella's heavy top end use of ice time is causing his best skaters to enter the third period with empty tanks, back-checking like one-legged narcoleptics. In concert with this thought is the idea that the coach needs to use the twins and Ryan Kesler as much as he does is because the team lacks depth. The suggestion is that Tortorella cannot trust his bottom six forwards and third pair of defensemen. And perhaps worse, there are some who would insist that there are not currently solutions to this puzzle with the franchise's minor league affiliates.
[Keep FanXChange in mind for all your Canucks tickets needs]
Is that simply a product of a long-successful franchise never being afforded premium draft picks? Or are there bigger concerns with regards to how General Manager Mike Gillis has composed his roster and its supporting minor-league affiliates? For the next two days, we look back at the last seven Canucks drafts to examine how the great western pipeline was built, and what we have to show for it.
 20o8 NHL Entry Draft
Mike Gillis took over for now current Leaf's GM Dave Nonis in 2008 and had what was the best Canucks pick of the decade at 10th overall. His choice began the long, sad story of Cody Hodgson. A tremendous talent, noted for character and leadership abilities1, Hodgson would experience a litany of injuries which were compounded by errors on the part of the Canucks medical staff to properly diagnose a back issue. Worse still, the treatments for the "bulging disk" only further damaged the actual problem. After a public spat, the popular and complicated Hodgson was dealt to the Sabres for bruising madman Zack Kassian and Marc Andre Gragnani.
The trade is a tricky one, and a ballsy one for Gillis. To trade your top prospect, who was just named Rookie Of The Month, takes a cast iron pair. They dealt a potential top six center with skill for a tall glass of meat and face hair. Kassian seems in the last month a have sorted out his game. He's not going to score points like Hodgson, but Kassian is a nasty s.o.b who can also handle the puck in a pinch. The prototypical power forward, if he can control his emotions and play consistently in his own end, the young man may excel. Hodgson has continued to have injury issues, but is starting to get his offensive game going. He puts the biscuit away on average once every three to four games and is getting quality minutes playing with a bad hockey team.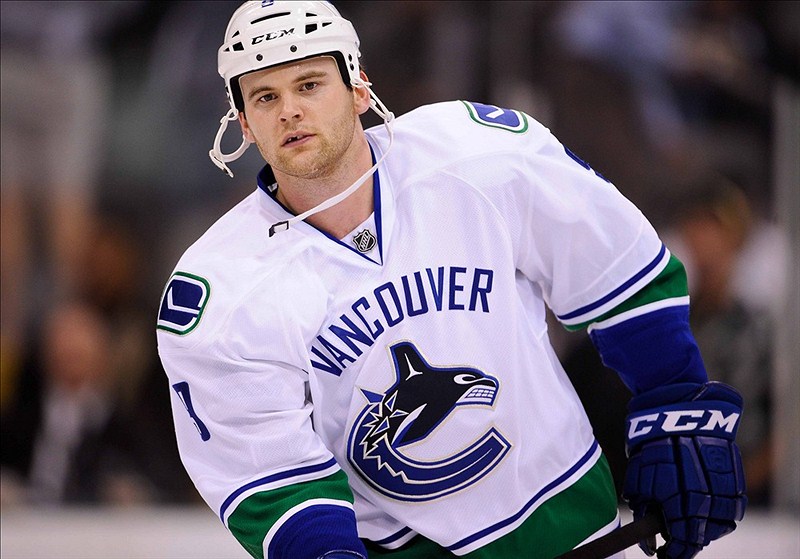 While it may yet be a few years before we can truly evaluate this deal, it is hard not to pine for a guy who seems to be translating into a 20-30 goal forward.  For a team whose biggest handicap at the moment is putting pucks in the pot, watching a player you they drafted excel for another team is a prickly bush indeed.
At least the Canucks have this:
The second pick of that draft for the Canucks was the impeccably named Yann Suave.  While Suave has failed to develop a consistent offensive game, there should be a place for him down the road as a defense-first, bottom pair d-man.
No one else from this draft class has played an NHL game. Notable players taken after Suave include Derek Stepan, Adam Henrique, Braden Holtby, the youngest Stall, and a Czech defensemen named Michal Jordan.2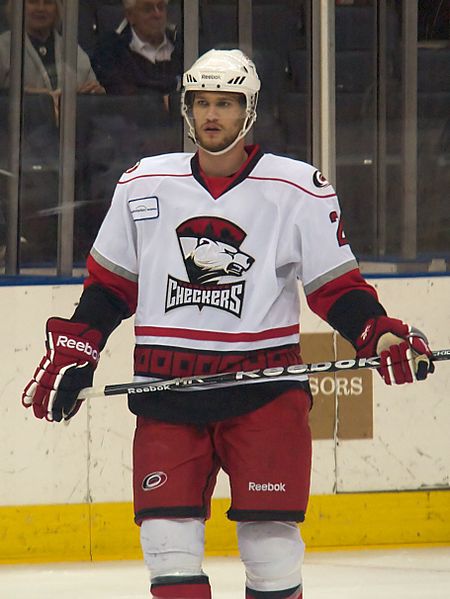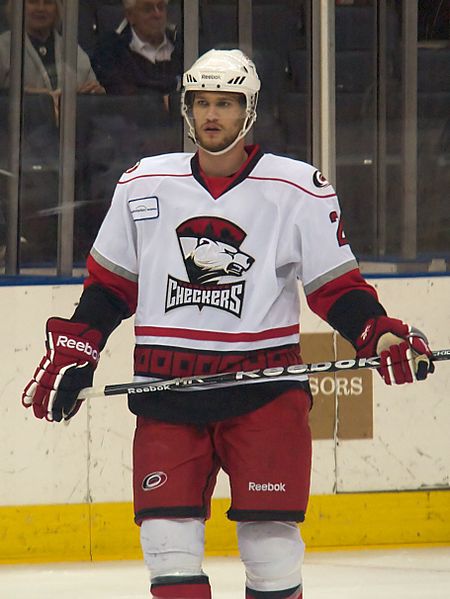 We should also point out that they also selected Morgan Clark, who had the unique distinction of being the only guy the Canucks drafted who also happened to have his dad on the coaching staff. He is no longer in the system. (And nor is his father).
2009 NHL Entry Draft
At the top of the draft the Canucks took American skater Jordan Schroeder, who isn't tall enough to ride on most roller coasters, but has a heck of a hockey mind. His excellent vision makes him the sort of player that helps his line-mates excel. While he is still just stretching his legs, injuries have paved way for Schroeder to get some solid top-six minutes with the big club. The Canucks are hoping that the kid can continue to thrive in spite of any concerns for his body.
Much of the rest of this draft has been less than a dream for the Canucks so far. With no other players in the draft seeing ice time for Vancouver, the hope is that Peter Andersson or Steven Anthony may take the next step with another year of pro hockey. Defensemen Kevin Connauton,  d-man with high offensive upside may actually end up being one of the more exciting players from this draft. But he won't do it for the Canucks, as he was shipped to Dallas in the Derek Roy deal.
In other news, Andy Bathgate was selected by the Penguins with the 151st pick, which is strange because at the time he was 77 years old and his number had been retired by the Rangers.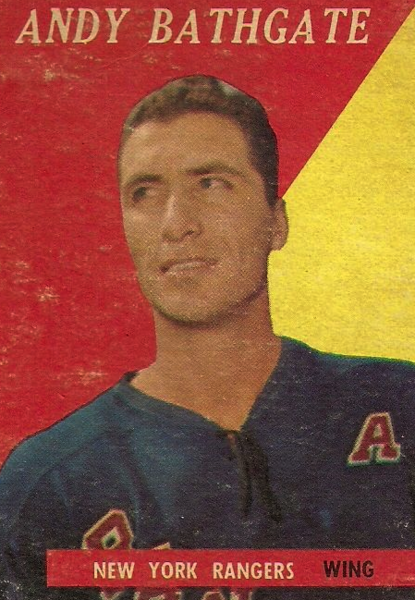 2010 NHL Entry Draft

It's hard to be proud of a draft class that you didn't begin choosing until the 115th pick. Vancouver's first round pick was sent with Michael Grabner and Steve Bernier for former 11th overall pick Keith Ballard, and Victor Oreskovich. Ballard's most noteworthy on-ice achievement was smashing his own goaltender in the face with his stick, and Oreskovich is out of north American hockey altogether. Grabner scored 34 goals in the first season after being traded and was nominated for the Calder Trophy. Bernier plays for the Devils now and is most known for taking the horrible penalty in game 6 of the 2012 finals that resulted in three power play goals by the Kings, and an eventual dance around Lord Stanley's foyer.
Skaters often tap their stick on their the goaltenders pads for luck. But this right here is a bit much.
Their second and third picks also having been shipped off to other pastures, Mike Gillis could've spent day one of the draft on his couch eating Cheetohs. When the time came, Gillis dusted off his orange thumbs and dialed up Patrick McNally. With a name like that, you wouldn't be called crazy for thinking the man owned a series of pubs in south Boston and had no less than three uncles named either Sully or Murph. He did, at least, live in Cambridge while attending Harvard. Why is that important? Because McNally missed a year of eligibility after being thrown off the team for an academic scandal. Sadly, McNally didn't steal midterm answers garbed in black and duct-taping doors open Watergate-style. He and his classmates apparently plagiarized one another on a take home test. At Harvard. Fortunately the Canucks don't need him to know his way around an AP government class. They need his progression as a smooth skating, offensive-minded defensemen to continue to develop. And for a fourth round pick, he is moving along at a reasonable pace.
Fifth round pick Adam Polasek is no longer with the organization. For a team with no first, second, or third round picks, the Canucks at least had the wherewithal to accumulate two highly coveted sixth round draft picks. The first of them, Alex Friesen, is an emotional, rah-rah, hard checking center who plays like he has a stick of dynamite in his jock. While he needs plenty of time to continue to develop, a future role as a checking-line pivot in Vancouver is not out of the cards.
The second pick of the round was on Jonathan Iilahti, a goaltender with a last name like a nightmare Scrabble rack. He's also no longer a part of the organization.

So Far?
At this point in time, Mike Gillis was at the helm of a franchise which had gone from the cellar of the Northwestern Division to take back-to-back division titles. All things appeared to be trending upwards, in spite of the consecutive second-round ousters by the rival Hawks. When we return tomorrow, we will examine what was happening behind the scenes as the Canucks leveled up to win two President's Trophies and come with a win of a Cup . Was all the success on the ice hiding a crumbling infrastructure? Or was the GM making the moves to keep the Vancouver run of success on the right path?
---
1 Hodgson was also thrice awarded the OHL's "Smartest Player" award.
2 Jordan currently plays for the Charlotte Checkers, in the same city His Airness owns an NBA franchise.
M.A Dillon is a former professor at NYU's Gallatin School of Individualized Study and a staff writer for The HockeyWriters.com covering the Vancouver Canucks.