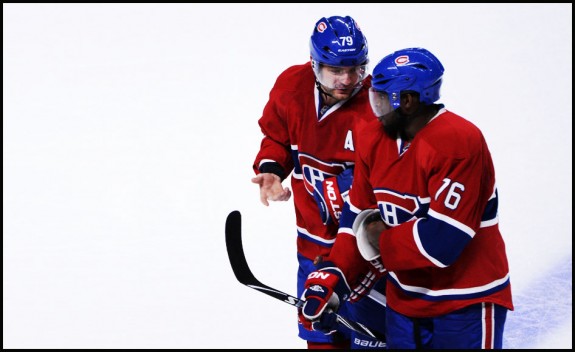 It took the bulk of summer but All-Star defenseman P.K. Subban finally earned his pay day in the form of a long term deal with the Montreal Canadiens.  The 8 year, $72 million contract is what most expected, so much so that many had already pegged Subban to replace the departed Brian Gionta as the next Habs captain.
Happy to be a Hab for the next 8 years! #habsnation #subbaniacs http://t.co/7g7Ftl1Ckt

— P.K. Subban (@PKSubban1) August 3, 2014
There have been many arguments in favour of Subban wearing the honoured "C".  The Hockey Writers' own David P. Stein and Marc Dumont over at Eyes on the Prize  both made compelling cases; and armed with a contract that will take him to the 2021-2022 season, Subban has the longest term of any Montreal Canadiens player, making him a ripe candidate from a management perspective.
I just hope management is smart enough to realize that naming Subban captain next season would be a mistake.
It's not that I feel Subban is too young to be captain.  There are plenty of young captains in the NHL who have disproved that argument.  It's because the honour of becoming an NHL captain should be more than simply winning a popularity contest or the lottery.  It is about getting the best out of your team.
The Lost Meaning of the "C"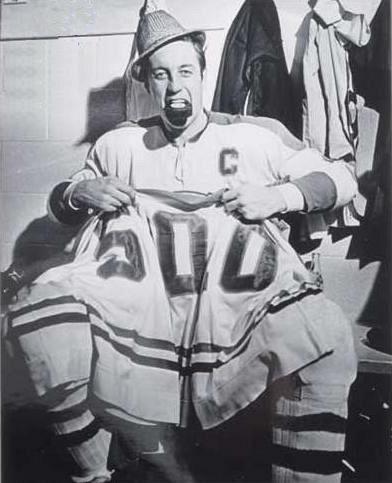 The position of NHL captain used to be one of the most important in professional sports. Players were singled out as the best representatives of their organization.  They held themselves to a certain standard both on and off the ice; were expected to be role models, media liaisons, ever-ready for fans, all while looking out for the team's and their teammates' best interests on the ice.
It is a demanding position, or used to be. Perhaps I'm too traditional, holding tightly to old notions of greatness that no longer exist; but those are the standards to which any captain should be held responsible.
In the Salary Cap Era NHL captaincies have defaulted to the player signed to the longest contract, because they are considered worth the investment.  As a result, more often than not, a team's captain is also its star player, as we see in Pittsburgh with Sidney Crosby or Jonathan Toews in Chicago.   These two are franchise players, exceptional talents who are also  born leaders.  That isn't always the case when Dollars are handed out like candy (Dion Phaneuf in Toronto comes to mind); and somehow even Crosby's ability to lead continues to be questioned, because unmatched talent does not always translate into great leadership.
Subban the Rising Star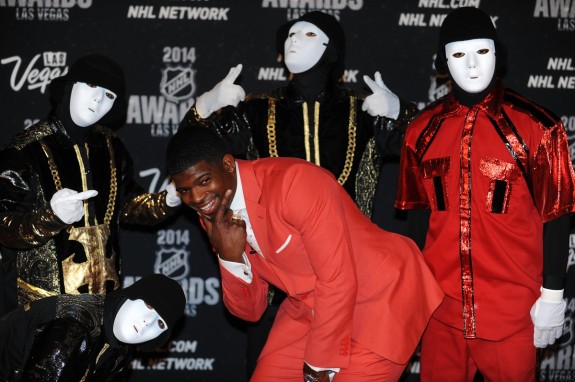 Without question, Subban is the face of the Montreal Canadiens (Price is a close second), and a leading figure in the NHL.
To his credit, the 25 year old defenseman has taken every challenge thrown at him and come out ahead.  He is a Norris trophy winner, an All Star, an Olympian; he is a leading defensive scorer, a candid interview, and always willing to share himself for the love of the sport:
Those are the traits of an NHL ambassador certainly, and an important role for any captain, but it does not necessarily make him an on-ice leader.
By my definition, wearing the "C" for hockey's most recognizable franchise should not be about flashy interviews; it should not be about stars.  It should be about composure and accountability, it should be Bob Gainey instead of Larry Robinson or Dustin Brown instead of Drew Doughty:  responsible players that teach and encourage, not shoulder the burden; and this is where I think Subban falls short.
Subban Still Learning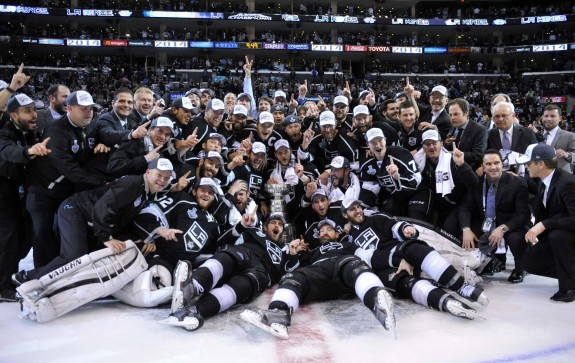 In 2012, Dave Unger, at the Bleacher Report, summed up what I still believe to be one of the most important responsibilities of an NHL captain:
The captain might not be the best player on the team, but you can bet that he will be the most knowledgeable about the game, the subtle intricacies and nuances and he will know the strengths and weaknesses of his team better than anyone else.
This is how leaders and captains win championships.  It's how players like Gainey and Jean Béliveau led by example: by understanding their team and the game so well that they could get the best out of any player on the ice.  It's how Brown continues to lead despite diminishing point totals.
My biggest problem with Subban becoming the next Habs captain is the way he interprets the game, not as a player but as a leader and what becoming the voice of the Canadiens might do to his game.
A Captain's Responsibility
There is no comparable defenseman to Subban, in terms of creativity and instinctual play.  He plays from the heart not the head.  It's what fans love about him.  His game is centered on split second decisions that factor into his game and his game alone.  It is also why in 2013-2014 Subban was the third most penalized player on the Habs with 81 PIM (only George Parros and Brandon Prust had more): because he's willing to play on the edge.
The problem here is that each team's captain has the sole responsibility of dealing with the referees.  Even the beastly Bruins captain Zdeno Chara or the Kings' Brown had considerably less penalties with 66 PIM apiece, albeit both rank near the bottom of their rosters.  They do, however, have the respect of the referees, something Subban will eventually earn but has yet to accomplish.  It would be a mistake to force him to play a more controlled game just to earn the ears of the refs.
My biggest fear would be to see Subban rein in his game because he has the "C" on his jersey.  His obligations to uphold a level of respect with referees and opponents might easily box him in, as it did Crosby in the playoffs: In Pittsburgh's second round series loss to the New York Rangers, Crosby stifled his emotions in order to avoid outbursts or bad penalties. It ended up costing his team the benefit of his talents.  The Habs cannot afford, nor should they want, to box in Subban when his game is on the verge of maturity and his prime is still ahead of him.  Players like Subban only get better with age and as they have the room to make mistakes.
And mistakes are still part and parcel of Subban's game.  He may understand the game's intricacies and nuances but only filtered through his own style of play. What he sees and what he is capable of on the ice is not teachable.  Think back to last spring and the failed pairing with rookie Jarred Tinordi. For better or worse, and mostly worse, the rookie Tinordi was often left to fend for himself because Subban was unable to play to the level of his ability AND cover a young partner that needed guidance or at least protection.  It is because Subban is also still learning the nuances of the game.  To his credit, he continues to rely on instructions from veteran teammates like Andrei Markov and Tomas Plekanec, who have the poise and understanding of the team's strengths and weaknesses coupled with the ability to instruct.
Let Him Play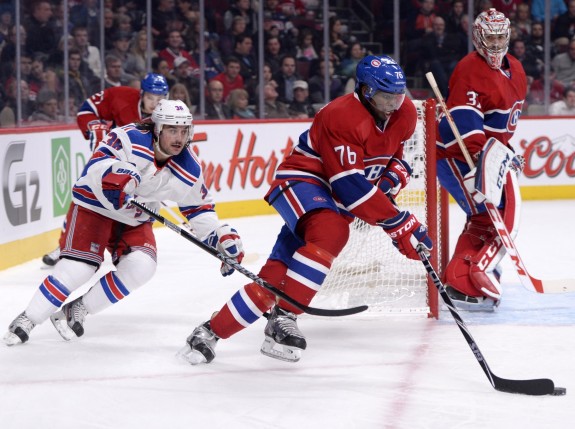 Give him the "C" and Subban will no longer be the creative spark that scared the pants off Babcock and Therrien last season.  He is still at a young point in his career where, when frustration sets in, he puts the team on his shoulders rather than delegate the burden; he does everything on his own, rather than use the strength of his teammates. His youth, his exceptional ability and his ambitious drive enable him to skate in an endless puck-possession loop without complaints from fans who enjoy the show.
In an ideal world the next Montreal Canadiens captain would be Andrei Markov, who has the vision, experience and loyalty to the organization that would be most effective on the ice. He may not want it, as was the case in 2011, but he would be the best choice.  Tomas Plekanec would be my second choice for similar reasons.  They may not be the interview everyone craves but they carry the team with pride and instruction, and would be capable of  turning an increasingly young lineup into winners.
Subban just became the most expensive defenseman in the NHL in a City where he is already king.  Why not give him a chance to make mistakes and grow without slapping the "C" on him since, as history proves, mistakes are costly when the CH is on your jersey.
#Habs P.K. Subban flirts with tennis star Eugenie Bouchard on social media #HabsIO: http://t.co/N9hsaPtvjD

— Stu Cowan (@StuCowan1) August 5, 2014
A market-dependent system has made the captaincy expendable or irrelevant.  Long contracts are bought or shipped out, irrespective of the "C". Spezza lasted one year in Ottawa; long-serving Bolts captain Vincent Lecavalier was bought out by the team that drafted him;  Sabres captain Steve Ott was shipped out in a package deal.  The list goes on.  If becoming an NHL captain no longer carries the weight of responsibility but is simply offered up to the team's biggest star, then yes, Subban should be captain.
But why not let him prove his game is worth the dollars before we hand him the captaincy.  After all, there's plenty of time.