Seeing Jannik Hansen's name near the top of the goal scoring leaders on the Canucks might come as a surprise, since the majority of his minutes come on the fourth line.
However it's not an apparition. The fourth line winger sits second on the Canucks with eight goals on the season.
Newcomer Radim Vrbata sits at the top of the list. This isn't a surprise since he has developed great chemistry with the Sedin twins since the opening game of this season. [By the way, if you like this post you can subscribe to our free newsletter to receive others like it]
But to see Hansen's name right underneath Vrbata's comes as a surprise, especially considering that the Sedin's are back to their point per game production pace that Canucks fans are used to since the 2004-05 lockout. The second line with Chris Higgins, Alex Burrows, and newcomer Nick Bonino is also producing at a decent rate as well.
Hansen's line-mates have contributed to his success, and as a group they have turned into a strong fourth line that Coach Willie Desjardins can depend on. Derek Dorsett and Bo Horvat have been playing good hockey with Hansen since the trio was put together.
You could say that the group has recently formed one of the best fourth lines in hockey.
Dorsett has nine points through 26 games, after he only had eight points in 51 games with the Rangers last season. Horvat has also found early success at the NHL level with five points in his first 15 games, including his first career NHL goal that was set up by his current line-mates.
Hansen's stats are a little inflated by his hat trick against the Chicago Blackhawks on November 23, but it was also a good example of how the fourth line has been able to play meaningful minutes for the Canucks. Dorsett and Horvat were in on the Hansen goals, as the duo combined for five assists on the night.
As Jim Benning made abundantly clear when he took over as General Manager for the Canucks, having a team that can roll four lines is crucial for success. Here are some other fourth lines that have made meaningful contributions to their team this season.
Chicago Blackhawks: Dan Carcillo, Marcus Kruger, Ben Smith
The Blackhawks have gone on deep playoff runs year after year because they have had contributions from depth players. A good example of this was depth forward Michal Handzus stepping up and scoring a huge goal for them in the playoffs against the Los Angeles Kings last season.
The fourth line for the Blackhawks this season is playing a similar type of dependable role.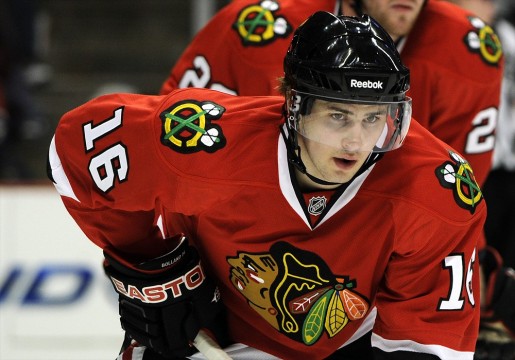 Marcus Kruger has been a key part of Chicago's bottom six forwards, and he is giving the same contributions to the team this season as he has done is previous seasons. He is fourth on the team in Corsi Percentage with 56.25%, behind only big guns Patrick Sharp, Marian Hossa, and Johnathan Toews.
His wingers have been playing good hockey as well. Ben Smith only has three points this season, but is averaging over 14 minutes of ice time per game and playing meaningful minutes for the team.
Daniel Carcillo has also stepped up, as he was implemented into the line-up after the injury to Patrick Sharp. He has five points in 17 games so far this season despite only averaging 8:34 of ice time per game.
Minnesota Wild: Ryan Carter, Kyle Brodziak, Justin Fontaine
While the Wild have had their struggles in certain areas this season, a lack of forward depth doesn't appear to be one of them.
The Wild's fourth line has been able to contribute at both ends of the ice, as no one in this group has less than five points so far this season.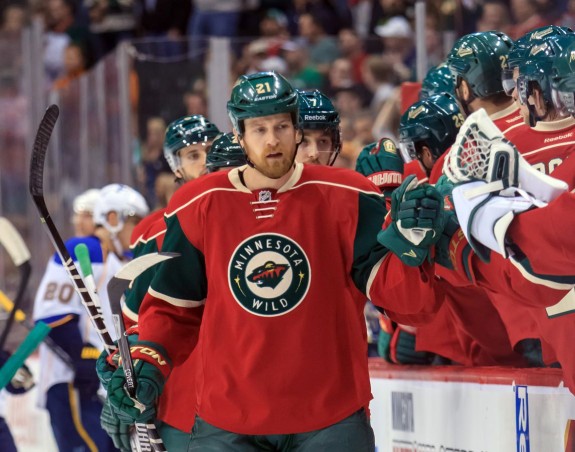 Brodziak has been a model of consistency for the Wild, and while he may not be the 20 goal scorer that he was back in 2011-12, he is still a dependable bottom six forward.
The wingers on this line have both put up better than expected numbers so far this season. Carter and Fontaine both have two goals and nine points, and both are on pace to set career highs for point totals. More importantly for fourth liners, they are positive possession players. Carter's Corsi percentage so far this season is at 52.6%, while Fontaine's is second on the team with a Corsi of 56.5%.
Tampa Bay Lightning: Johnathan Drouin, Brian Boyle, Brenden Morrow
This isn't your prototypical fourth line, mainly because it includes 19-year-old rookie Johnathan Drouin. The Lightning are in an interesting position with their team, where they have so many great young players that they can afford to put the third overall pick in last year's draft on the fourth line.
It may not be an ideal situation, but it isn't necessarily a negative to have Drouin playing with two experienced veterans in Boyle and Morrow. While Morrow isn't the player he once was, his leadership qualities are undeniable and it can't hurt Drouin's development to play with him.
Boyle set the standard for fourth line centers after his stellar play in the Stanley Cup Final for the New York Rangers. He put up eight points in 25 games last year during the playoffs, while playing on a line with Derek Dorsett and Dominic Moore. So far this season he has eight points through 28 games. He also leads his team in face-off win percentage with a 52.4% success rate at the dot.
While the line has been playing with recent success, they might not be together much longer if Drouin continues to set up goals like this:
Think your team's fourth line was left out? Leave a comment below.
KPU Journalism Graduate. Trevor has been writing for The Hockey Writers since October 2014. He has contributed articles related to the Ottawa Senators, Vancouver Canucks, and other issues/stories regarding the game of hockey. Trevor currently lives in White Rock, B.C.