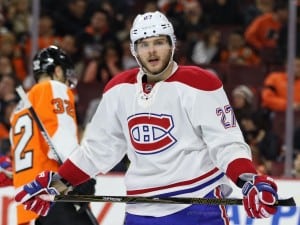 If someone told you heading into this season that, 20 games in, Alex Galchenyuk would be leading the team in scoring, it probably would have come as only a mild surprise. After all, he did finish second in scoring last year behind Max Pacioretty.
However, if that same person told you 20 games in that Pacioretty would be a distant fifth, you probably would have scoffed at the mere suggestion such a thing were even possible.
What if he had said Brendan Gallagher would be two slots behind him? Lock him up in an insane asylum. And that Paul Byron would be in between the two? Throw away the key. This guy is a danger to others and himself. Now, are we talking about Michel Therrien? Because his patented line-blending is the only way that all this goes down.
I mean, you can still throw away the key on the guy. I'm just curious…
The Top Three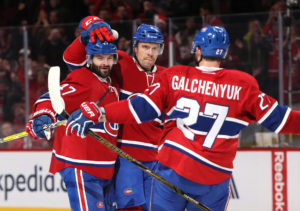 Well, lo and behold. We're indeed a quarter of the way through the season and the top three comprises not just Galchenyuk, but newcomers Alexander Radulov and Shea Weber as well. And, while, yes, Therrien's line combinations consistently go through a blender in between periods (if not shifts), that previous fact kind of paints a different picture.
Radulov and Weber are working out. Weber might not be that much of a shock. Everyone's hockey-ignorant grandmother knew he was going to get his share of ice time and points this season. However, Radulov sitting at No. 3 (four goals and 17 points) is a sign that everything is going according to management's plan, which is reinforced by the team's league-leading 14-4-2 record entering action on Thursday night.
Through the Looking Glass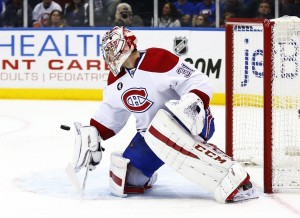 However all is not as it seems. In fact, at this exact point last season, Montreal was 16-4-2 with a better record and about to head into New York to face the Rangers, ultimately improving in the standings with a dominant 5-1 win. That game signaled the beginning of the end though, with Carey Price getting injured and going on the shelf.
We all know how that played out, with Mike Condon getting shelled without any goal support. A year later, the Habs are still beatable without Price and Condon is impressing with the Ottawa Senators.
That having been said, while on paper, the Habs technically haven't played as well as last season (fewer wins), everything is still rosy, because, knock on wood, the chances of another stint on IR for the team's superstar goalie is unlikely. In that one critical regard, Montreal is in better shape. That may be all they need.
Fans may never know how last season would have finished had the Rangers game not taken place, had Price not re-aggravated his injury from earlier in the season when he stepped on a puck. He obviously hadn't received the memo that he's only allowed to have them hit him all over his body at upwards of 90 miles per hour.
Not a Repeat, a Reimagining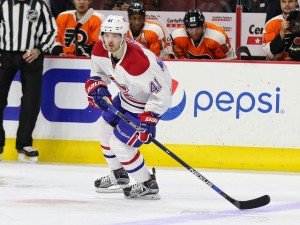 The point is, until this team's mettle is tested to the same degree, no one can definitively state that it has more character or better leadership than last year's edition. Sure the Habs have suffered through a few recent losses, but does anyone truly fear a repeat of last season? Of course not. Or at least they shouldn't.
There will be inevitable similarities, sure.
Pacioretty and Gallagher will move up among the team's scoring leaders over time. Byron will likely drop down, much like Dale Weise did eventually. Weber is around where P.K. Subban was and Radulov has picked up the scoring slack left behind by the offensive shell of the player Tomas Plekanec once was.
Radulov and Byron may be upgrades over their respective counterparts, but the makeup of the team is still largely the same in that it belongs to Price. And that one key similarity is also the biggest difference.
In essence, the team is getting a second take, with a separate cast of secondary characters and a chance to replicate its record before everything hit the fan last year. Fans are getting a rare glimpse into what could have been had the unthinkable not happened and general manager Marc Bergevin ultimately settled on Ben Scrivens to replace Price in the crease.
And to think they probably could have had Los Angeles Kings savior Peter Budaj instead. And to think even more… they once did.
An Elite Team or Elite Goalie?
The team hasn't really changed its guard, and, considering that guard is Price, that's probably for the best. Every team needs a great goalie. However, until the first sign of real adversity, whether it's this recent tough stretch or during the playoffs, the Habs can't say for sure that an elite one is enough.
Possession metrics in general indicate that it isn't or won't be, but maybe this team's management group needs to see for itself. Maybe the previous losses in the playoffs are all in the past.
The ending to this season is sure to be happier than last year's. That's almost guaranteed. However, if it's only by a round or two, it ultimately won't make much of a difference after all.