Witnessing a player develop is like watching a child ride their bike for the first time. Year after year, many NHLers turn a season of poor expectations into a stunning development.
Normally, I'd like to keep a list like this down to ten or 15 names. There were just so many terrific performances that I had to extend it to 20. A few elements had to be present to meet our criteria.
First, each individual had to have achieved his best statistical season this year. It also has to be considered their first real successful campaign which many people took notice of.
For example, a former 30-goal scorer reaching 40 would not be ideal because his emergence would be when he reached 30 goals that first time. So please, no questions on why Zach Parise or Jeff Carter weren't featured.
Finally, the last aspect will look at how much of a leap the players made from their previous career-high. Only the rookie selections will not have this comparison.

20) Steven Stamkos (Tampa Bay Lightning)
The first overall pick in the 2008 NHL Entry Draft must be wishing Rick Tocchet was the Tampa Bay coach for the entire season. When Barry Melrose was fired, Stamkos had only managed 4 points in 16 games.
Tocchet took a different approach with the heralded rookie and scratched him three times in order to condition himself. Stamkos became much more consistent and 32 of his 46 points came in 2009.
With 23 goals, the former Sarnia Sting member set a rookie record for Tampa Bay and he did it after troubling start. Everyone has seen why he was chosen first by the Lightning and next year should be anything but a sophomore slump.
19) Jonathan Quick (Los Angeles Kings)
Goaltending is an area the Kings have struggled to succeed in. Last year alone, Los Angeles experimented with seven different goalies. This season, they have only used three and their future star between the pipes may have been found.
Jonathan Quick took over the duties after Erik Ersberg failed to give coach Terry Murray what he desired. Compiling an impressive 21-18-2 record with a 2.48 goals against average, .914 save percentage and four shutouts kept the Kings in playoff contention for the majority of the season.
It was another year without postseason action but the future looks bright for the Kings defensively having the eighth best goals against average in the Western Conference.
18) Bryan Elliott (Ottawa Senators)
Ottawa's season consisted of one disappointment after another. However, rookie Bryan Elliott has given them hope for a better 2009/2010. Veteran goaltenders Martin Gerber and Alex Auld didn't provide much stability in net.
Elliot's 16-8-3 record was remarkable if you consider how poorly the Senators competed and that he's a rookie. The 24-year-old won nine of 13 starts in the month of March including a string of eight consecutive victories.
Everyone in Ottawa must be looking forward to seeing this kid again next season. Pascal Leclaire may not be quite as excited. Having been acquired at the trade deadline, his services may not be used as extensively as he hopes.
17) Denis Grebeshkov (Edmonton Oilers)
Having two previous unsuccessful stints in the NHL (one with the Los Angeles Kings and New York Islanders each), the Russian defender provided some inspirational play for Edmonton as the 2007/2008 season came to its end.
Grebeshkov has become a steady presence on the blue line and 39 points (seven goals, 32 assists) more than doubles his previous career-high. A plus-12 rating which was first among Oiler skaters, Grebeshkov produced 23 of his points in the new year.
Edmonton will miss the postseason for the third straight year after reaching the Stanley Cup Finals. Defense is perhaps their strongest area and Grebeshkov will only get better.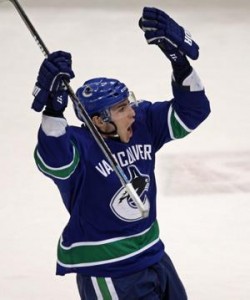 16) Alex Burrows (Vancouver Canucks)
Henrik and Daniel Sedin can make their line mates increasingly productive. Just ask Anson Carter who's highest goal-scoring year came alongside the twins. Alex Burrows is an energy player who never scored more than 12 goals for the Canucks.
Playing with the Sedins may be something he was destined to do. The Quebec native  scored 28 goals and added 23 helpers. At times, it looked as if there were three brothers on the ice given the chemistry Burrows found with the two.
Alain Vigneault experimented with numerous selections to join the Sedins and there's no denying that none had been as successful as Alex Burrows.
15) Travis Zajac (New Jersey Devils)
Martin Brodeur, Zach Parise and Patrik Elias are the names often mentioned when discussing the New Jersey Devils. What about Travis Zajac? Along with 20 goals and 42 assists, the third-year center had an outstanding plus-33 rating.
Zajac has proven himself more than capable of seeing action on the first line with Parise and Jamie Langenbrunner. His defensive awareness fits right into the Devils playing scheme and scoring prowess is evident.
As a New Jersey member, Zajac will get his fair share of postseason experience and there's no reason to believe he can't prosper just as much with the veteran leadership he has available to him.
14) Blake Wheeler (Boston Bruins)
"Every time he's on the ice, he seems to make things happen. Tonight was a good night for him. He's a smart player. Since training camp he's been getting more and more confidence." –Claude Julien following Wheeler's hat-trick against the Toronto Maple Leafs in early November.
It's been a memorable season for Boston and their top rookie is one of many reasons why the Bruins clinched the Eastern Conference title. The 6-foot-5 Wheeler has much talent to go along with his big frame.
Drafted by the Phoenix Coyotes in 2004, his 21 goals and 24 assists have been a welcoming contribution. Wheeler's tremendous plus-36 is second best in the league.

13) Cam Barker (Chicago Blackhawks)
Exciting times have been taking place in Chicago as the team is set for its first playoff run in six years. Like Boston, this squad has gotten production from a variety of players this year.
Barker played 68 games, but still amassed 40 points (six goals, 34 assists). Earning just under $1 million this season, he had 12 less points than Brian Campbell who's receiving over $7 million and Barker played 14 games fewer.
His hard accurate shot was helpful on the man-advantage and indicates why 29 of his points came on the powerplay. If a large contract comes his way any time soon, it'll be interesting to see if he flourishes or falls.
12) David Backes (St. Louis Blues)
Cam Neely, Mike Foligno and Theoren Fleury were some of the best players at combining points with penalty minutes. David Backes had the impressive trio of 31 goals, 23 assists and 165 minutes in the box.
The Blues have sneaked into the playoffs and the gritty winger was influential as the season winded down. A memorable win in Detroit on Apr.2 saw Backes net four goals to sink the Wings.
"I don't know what happened," said Backes. "One of those games where you kind of black out and then they're patting you on the back."
A player possessing the elements he has could truly thrive in the postseason for St. Louis.
11) Patrik Berglund (St. Louis Blues)
Berglund excelled in his first NHL season giving St. Louis another talented youngster. The 20-year-old's 47 points (21 goals, 26 assists) were much needed and his plus-19 rating is extraordinary considering how the Blues struggled for large segments of the season.
Using his size to his advantage, Berglund can change the outcome of a game with his puck movement. The Swede was marked as a crafty scoring center throughout his career and he didn't fail to live up to the hype.
10) Loui Eriksson (Dallas Stars)
Injuries certainly got the better of the Dallas Stars. Brenden Morrow, Brad Richards and Sergei Zubov were all hit with lengthy absences. One of the few bright spots was Loui Eriksson who scored a team-high 36 goals and 27 assists with it.
Even strength is where the Swede was most dangerous scoring 28 of his goals during 5-on-5 action. Unsurprisingly, his plus-14 rating is the best in Dallas and Eriksson is a disciplined player as is demonstrated by his 14 penalty minutes in 82 games.
The 23-year-old has all of the commodities to be a natural goal-scorer and is aware of his defensive responsibilities.
9) Bryan Little (Atlanta Thrashers)
Ilya Kovalchuk ultimately found some secondary scoring to boost his team's potential. Having showed signs of greatness as a rookie, Little had a year to remember with 31 goals (which only Kovalchuk bested in Atlanta) and 20 assists.
For much of the year, the 21-year-old played on a line with Vyacheslav Kozlov and Todd White. Known as the Little White Russian unit, White had his best offensive season to date and Kozlov bounced back from a mediocre 2007/2008.
Recently, the 21-year-old has seen extensive time with Kovalchuk and his passing intelligence perfectly suits the Russian's fantastic shot. Little works endlessly on the ice and should be a building block for a Thrasher's organization that's improving for the future.
8 ) Mikhail Grabovski (Toronto Maple Leafs)
"Ability is nothing without opportunity." –Napoleon Bonaparte.
This is a quote that Mikail Grabovski knew all too well. Guy Carbonneau didn't quite fancy the Belarussian in Montreal and his 27 games of experience in two years will support that statement.
In Toronto, Grabovski received an opportunity which was unknown to him previously. It proved to be a wise move by the Maple Leafs as he compiled 48 points (20 goals, 28 assists).
Grabovski gives Toronto a speedy forward with superb playmaking attributes. How fitting it is that his highest point totals in a single game occurred against the Montreal Canadiens.
7) Devin Setoguchi (San Jose Sharks)
It remains to be seen if Jonathan Cheechoo can ever regain the form that saw him capture a Rocket Richard Trophy in 2005/2006 with 56 goals. Good news for San Jose is that they seem to have found a replacement.
Devin Setoguchi is a key reason the Sharks have one of the most spread-out offensive forces in the league. The 22-year-old lit the lamp 31 times and his 34 assists came in handy as well.
Setoguchi can be used in all game situations and he is one of many question marks in terms of San Jose's postseason aspirations.

6) David Krejci (Boston Bruins)
Marian Hossa, Patrick Marleau, Vincent Lecavalier, Ales Hemsky and Anze Kopitar. That is some fine company to have led in points. David Krejci may have been the most unheralded player of the season.
The sophomore center exploded with 22 goals and 51 assists. Krejci went on two fabulous point streaks of ten and nine games. In those 19 games, he totaled 32 points for the Bruins.
Not only that, his plus-37 rating was best in the NHL. Aside from Marc Savard, he is by far Boston's best playmaking center and his vision is spectacular. Krejci has great hockey sense and always seems to be in the perfect spot with or without the puck.
5) Scott Clemmensen (New Jersey Devils)
Achieving victory without Martin Brodeur in New Jersey was an unknown concept. Naturally, when the franchise goaltender went down with an elbow injury in early November, it was expected that the Devils wouldn't survive.
Even in the worst times, great things can emerge. Scott Clemmensen took over and posted a remarkable 25-13-1 record, .917 save percentage, 2.39 goals against average and two shutouts.
Drafted in 1997, the 31-year-old had started in 19 career games prior to this year. All of the talk has surrounded Brodeur and his all-time wins record. But don't forget that it was Scott Clemmensen who saved the Devils' season.

4) Kris Versteeg (Chicago Blackhawks)
Drafting well in later rounds is just as relevant as the first pick. Henrik Zetterberg and Pavel Datsyuk are two superstars who were chosen past the fifth round. Kris Versteeg was drafted 134th overall by the Boston Bruins in 2004.
Now in Chicago, he has become quite the find. The leading rookie point producer for much of the season, he accumulated 22 goals and 31 assists for the Blackhawks. Also, Versteeg has become an essential part of the Blackhawks' penalty kill.
Ranked fourth in the league in shorthanded points with seven (four goals, three assists), the 22-year-old is becoming a fine two-way player as his defensive game has been just as inspiring.
3) Bobby Ryan (Anaheim Ducks)
The question with Bobby Ryan was never if, but rather when. His talent and potential were undeniable. Despite his season beginning in mid November, the New Jersey native led all rookies with 31 goals and 26 assists.
Ryan has set a new record for number of goals scored by a Ducks rookie. There's also the matter of his hat-trick in a 2:21 span against the Los Angeles Kings on Jan.8 which was the fastest ever accomplished by an Anaheim player.
Fitting right into Anaheim's style with his size and ability, Ryan is finally displaying the skill which made him the second overall selection in the 2005 draft behind Sidney Crosby.
2) Pekka Rinne (Nashville Predators)
Unfortunately, Nashville full just short of their fifth consecutive playoff berth. A new goaltender seems to emerge every year in Music City and Pekka Rinne was the new number one goaltender.
The Finn's 29-15-4 record was astounding and his .917 save percentage was no accident. His 2.38 goals against average was fifth among all goaltenders and his seven shutouts tied for fourth with Evgeni Nabokov.
Rinne is an extremely large goalie and covers a lot of net when staring down the opposition. Had it not been for injuries, the Predators may have made the playoffs led by Rinne.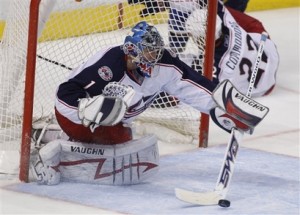 1) Steve Mason (Columbus Blue Jackets)

It was on Nov.5 that a 20-year-old rookie got his first NHL start in goal. That kid's name was Steve Mason and what he accomplished was nothing short of amazing. First, he posted a 33-20-7 record with a .916 save percentage and 2.29 goals against average throughout his first campaign.
His 10 shutouts led the NHL and his goals against average was only bested by Tim Thomas. Columbus has made the postseason for the first time in franchise history and it's hard to imagine it could have been possible without Mason.
Seemingly always in the right position, Mason has displayed impeccable poise and maturity beyond his years. Being the favorite for the Calder Trophy, Mason will also receive much consideration for the Vezina Trophy.
Honorable Mention: Kyle Quincey, Michael Frolik, Anton Babchuk, Kyle Okposo, Ryan Callahan, David Perron, Joel Ward, James Neal, Drew Doughty.