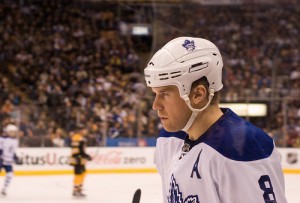 The Toronto Maple Leafs haven't necessarily been quiet in terms of off-season transactions since Brian Burke took over as general manager, but Burke's abundance of moves have not translated into on-ice success. Because of this, patience is running thin in Toronto.
In a hockey-mad city like Toronto it's easy to see how the team could continue to lose and keep making money, which is exactly what has happened since the lockout that wiped out the entire 2004-2005 season. That doesn't make things OK though. In fact, the large monopoly that Maple Leafs Sports and Entertainment has built up with the Leafs may be on its way to its first major stumble, the loss of regular appearances on CBC's Hockey Night in Canada.
That's just one reason why the Maple Leafs will need to step up their game next season and the only way that will happen is if Burke and his staff are able to ice a team that can compete game in and game out.
In no particular order, here are five reasons to expect a busy off-season in Toronto:
No. 1 – No playoffs
It's no secret that the Maple Leafs haven't qualified for the NHL's post-season since the 2003-2004 season. While playoff-less hockey is something many fans seem to have accepted over time, the itch is beginning to bother the mass majority.
Not one single player on the Leafs' current roster played for the team that season and, in fact, there isn't a player on the Leafs' roster who laced them up alongside Mats Sundin before he left for the Vancouver Canucks in 2008 either. With all the new faces, many of which have proven to be solid NHL'ers, you would almost think that the team would have qualified by now.
So what will it take to reach the playoffs? There's the obvious: A number one goalie, top-line centre, solid defensive defenceman and another top-six winger with size. But there must be something already in the organization that can change too. The only question is, what is it?
Maybe it will be more than just player transactions this off-season.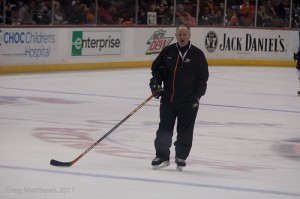 No. 2 – New coach, new system
For the first time last summer, we saw Burke adjust the team's roster in favour of his coach's style. That was, of course, from the rough-and-tough bottom-six and finesse-filled top-six to a speedy team that punished the opposition down the middle. It seemed to work for much of the season, even resulting in a contract extension for then head coach Ron Wilson.
Now that Wilson is no longer the coach and Randy Carlyle is behind the bench, it's time for that to happen again. Unlike Wilson, Carlyle appears to enjoy more of a tight style of play including what some may refer to as a minor version "The Trap."
What effect this will have on the Leafs' roster has yet to be seen, but it may take somewhat of a restructuring of the Leafs' back end and top forwards, if not a completely new mindset installed in the current players.
No. 3 – Cap space
Considering the Leafs are the NHL's eighth-worst team, they have very little salary cap space remaining at just over $1.2 million according to Cap Geek. The salary cap is something Burke has struggled with in the past, which is bad news for the Maple Leafs.
If the Leafs are going to become the top-notch team that some believe they can be with a few more additions, Burke will need to get his team's cap situation straightened out soon. There are various players Burke has on his team's roster that he can deal to achieve more flexibility under the cap such as Mike Komisarek and Colby Armstrong. The only problem is players like those two could be tough to deal due to their history with the team.
No one is entirely sure what Burke has up his sleeve, but some creativity will be needed if he plans to draw another All-Star calibre player to Toronto.
No. 4 – Frustration
Management, various coaches, players, media and fans alike grow that much more frustrated with the Leafs' lack of playoff action with each passing season. At some point that frustration will have to reach a boiling point. But what will the boiling point be?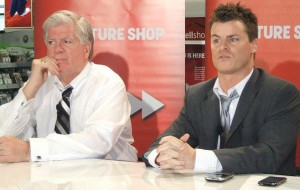 Some would suggest that Burke should do what Philadelphia Flyers general manager Paul Holmgren did to his squad last season, changing the face of his franchise into a deep, young team with serious, albeit inconsistent goaltending. That doesn't have to be the case for the Leafs though.
We already saw Burke make a major move behind the bench in firing Wilson in favour of Carlyle, somewhat reducing the chance of a Holmgren-like transformation. Nevertheless, frustration could play a key role in what the Leafs do this summer.
No. 5 – Pressure to succeed
There might not be a man under more pressure than Burke himself, who could find his job on the line if the team fails to succeed once again next season.
No matter how smart or calm of a man Burke can be, everyone can be pressured into doing something, which is exactly what could happen to the Leafs' general manager this summer. That doesn't necessarily mean he would be pressured into swinging a deal with a poor return for the Maple Leafs though.
If he does decide that a major change is needed due to lack of success, don't be shocked if names like Dion Phaneuf, Joffrey Lupul and Mikhail Grabovski are thrown around once again. No matter if you're the core of the team or not, no one is a lock when playing for a team that hasn't made the playoffs in seven years.
Twitter: @LukasHardonk | Email: lukas.hardonk@gmail.com | Lukas' archive
For every Leafs article on THW, follow @THW_MapleLeafs on Twitter.