The Maple Leafs made an enormous amount of progress in 2016-17, but in order to make the jump from fringe playoff team to Stanley Cup contender, a number one defenceman must be found. By 'number one' we're talking about the Victor Hedman/Duncan Keith type of player that can play 25 plus minutes per game, control possession, quarterback the special teams and match up against the opposing team's top forwards. This list counts down the top five options for the Leafs to acquire such a player.
Each option is assigned a score based on how realistic and how attractive it is. We're only talking about number one defencemen (there will be no discussion involving Karl Alzner or Jonas Brodin here) and right-handed shooters are the primary target so they can fit into a top-four role with Morgan Rielly, Jake Gardiner, and Nikita Zaitsev.
No. 5: Trade William Nylander
Realistic: 7/10          Attractive: 2/10
In an ideal world, the Leafs would be able to trade away a combination of lottery-protected draft picks and some of their abundance of young wingers (e.g., Connor Brown, Kasperi Kapanen, Josh Leivo) to secure a top-pairing defenceman. Unfortunately, that's not going to happen. The market value for defensemen is far too high thanks to recent trades including the Seth Jones for Ryan Johansen swap and the Adam Larsson for Taylor Hall trade. This week, Tampa Bay parted with Jonathan Drouin just to secure a promising defence prospect in Mikhail Sergachev.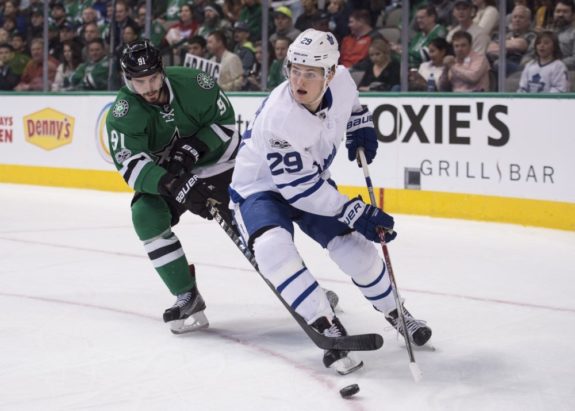 Leafs fans need to resign themselves to the fact that a trade for a legitimate number one defenceman will cost William Nylander or more.
As an example of the return the Leafs could get for Nylander, rumours circulated earlier this year of a potential deal for Calgary Flames right-shot defenceman Dougie Hamilton. Hamilton is a 23-year-old who scored 50 points in 2016-17, good for ninth in the NHL among defenceman.
Whether it's a trade for Dougie Hamilton or another defenceman of similar value, this option gets a relatively high realistic ranking of 7/10 and relatively low attractiveness ranking of 2/10 for the exact same reason. Nylander put up 61 points in 2016-17, winning rookie of the month twice along the way. He then followed it up by winning a gold medal and the MVP award at the World Championships playing for Team Sweden. Any team would want Nylander, but the Leafs will only trade him as a last resort option.
No. 4: Offer Sheet Colton Parayko
Realistic: 3/10          Attractive: 6/10

The idea for the Leafs to offer sheet Colton Parayko was first brought to light by Tyler Dellow in an article you can read here. If you don't have a subscription to The Athletic, the general idea is to submit an offer sheet to St. Louis Blues restricted free agent Colton Parayko at a dollar figure so high that the Blues couldn't match it due to their salary cap constraints. The immediate consequence for Toronto would be forfeiting to the Blues either two first-round draft picks, a second and a third-round pick OR four first-round draft picks, depending on the size of the offer sheet.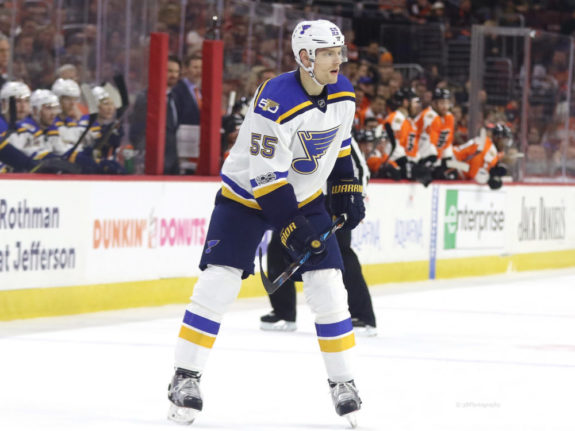 Parayko is a 24-year-old, 6-foot-6, right-shooting, shut-down defenceman. In other words, exactly what the Leafs need.
In the best-case scenario following a move like this, Parayko turns into the next Chris Pronger, the Leafs become a dynasty, and the two-to-four first-round picks the Leafs forfeit in the move turn into late first-rounders.
In the worst-case scenario, a combination of injuries (remember the Leafs had almost no substantial injuries in 2016-17) and sophomore slumps finds the Leafs out of the playoffs in the near future and the forfeited first-round picks turn into lottery picks. Let's not forget that Tyler Seguin and the previously mentioned Dougie Hamilton are not Maple Leafs today because of a similar move.
To make matters worse, the Parayko offer sheet starts a trend in the league and other teams submit offer sheets to Nylander, Mitch Marner, and Auston Matthews in the near future. Yikes…that's a nasty scenario to think about, which makes the attractiveness score only a 6/10 and the realistic score a 3/10.
No. 3: Sign Shattenkirk to a 2-Year, $18 Million Contract
Realistic: 4/10          Attractive: 8/10

The Maple Leafs have two dilemmas. First, they have room within their salary cap now but won't have nearly as much room two years from now when Nylander, Marner, and Matthews entry level contracts have all expired and they've received significant raises. Second, the Leafs are in desperate need for a number one right-shooting defenceman (hence this whole article), but there are very few available. That's where this idea comes in; the Leafs overpay UFA Kevin Shattenkirk significantly in order to entice him to sign a short-term deal in Toronto.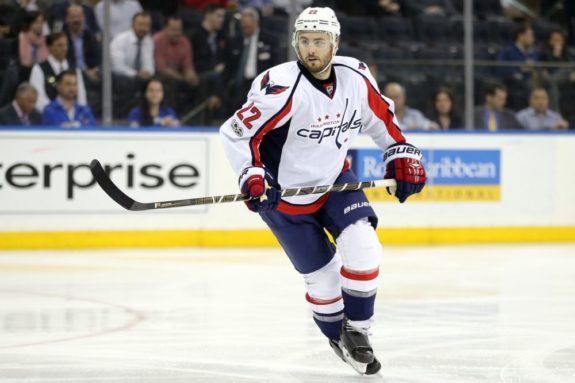 The selling pitch to Shattenkirk would be as follows:
A salary of $9 million per year would tie him with P.K. Subban as the highest-paid defenceman in the league.
He will have the opportunity to quarterback the second-best power play from the 2016-17 season. After he racks up points playing with Matthews, Marner, and Nylander for two years, he can sign a lucrative long-term contract with another team that will take him into retirement.
This idea gets an attractiveness rating of 8/10 because it solves a positional need with the best available UFA and doesn't sacrifice anything but available salary cap. However, it receives a realistic rating of just 4/10 because Shattenkirk is going to be looking for a long-term contract—something along the lines of the Keith Yandle contract but with a slightly higher value (seven years, $6.5 million per year most likely). While it's also an option for Toronto to offer a long-term contract to Shattenkirk, it's not a very good one as he is not the type of shutdown defender the Leafs need long-term, and it would hinder Toronto's ability to sign better free agents in the future (see option No. 1).
No. 2 – Draft One
Realistic: 2/10          Attractive: 10/10

Obviously! Unfortunately, it's easier said than done. The Leafs pick 17th in the upcoming 2017 draft and Craig Button's rankings would have defensemen like Cal Foote, Juuso Valimaki or Erik Brannstrom available around there. The Hockey Writers' own mock draft had Toronto selecting Nic Hague, but the best-case scenario for Toronto would be to trade up to select Timothy Liljegren if he falls down the draft board.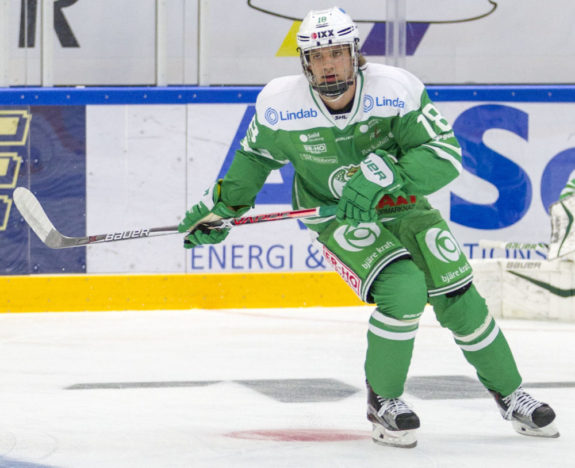 None of the above players are projected to be a number one defenceman the caliber of Victor Hedman, but fortunately for the Leafs, defencemen are much more unpredictable than forwards coming out of the draft, possibly due to the fact that they typically need longer to develop than forwards do.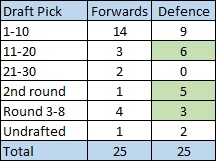 Looking at the top 25 defencemen in scoring in 2016-17, six were chosen in the middle of the first round of the draft (e.g,. Erik Karlsson and the aforementioned Kevin Shattenkirk), another five were chosen in the second round (e.g., Roman Josi and P.K. Subban) and three more were later in the draft (e.g., Dustin Byfuglien).
Fun fact: not only were more than half of the top 25 forwards in scoring drafted in the top 10, but six of them were drafted first overall.
No. 1 – Wait for the 2019 UFAs and sign Erik Karlsson or Drew Doughty
Realistic: 5/10          Attractive: 8/10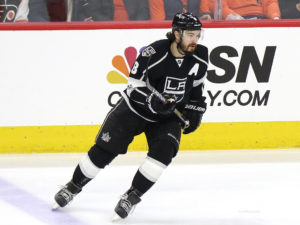 Why overpay in a bidding war for Kevin Shattenkirk when you can overpay in a bidding war for Erik Karlsson or Drew Doughty? Unlike Shattenkirk, Karlsson and Doughty are elite defencemen and are the winners of the past two Norris Trophies. These are the types of free-agent acquisitions that can push the Leafs into perennial Stanley Cup contention.
Leafs fans are not a patient bunch so this option may not sit well (excited fans this offseason will not be satisfied by a Matt Hunwick re-signing). However, this type of long-term thinking is Toronto's best bet for a Stanley Cup championship.
The big question is whether these two will leave LA and Ottawa and whether they would sign in Toronto. Erik Karlsson has been critical of Ottawa's unwillingness to spend big money to surround him with top-level talent and may be willing to leave for better chance to win a Cup with Toronto, where spending money isn't an issue.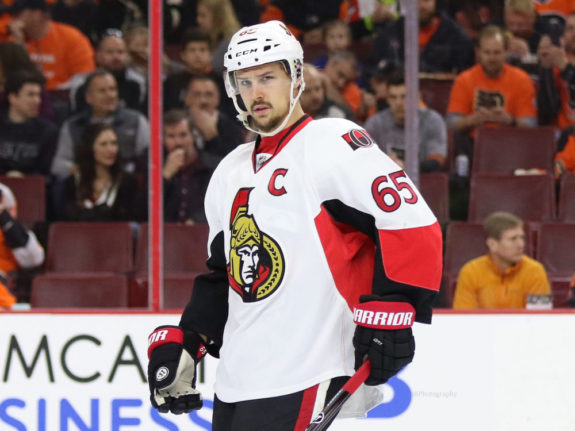 Meanwhile, Doughty's Kings have missed the playoffs two of the last three years and are in tough in the Pacific division with Anaheim, Edmonton, and Calgary all on the rise. He may want to escape to the far easier Atlantic division for another shot at the Cup playing with Matthews, Marner and Nylander. Doughty has also recently admitted to secretly wanting to play for the Leafs, for what that's worth.