During his rookie season, Andrei Vasilevskiy gained significant experience playing well during the regular season and the playoffs, where he had to step in for Lightning starting goalie Ben Bishop who was playing the playoffs through an injury. In this translated interview, originally appearing on the Russian website Business Gazeta, Vasilevskiy talked about his best season, life in Tampa Bay, and his first NHL game.
* For the original Business Gazeta article by Maxim Nikerin, click here.
– Last week the free agency period started, are you following the news?
– Not at all. I haven't checked any hockey news websites all season. Why should I load myself with information when I have such a hard season? I don't even know what happened during the draft.
– Many Russian players will cross the Ocean this summer. How do you react to this?
– Positively. Now I know what it means to play here [in the NHL]. I think that if you have even the slightest chance to play here, you should get here without any doubt.
– Even in the AHL?
– Of course there is no guarantee that you'll get to play in the NHL after spending some time in the AHL. But you need to try. Even if you played in the junior leagues, you'll still get more experience and this is a good thing.
– Has of the new Russian NHL players called you to ask advice?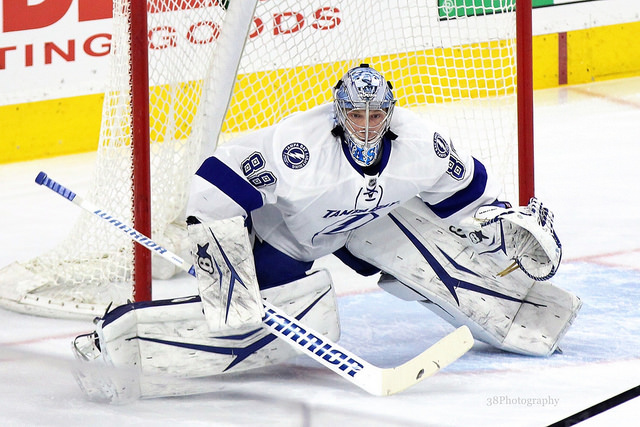 – No, no one. Frankly speaking, I hardly talked to anyone while I was here [in the USA]. I didn't have to give any advice.
– It was said that Anton Slepyshev contacted you constantly during the season regarding the NHL.
– It is an exaggeration. We wrote to each other a couple of times. He wrote to me after my first game, I wrote yo him when his kid was born. That's all.
– Does he have any chance of getting into the Oilers lineup?
– Of course, a very good chance. Anton is a talented, hard-working player and I think that all will be good with him.
– Were you expecting to play in the Stanley Cup Finals during your rookie season?
– Frankly speaking, I was expecting that they would have me play the whole year in the AHL. But it turned out that I was promoted after only half a season. Considering the way we played during the regular season, I was sure that we would go far in the playoffs. It wasn't a surprise for us to end up in the Stanley Cup Finals.
– Did you imagine you would win the Cup?
– I had such thoughts, yes. After we got to the Stanley Cup Finals, after we defeated three very good teams, I was firmly convinced about it. In that moment…
– …you saw yourself in [your home town] Ufa with the Cup?
– I first imagined myself on the ice with the Cup, lifting it over my head. And then, of course, thought where to bring it. I'd bring it here to show everyone. But we weren't lucky enough. We'll work on it. When I' win the Cup, of course I'll bring it here [to Ufa].
[…]
– Can you tell us about your first NHL game against the Flyers?
– I think I remember every single minute from the day before through the game itself.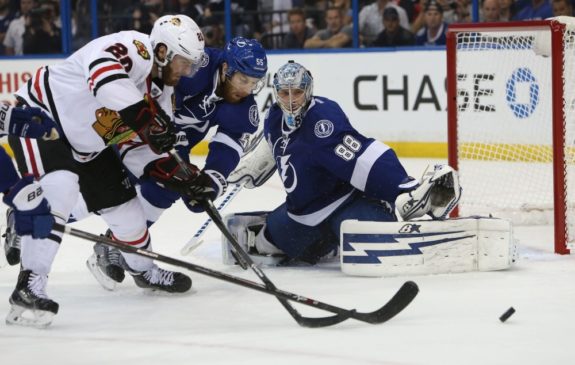 – Ok, let's go minute by minute then.
– In Syracuse I was having a typical day: practice, then home to eat something and then I went for a coffee with my wife. That's all. In the evening my phone rang: "Are you watching the game?" And I replied: "No, I don't even have a television."
– Who was calling you?
– Yzerman's assistant. He told me that Bishop was injured: "Tomorrow morning you'll have to be in Philadelphia."
– Did your heart start beating fast?
– Not too much. But, of course, there were many emotions and it's hard to talk about them now. I told my wife that the Lightning called me up, but that it was still unclear if I'll play or not.
– What happened next?
– In the morning, the plane was late and I couldn't get to the morning skate. The head coach invited me to his hotel room, which was also the office of the coaching staff. They asked me about the flight, about how I felt: "Did you practice yesterday? Do you feel good?" "Yes, I do." "Ok, you're gonna have your NHL debut tonight."
– Not bad.
– And I said to myself: "Wow. It's gonna happen now." I went to eat something, and Evgeny Nabokov was already waiting for me. He gave me a couple of directions, then I slept a bit and went to the game. I didn't have time to get nervous. I got there, played, and after the game I  collected the winning puck. I was very happy, the team played great that night.
– One of your saves made the ESPN Top-10 saves of the season.
– Which one?
– Your kick-save against the Predators.
– A normal game event, just some reflexes. It was nothing special. I think there would be no difference if it made the top 10 or not. It was just a normal game event.
– Last year you said that you were playing for the Lightning on video games. And now you played for them for real. Did it meet your expectations?
– It was much, much better. The NHL is the best thing that can happen to any hockey player.
– And why is it the best?
– The organization, fans, 20-thousand-fan arenas. During the playoffs everything in Tampa was plastered with huge posters. Houses were decorated with banners that read "Go Bolts!"
[…]
– Who is Tampa Bay's funniest player?
– Hard to say a name. We are fun guys. I'm talking about our Russian company. To speak the truth, we joke among ourselves in Russian and no one understands us. But it's very fun for us.
– Are they okay with it?
– They are used to it. Sometimes they even try to speak Russian.
– Did Phil Esposito invite you to his place?
– No, he didn't but he is always with the team. He always greets us Russian players, encourages us. He is a great person.
– It has been said that sometimes he gives speeches in front of the team.
– I have never seen him in the locker room. But he is always with us at away games. Maybe in other seasons he did but this year he did not.
[…]
– In the second game of the Stanley Cup Finals Ben Bishop was injured again. Were you ready?
– You have to be ready in every moment. I saw that Bishop was skating toward the bench and I understood that it was my turn.
– Were you nervous?
– No, I was ok, I had already played during the playoffs. I didn't feel like "Oooh, this is the playoffs." I wasn't trembling. Of course I was lucky that game but the most important thing was the game result.
– How did you talk with Bishop during the season?
– At first we didn't talk much, I didn't know the language as well as I wanted to. But closer to the playoffs we started talking more. He's a good fellow without any superstar syndrome.
– Let's get back to the first part of the season. What is special about the AHL?
– Fights. At least two or three per game.
– Do goalies fight too?
– They do, but rarely. No one tried to fight me, though, goalies or skaters. My half-season in the AHL was pretty quiet. Generally speaking, each team has their own enforcer and they usually fight each other. The level is good. I think playing one or two seasons in the AHL is the ideal path for good adaptation. Maybe you don't go to the world's best cities, but you're there to play hockey, and hockey is good.
– During the game against Utica the record for the top attendance in the AHL was set. Was the atmosphere good?
– It was very interesting. We had new jerseys, and they got me a new mask. Everything was similar to the Winter Classic in the NHL. They created a rink in a huge stadium, they let us visit it the day before the game with our families. I didn't have a good game, I allowed a goal on the very first shot, but in the end we won 2-1.
– You were awarded the first star of the game.
– Really? I don't remember that, frankly speaking. But that game left many good impressions.
– How did you settle in Tampa?
– I rented a flat in the downtown, ten minutes walk to the rink. But I go by car so it's just two minutes. I bought a car, a Lexus Crossover.
– Last year you said that in your family you prefer Mercedes.
– In Syracuse our sponsor was Lexus, they gave me a big discount, the offer was too good to pass even if I am not a fan of their cars.
– When will you ask your parents to fly to you?
– I just called them. This year I could not, my father was busy with the Deaflympics [Note: Vasilevskiy's father was the GM of the Russian National Team]. They told me that they'll come next winter. The most important thing is to get the visa.
– How good is your English?
– Now it's better than it was when I first got here. More or less I can talk, but I have many pauses. I think that I'll talk well in about one or two years. Now I still talk more in Russian than in English, and this of course interferes with the learning process.
– Is it hard for you to talk with the local press?
– I don't speak that well, therefore I am not such a big target for them. But there is a lot of press here. During the playoffs we had up to fifteen journalists in the locker room. That's a lot.
– When will we see a goaltending school by Vasilevskiy father and son in Russia?
– Once I learn to play I'll open a school. [Laughs.]
Related: Stay or Go: What Should The Lightning Do With Andrei Vasilevskiy?