It's a question on the minds of many after the Vegas Golden Knights' miracle first season – did this team get better?
Before we get into the answer, let's recap the bigger moves made by the Golden Knights this offseason as we start to gear up for the 2018-19 season.
June 30: Ryan Reaves – 2 Years, $5.55 Million
I'm still scratching my head at this one, as was THW's Mike Manley in his free agency recap. I'm sure Reaves brings grit and leadership and all those other intangibles you can't really put into numbers per se, but what you can measure is his performance and he isn't bringing much beyond a big body and being the toughest guy in the league (his words).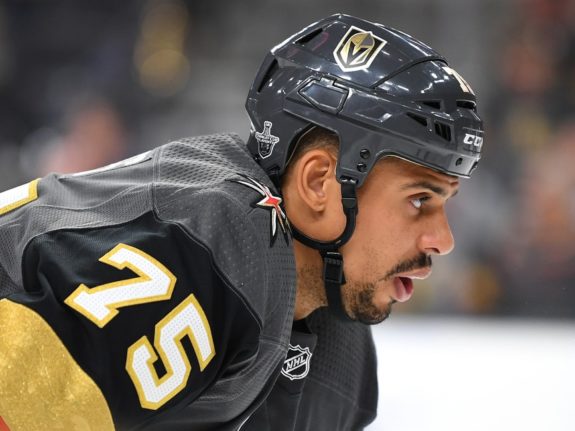 Reaves, who believes the team is poised to make another run at the Cup, might be another classic example of a guy cashing in on a bloated contract after having some big moments in the playoffs. Maybe the fans in Vegas love him and he sells a lot of jerseys. Maybe he will sell even more when he finally drops the gloves in Sin City.
But is he really worth more than Erik Haula, a guy who scored 29 goals last season? Or more than Alex Tuch, Tomas Nosek, and William Carrier COMBINED?! Quite a puzzler.
July 1: Stastny & Holden to Vegas, Perron Leaves
Paul Stastny – three years, $19.5 million
Nick Holden – two years, $4.4 million
Daniel Carr – one year, $750,000
Brandon Pirri – one year, $650,000
Maxime Lagace – one year, $650,000
David Perron – four years, $20 million (with St. Louis Blues)
A flurry of activity on the opening day of free agency saw the Golden Knights make a surprising move in bringing in Paul Stastny and make several depth signings.
While the Stastny singing was the big splash, I really didn't like it at first. But now that I've had a month to marinate on it, I actually think it's a great move for the team. Stastny brings experience and solidifies the team down the middle. He is a dependable two-way pivot who can play in any situation and will look to set up whoever steps in to play with him on the second line, likely two out of Tomas Tatar, Alex Tuch, and Erik Haula.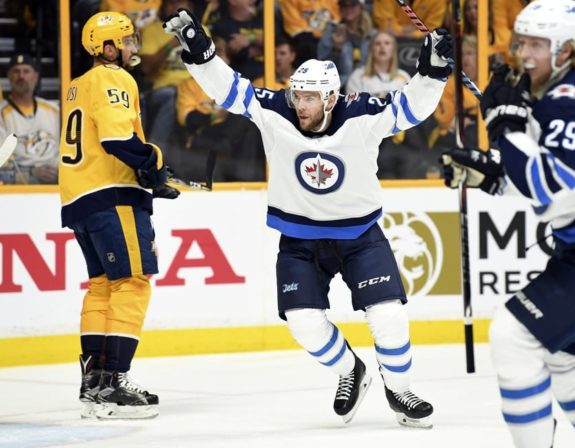 The AAV might be a bit high, but the term isn't long, so the team won't be majorly regretting it for a long time.
I'm fine with the Holden signing as well. He's a big, puck-moving defenseman who can skate and should pair well with Colin Miller on the second pair. There were some detractors to the signing, as he was often a healthy scratch last season, even during the playoffs after being brought in by the Boston Bruins, but he certainly fits the mold of a Golden Knight as an undrafted player with something to prove. Let's see if he can return to the 11-goal, 34-point form he showed two seasons ago.
Carr fits the mold as a player looking for his opportunity to blossom and may just get his chance as there is an opening on the Golden Knights' third line. Carr has offensive skill and speed, and came quite cheaply.
Pirri is a great depth signing, especially since all he does is score whenever he is called up to the NHL. He may get a real look at cracking the opening night roster during training camp, but I expect him to return to the Chicago Wolves to light up the AHL and be ready for a mid-season call-up.
Lagace was called into action last season after a string of injuries to Golden Knight netminders, and showcased the value in goaltender depth. He's a perfect AHL goalie while the prospects develop.
July 2: James Neal – Flames (5 Years, $28.75 Million)
Letting Neal walk may seem like a gut punch to some, but if the money he received was his market value, the Golden Knights made a wise move not matching the Flames' offer. Neal never figured into the Golden Knights' future plans, and though he does consistently light the lamp, he is on the wrong side of 30, and the back end of this contract may not look good for the Flames.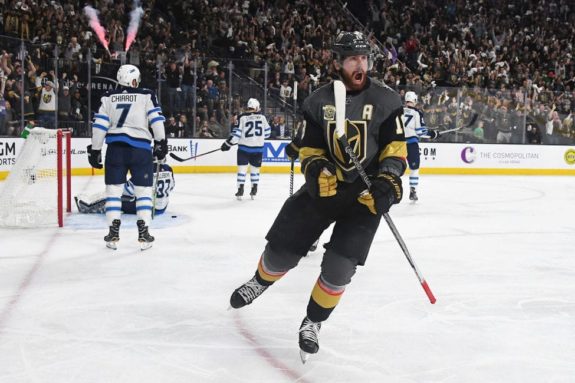 Time will tell how it works out in the long run, but Neal leaving in free agency does leave another hole in the wing in the top-nine.
July 7: Oscar Dansk – 2 Years, $1.35 Million
This one flew under the radar, but I love this signing for the Knights.
It was a small sample size, but Dansk played great in his brief stint as the Knights' emergency starter before getting injured. To me, Dansk has all the makings of a big, late-blooming goaltender a la Ben Bishop.
With backup Malcolm Subban's contract expiring at the end of the season, Dansk provides insurance in case the Golden Knights decide to move Subban this season and get some value for him while he's still young. Dansk then would become starter Marc-Andre Fleury's backup in 2019-20 and would need a new deal to continue beyond. The future looks bright for Dansk, but becoming the Knights starter would be way down the line now that Fleury is locked in for four more years (more on that in a moment).
July 8: Colin Miller – 4 Years, $15.5 Million
This was another great signing by general manager George McPhee, broken down here by Lukas Weese. Miller is still just 25, and provides a steady presence along the blueline along with some grit and a big shot from the point. The $3.875 million AAV is a good value as he continues to develop into a true top-four D-man.
July 13:  Marc-Andre Fleury – 3 Years, $21-Million
Talk about capitalizing on your value while it's high. Fleury is the current face of the franchise and now will continue to be for at least four more seasons, after signing a surprising three-year extension. I say surprising because that AAV is high. The deal will make him the second-highest paid goaltender next season as we stand, although you'd expect pending free agents Sergei Bobrovsky, Pekka Rinne, and perhaps even John Gibson to surpass him in the offseason.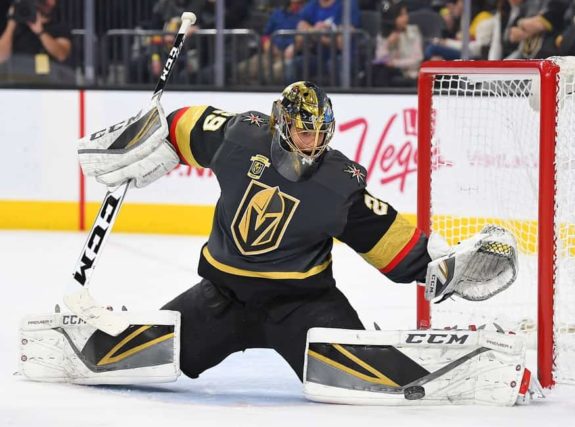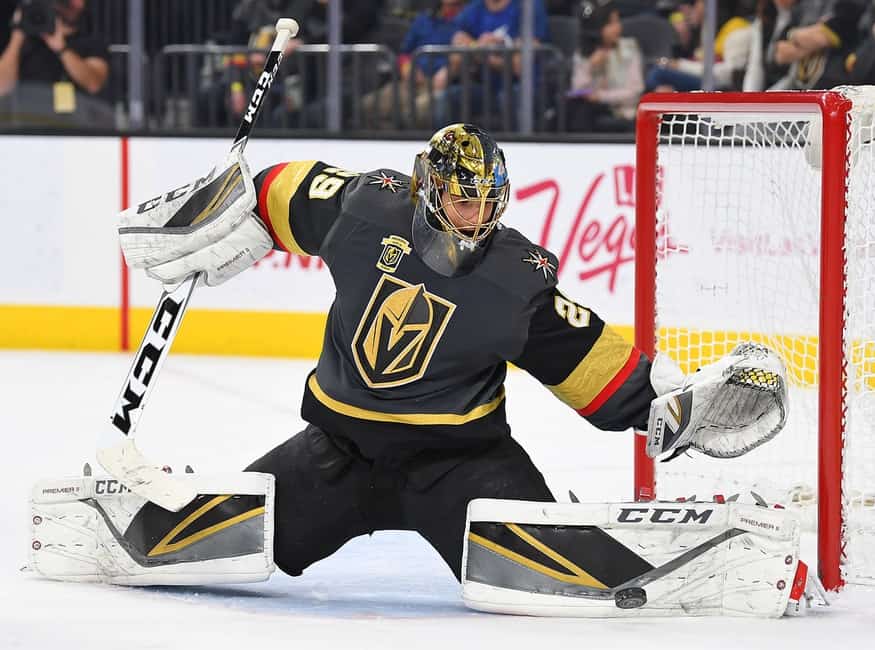 But if Fleury can play close to the form he showed during last season and the first three rounds of the playoffs, he will be worth every penny to this team and city.
July 18:  Tomas Nosek – One Year, $962,500
Another good depth signing, Nosek comes back on a cheap one-year deal. Primarily a center throughout his career, Nosek shifted to left wing for most of the 2017-18 season and performed admirably, becoming reliable on the penalty kill and chipping in the occasional timely offense. Still just 25, Nosek may be a good role player for the Knights to keep around for years to come over the much older Pierre-Edouard Bellemare.
July 23 – William Carrier – Two Years, $1.45 million
Grit, speed, hustle. Carrier is your prototypical fourth-line winger. He gives the Knights depth on the wing at a fraction of the cost of Reaves, which makes that signing all-the-more puzzling.
What Do Golden Knights Still Need to Address?
And that's where we stand. Two large pieces have yet to be determined, as first-line center William Karlsson and power play quarterback Shea Theodore await arbitration. Hopefully, it's a situation of trusting the process rather than becoming disgruntled, as both are poised to be key figures in the club's early future.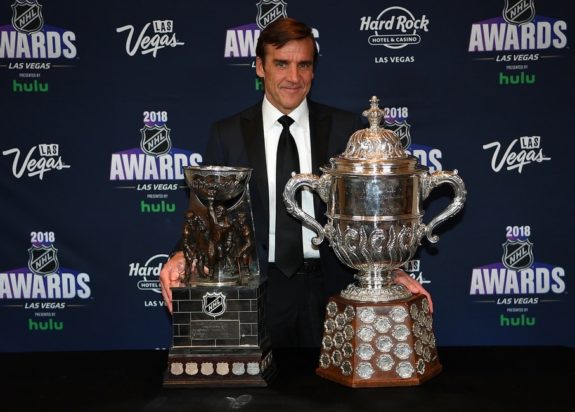 When those two put ink to paper, the team will be set for the season, and I wouldn't expect any additional moves to be made (sorry, Erik Karlsson fans). This means a top-nine role will need to be filled, likely by a rotating cast of misfits, as coach Gerard Gallant loves to shuffle bodies around in the bottom two lines. But with 15 forwards and eight defensemen under contract, I don't see any other players being added, and it would be tough for one of the young prospects to crack the lineup.
So…Did The Golden Knights Improve This Offseason?
Despite their first season success, this offseason signals to me that the Golden Knights are mostly staying the course, giving their prospects adequate time to develop and not rushing them to the NHL. The majority of the team's offseason moves were to keep their own players in-house.
So if we're looking at replacing James Neal and David Perron with Paul Stastny and Daniel Carr, plus the addition of Nick Holden on the back end, then this looks like a slight downgrade to me. But since this team rode a massive wave of chemistry last year, keeping the team mostly intact should keep the mojo alive.
Therefore, did they improve? No. But I don't think they got much worse either.
A Hartford kid, John grew up on The Whale and Brass Bonanza. He first laced up the skates at age 3 and has rarely taken them off since. Now based in Orange County, John is taking his talents to the pond and providing coverage for the Anaheim Ducks as they begin their rebuild.