The Windsor Spitfires are ready to begin camping! Their 2023-24 Ontario Hockey League (OHL) Training Camp starts on Thursday, which means hockey is just around the corner with plenty of storylines to follow.

Heading into camp, there's a very new feel to the team. From a new(ish) coach to heavy graduation, internal battles to free agent potentials, there's a lot to talk about. After a disappointing end to last season, this is a chance at a fresh start. Let's take a look at five stories that could play out in camp.
5 Spitfires Stories to Watch
5. Is Costanzo Ready for the Spotlight?
This might be the first time since 2018-19 that the Spitfires don't have a major battle in goal. However, there is still plenty of intrigue.
Since former star goaltender Michael DiPietro (Boston Bruins) was traded to the Ottawa 67's in Dec. 2018, the crease has been a carousel of tenders. They all tried to grab the reigns, but most failed to earn the full-time spot. Now, sophomore Joey Costanzo enters the picture.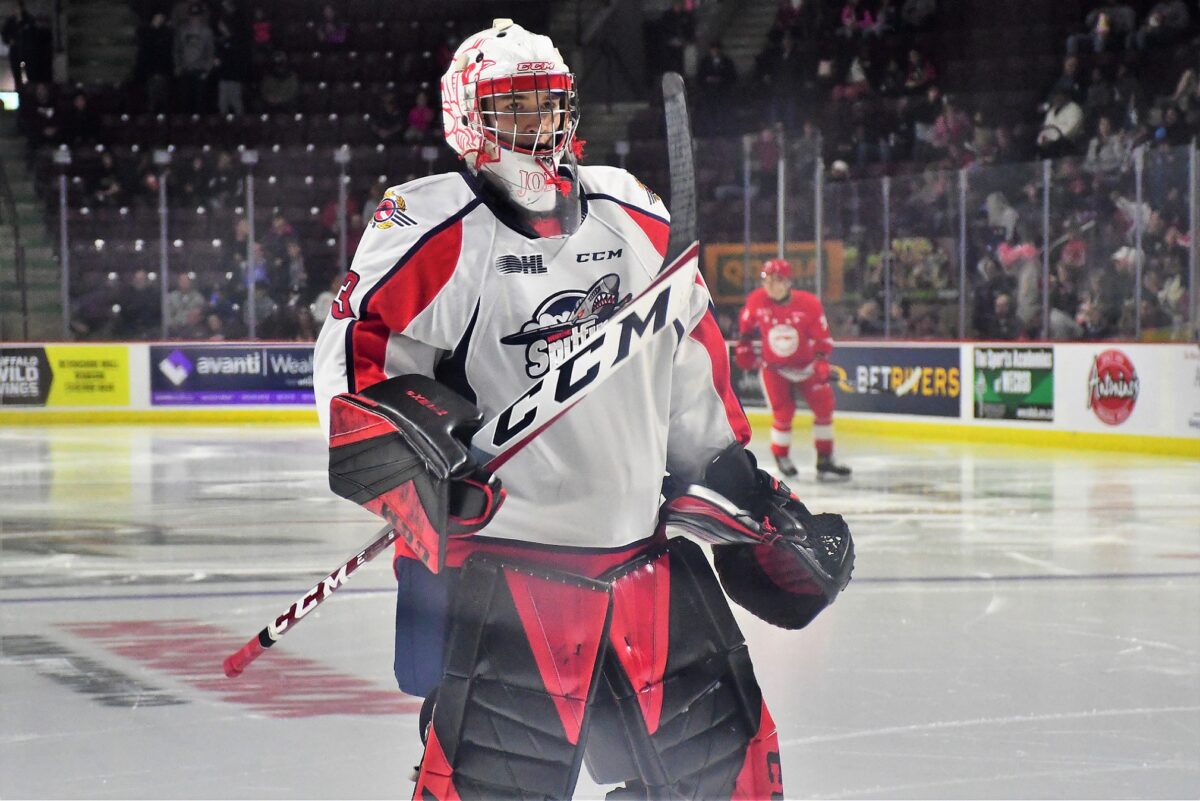 Acquired from the Niagara IceDogs just before the 2022-23 season opener, Costanzo not only forced then-head coach Marc Savard to play him regularly, but he nearly won the starter's role by season's end. While just 17 years old, the 6-foot, 190-pound Toronto native outperformed 20-year-old veteran Matt Onuska to earn the team's trust.
With Onuska graduated, Costanzo, now 18, heads into his first training camp with an eagerness to show that last season was no fluke. He'll have plenty of push from several goaltenders, including 2022 sixth-rounder Carter Froggett and 19-year-old Ian Michelone, who split time last season between the Spitfires and the LaSalle Vipers Jr. B. However, that should be just motivation.
Last season, he took advantage of every chance the club gave him, but given he was in a tandem, he didn't have the spotlight. Now, it's a different story, and is he ready for that? The potential for greatness is certainly there, and it's a story that will be worth watching as we head towards the regular season.
4. Development of Cristoforo, Greentree, and Spellacy
When general manager (GM) Bill Bowler took a shot at the championship last season, he didn't hesitate in dealing as many draft picks as he needed to. Unfortunately, this left the draft cupboards pretty empty until 2026 (as far away as teams could deal picks). What made this a bit easier to accept? The play of their 2022 trio of picks.
Related: Windsor Spitfires Look to Reload at 2022 OHL Draft
---
Latest News & Highlights
---
They couldn't have asked for much more from defenceman Anthony Cristoforo (first round), forward Liam Greentree (second round), and forward A.J. Spellacy (third round). Cristoforo and Greentree were among the top seven in rookie scoring for the league, and their confidence grew with every game. Spellacy started off strong but suffered a season-ending knee injury in the second half.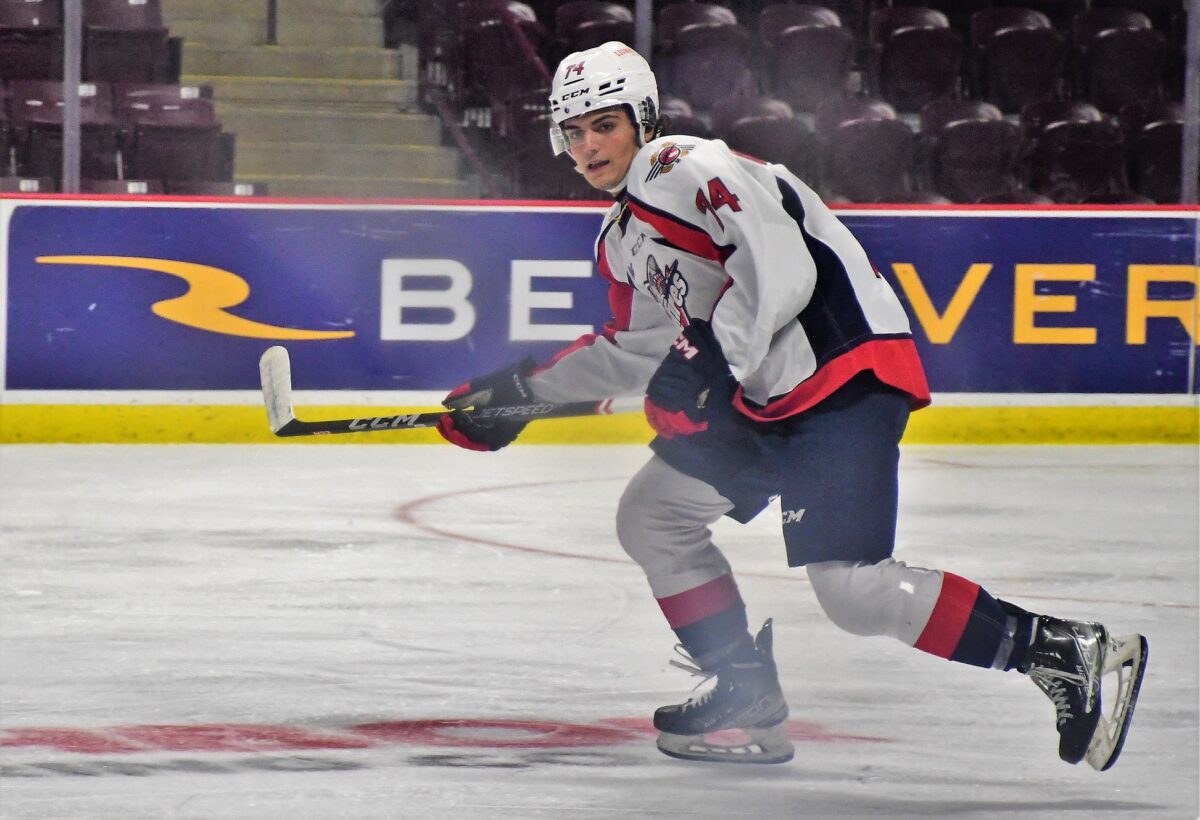 Coming into camp, though, all three are ready to go. Cristoforo and Greentree won Gold for Canada at the 2023 Hlinka-Gretzky Under-18 tournament in August while Spellacy took Bronze with the USA. With heavy graduation, including captain Matthew Maggio (New York Islanders), Brett Harrison (Boston Bruins), and alternate captain Michael Renwick, they'll have an increased responsibility and seem poised to take control. The 2024 NHL Draft isn't far off and now they have a chance to show the hockey world what they're capable of.
3. Four Overagers, Three Spots
In the OHL, every team is allowed to dress three 20-year-olds (overagers) per game. However, this creates a bit of an issue for the Spitfires.
When they went for it all last season, they wound up with several 19-year-olds, all of whom were eligible to return for 2023-24. That created some chaos for Bowler. While he's been able to manoeuvre his way through the summer, dealing defencemen Daniil Sobolev to the IceDogs and Jacob Holmes to the Kingston Frontenacs, he still has four players remaining.
Coming into camp, forwards Oliver Peer, Alex Christopoulos, and Jacob Maillet, along with defenceman James Jodoin, all have a chance to play for a final season. They're listed on the camp roster, so it will be a two-part battle. Who gets the three spots, and who might bring the most value for Bowler and the club? There are no easy answers.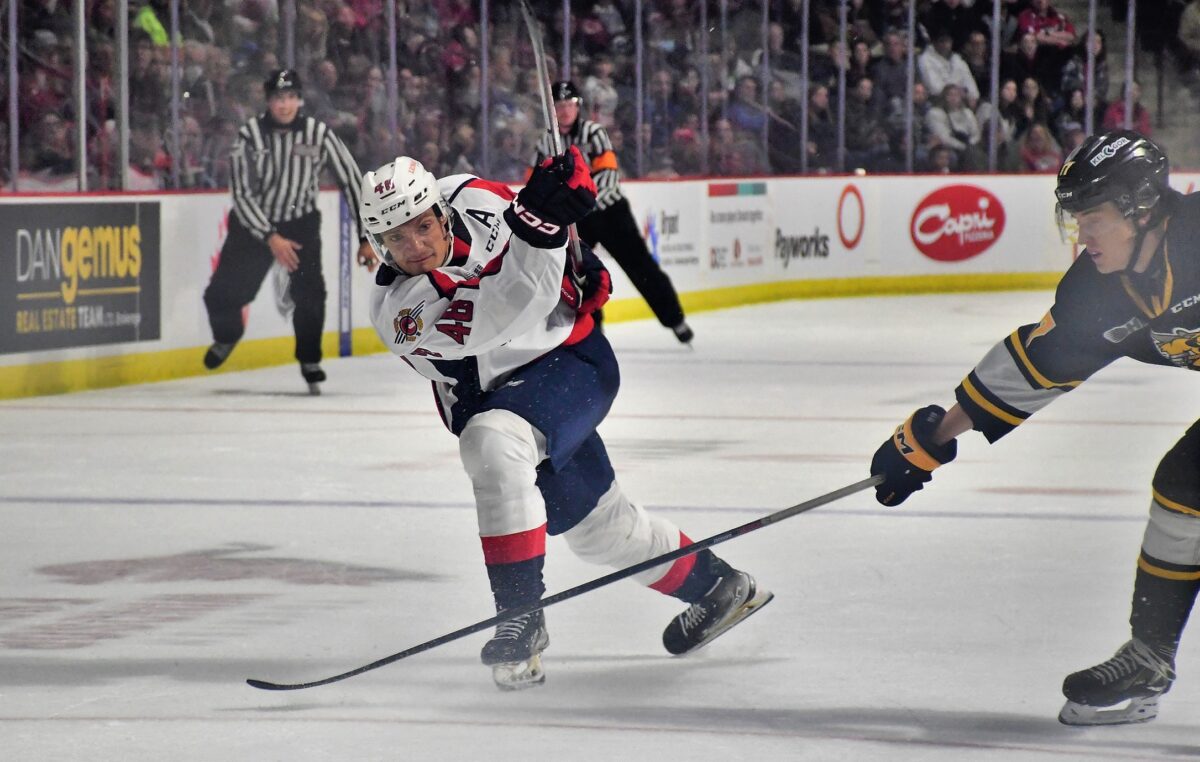 Peer exploded for 67 points in 63 games last season after nine in 50 games after signing as a free agent in 2021-22. Christopoulos had a 49-goal breakout campaign and is poised to keep the momentum going. Maillet also had a breakout season with 76 points and earned an alternate captain's "A." Jodoin could be crucial on defence and, at 6-foot-3, 215 pounds, brings an element that a younger roster might appreciate.
There's nothing easy about this decision, but it must be made. This is definitely worth watching over the next month, as Bowler won't want to go too far into 2023-24 without a decision.
2. Smith's New Promotion
Since 2011, Jerrod Smith has laced up his skates and hit the WFCU Centre ice in various capacities for the team. Now, he'll walk the walk as their new head coach.
Smith has been an integral part of the organization for over a decade, seeing them from tough, basement-dwelling times through a Memorial Cup Championship (2017). Finally, he has his chance to take control of the Xs and Os.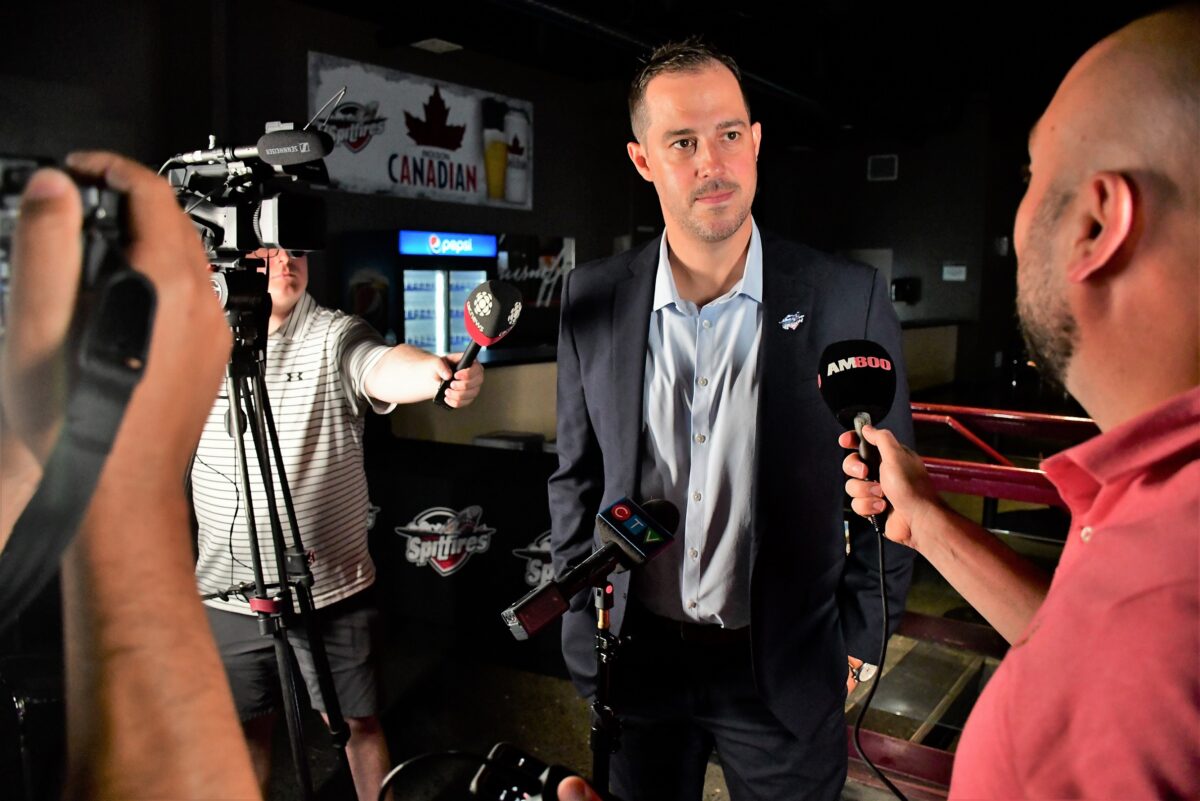 Under Savard (2021-23), the Spitfires built a club that was strong offensively, mostly responsible in their own zone, and had a family-like culture off of the ice. There was a sense of cohesion that we haven't seen in a long time, and now Smith gets a chance to continue that path. He has a vision for his team, has the opportunity, and now he gets to create his own legacy.
How will the players respond? How will his style differ from Savard or other past coaches? Can he command the room? He has all of the tools and knowledge to create a consistently successful organization. However, in the early stages of this new era, there are questions to be answered and rightfully so. This will be worth keeping an eye on through camp and into the regular season.
1. Free Agent Potential
Over the last decade, the Spitfires have become known for finding free agents around the Great Lakes and developing them into bonified OHL talents.
It started with former GM Warren Rychel getting players like forward Cristiano DiGiacinto (2013) and defenceman Jalen Chatfield (2014) and has continued with Bowler finding Peer prior to 2021-22. Peer went from a speedy long-shot prospect to a point-per-game talent who's getting NHL attention.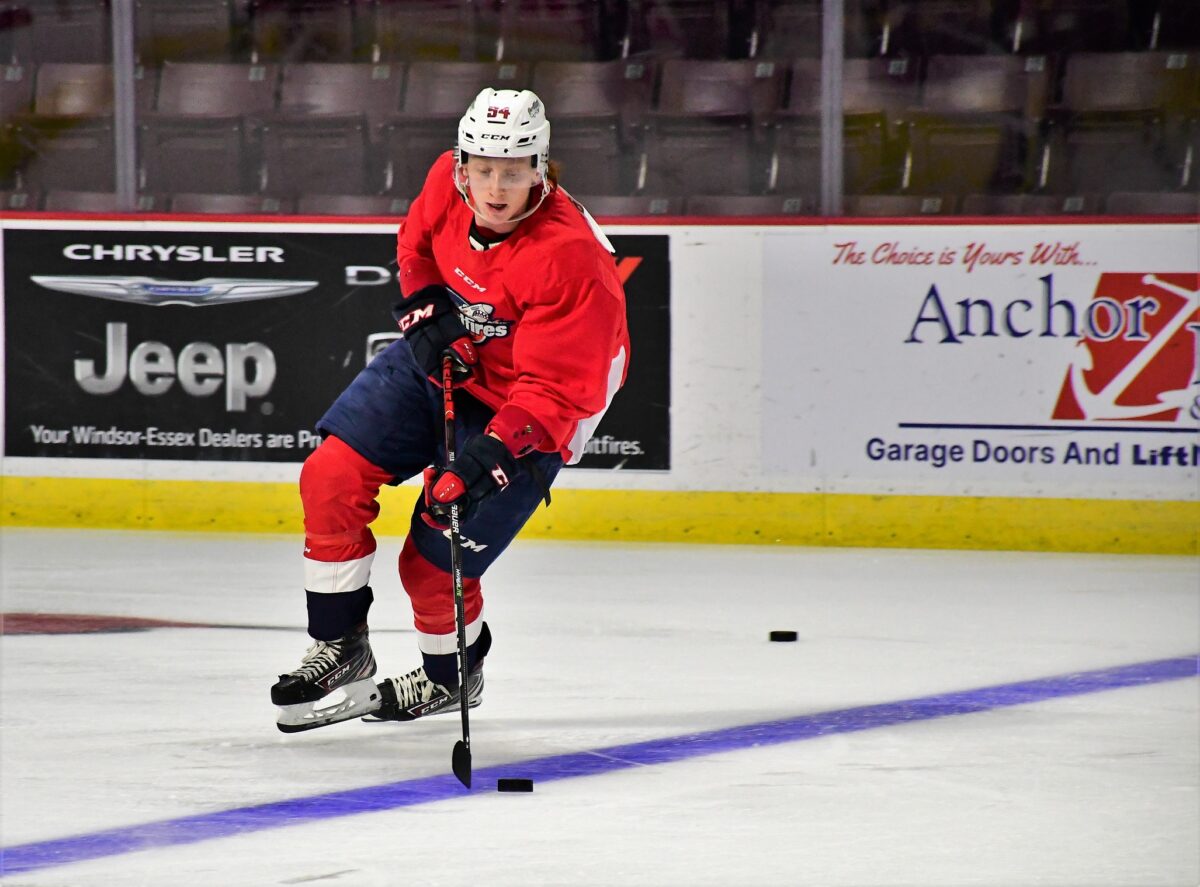 Every season, they bring free agents who just want a chance to show their worth, and this camp will be no different. While not everyone will crack the roster, it's always worth watching to see which free agents might take that extra step to force management's hand. The club has stressed that hard work is rewarded with ice time, and that's no exception here.
From players to coaches, there are new looks all around as we head into training camp. It will be an exciting month, and these five stories will be ones to keep an eye on as the regular season draws near.
---
---