As the battle for Ontario Hockey League (OHL) Western Conference regular season title reaches a boiling point, the Windsor Spitfires are finding that adversity is going to test them. With 11 games left on the schedule, they faced three grueling challenges this past weekend while staring at an unknown future.
At the January trade deadline, the club was all-in as they looked to defend their 2021-22 Western Conference crown. However, nothing was going to come easy. Not only did they have the London Knights keeping pace, but other teams were breathing down their neck, and, over the last few weeks, they've been riddled with injuries. While it's something they need to play through, as all teams face those, it's also a mental test. This past weekend, they faced the Knights, Sarnia Sting, and Flint Firebirds, who are all gearing up to make noise in the playoffs. The official playoffs are still a month away, but playoff-style hockey is here to stay. Here are three takeaways from a chaotic weekend.
3 Takeaways from Knights, Firebirds, & Sting
Weekend Results:
Thurs., Mar. 2 – 4-3 loss (shootout) v. London Knights
Fri., Mar. 3 – 4-1 loss at Flint Firebirds
Sat., Mar. 4 – 9-6 loss v. Sarnia Sting
3. Short Lineup Takes Toll
During the Christmas break, we said it was important for the Spitfires to maintain a healthy lineup. They had forward Ryan Abraham and goaltender Matt Onuska both out with injuries, which, at the time, was a big issue. Unfortunately, it's only escalated from there.
With a month until the playoffs start, the injuries continue to pile up. While Abraham returned, it was only for two weeks, and he sat this weekend because of another injury. Onuska has returned, but forwards AJ Spellacy, Brett Harrison (Boston Bruins), Oliver Peer, Shane Wright (Seattle Kraken), and defenceman Daniil Sobolev (Montreal Canadiens) all have been out at some point. It feels like a carousel of players, forcing head coach Marc Savard to not only shuffle the lines but include multiple Junior B players.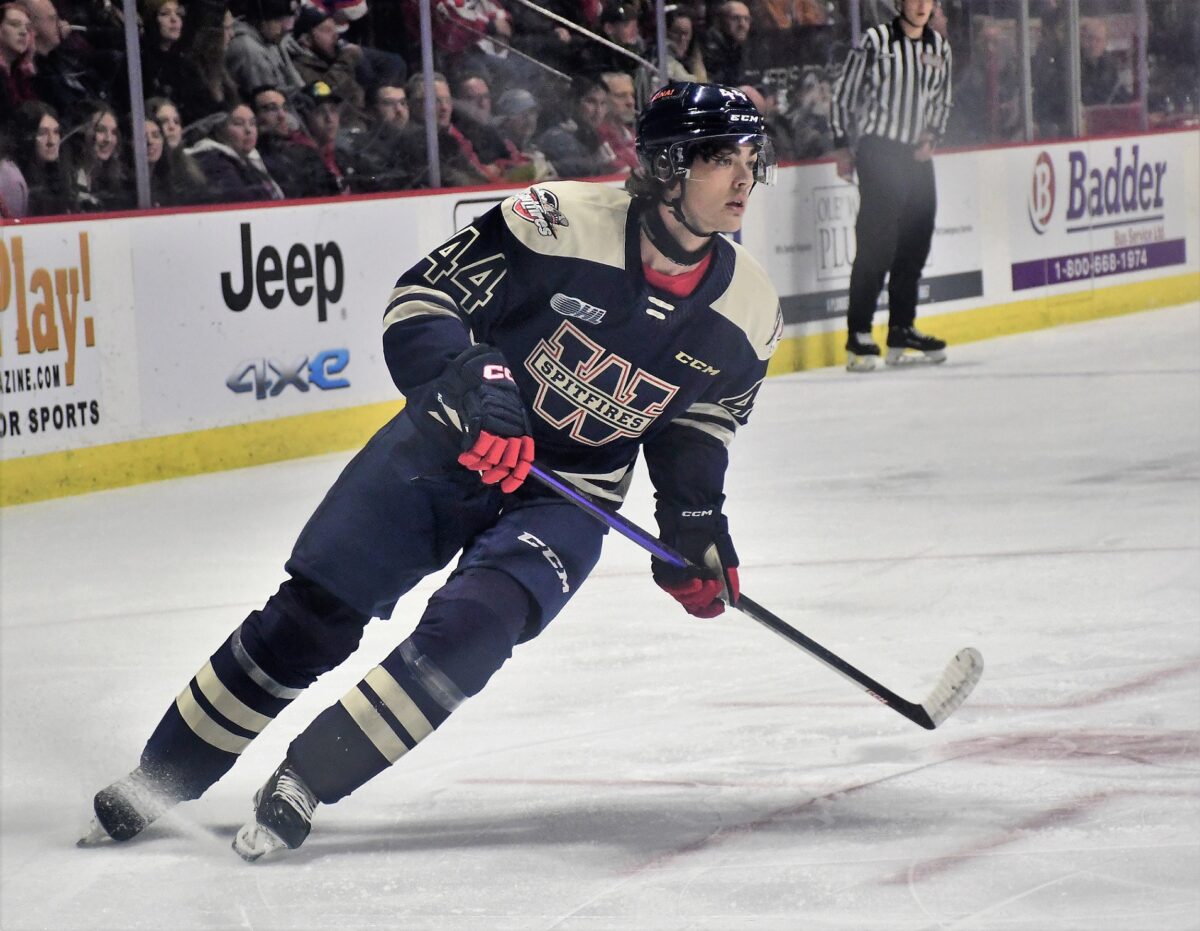 On Saturday against the Sting, they called up forwards Wylie Birkett and Patrick McManus from the LaSalle Vipers Jr B, plus put defenceman James Jodoin up front, just so they could have 11 forwards. It's definitely not easy for anyone, but they're making the best out of a bad situation. Fortunately, the call-ups have done well in limited ice, which gives Savard a slight ease of mind.
Is it better to have players out now rather than in the playoffs? Absolutely. Would it be good for the Spitfires if they could finally have a game or two with a full roster? That's undeniable. Until then, though, they'll work with the depth that they have and push forward.
2. Costanzo and Onuska Still Need Help
Goaltending has been one of the biggest question marks all season. They've got the 20-year-old Onuska, who led them to the OHL Championship last season but has been inconsistent or injured for much of the season. There's also 17-year-old Joey Costanzo, who is raw but has shown incredible potential since day one.
Related: OHL: 5 Spitfires Stories to Watch in Second Half of 2022-23
---
Latest News & Highlights
---
While both of them have the potential to steal games, they desperately need help from their teammates. Since his early-February return from a lengthy injury, Onuska has allowed 27 goals on just 205 shots (.868 save percentage (SV%)) in six games. In the same time frame, Costanzo has allowed 18 goals on 138 shots (.870 SV%) in six games. Neither has the stats that he would like, and while part of that is on them, a lot rests with their defence.
Savard's systems are designed for creative offence following strong defence. Offensively, they're elite and lead the league in goals with 283 in 60 games. Defensively, it's another story; they sit 14th in the league with 235 goals against (3.91 goals-against-average (GAA)). When they play their way, few teams can touch them. When they play loose and stray from their defensive responsibilities, Onuska and Costanzo are put through the wringer. From defensive turnovers to mental mistakes, there's only so much a goaltender can be expected to do.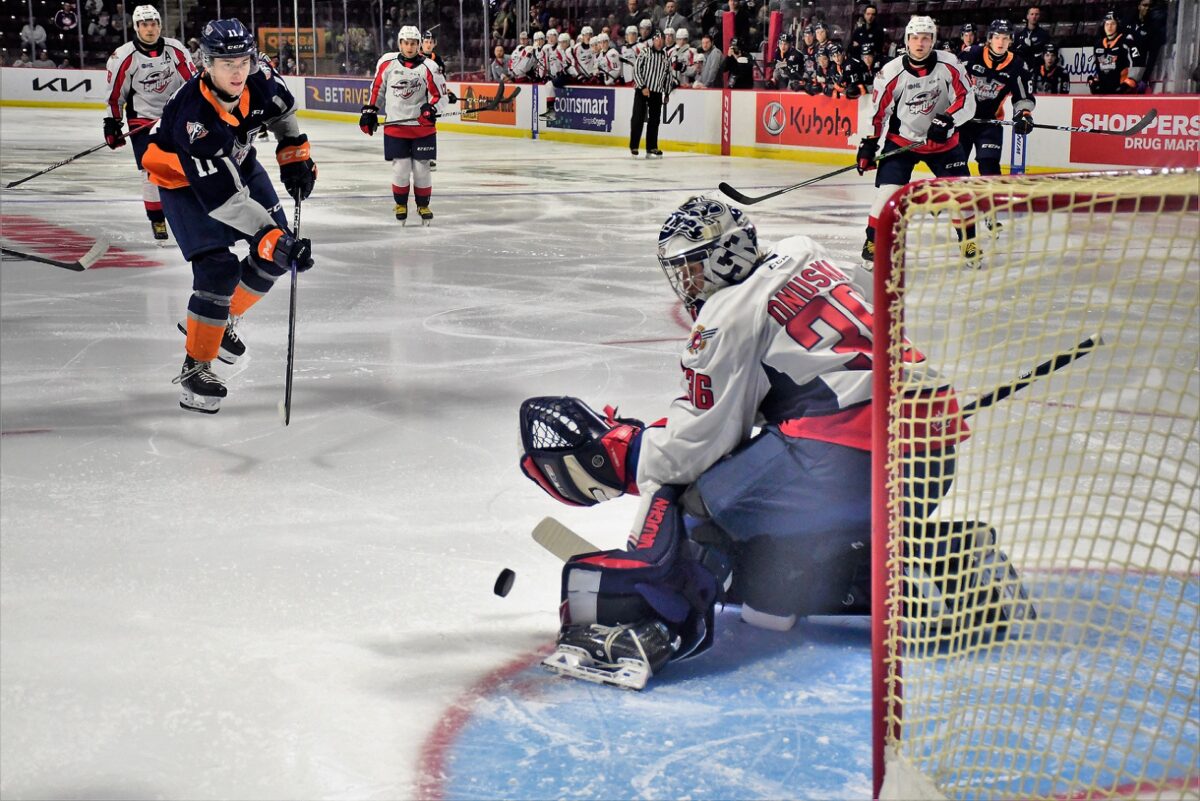 Over their last 10 games, the Spitfires have been outscored 46-38. It doesn't matter how good you are offensively, you're not going to win many games when allowing 4.6 goals every night. Last season, they were ranked 12th with a 3.65 GAA in the regular season, but that dropped to 2.88 in the playoffs. They're going to need everyone to step up, including Onuska and Costanzo, if they expect that kind of magic again.
1. Watch for the Sting
While the Spitfires have been fighting the Knights for the top spot in the Western Conference, they can't discount that teams are creeping up the standings behind them…including the Sting.
The Sting made a huge splash at the trade deadline by bringing in defencemen Christian Kyrou and Ethan Del Mastro, plus forwards Sasha Pastujov and Luca Del Bel Belluz. They've all contributed in a big way, and when you add in guys like Ty Voit (Toronto Maple Leafs) and Benjamin Gaudreau (San Jose Sharks), it's gotten the club to within six points of the Spitfires with nine games remaining. Saturday's game proved that this isn't the same Sting club Savard dealt with last April in the opening round of the 2021-22 playoffs (Spitfires won in six). They're the real deal.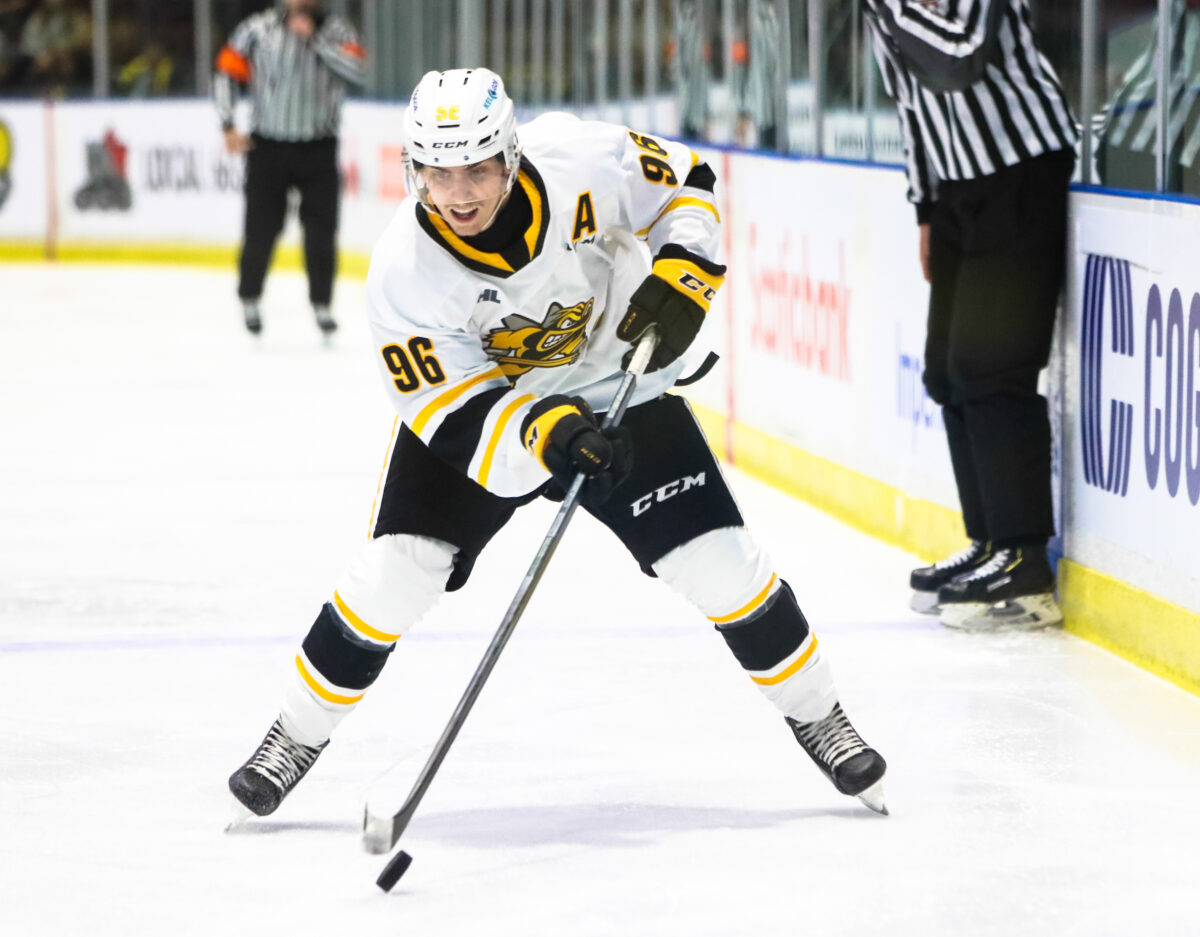 In 2019-20, the Firebirds shocked the Western Conference by winning 15 straight in late January and early February. It put them past the Spitfires in the standings and made them a serious threat in the first round (until COVID-19 shut everything down). If Savard's club isn't careful, the same thing could happen with the Sting this season.
Going for first in the conference is great, but if you're not careful, you can slip into third very easily. This is the time for a Spitfires' gut check. They have the week off to heal, tighten up defensively, and figure out what went wrong this past weekend. It needs to be used wisely. They control their own fate right now.
---
---