The Winnipeg Jets made the right choice by naming Adam Lowry their new captain.
The Jets announced Tuesday morning that after going last season without a captain, Lowry will be the third player to wear the C in 2.0 history, succeeding Andrew Ladd (2011-spring 2016) and Blake Wheeler (fall 2016-fall 2022.)
The hard-working power forward is well-deserving of the honour.
Lowry Ticks All the Boxes of Leadership Material
Does whatever it takes to win? Check. Has loyalty to the market? Check? Is respected in the room, and has been well before he was an official part of the leadership core? Check.
Lowry has spent his entire nine-year career with the Jets, playing 621 games and recording 93 goals and 111 assists for 204 points. He is their second-ever draft pick — being chosen 67th overall in the 2011 NHL Entry Draft — and has committed to Winnipeg long-term, with three seasons remaining on a five-year contract he signed in April, 2021 that carries a $3.25 million average annual value.

His numbers pale in comparison to some NHL captains, such as Sidney Crosby, Connor McDavid, and even Wheeler, who head coach Rick Bowness stripped of the captaincy last September in a gutsy-but-necessary move. However, a captain doesn't need to be the most talented offensive player on the team. Rather, they must have the very qualities Lowry has and has put on display for a long time.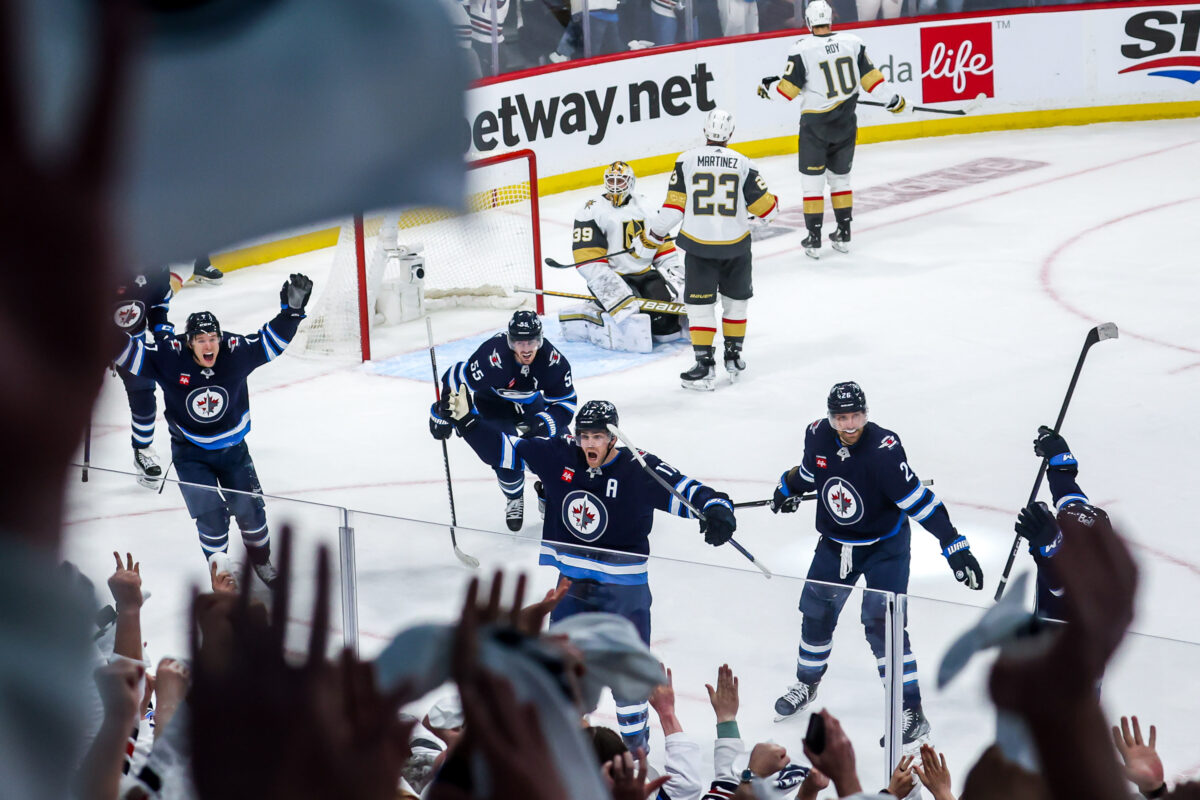 The 30-year-old is a pugnacious and gritty centre who has been a staple on the third line and penalty kill for a number of seasons. He was only named an alternate last season after Wheeler was stripped, but has been considered a strong voice and leader in the locker room for a lot longer than that.
Standing 6-foot-5 and weighing 210 pounds, Lowry can be a nightmare for opponents to deal with and is not afraid to use his body, having dished out 1696 hits in his career. He isn't afraid to sacrifice in other ways — he has blocked 354 shots and is often the first to drop the gloves to protect his teammates.
Related: Jets 2022-23 Report Cards: Adam Lowry
Last season, Lowry reached the 30-point plateau for the first time in his career, notching 12 goals and a career-high 23 assists for 36 points. He was one of the best Jets forwards in their disappointing first-round series versus the Vegas Golden Knights — most notably, he scored the game-tying goal in Game 3 with 21 seconds left to force overtime in a game the Jets entered the third period of losing 4-1. He also scored a pair of goals in a near-perfect Game 1 victory.
Jets Go From Captain Who Saw Role as a Burden to One Who Sees It As a Dream
Wheeler did not have the right disposition for a captain — ultra-serious and often surly — and admitted after being stripped that the responsibilities on his shoulders felt like a burden. Thankfully, the Jets ow have a captain who sees the role as a "dream."
"When I found out, I was pretty excited, almost a little speechless. It's something growing up you kind of can dream about and something that seems almost unattainable," Lowry said in a news release from the Jets. "Getting to be a captain of a Canadian NHL team is pretty special and something I'm really looking forward to," he continued.
---
Latest News & Highlights
---
It's a dream that must have felt far away during the 2021-22 season. After Paul Maurice resigned and Adam's father Dave Lowry took over as interim head coach, Adam admitted that having his dad behind the bench limited his opportunities to be outspoken.
With Wheeler having been bought out and signing with the New York Rangers, Lowry should be free to lead his way. Despite he, Josh Morrissey, and Mark Scheifele all acting as alternates last season (Morrissey and Scheifele will remain alternates this season) many players said in exit interviews they still considered Wheeler the boss.
Despite that, Bowness said in the news release that the three "did a great job in the room."
"(Lowry) is a true professional, he has total respect from every player on the team, every player around the league and certainly from the coaching staff as well. We just feel at this point it's the right time to name Adam as our captain," the head coach continued.
"Adam embodies the characteristics and the class that the Winnipeg Jets value both on and off the ice," GM Kevin Cheveldayoff added.
"On the ice, Adam plays with a level of compete, consistency, character and selflessness that makes him a valued and respected teammate. Off the ice, Adam is a consummate professional and a committed representative of our True North organization who recognizes and embraces his role and his place in the community, including through his charitable efforts in our city."
In a late-morning live announcement Tuesday, Lowry said it was "a huge honour…" to be named captain but promised he would lead by committee.
"We've got a really tight-knit group, a lot of really great leaders in our locker room. I'm looking forward to growing with them and leading the team as well. There was a lot of very deserving candidates in our room and I don't think that's going to change. We're going to lead as a collective."

Adam Lowry
Lowry will make his regular-season debut as captain on Oct. 14 when the Jets take on the Florida Panthers at Canada Life Centre to begin the 2023-24 season.
It should be an intriguing campaign and it will be interesting to see if Lowry's leadership can help them out of the mushy middle. He is the exact type of player willing to go to war and the exact type of player his teammates — who have not always shown the same strength of character — should be willing to go to war with.