Welcome to our 2020 Boston Bruins draft guide.
The 2020 NHL Entry Draft will undoubtedly be one of the more unique draft experiences ever. Rather than taking place at the tail-end of June prior to Free Agency Frenzy kicking off on July 1 as we've seen in the past, the NHL's pause and subsequent return-to-play this summer led to a major shift in the timeline. The Draft will now take place on Oct. 6 and Oct. 7 with Free Agency kicking off on Oct. 9.
The Bruins will have to adapt just like every other team has this offseason, and this guide should help prepare the fan-base for what could be in store over the next few days.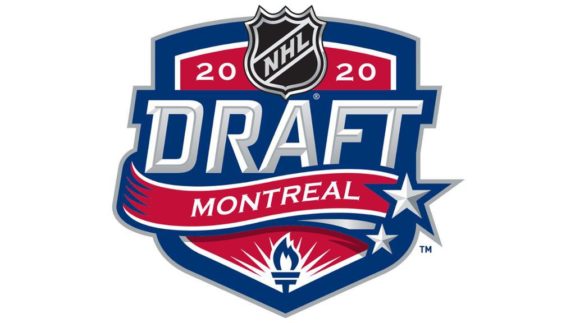 For the second time in three years, the Bruins will be without a first-round pick; something general manager Don Sweeney has never been to keen on given the importance he places on drafting and developing in this league.
The good news for the Bruins is that trading into the first round is definitely a possibility if they feel there's a specific range of players that they're intrigued by who simply won't fall to the 58th selection (though, due to the Arizona Coyotes forfeiting their 49th overall selection this year, that pick will technically end up being the 57th player off the board).
The bad news for the Bruins is that trading for a first-round pick won't come cheap and the Bruins are looking to capitalize on their current window. While there are players on their team that could be moved in a deal for a first-round pick, the decision on immediate value versus future value comes into play.
Related: Bruins' 2019 Draft Class Catch Up
As it stands, though, the Bruins are set to pick at 58, 89, 151, 182 and 213 this year. Two picks short of a full Draft, the Bruins could find themselves exploring deals to add more picks later, or they could stand-pat with five picks and feel comfortable with the value they get from those selections.
For now, let's take a look at the history of the 58th pick, though, and see what the Bruins could do with that selection.
History of the 58th Pick
Picking late in the second round doesn't often yield high-reward type results for teams in the NHL. It's hard to hit on a player early in the Draft and the later a team is selecting, the harder it is to actually find a capable player who can make the roster, let alone make an impact.
This is evidenced by the fact that, throughout the history of the NHL Draft, only 34 players ever taken in the 58th spot have ever played in a game in the NHL (though the jury is out on some of the more recent selections), and only nine have recorded over 100 points.
The best player coming out of the 58th overall spot is recently-crowned Stanley Cup Champion Nikita Kucherov. Other notable names who may be familiar to NHL fans in recent memory include Jiri Hudler, Nick Spaling, Tyler Bertuzzi, Christian Dvorak, Jordan Martinook and Kevin Stenlund.
Needless to say, the value isn't going to be game-changing for the most part, but there is certainly potential to find a player like Kucherov if the stars-align. It's rare, but it's happened before.
When looking at the history of pick No. 57 for the sake of it, the results don't look much more promising, either.
---
---
Making the Case for Trading Pick 58
Given how hard it will be for the Bruins to actually hit on the 58th selection, it isn't out of the realm of possibility for the Bruins to end up trading this selection as a part of a bigger deal. It's unlikely to see them move the pick and drop completely out of the top-60 selections entirely barring a monumental trade that absolutely requires this selection, but they could potentially use it to move up.
The Bruins are in dire need of new blood in their prospect system and trading back into the first round could cost them a package that includes the 58th selection.
For the Bruins, the higher in the Draft they can trade, the better chance they have at getting a player they like who could actually play in the NHL and make an impact down the line. Still, there are no guarantees that any player will actually fill that criteria and that's where the inherent risk comes into play.
Related: Bruins News & Rumors: Rask, Krug, Nordstrom, Ritchie & More
If the Bruins feel there's too much talent to pass up early on, they could find themselves making a deal. Still, in a fairly deep draft class, they may also find themselves comfortable at their current selection and aim to address immediate holes on the roster rather than future issues that could and likely will arise in the coming years.
Who Will Boston Pick 58th?
There will be a plethora of talented hockey players available for the Bruins in the 58th-overall range. It's hard to say who will and won't still be available when they're on the clock, but should a player like Justin Sourdif be available, he would be a slam-dunk pick for a Bruins team in dire need of right-shot help both at forward and on defense.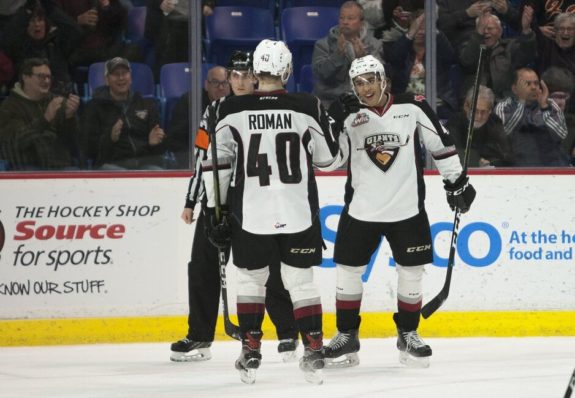 Sourdif is a high-IQ winger who can play a full 200-foot game. He plays a physical, rugged brand of hockey and does so with deceptive puck-skill and very good vision. He also possesses a very quick and powerful wrist shot but isn't unknown to make tape-to-tape passes seemingly out of nowhere; a testament to his vision and ability.
Sourdif could range anywhere from an early second-round selection all the way to an early third-round selection. If the Bruins can get him at 58th overall, they'll come away very happy with their pick given how they like their players to play.
Other players who should be in the mix for the 58th pick include:
Brandon Coe (Right-Shot Winger)
Billy Constantinou (Right-Shot Defender)
Jaromir Pytlik (Right-Shot Center)
Jean-Luc Foudy (Right-Shot Center)
Jack Finley (Right-Shot Center)
Who Will Boston Pick 89th?
With the 89th selection, the Bruins could Draft another left-shot defender out of Finland like they did when they selected Urho Vaakanainen in the first-round in 2017 by selecting Eemil Viro.
Viro is a player who was projected to go somewhere in the second-round for most of the year, but there's a possibility he's still available for the Bruins in the third round. If this is the case, he's the no-brainer selection here and could have the Bruins feel like they've drafted two second-round caliber players as opposed to just one.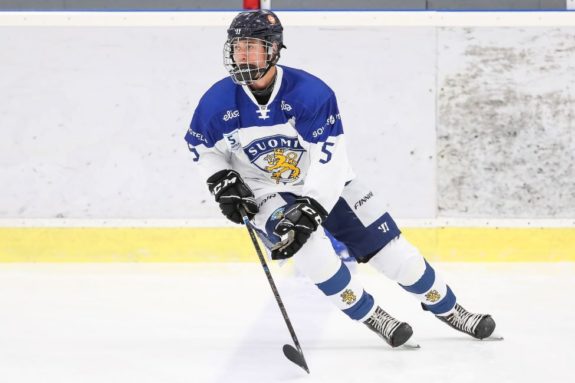 Viro doesn't necessarily stand-out in any area but he possesses offensive skill that often flies under the radar. His poise and ability to close gaps and make smart decisions to pinch and keep a play alive in the offensive zone are certainly positive traits, though he could benefit from better position and decision-making in his own zone at times.
Given his closing speed and strong back-checking ability, though, he's gotten by despite these flaws in his game thus far.
He'd likely have to gain size and work on those flaws to make it to the next level, but that's part of the process when selecting a player at 89th overall – capitalizing on their positives and coaching their deficiencies.
Other players who should be in the mix for the 89th pick include:
Pavel Novak (Right-Shot Winger)
Blake Biondi (Right-Shot Center)
Connor McClennon (Right-Shot Winger)
Mitch Miller (Right-Shot Defender)
Oliver Suni (Right-Shot Winger)
Who Will Boston Pick 151st
With the 151st selection in the 2020 NHL Entry Draft, the Bruins should look to select a player committed to UMASS Amherst in Noah Ellis.
The well-rounded defender impressed during his showing at the Hlinka Gretzky Cup a year ago and scored two goals and four points in four games for the United States.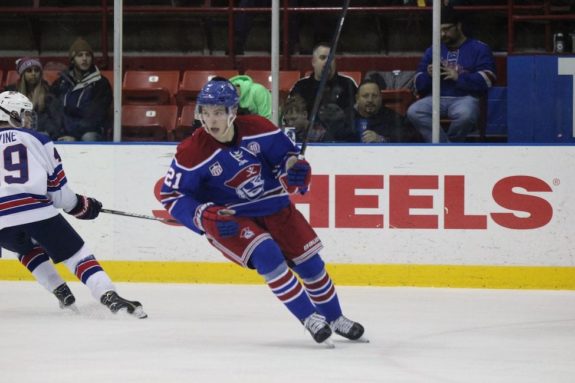 At 6 foot 2 and 191 pounds, Ellis has the size that teams look for in modern-day NHL defenders. He plays very well in transition and can skate a puck up the ice himself or use crisp-passing to advance the play. He's also incredibly calm under pressure and doesn't ever seem to be too high or too low from a morale standpoint; an impressive trait for his age.
Other players who should be in the mix for the 151st pick include:
Lukas Svejkovsky (Right-Shot Forward)
Michal Gut (Left-Shot Center)
Calle Clang (Goalie)
Trevor Kuntar (Left-Shot Forward)
Egor Sokolov (Right Shot Winger)
Who Will Boston Pick 182nd?
At 182, the Bruins should pick Mark Hillier. The 6-foot-1, 183-pound center is committed to play at Merrimack College in 201-22 and has scored at a torrid-pace at St. Andrew's College. While wearing the captain's "C" on his chest this past season, Hillier would score 52 goals and 112 games in the CAHS.
He's set to play with the Surrey Eagles of the BCHL next season and should be a major part of their plans before eventually making the jump to Merrimack the following year.
Related: BSC's Top 250 Draft Rankings 2020
Hillier describes himself as a 200-foot player and though he still has to work on certain areas of his game for that to be completely accurate, there's no denying his ability to see the ice better than many of his peers and capitalize on this either with smart passes, smart shots or moving to open space to drive a shot on net if he doesn't originally have the puck.
Other players who should be in the mix for the 182nd pick include:
Hank Kempf (Left-Shot Defender)
Noah Delemont (Left-Shot Defender)
Jake Boltmann (Right-Shot Defender)
Jack Smith (Left-Shot Center)
Jakub Kolenic (Right-Shot Winger
Who Will Boston Pick 213th
With the 213th pick in the Draft, the Bruins should look to select Riley Duran. The 18-year-old Woburn-native wouldn't have to go far from home to play in the NHL if his dreams become a reality one day. Committed to play with the Youngstown Phantoms in the USHL for the 2020-21 season, he's set to join Providence College in 2021-22.
There's high-upside when drafting Duran and his ability to play center or on the wing at the NHL give him the versatility that the Bruins love. To be clear, though, drafting a player in the seventh-round is never going to be driven by versatility alone. For the Bruins, this pick would come down to how much they like Duran now and the fact that they'll be able to watch him closely at Providence at the collegiate level.
Though he'll likely never turn into a top-six player at the NHL level (anything is possible), he has the skillset that's coveted by the Bruins as a bottom-six player who could be used to kill penalties, forecheck, cycle the puck well and compete in the dirty areas of the ice.
Related: Free 2020 NHL Draft Guide
This shouldn't be seen as a way to under-sell his skill, though, as he possesses very solid skating, strong puck-protection and a hard shot that help shield his lack of an elite puck-handling trait.
Other players who should be in the mix for the 213th pick include:
Alec Belanger (Left-Shot Defender)
Andrei Gusev (Right-Shot Defender)
Ethan Bowen (Left-Shot Center)
Ryker Evans (Left-Shot Defender)
Hayden Fowler (Right-Shot Winger)