The Montreal Canadiens seized the opportunity to clinch a first-place finish in the National Hockey League standings last night with an 8-3 win over the Chicago Black Hawks at the Forum in Montreal. In the only other NHL game last night, Toronto and New York skated to a 3-3 tie.
Beliveau Nets Two for Habs
Captain Jean Beliveau led Montreal to their lopsided win over the Hawks with a pair of goals. Chicago was never in this one, putting on one of their most dispirited performances of the season. If momentum means anything going into the playoffs, the Hawks don't have it.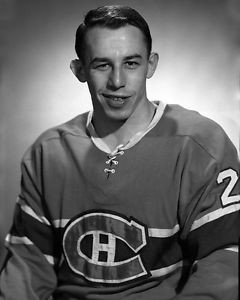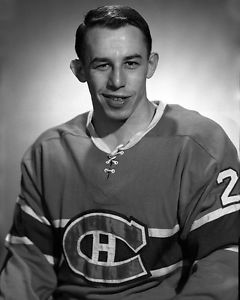 Canadiens jumped out to a 3-1 first-period lead and were never headed. Jim Roberts opened the scoring only 43 seconds into the game. Stan Mikita pulled the Hawks into a brief tie at 8:30 but that was the closest Chicago would come. Less than two minutes later Beliveau put Montreal ahead to stay with his first of the night. Dick Duff added his 20th late in the period.
The second period mirrored the first as Montreal again scored three times to once for the visitors. Henri Richard, Beliveau and Ralph Backstrom did the honours for the Habs. Bobby Hull found the range for Chicago with his record-setting 54th goal of the season.
Hull now has 96 points, tying the NHL record for one season, held by Dickie Moore of the Canadiens.
Gilles Tremblay and John Ferguson added a couple of more goals for Montreal in the final frame. For Tremblay, it was goal number 27 – a fine total for a player who missed most of last season with a badly broken leg. There were many who felt that Tremblay's career was at an end, and it's a nice story that he proved the naysayers incorrect.
Ken Wharram rounded out the scoring for Chicago with the final goal of the game.
Disinterested Leafs Tie Rangers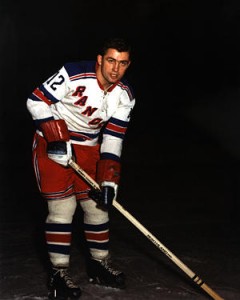 In a game that meant absolutely nothing, the Toronto Maple Leafs and New York Rangers sawed one off at Maple Leaf Gardens. The Leafs and Rangers tied 3-3 in a game that was one of the poorest displays of shinny seen in a long time at the Carlton Street Cash Box. Both teams appeared to just want to get the season over with.
Toronto looked as if their main purpose in this one was to avoid injury before going into the playoffs and they certainly accomplished that. They avoided confrontation of a physical manner whenever possible, and that made for very little action.
Vic Hadfield and Don Marshall had New York leading 2-0 before the Leafs came to life (at least in a scoring way) in the second period. Only 24 seconds after Marshall's goal at 9:16, Dave Keon got the Leafs on the board. Ron Ellis' 19th of the season tied it late in the period.
Early in the third, George Armstrong put Toronto up by one with his 15th. Billy Hicke notched his ninth at 9:35 to make it 3-3. At that point it seemed both clubs were content to simply put in time until the final bell sounded.
There were sporadic bursts of what would pass for offence by both teams over the final 10 minutes. Both goalkeepers, Cesare Maniago of the Rangers and Bruce Gamble of Toronto were equal to the task and kept the score even.
Gamble's best save of the night came with just 20 seconds left when he stopped a point-blank try by Marshall.
Perreault Stars for Amerks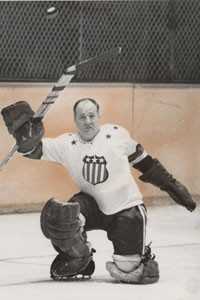 Veteran goalie Bobby Perreault was the hero for the Rochester Americans as they defeated the Buffalo Bisons 4-2 in American Hockey League play. In the other AHL games last night, Cleveland handled Baltimore 5-2, it was Hershey over Pittsburgh 5-3, and Quebec and Springfield tied at five.
Perreault made 43 saves to frustrate Buffalo and was nearly unbeatable. In fact, game films showed that the only two goals the Bisons did manage to score were both offside by more than a few inches.
Rochester's offence was led by AHL leading scorer Dick Gamble, with two goals. Young Mike Walton also was strong with a three-point night on a goal and two helpers.
Three goals in the middle frame powered Hershey to their win over Pittsburgh. Myron Stankiewicz and Wayne Rivers each had two goals for the Bears.
New Bid for St. Louis?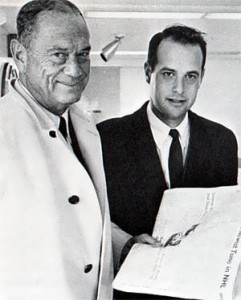 It seems that another group with interest in a National Hockey League franchise in St. Louis has surfaced. This second group will submit a bid at Tuesday's meeting of the NHL board of governors in New York. That meeting will determine if there is a suitable franchise owner for St. Louis. If no acceptable bid is received, the franchise could be awarded to Baltimore.
NHL president Clarence Campbell says that the new syndicate is headed by Carl Berst of Chicago. He went on to say that 40 per cent of the ownership are from St. Louis. Campbell did not name anyone else involved in the organization.
The other St. Louis application will come from a group led by Sidney Salomon Jr. of St. Louis. Salomon says that he has a deal in place to buy the St. Louis Arena from Arthur Wirtz. Purchasing the Arena from Wirtz is a condition for obtaining the franchise, so the Salomon group would appear to have the inside track.
Rex Stimers Passes
Rex Stimers, one of the all-time great junior hockey broadcasters, has passed away at the age of 65.
Stimers was a sports announcer at St. Catharines radio station CKTB for over 30 years and was famous for broadcasting junior games over that time period. He also made a name for himself for his play-by-play of Royal Canadian Regatta in recent years.
Stimers was a flamboyant radio man, with a style that could both thrill and infuriate the listener. He never avoided controversy and was free with his opinions. He coined the phrase "A 10-bell save" when describing a great stop by a goalkeeper.
Born in Toronto, Stimers never had any great affinity for his home town. Often, when asked what he liked about Toronto his reply was:
The best thing about Toronto was the train that took me to St. Catharines.
Stimers was an active sportsman early in life. He was the mascot for the University of Toronto team that won the Grey Cup in 1909. He was a very good amateur baseball player and right up until his death was a better than average golfer. He loved all sports.
He was a St. Catharines alderman in 1939. He was also an organizer of the Ontario Sportswriters and Sportscasters Association, serving as its president in 1955.
Retired police detective, involved in hockey at all levels for over 50 years. Member of Society for International Hockey Research and presently a video analyst for the leader in advanced hockey analytics (we work exclusively for 2 NHL clubs, and provide advice on an ad hoc basis to many other clients). Currently the Assistant General Manager for the Pelham Pirates of the Greater Ontario Junior Hockey League. Previously owned the Faceoff computer hockey simulation and also provided all player ratings for the EA Sports series of NHL computer games from the late 90's into the mid 2000's.