The Arizona Coyotes enter the 2023 NHL Draft with a staggering 12 picks, including four in the third round. During the 2022 NHL Draft, they added some top prospects like Logan Cooley, Conor Geekie, and Maveric Lamoureux; they'll look to add to that during this year's draft. This year's draft has been classified as one of the deepest in recent memory, and Bill Armstrong and company will look to come away winners.
With the help of Draft Prospects Hockey's draft simulator, we look at who the Coyotes could take with their 12 selections. While there will likely be a handful of trades occurring during the draft, this mock assumes none take place. Without further ado, here is Arizona's mock draft for the 2023 NHL Draft.
First Round – 6th Overall: Matvei Michkov, RW, HK Sochi (KHL)
Matvei Michkov slips in this mock draft, and the Coyotes don't hesitate to take him. He is listed at 5-foot-10, which isn't the tallest, but all of his other attributes make up for it. He first stands out with his amazing shot, among the best in this year's class, and his great puck-handling skills. He is an elite winger who projects as a first-line forward at the NHL level, with 40-goal scoring potential.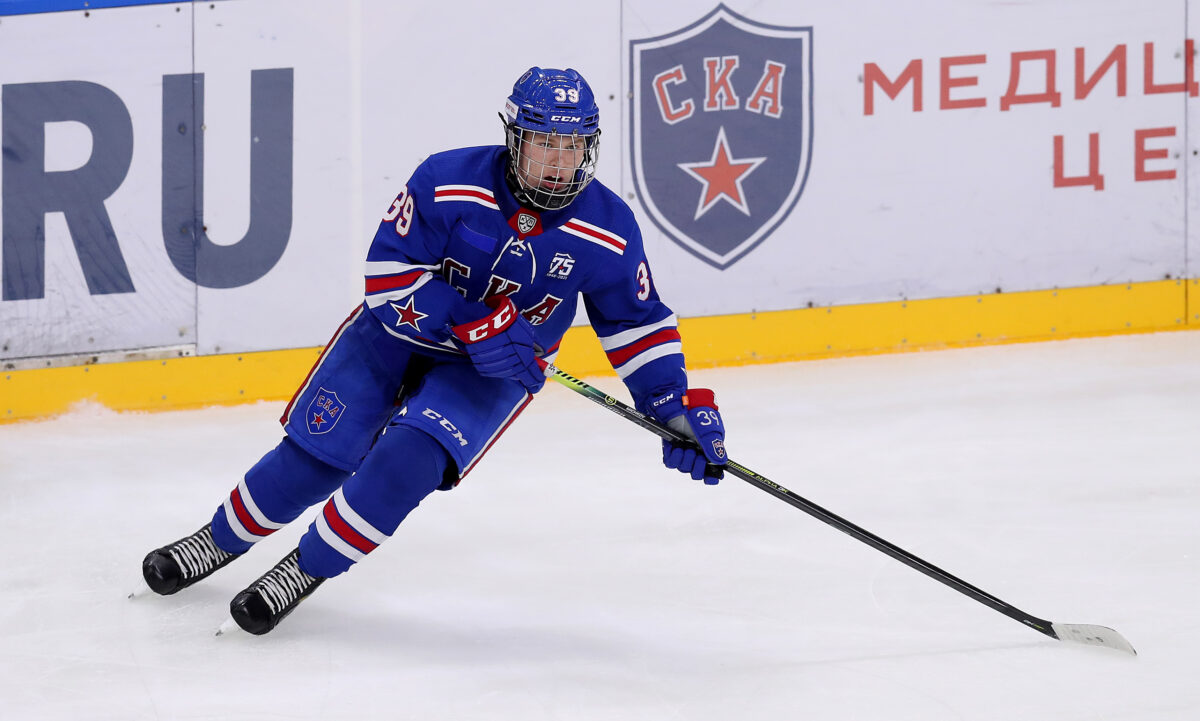 Though there are plenty of risks in taking Michkov, his Kontinental Hockey League (KHL) contract runs through the 2025-26 season, which is scaring teams off. Despite the risks involved, it's a no-brainer for Bill Armstrong and company. To have the ability to take a player of his caliber at six would be amazing. Though there's no guarantee they take him, if they do, it would be hands down the steal of the draft.
First Round – 12th Overall: Oliver Moore, C, U.S. National U18 Team (NTDP)
After taking Logan Cooley third overall in last year's draft, the Coyotes go back to the United States National Team Development Program, taking Oliver Moore. He is a highly talented center and likely the best skater in this year's draft class. However, his game has been overshadowed by teammates Will Smith, Gabe Perreault, and Ryan Leonard, who played on the first line at the NTDP. Moore played on the second line, resulting in him being underappreciated.
Related: 2023 NHL Draft Guide
---
Latest News & Highlights
---
When watching Moore, you first notice his speed and agility, which are some of the best in this draft. He's always thinking a step ahead, which allows him to get creative. Moore has the potential to be a great second-line center in the NHL someday, potentially being former teammate Logan Cooley.
Second Round – 38th Overall: Etienne Morin, LD, Moncton Wildcats (QMJHL)
After opting to take two forwards with picks six and 12, the Coyotes take their first defenseman in Etienne Morin. Morin stands in at 6-foot-0 and has a lot to like. He's a mobile, two-way player who excels in transition. Scouts saw a lot of this past season in the Quebec Major Junior Hockey League (QMJHL), where he notched 21 goals and 72 points in 67 games.
Morin is one of the best offensive-minded defensemen in this year's class. He was one of the primary weapons on the Moncton Wildcats this past year and played lots of important minutes. He is excellent on the power play, where he did most of his damage. With an impending lack of defensive prospects, adding the Quebec native to the pipeline could do wonders for the Coyotes.
Third Round – 70th Overall: Aram Minnetian, RD, U.S. National U18 Team (NTDP)
With their first of four thirds, the Coyotes go back-to-back picks taking a defenseman, Aram Minnetian. The 6-foot-0, New Jersey native played with the NTDP this past season and is already committed to Boston College for next year. He has a solid two-way game and is very comfortable in all situations. However, his strongest attribute is his skating, which he uses to his advantage.
Minnetian excels in the rush and isn't afraid to jump in the offensive zone to create opportunities himself. He has a good shot and is good defensively, which is why many scouts like his game. While the Coyotes have defensive prospects in the pipeline, adding more will help down the road, so drafting Minnetian here is an easy choice.
Third Round – 72nd Overall: Aydar Suniev, LW, Penticton Vees (BCHL)
Just two picks later, the Coyotes are drafting yet again, this time forward Aydar Suniev. Suniev had a great draft year with the Penticton Vees registering 45 goals and 90 points in 50 games. He has a lethal wrist shot and one-timer and was a force this past season along with teammate Bradly Nadeau. Suniev's work ethic is through the roof, and he has a very high hockey IQ.
Although what prevents Suniev from going higher is his poor skating mechanics. That has anchored him falling into the third round, right into the Coyote's hands. There's no denying the skill he possesses, and with a good skating coach and some more experience, Suniev could be a home run.
Third Round – 81st Overall: Jacob Fowler, G, Youngstown Phantoms (USHL)
The Coyotes need to add depth to goaltending, and they'll look to Jacob Fowler to add some. Folwer played for the Youngstown Phantoms this past season, posting a 2.28 goals-against average and a .921 save percentage in 40 games. While the Florida native isn't the top-rated goalie in this year's class, he could be an option for the Coyotes.
Fowler first stands out with his athleticism, which scouts have deemed his best attribute. He also shows excellent lateral speed, which helped him win the Dave Peterson Goaltender of the Year Award, making him the best USHL goalie for 2022-23. He is also committed to Boston College, where he'll have up to four years to help round his game in hopes of becoming a starting goaltender at the NHL level.
Third Round – 88th Overall: Martin Misisak, RW, Youngstown Phantoms (USHL)
With their final third-round pick, the Coyotes head back to the Youngstown Phantoms, taking Martin Misisak. During this past season, he played for two teams, HC Nove Zamky in the Slovak Extraliga and the Youngstown Phantoms in the United States Hockey League (USHL). With the Phantoms, he notched six goals and 17 points in 27 games. 
Misisak didn't exactly translate to the USHL as many thought, but there is still plenty to like about his game. He uses his 6-foot-2 frame to his advantage, being very noticeable on the forecheck. He is also very good on the defensive side of things, as that part of his game is well-polished. The Coyotes have four third-round picks, and taking a gamble on Misisak here is the would be right choice. 
Fourth Round – 102th Overall: Jaden Lipinski, C, Vancouver Giants (WHL)
With their first and only pick in the fourth round, the Coyotes take the Scottsdale, Arizona native, Jaden Lipinski. Lipinski, who played for the Vancouver Giants this past season, put up 19 goals and 51 points in 66 games. He excels in his two-way game and knows how to use his 6-foot-3 frame. He also played a significant role on both the power play and penalty kill, which earned him big-time minutes.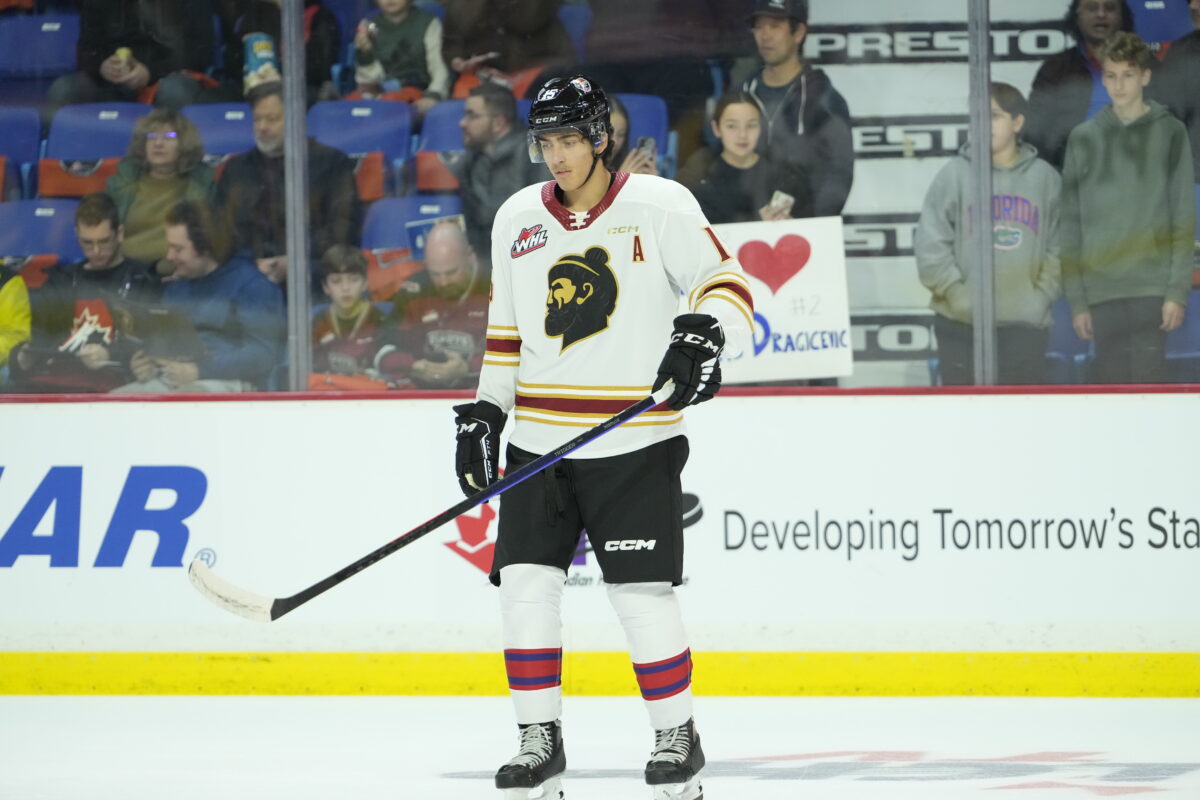 Though his offensive ceiling isn't the highest, he has many attributes to like and plays a great two-way game. Since Bill Armstrong became general manager, he's always wanted to become a bigger team; drafting Lipinski would sure do that. Also, noting he is an Arizona native, which would make for a full circle moment for Lipinski.
Fifth Round – 134th Overall: Cam Squires, RW, Cape Breton Eagles (QMJHL)
With their first fifth-round selection of the day, the Coyotes head east to take Cam Squires from the QMJHL. During his sophomore season with the Cape Breton Eagles, he notched 30 goals and 64 points in 67 games. Squires has been highly touted for his high motor, where he rarely takes a shift off.
He worked this past season on his 200-foot game, becoming more of a complete player that can be effective at both ends of the ice. The 6-foot-0 forward has excellent puck control and uses that to shoot in tight spaces. Squires also won the QMJHL's Humanitarian of the Year Award thanks to his work with the Boys & Girls Club of Cape Breton. If available, Squires could be on his way to the desert.
Fifth Round – 160th Overall: Kalle Kangas, LD, Jokerit U20 (U20 SM-Sarja)
The Coyotes head over to Finland, taking defenseman Kalle Kangas. Kangas played for the Jokerit U20 team this past season, notching one goal and nine points in 42 games. He first stands out with his massive 6-foot-4 frame and could end up being a gem this late in the draft. 
With his big frame, he plays a very physical game, despite not getting on the stat sheet often. Kangas knows how to insert himself into play and has a solid defensive game. He has a good shot and manages to get it through traffic to the net. Even though he dealt with inconsistency issues this past season, his frame would be too hard to pass up on at this spot.
Sixth Round – 162nd Overall: Beckett Hendrickson, LW, US National U18 Team (NTDP)
For the third time in this draft, the Coyotes go back to the NTDP, this time taking Beckett Hendrickson. The 6-foot-1 forward most notably stands out with his high hockey IQ and great two-way play, though his skating has been seen as his biggest attribute during this past year. This past season he had 13 goals and 34 points in 52 games.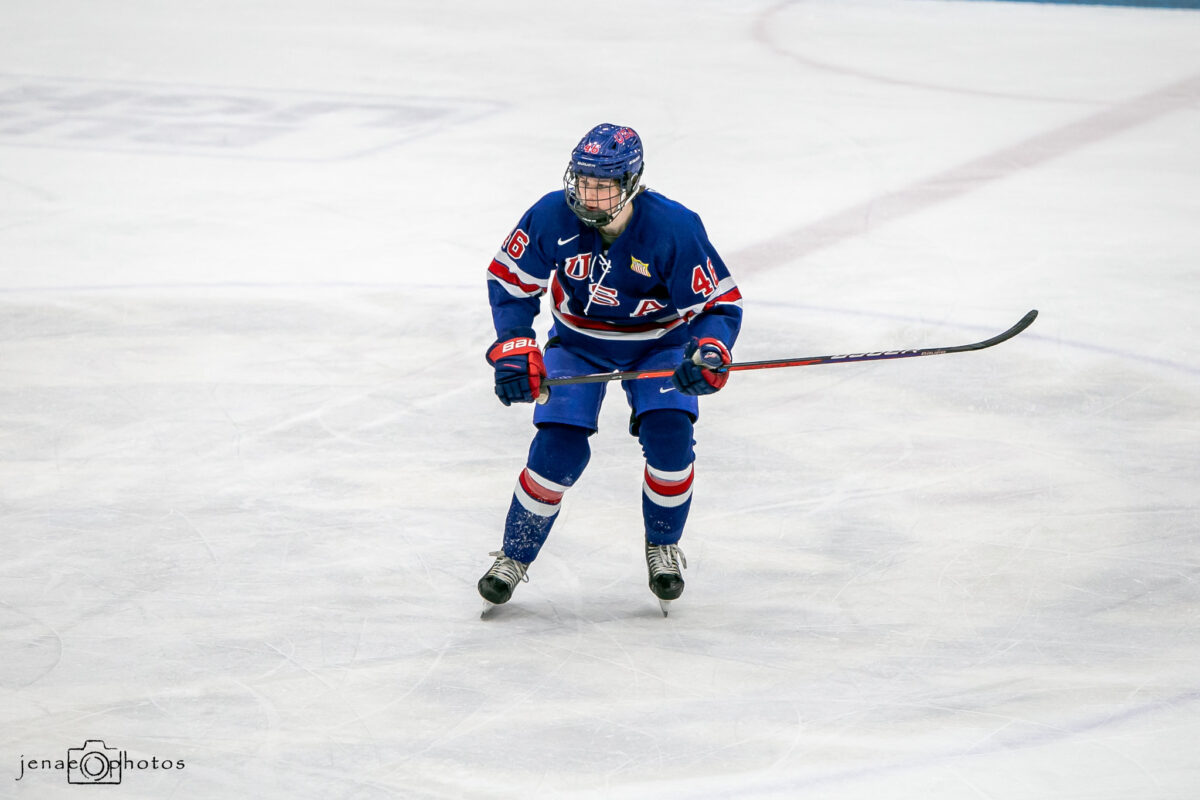 Hendrickson is already committed to the University of Minnesota, where he'll play with the likes of Logan Cooley, Jimmy Snuggerud, and more. This will surely help round out his game to the next level in the hopes of him playing at the NHL level down the road.
Sixth Round – 166th Overall: Michael Hagens, LD, Chicago Steel (USHL)
As the Coyotes don't have a seventh-round pick, this will be their final selection, this time taking Michael Hagens. Hagens played this past season with the Chicago Steel, putting up nine goals and 26 points in 60 games. Hagens first pops out with his ability to join the rush and make something happen; he did this a lot last year. As good as he is joining the rush, he can also defend the rush very well, making him an excellent two-way defenseman.
The New York native has also been highly touted for his quick shot. He's able to find the sweet spot on the ice, and with his shot he finds open lanes very often. Hagens is able to control play with his great puck-handling ability and is a force on the ice. Should the Coyotes draft Hagens, it could be a late-round steal, as he has lots to like.
Coyotes Bringing in Lots of Talent
If Michkov falls to the Coyotes in real life, it seems like a no-brainer to take him. He has all the talent in the world and would make for an incredibly fun duo with him and Cooley. They also shore up the defensive pipeline by adding Morin, Minnetian, Kangas, and Hagens. Taking Moore 12th overall also helps establish the need for a center, as they'll have more depth than ever. With the draft just four days away, we'll know where the Coyotes decide to go here shortly. Make sure to stay tuned to The Hockey Writers for all your pre- and post-draft day coverage as the next group of future stars gets drafted into the NHL.
---
---