Since the Chicago Blackhawks already alluded to turning their focus on drafting forwards in the 2023 NHL Draft, Ethan Gauthier was the first forward highlighted for this Blackhawks' 2023 NHL Draft series. The party continues, and another dynamic forward that the Blackhawks could look at is Koehn Ziemmer. He is one of the most perplexing players projected to go in the first round because he has all the tools that mold an ideal hockey player, but he also has one flaw that is making scouts weary and many thinking he could fall back in the draft. Yet, Chicago could select him if they choose to be more aggressive with the 19th-overall pick.
Ziemmer Has an Ideal Toolset
If there is one thing you can't teach in hockey, it's offensive skill, and Ziemmer has some of the best in the draft. There are a lot of things about him that make him unique. I noticed when watching him that he has patience in his game. He is willing to wait for the right play to come along and find his teammates at the right time to set them up for goals, so he has solid on-ice awareness. When it comes to his own-goal scoring ability, look out. His backhander is filthy, and it's a move that never seems to fail him. He has a powerful and accurate shot in general. Once he gets to the net, it's bad news for the opposition. He can make them look silly.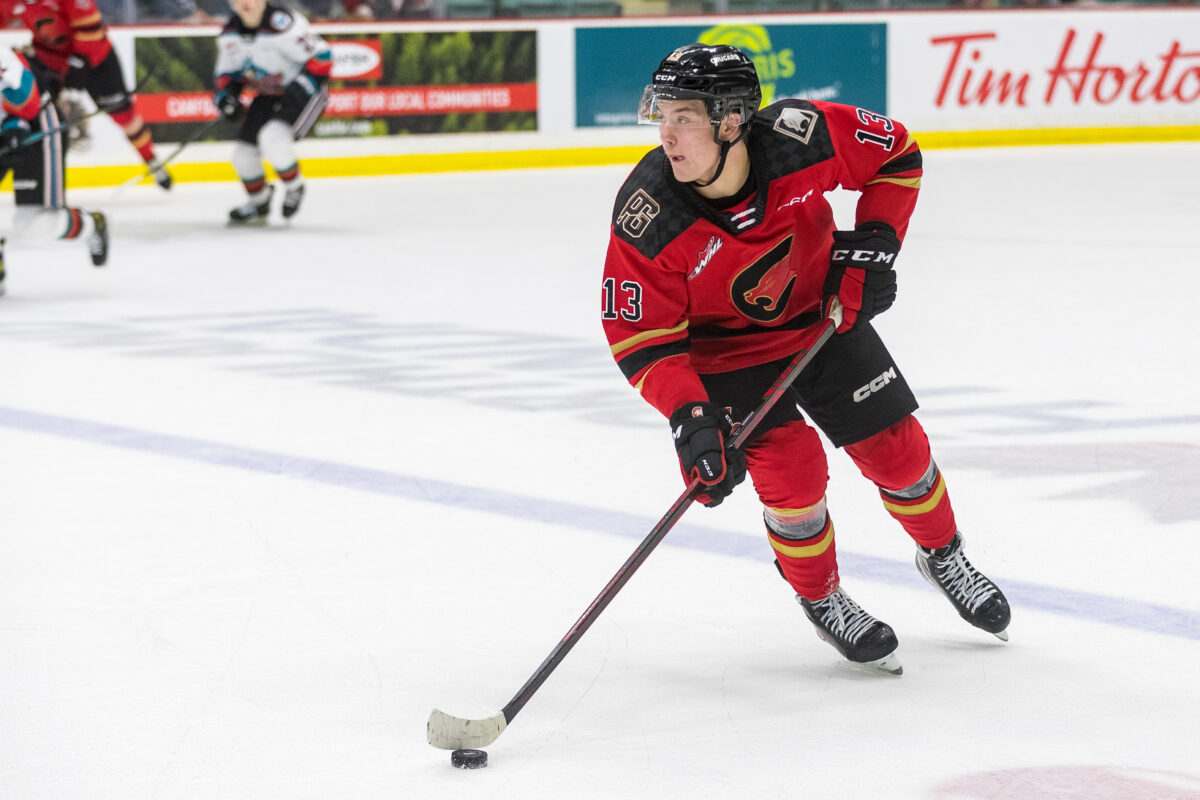 Ziemmer's instincts are top-notch, which is why he was the ninth-best scorer in the Western Hockey League (WHL) with 41 goals, 48 points, and 89 points in 68 games with the Prince George Cougars. He also netted seven points in 10 games in the playoffs. His numbers this season were career highs in both the regular season and playoffs, so he exploded onto everyone's radar. The last element of his game is his size. At 6-foot, 194 pounds, he has the perfect duo of size and skill to his game that every club looks for.
When looking at his plus/minus, it's not great, as he was a minus-15 last season and was a minus-3 in the playoffs this year. Although, he was a zero during the regular season. By that, he might be more of a one-dimensional player at the NHL level, which is fine because he has the offense to make up for the defense. So many players in the NHL, like Alex DeBrincat, Patrick Kane, and Patrik Laine are considered one-dimensional and are so crucial to their teams' success.
Related: Koehn Ziemmer – 2023 NHL Draft Prospect Profile
---
Latest News & Highlights
---
The main fault in Ziemmer's game is his skating. His stride has been described as "clunky," but there is a positive to that. Dallas Stars forward Jason Robertson has been knocked for his skating ability, and his stride was described exactly as Ziemmer's: clunky and awkward. So much so he fell to the second round of the 2017 NHL Draft with concerns his skating would be a hindrance at the NHL level. Now, Robertson is one of the top players in the NHL. Not saying that Ziemmer will be Robertson, but it proves that he is a first-round talent for a reason, and his skating will be an afterthought if his offense shines.
Blackhawks Would Be Taking Chance With Ziemmer
As noted, the Blackhawks have the first and 19th-overall pick, but it's questionable if they stay at 19. Ziemmer's draft projection is in the late first round but could slip to the early second round. If the Blackhawks trade back in the draft, he could be a target later on or a pick at 19. Director of amateur scouting Mike Doneghey stated, "Maybe a guy falls. Maybe we take a chance on a guy that we like, but we can't get in the second round, but who is there at 19." The Blackhawks have four second-round picks, but it is still being determined where those picks are in the draft order. If they like Ziemmer's game, believe in his upside, and don't think he will fall to them elsewhere, that one would fit the bill of taking a chance.
It's usually players like Ziemmer that are worth the risk. It has been seen repeatedly that focusing too much on one "faulty" aspect of a player's game can prove detrimental, like Cole Caufield (Montreal Canadiens), who fell in the draft because of his 5-foot-7 frame, or Robertson. Now their respective teams couldn't be more thrilled they fell into their laps, and teams that passed on them are left shaking their heads.
Ziemmer might not be the first choice that makes sense for the Blackhawks, as scouting emphasizes skating ability. Still, you can never have too much offense, and he has so many other tools that the team likes and needs: intelligence, skill, size, and physicality. Ziemmer even noted that he believes physicality is an under-appreciated aspect of his game, as he throws hits every game. A scout mentioned in the same story that he could use his frame to protect the puck. Those are great qualities to add to the top nine.

Overall, Ziemmer is an excellent player in his own right and could be a diamond in the rough. Adding even more offensive firepower to an expected Connor Bedard-led team would be hard to beat and also fills a need for right wing. They have a lot of two-way player prospects, including Gavin Hayes, Frank Nazar, Ryan Greene, and Colton Dach, so there isn't much pressure for Ziemmer to fit that mold. He could be a nice addition.
Related: 2023 NHL Draft: Baracchini's Top 96 April Rankings
Lastly, the 18-year-old seems to have a quirky personality. A quote from Ziemmer appeared from January when he was asked about Bedard, and he replied, "Played him earlier this year, pretty good player," he said with a smirk.
It looks as if many teams are looking closely at Ziemmer's talents, and the Blackhawks would be wise to do the same.
---
---