Let's get it out of the way: the Chicago Blackhawks won't be very good through the 2023-24 season. Teams that draft first overall usually don't make the playoffs right away, let alone compete for a playoff spot the following spring. Your roster is likely filled with young players and league veterans clinging to a spot in the NHL. Who knows, your head coach may not even be the head coach in a year.
It's all relative. But when a franchise is able to select a generational talent like a Connor Bedard, or a Connor McDavid, or a Sidney Crosby, that changes things. Free agents listen more intently, and stars make tweaks to their no-trade lists. It also presents opportunities for players already on the team to change their narrative, and there may not be a better example of someone like that than Andreas Athanasiou.
Athanasiou's Reputation Was Formed in Junior
I started watching Athanasiou while covering the Ontario Hockey League's (OHL) London Knights during the 2010-11 season. He fell to the fourth round of the 2010 OHL Priority Draft, taken 81st overall by the Knights. Despite his elite skating ability and offensive production, scoring over a point-per-game during his U16 AAA season with the Toronto Titans, scouts were worried about his work ethic (more on that in a bit).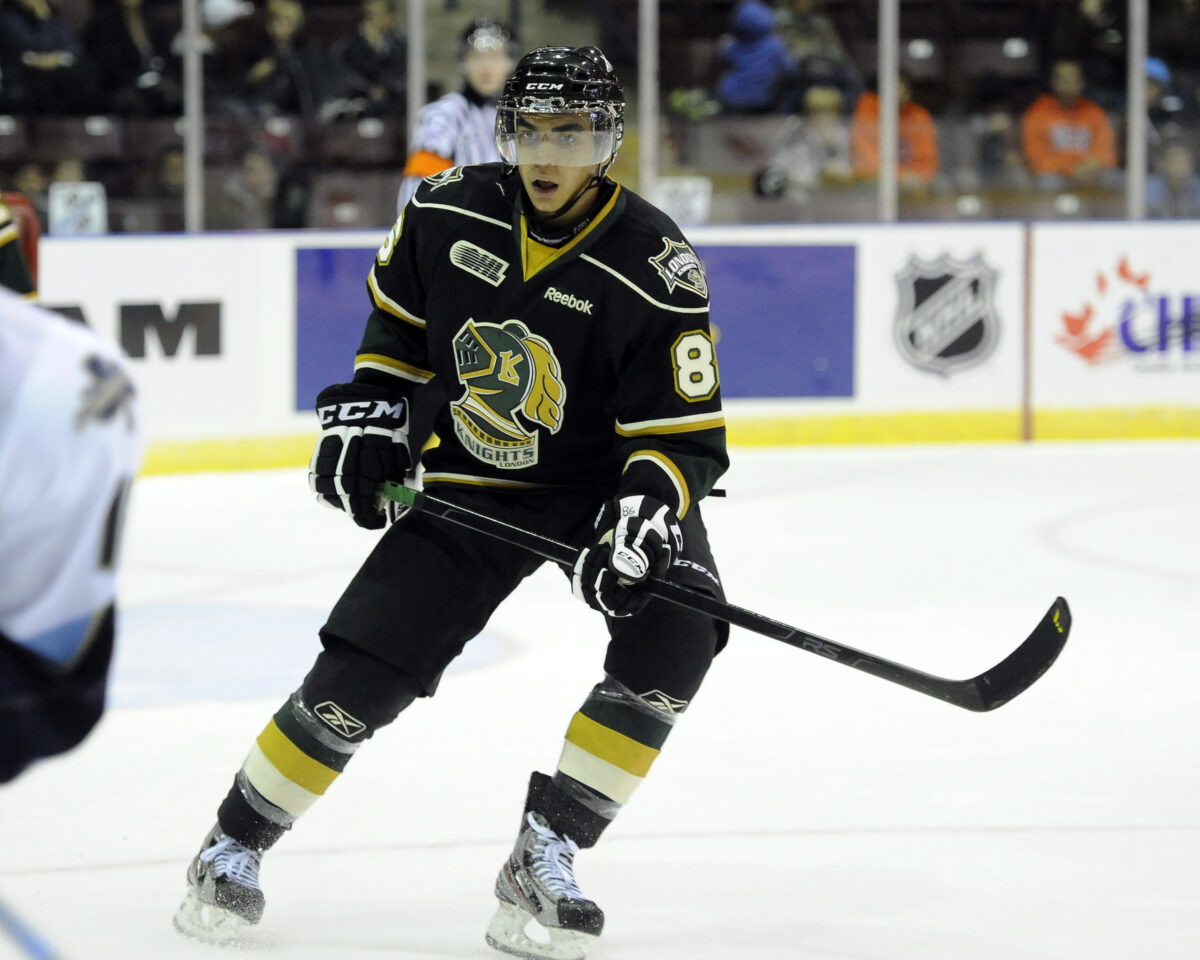 He held his own in his rookie season, scoring 11 goals for a rebuilding Knights squad, then scoring 22 goals and 37 points in year two. Watching every game, I was impressed at how fast he was and how much he stood out on the ice. His ability to generate speed from a point of standing still looked like he was taking part in the fastest skater competition at All-Star Weekend.
Related: Blackhawks Bytes: Bedard Fever, Pang, Athanasiou, Anderson
However, conflict between Athanasiou and the coaching staff in 2011-12 led to him being healthy scratched for eight of London's 19 playoff games. After the season, he requested a trade and was sent to the Barrie Colts, where he flourished, scoring 78 goals, 84 assists and 162 points over his final two OHL seasons.
In a 2013 interview with MLive.com, he discussed what happened in London.
"I didn't get the opportunity (in London) as much as I wanted and as much as I deserved," said Athanasiou. "Barrie gave me a little more (ice time) and you can see I made the most of it. I didn't think it was more confidence. I always have confidence in myself."

Talented Detroit Red Wings prospect Andreas Athanasiou loaded with confidence in abilities, MLive.com, Aug. 29, 2013
He ended up being drafted by the Detroit Red Wings in the fourth round of the 2012 NHL Entry Draft. Now playing professionally, it would be up to him to shake the reputation.
Carving Out A Professional Career
During his time with Detroit's American Hockey League (AHL) affiliate in Grand Rapids, Athanasiou showed flashes of offense, tallying 25 goals and 51 points in 83 games with the Griffins. He was called up in February 2016, playing in Detroit's final 31 games, scoring eight times and earning 13 points. The Wings knew they had a talented player in their organization, but it was up to him to earn a spot in the lineup.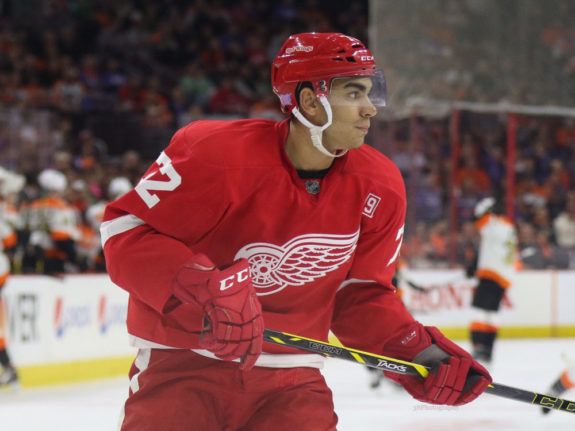 After the 2016-17 season, in which he scored 18 goals and 29 points, Athanasiou was a restricted free agent but couldn't agree to terms on a new contract with the club. The two sides settled on a one-year deal worth $1.39 million. While any player deserves to try and get a deal they feel is fair, the holdout left a sour taste for management.
---
Latest News & Highlights
---
His 2018-19 campaign stood as the most productive of his career, with 30 goals and 54 points, good for second in team scoring and a career-high 0.71 points-per-game (P/G). The next season was the final year of a two-year deal signed in 2018 and was a test to see what kind of contract he would see when he entered restricted free agency. It started poorly, with only 10 goals through 46 games, as well as a league-worse plus/minus of minus-45.
Traded to Edmonton, Then Off to Los Angeles
General manager Steve Yzerman decided to cut bait with Athanasiou at the trade deadline, sending him to the Edmonton Oilers for Sam Gagner and two second-round picks. This was thought as a potential "change of scenery" deal for Athanasiou, having a chance to play with McDavid and Leon Drasaitl, but soon turned out to be a failure.
He scored one goal and one assist in nine regular season games, with nothing to add in four playoff games. He went from playing with McDavid to the fourth line in no time. Unable to find a trading partner, the Oilers did not tender him a qualifying offer, making him an unrestricted free agent.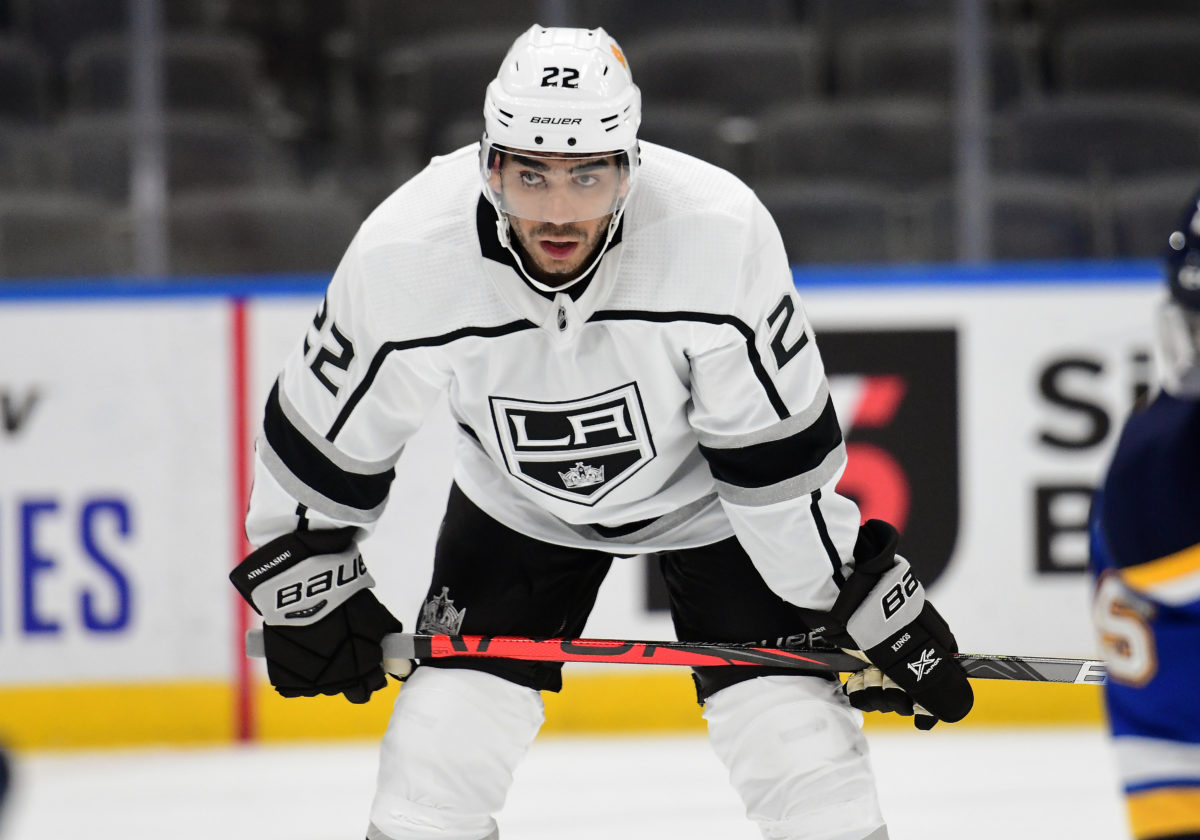 Athanasiou signed a one-year deal worth $1.2 million with the Los Angeles Kings, well below the $3 million-per-year deal he signed with the Wings in 2018. This was the type of show-me contract players sign when they have no other option, hoping to prove to the league they still belong. He scored 10 goals and 23 points in 47 games, good enough for the Kings to re-sign him to another one-year deal, this time worth $2.7 million.
Injuries derailed most of Athanasiou's season, only playing 28 games but scoring 11 goals and 17 points, good for a P/G of 0.61. The Kings decided not to re-sign him, leaving the forward looking for a contract with what was his fourth team in three years. A combination of allegedly being difficult to coach, proving his inconsistency, and now injuries left Athanasiou wondering what his future would look like.
That's where Chicago came in.
A Fresh Start in Chicago
Blackhawks general manager Kyle Davidson knew the team's focus going into the 2022 offseason would be on rebuilding. Some fans raised their eyebrows when he signed Athanasiou to a one-year, $3 million deal, but the logic made sense: either he blossoms with us or we trade him for assets.
In the 59 games he played before the March 3 trade deadline, he was slightly below his career P/G with 22 points. But once the dust settled and the team dealt Patrick Kane and Max Domi, forcing them to call up 2020 first-round pick Lukas Reichel, a light switched on for Athanasiou.
The two found instant chemistry, playing keep away from the other team and setting each other up for scoring opportunities. Athanasiou put up six goals and 12 assists for 18 points in the final 22 games, a P/G of 0.82, also giving him a final 2022-23 stat line of 20 goals, 20 assists and 40 points.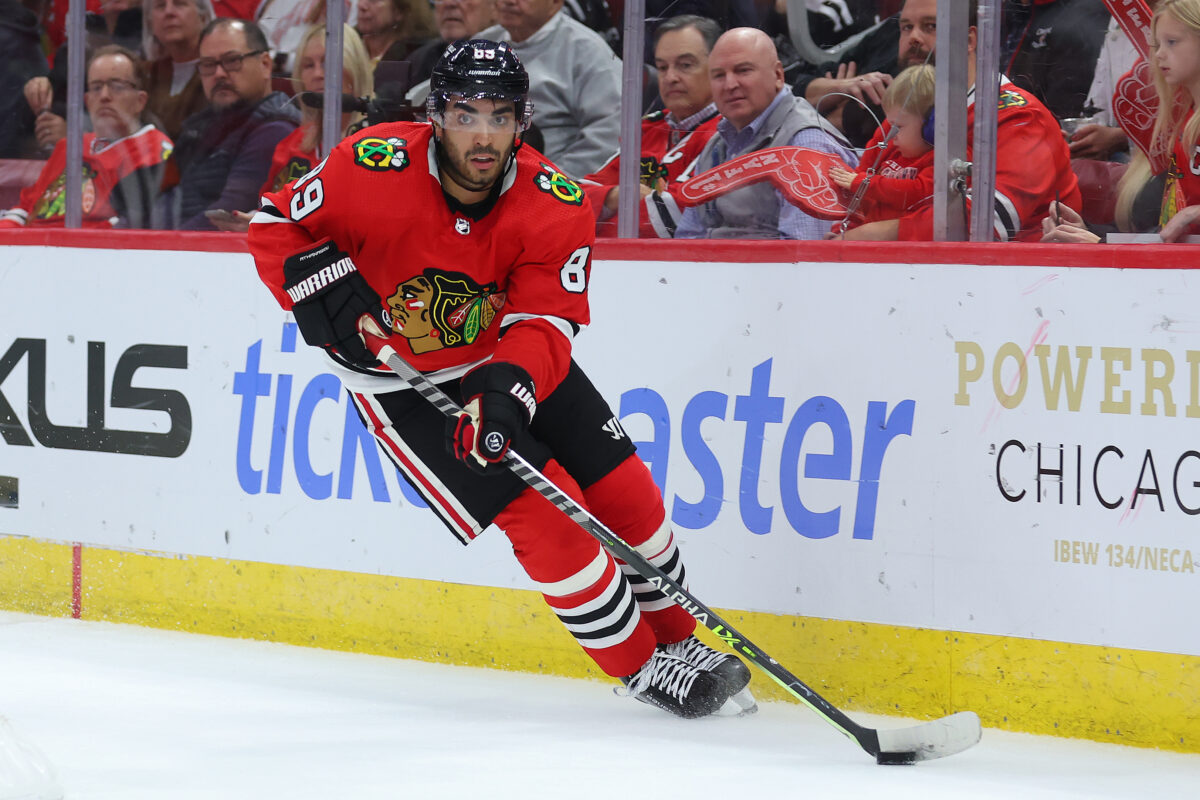 His strong play at the end of the season got him a two-year, $8.5 million extension with the Blackhawks, with an annual average salary of $4.25 million, the highest he's ever earned. After three consecutive one-year contracts, the deal was a monumental step in Athanasiou's career.
"Andreas worked out really well for us," Davidson said after the signing. "It was a good fit. He found a little extra something right toward the end. There was actually some nice chemistry with Reichel, which is not nothing."
For the Blackhawks, they locked in someone with game-changing speed who can be a versatile piece of the team's offense.
It's been an arduous path for the 29-year-old. No longer a nomad, shedding the reputation that's followed him since junior, Athanasiou now has the opportunity to write his own narrative. It's up to him to go out there and take it.