Happy Friday the 13th Chicago Blackhawks' fans! Here we are in the middle of November in this crazy year of 2020. Normally we'd just be getting started with the long grind of a typical NHL hockey season. But instead, we're waiting for more information on the potential onset of the 2020-21 season in January. Nonetheless, here are a few tidbits to keep us going. Today we debate a recent fan survey, and how Patrick Kane continues to defy all odds. We also discuss Brent Seabrook's recent interview where he spoke out to raise awareness on matters that have personally affected him. Finally, we look at some beautiful cultural expression.  
Blackhawks' Fans Weigh In
Mark Lazarus and Scott Powers of The Athletic recently published an article where they surveyed nearly 2500 fans about numerous hot topics regarding the Blackhawks. It's an interesting read if you have the time, but here are some of the highlights. (from 'Blackhawks survey 2.0: Fans weigh in on Stan Bowman, Jeremy Colliton, 'rebuild'', The AthleticCHI – 11/5/20)
Danny Wirtz as Interim Team President
Danny Wirtz is owner Rocky Wirtz's son, and was given the interim team president tag when John McDonough was unceremoniously sent packing in late April. The younger Wirtz has been much more involved with the alcohol and beverage side of the family business than the hockey side. So, the question was posed to the fans about how confident they were in Danny.
On a scale of 1-5 (with 1 being the lowest and 5 being the highest) the fans ranked him mostly in the middle range, leaning towards not being very confident in him at all. This isn't exactly surprising, as we know so little about him. And based on the current downward spiral of the teams' success, it wouldn't make sense to put someone in charge who knows very little about hockey.
According to a report from Rocky's interview on 670 The Score's "Mully & Haugh Show" in August, the elder Wirtz indicated Danny would NOT be the permanent solution as team president, but instead he would be integral in hiring a replacement. The idea was to wait until the playoffs were over before anything was done.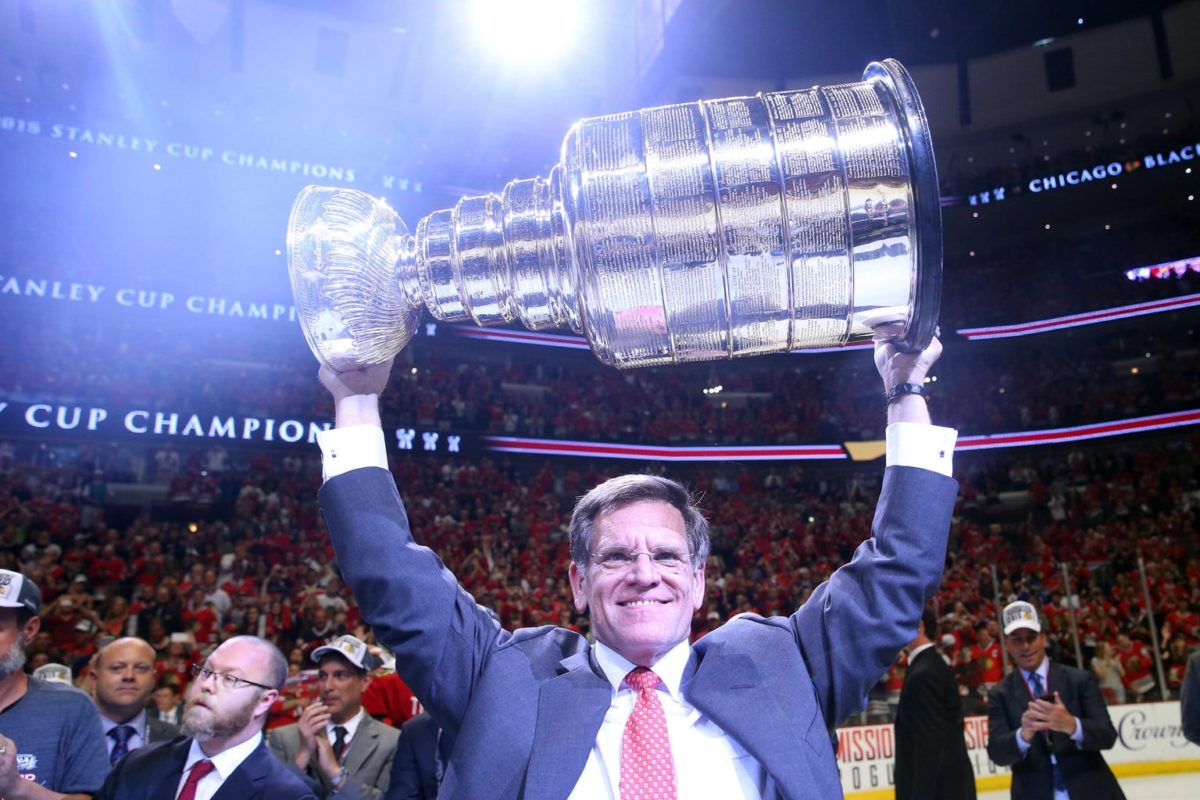 But it's now mid-November and there has been no news. The fans have been left in the dark. So the question remains, just what the heck is going on?
Bowman's Popularity Contest
Does it come as much of a surprise that general manager Stan Bowman was not ranked as someone the fanbase is confident in? Two-thirds of the fans surveyed gave him a 1 or a 2. Let's face it; pretty much everyone is calling for his head. But one of the comments in the article to Bowman's defense caught me off guard:
Funny that people don't even want to give Bowman a year away from McDonough to see how he does. He's going to get a huge contract from another franchise as soon as he's gone…He knows how to listen to amateur and European scouts and use the built-in advantages of the franchise. Give all these guys a year and then let's worry about canning more people.
It's true the Blackhawks have lost both McDonough and former head coach Joel Quenneville in the last few years, and more turnover could set them back even farther. And what if McDonough and Bowman couldn't see eye-to-eye, and this is Bowman's chance to right the ship? Well, we're gonna find out one way or the other. It appears Bowman has the confidence of the Wirtz's.   
Colliton's Coaching
Let's move on to yet another controversial figure in Blackhawks' management, head coach Jeremy Colliton. Predictably, the newest bench boss was ranked similar to Bowman, with not much support. What else is new, right? But once again, Colliton is Bowman's guy and Bowman is the Wirtz's guy. It's the trickledown effect. So here's the comment that stood out about Colliton:
I've said this before, but if you're rebuilding, switching out coaches for not winning is a recipe for disaster and stunts the development of young players…A development coach's job is to give young players ice time, but not so much they're overwhelmed and give players feedback on how to improve, and by all accounts he has done that.
Colliton's first coaching season with the Blackhawks didn't start until until mid-November, where he had to step in after Quenneville was fired. His second season was cut short by a pandemic. His third season will likely be shortened as well.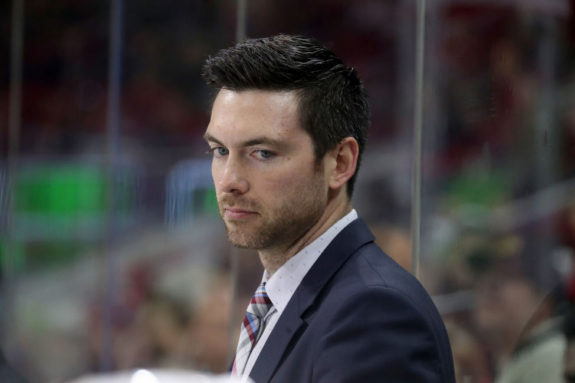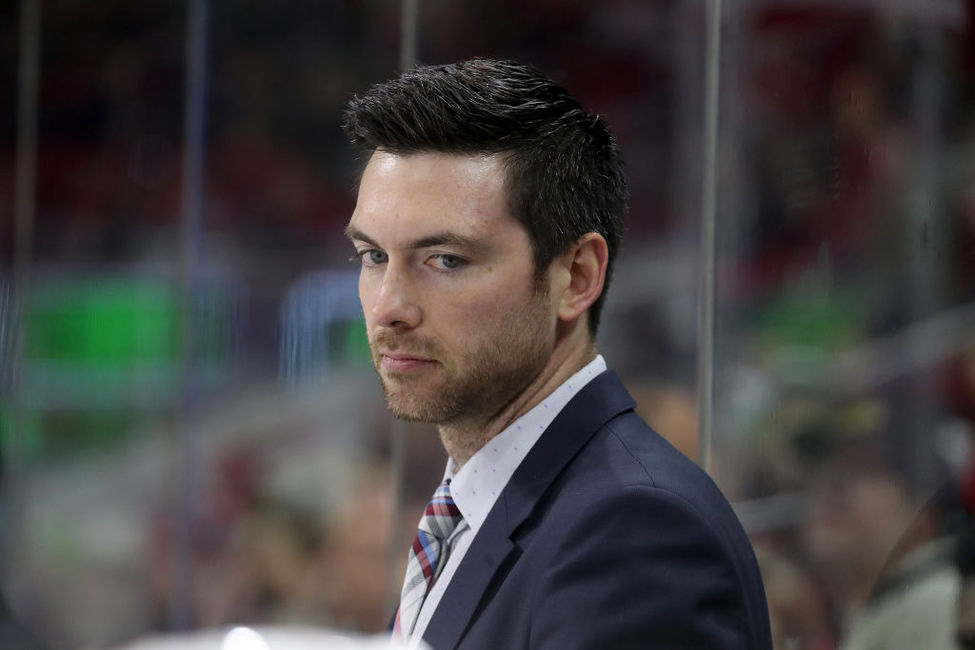 It's not a good way to get started coaching in the NHL. But he's here to develop the youngsters at the same time the Blackhawks are committing to them. Let's ride it out and see where it takes them.
Hossa or Larmer?
Ok, one final point from The Athletic article. The question was broached of who should get their jersey number retired with the Blackhawks. The two top picks were Steve Larmer (No.28) and Marian Hossa (No. 81). Oh man, that's a tough one.
Larmer has been under-appreciated all his life. Many would argue he should be in the Hall of Fame. He also spent 13 of his 15 years in the NHL with the Blackhawks. Hossa, on the other hand, has recently been elected to the Hall of Fame. And VERY deservedly so. But he spent only eight seasons of his 19-year career with the Blackhawks.
Related: Chicago Blackhawks' Legend Marian Hossa and His Hall of Fame Career
Although, they were pretty productive seasons. Hossa was the missing piece that carried the Blackhawks over the hump, and what followed included three championships and a dynasty born.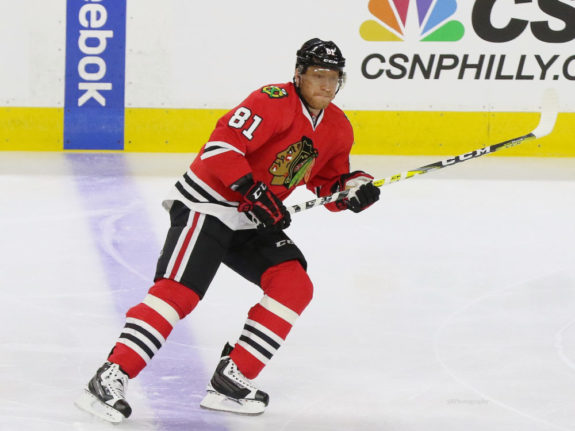 Ah, the Blackhawks can't just be retiring numbers willy nilly. Although, do you really see anyone else ever wearing No. 81 again? Maybe secure Larmer in the Hall of Fame and retire No. 81. Then we'll be even.
Kane Will Defy the Odds
Moving on, Brooke mentioned in her latest news and rumors that Blackhawks' superstar Patrick Kane is on track to play at an elite level for a very long time. I'd like to delve into this a little further. According to a recent piece by Charlie Roumeliotis of NBC Sports Chicago, Kane's long-time trainer Ian Mack believes Kane is just getting started.
But he's not at his ceiling yet. That's the other thing that people don't understand; he's still ascending, he's still getting better.

I think he's on the front half of his career, which a lot of people feel different about, but they don't see him every day. I see him every day and he's moving better right now than he was 20, when he was 25, and he's still going up. And if it takes 15, 16 years to get to the peak, it's going to take 15, 16 years to get back down and from what it sounded like when he was a rookie, he was already really great, so I think he's got a long, long career ahead. Much longer than people think.
Mack further went on to say when he first worked with the star winger after the 2017-18 season, he assessed that Kane was only moving at 55-60% of his capacity, yet he was still considered one of the best in the world. Kane and Mack have been working together ever since to further maximize his natural strengths and talents.
Like, he's not beating people because he's just lightning quick and nobody can catch him; he's beating people because he's better at the sport and that's not going to go away with age. I think he's going to actually continue to get better here for a few more years and then I think he should stay there for a while.
Couple Kane's prolonged youth with the real youth on the team, and this could certainly be good news for the Blackhawks.
Seabrook Raises Awareness
Blackhawks' veteran defenseman Brent Seabrook is a private man, and prefers to stay behind the scenes to the public. But he recently spoke with The Athletic's Pierre LeBrun because he wanted to share a few things of importance to him. (from 'I feel rejuvenated': Brent Seabrook on the emotional toll of his off-ice battles', The Athletic – 11/13/20)
We all know that Seabrook's game has declined, and he made the difficult decision to end his season last December to finally get much needed surgeries on his right shoulder and both hips. This alone could be very traumatic.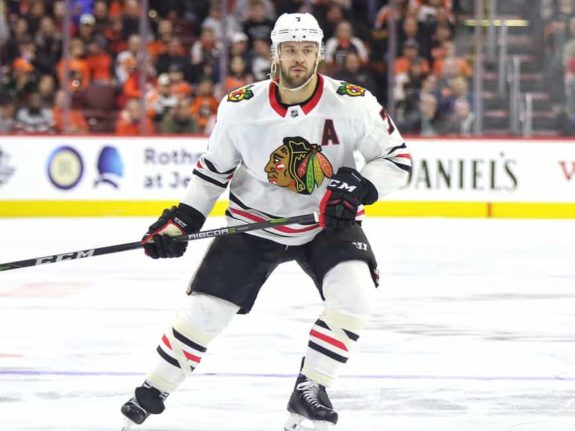 But that was just the culmination of considerable personal trauma Seabrook endured over the last few years. It turns out while Seabrook was being honored for his 1000th NHL game in March of 2018, he was mourning the loss of Scott Herbert, his longtime trainer and friend. Herbert committed suicide, which was very tough for Seabrook because he has always been "full of life, full of energy". Herbert is one person Seabrook would have loved to have at his 1000th game celebration, as his guidance had helped him get where he was. His absence took its toll.
Then at Christmas of that same year, Seabrook's father realized something was off. He couldn't think clearly and was doing and saying things out of character. As he described it, "My cognitive skills were all mixed up."
Related – Breaking Down Chicago Blackhawks' Expectations in 2021
The family got the elder Seabrook to Northwestern Hospital, where they tried to ascertain what was wrong with him. After many months and endless tests, Seabrook's father was diagnosed with a rare condition called auto-immune encephalitis, or swelling of the brain. It's very hard to diagnose, and instead could be mis-construed as a psychiatric issue.
Seabrook spoke publicly despite his private nature because he wanted to raise awareness about suicide prevention and auto-immune encephalitis, two conditions that affected him very personally.  
Native American Expression
For my final segment, I'd like to share something most of us don't see every day. The Blackhawks are honoring Native American Heritage month during November. If you follow their Twitter account, you may have seen many recent tweets about Native American culture.  
This was their submission for Veterans Day on Nov. 11. Whether you agree with the Blackhawks' recent promotions or think it's just a public relations stunt to keep the Indian Head logo, you can't deny the beauty of this cultural expression.
Thank you JR to and your family for your service. And that's some pretty kick butt dancing!
---
Thanks for reading today's edition of Blackhawks' News and Rumors. Keep it here at The Hockey Writers for all the latest news, rumors and analysis as we get it.
Is it January (or maybe February) yet?!
---
---