The Chicago Blackhawks are getting closer to what should be an interesting free agency period. The team's projected cap hit next season is just $41 million, so they'll likely sign a few veterans on short-term deals to get to the cap floor. One name who'd be a great fit is 33-year-old forward Alex Killorn.
---
---
Killorn, a two-time Stanley Cup champion with the Tampa Bay Lightning, would slot nicely into the Blackhawks' forward group. A third-round pick of the 2007 Draft and 2012 Harvard graduate, he comes from one of the league's premier organizations, and his game has only improved since making his NHL debut. The championship-level experience he'd bring to a young, rebuilding Blackhawks' club would be invaluable.
Killorn Comes From a Winning Culture
It may seem hard to believe, but Connor Murphy is the Blackhawks' longest-tenured player, having been in the organization since 2017. In fact, he's the lone remaining Blackhawk from their 2020 playoff bubble run. Of the team's veterans, only Tyler Johnson, Jason Dickinson, and Petr Mrázek have conference final experience, with Johnson and Dickinson having played in the Stanley Cup Final.
Related: Lightning Still Reaping the Benefits of Undervalued Alex Killorn
Though the Blackhawks aren't cap-crunched, general manager (GM) Kyle Davidson needs to make his free agent decisions wisely. Along with targeting players who fit the core he's building, placing an emphasis on speed, he'd also be smart to sign those who have been part of championship-winning clubs. Look no further than Killorn, who like Johnson, was part of Tampa Bay's Stanley Cup-winning teams in 2020 and 2021. Through 805 career NHL games, he has 466 points (198 goals, 268 assists) while also having skated in 140 career playoff games. Among active players, he's also eighth in most consecutive regular-season games played with 265.
From presumed No. 1 overall pick Connor Bedard likely entering the fold to Lukas Reichel and possibly Kevin Korchinski joining the team full-time, the Blackhawks will be a younger group next season. They should also be more watchable, given the "tank" phase of their rebuild appears to be mostly over. However, with such a young team comes inexperience and growing pains.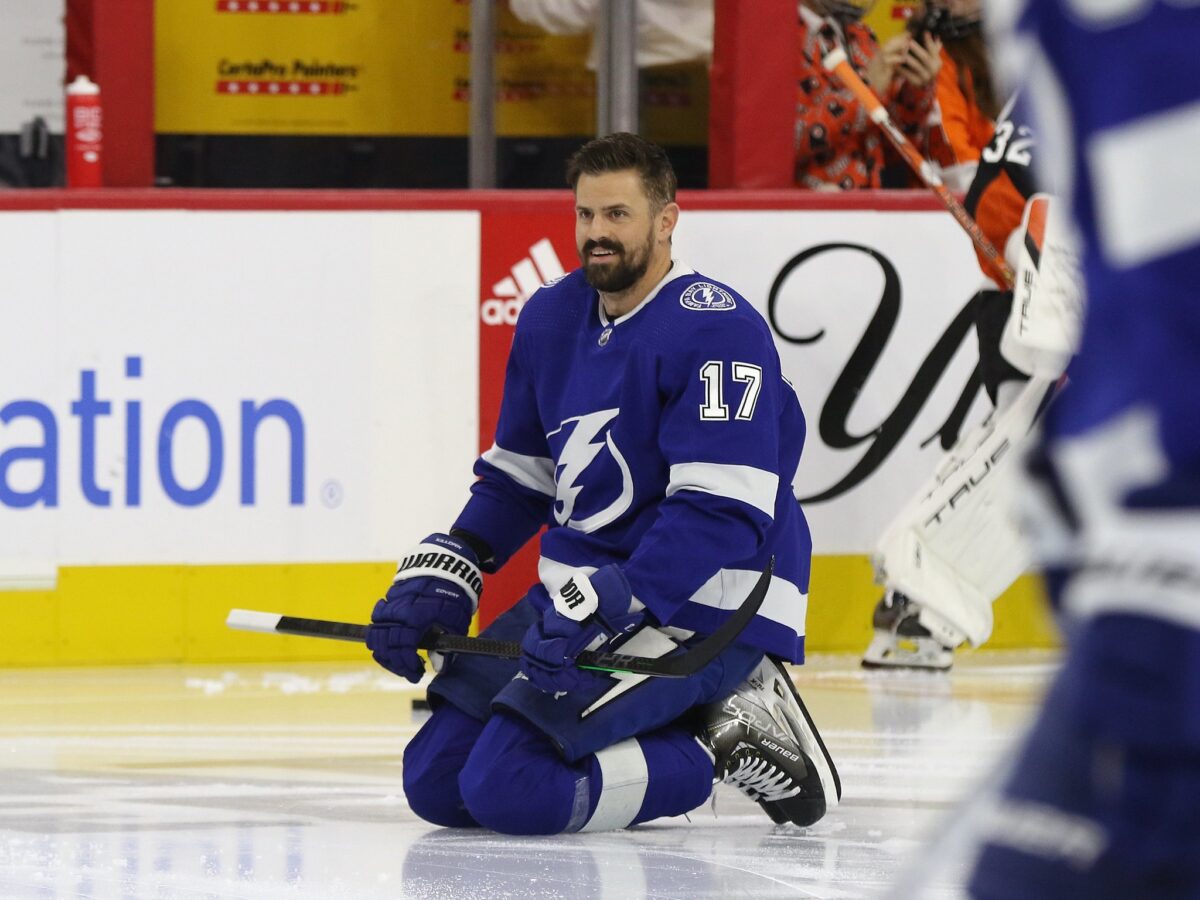 With that in mind, the Blackhawks should eye veterans who've played at the highest level, and Killorn fits that bill while being a realistic target. As primarily a middle-six forward, he's someone the Blackhawks wouldn't need to commit to beyond, say, three seasons.
Since making his NHL debut in the 2012-13 lockout-shortened season, Killorn has only gone two seasons without making the Stanley Cup Playoffs. Arguably even more impressive, the Lightning are coming off a stretch in which they at least made the Eastern Conference Final in six of eight seasons between 2014-15 and 2021-22. That's the type of success the Blackhawks should aim for long-term, so they'd be smart to get a player who has been there before in Killorn.
Killorn's Possible Fit With the Blackhawks
Killorn would provide the Blackhawks with great scoring depth. He's coming off a career season in which he recorded 64 points (27 goals, 37 assists) after previously recording a career-high 59 points in 2021-22. A little bit of regression could come, but he'd nonetheless be a lock for Chicago's top-nine. He'd also be a great candidate for an alternate captain role.
---
Latest News & Highlights
---
Killorn would also help the Blackhawks' special-teams units, which were not good at all in 2022-23. The team recorded just a 16.38 power-play percentage last season (28th), while the penalty kill also struggled with a 76.19% success rate (22nd). During his Lightning tenure, Killorn became a fixture on their special teams due to his two-way presence, even if he wasn't doing all the scoring. Even with Bedard around, the Blackhawks' power play will probably struggle next season, but Killorn would provide some consistency there.
Related: Blackhawks Could Move Connor Murphy To Trade Up in 2023 Draft
Like Johnson, Killorn's a Swiss Army knife-type player who can move up and down the lineup and is capable of playing left or right wing. Getting older hasn't made him any less productive either. Around the 2019-20 regular season, he incorporated mindfulness training into his routine, which he said helped his confidence and improved his overall game (from "Alex Killorn fan Q&A: How meditation has played role in Lightning wing's career season," The Athletic, 01/02/20). It's admirable to see how much that practice has paid off, and it could set a good example for the rest of the Blackhawks, especially their younger players.
It seems unlikely Killorn re-signs with the Lightning. Much like the Blackhawks during the mid-2010s, they're one of the league's most cap-strapped teams. They already have $81.9 million committed to next year's group, so he'd almost certainly need to take a hometown discount to stay around barring trades. That said, if he does leave the Lightning, he may want to play for a team closer to contention. It'd be quite the difference for him to go from a competitive Lightning club to a rather inexperienced Blackhawks team.
That doesn't mean the Blackhawks shouldn't make a push, as Killorn has the character and experience to guide the team. With so much cap flexibility entering the offseason, the Blackhawks have plenty of directions they could go in, but Killorn is definitely someone they should have on their radar.