We already took a deep dive into how the bottom-six forward group performed for the New York Islanders. Now, we will take a look at the top-six. It was a challenging season for many of the team's top forwards. Mathew Barzal was having a solid season before he went down with an injury. Brock Nelson had another outstanding season, leading the team in goals and points, while Anders Lee contributed 28 goals but struggled with consistency throughout the season. The Islanders acquired Bo Horvat in hopes of increasing their offensive production, but that did not happen.
Related: New York Islanders' 2022-23 Forward Evaluations: Bottom-6
Overall, the top-six was just ok, not enough to get the team to the next level. There were stretches when they needed their top forwards to produce, and they didn't, especially in the playoffs, and they struggled to find any sort of chemistry without Barzal in the lineup. The only line that seemed to produce was Nelson between veteran Kyle Palmieri and newly acquired Pierre Engvall. Here's a look at each of the top six forwards.
Brock Nelson
Let's start with the Islanders' best player of 2022-23. Nelson led the team in goals for the fourth straight season, finishing with 36 goals and a career-high 75 points. He developed into one of the most dangerous offensive players in the league, playing in all 82 games this season. The Warroad, Minnesota native has been with the organization for ten years and has improved each season. He has often been criticized for his lack of consistency, but this season, that wasn't the case. His line was a key reason the team made the playoffs, and when the Islanders acquired Engvall, the second line really started to produce.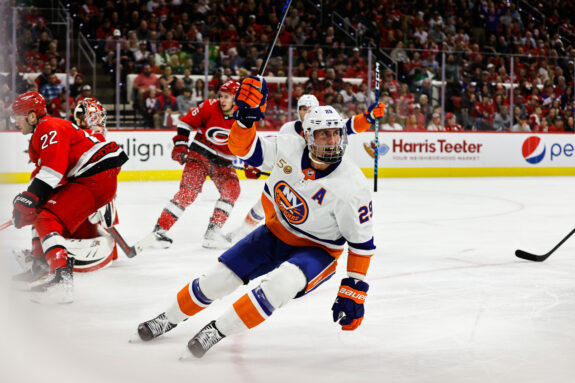 "Any time you can build chemistry, and you get on a roll, and you're feeling good, I think it frees you up to just play," Barzal told The Athletic. "When you're changing, you have to try and find it a little bit quicker. Playing with Palms and (Engvall) for a bit now, we will hopefully continue to try and build on some offense, some chemistry, and be a line that we can rely on and depend on both sides (of the puck), and contribute offensively even more" (from 'Islanders' line consistency pays off as they wait on Mathew Barzal's return', The Athletic, 3/23/23). Nelson is the lone sniper on the roster, and he scored some key goals this season. 
Anders Lee
The captain of the Islanders had another impressive season, putting up 28 goals for the second year in a row, and has consistently hit the 20-goal mark since 2016-17. The only season he didn't put up 20 was 2020-21 when he only played 27 games because of a torn ACL. However, Lee struggled with consistency this season; his scoring was streaky and it was clear that he had lost a step. He was never the strongest skater, but this season he was noticeably slower. The Islanders could have used more production from Lee on the power play, especially in the first round against the Carolina Hurricanes where he had only one goal and one assist.
Due to his leadership and off-ice contributions, Lee was chosen as the Islanders' King Clancy Memorial Trophy nominee. Throughout his whole career, he has been a pillar of the Islanders' community and has served as captain for the past five years. Overall, it was a solid season for Lee, as he continues to put up good numbers each year. The only thing the Islanders need from their captain is to be more consistent throughout the season.
Kyle Palmieri
When the Islanders signed Palmieri to a four-year extension worth $20 million, they expected a consistent goal scorer, as he was with the New Jersey Devils. Over his first three seasons with the team, he hasn't been able to replicate those numbers. This year, however, was by far his best in an Islanders jersey. He missed a significant amount of time this season with an upper-body injury but returned in late January to match his goal total from last season with 16.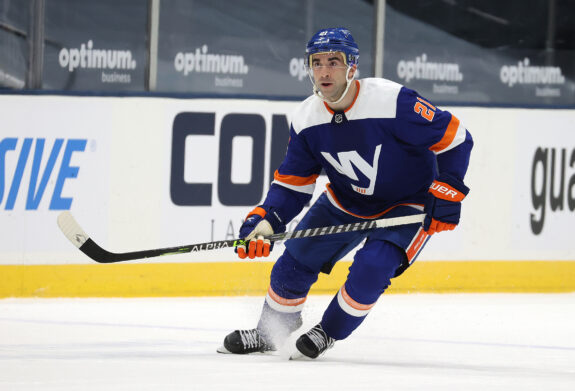 Related: Islanders' Kyle Palmieri Proving His Worth
When he returned from injury, he looked faster and stronger and was shooting the puck more. He found chemistry playing with Nelson and Engvall and was probably the Islanders' best all-around player in the playoffs, with five points in the six-game series and the team's only power-play goal.
It was a tough start to the season for Palmieri, and then he got injured, but he finished on a strong note. Once he got going in the second half, the Islanders started winning games. They need him to continue that strong play next season and become that consistent 20-goal scorer that he's been throughout his NHL career.
Mathew Barzal
Barzal has been the Islanders' most talented offensive player since John Tavares left in the summer of 2018. He has an elite skill set and is one of the more creative players in the league. He was off to an excellent start in the 2022-23 season before missing time. When the Islanders acquired Horvat, he found instant chemistry with Barzal. Unfortunately, he went down with an injury against the Boston Bruins on Feb. 18 and the first line really struggled in his absence; he was second on the team in points with 51 in 58 games and was just under a point-per-game before his injury.
---
Latest News & Highlights
---
That said, the Islanders need more from Barzal moving forward. He signed a massive eight-year extension worth an average annual value (AAV) of $9.15 million right before the 2022-23 season. They made a long-term commitment to him and he needs to hold up his end. His stats have been underwhelming for the past few seasons, but he hasn't had consistent linemates, either. Lamoriello went out and acquired Horvat to take some of the pressure off Barzal. Overall, it was a good year for him and, hopefully, next season, he will return to being that point-per-game player he was before he was injured.
Pierre Engvall
Engvall was a welcome addition to the team. He provided a spark when he was acquired from the Toronto Maple Leafs. He has elite speed, is a responsible defensive player, and is strong along the boards. He had no problem adapting to the Islanders' style of play, and in just 18 games on Long Island, he contributed five goals and nine points. He played an important role for the team down the stretch on the second line, finding chemistry with Nelson and Palmieri.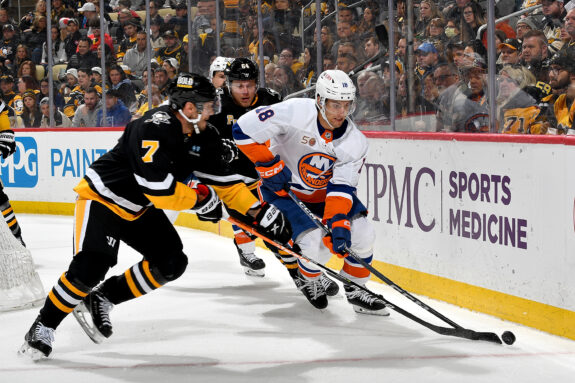 Related: Pierre Engvall Fitting in Nicely with Islanders
Engvall is in the final year of his deal where he earns an AAV of $2.25 million and is set to become an unrestricted free agent (UFA) this summer. General manager Lou Lamoriello would love to keep him around: "He's certainly an individual that you'd like to keep in your organization. Certainly, with the style he plays and his speed. I can't overemphasize his speed."
For the right price, the Islanders will sign him to an extension. He fits their style of play and is responsible in his own end, strong away from the puck, and has a knack for getting pucks out of the defensive zone quickly. According to Money Puck, he is one of the best in the league at exiting the zone. This trade was another big win for Lamoriello.
Bo Horvat
The big blockbuster deal of the season was acquiring Horvat, who was having a career season with the Vancouver Canucks, with 31 goals and 54 points in 49 games. The Islanders were hoping that he would provide that offensive spark they desperately needed, and he was on fire his first few games, developing instant chemistry with Barzal. But his production dropped after Barzal was injured. Head coach Lane Lambert kept trying different line combinations to give Horvat a boost, but he just couldn't get going, and he carried those struggles into their first-round series against the Hurricanes. 
---
---
"I think I can be a lot better," Horvat said. "I think I'm doing a lot of good things away from the puck and winning my faceoffs and doing all that kind of stuff, but at the end of the day, I've got to find ways to score big goals or get on the scoresheet, and not in a 5-1 game or 5-2 game. I've got to find ways to make it meaningful. I've got to be better" (from 'Bo Horvat's struggles among many reasons Islanders' season on the brink', The Athletic, 4/23/23).
The Islanders need to see a lot more from him next season. They made a commitment, signing him to an eight-year extension with an AAV of $8 million, and if he doesn't start producing as he did earlier in the season with the Canucks, this contract will become an albatross for the organization. 
The top-six forward group has so much talent and potential, but they need help. If Barzal and Horvat can produce on that first line, the team will be better next season. But if the Islanders have the cap space, Lamoriello should go out and find a winger for the first line. Otherwise, they will have to rely on this same group to try and get them back to the playoffs. They need Nelson to continue his elite production from the past few seasons, and hopefully, they can retain Engvall. It's going to be a long offseason for Lamoriello, but he has to find a way to improve this group.