Welcome back to our prospect's check-in series for the summer of 2023 for the Columbus Blue Jackets. We are checking in with notable prospects throughout the organization.

In case you missed the last part of the series, we took a look at defensive prospect Samuel Knazko and previewed his upcoming season. Today we switch over and start to look at some of the notable forwards in the organization including one coming off a 40-goal season in juniors.
Related: Blue Jackets' Prospects Summer Update: Samuel Knazko
---
Latest News & Highlight
---
The Blue Jackets took a major step forward at center this offseason when they were able to draft Adam Fantilli with the third-overall pick. But there's another center in the organization that is showing well and not getting the attention he deserves mostly because of how deep the prospect pool is. This prospect turned in a good D+1 season while helping his team get to the Conference Final in the OHL. This year, he's ready to take the next step.
Luca Del Bel Belluz Check-In
How Acquired: Drafted by the Blue Jackets 44th overall in the 2022 NHL Draft.
2022-23 Teams: Mississauga Steelheads, Sarnia Sting.
2022-23 Stats: Recorded 40-47-87 in a combined 66 games between the Steelheads and Sting. He added 8-7-15 in 16 OHL playoff games.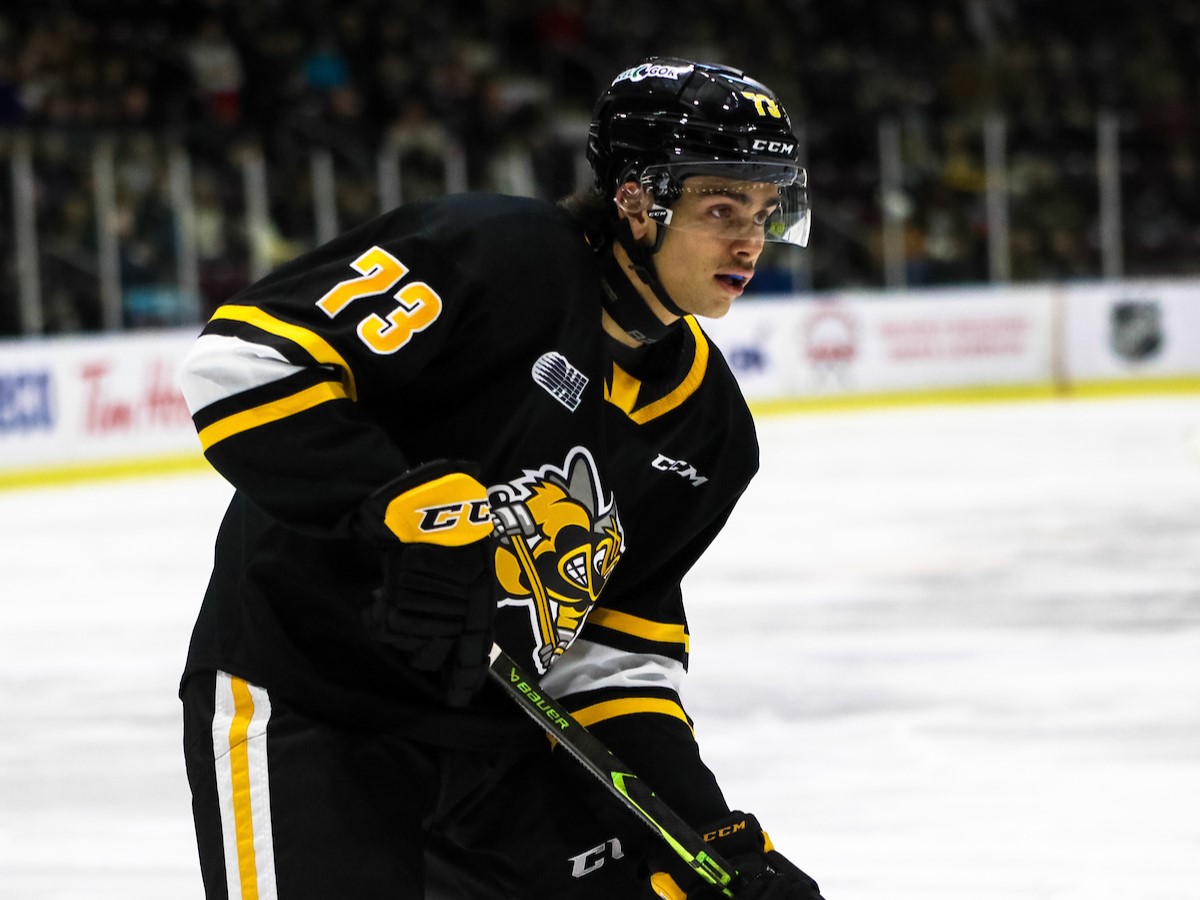 2023-24 Contract Status: Has three more seasons left on his current deal at $891,667 that was signed in Dec 2022. Del Bel Belluz will become an RFA after the 2025-26 season.
Expected 2023-24 Teams: Cleveland Monsters, maybe Sarnia Sting.
Expected Role in 2023-24: Del Bel Belluz is expected to get a chance to play with the Cleveland Monsters. His late birthday makes him AHL eligible this season. But he is also eligible to return to the OHL. Where he's at with his overall development will be the guide to where he plays in 2023-24.
2022-23 Season Recap
Del Bel Belluz entered the 2022-23 as one of the leaders of the Mississauga Steelheads alongside Montreal Canadiens' prospect Owen Beck. With this tandem down the middle, big things were expected from the team.
However by midseason, it was clear that both Beck and Del Bel Belluz would be on new teams after the OHL Trade Deadline. Despite scoring 20 goals in his 34 games with the Steelheads, DBB found himself traded to the all-in Sarnia Sting.
The Sting gave up Angus MacDonell and a pair of future fourth-round picks to acquire Del Bel Belluz. That move immediately started paying dividends.
Del Bel Belluz was inserted into the top-six at center. After a small adjustment period, he resumed his goal scoring pace from earlier in the season. This time he scored 20 goals in 32 games while also picking up the pace with assists. His 40 total goals and 87 points were each in the top-15 in the OHL.
You Might Also Like
Del Bel Belluz finished the regular season with points in 10 straight games. This included seven multi-point efforts along with three 3-point games and a 4-point game. His presence helped to elevate the Sting's power play. He scored seven on the man advantage. He also took a majority of faceoffs. He won just under 55% of draws on 1,076 faceoffs taken.
The Sting ultimately fell in the OHL Western Conference Final to the London Knights. Del Bel Belluz recorded 2-2-4 in the six-game series. Although his team fell short of their ultimate goal, he showed that he can be a big part of the Blue Jackets' future at center ice in the coming years.
2023-24 Season Outlook
Del Bel Belluz offers the Blue Jackets multiple options in the new season. Because he turns 20 before Dec 31, 2023, he can play in the AHL this season. Coming off a 40-goal season in juniors, it seems this is the path he will follow.
However that is not set in stone 100%. Because Del Bel Belluz is still 19, he in theory can be assigned back to OHL Sarnia. Should they feel he needs more development and isn't quite ready for the AHL, this is an option the Blue Jackets could explore.
The two things that have been called out about Del Bel Belluz at this point in his career are his strength and his ability to play a two-way game. He knows he needs to add muscle to his frame as he moves up the pro ranks. That in turn should make him a more effective two-way center. The flexibility in being able to assign him to multiple teams will work to the Blue Jackets' advantage. They don't have to force him anywhere if he's not ready.
A successful season for Del Bel Belluz will see him continue to impact the game offensively and at the faceoff circle. It will also give him the chance to continue to learn playing away from the puck. While he's still a couple years away from making an impact on the Blue Jackets, he is low-key an important prospect at an important position.
Biggest Questions in 2023-24
Is Del Bel Belluz ready for the rigors of the AHL? It's rare for players to be able to step into the AHL as a rookie and make an immediate impact. He will be given every opportunity to show how ready he is for his first full pro season.
How much improvement will we see defensively? How Del Bel Belluz's development goes in this area of his game will be the guide for how quickly he can make an impact on the Blue Jackets eventually. He'll get the chance to learn the nuances of the position and what all will be demanded. Steady progress here will be key.
Final Thoughts
The 2023-24 season for Del Bel Belluz should prove to be an important one in his overall development. He did what was expected in the OHL. Now it's time to play at the next level and really start to refine his game for the pros.
The biggest question I have for him is just how much does he want to impact the game defensively? The offense is there in spades with Del Bel Belluz. His shot can be lethal. He's a good playmaker to boot. He will impact the game with the puck on his stick. Now let's see how much he can impact the game in his own zone. I want to see him win puck battles and get more involved physically. This should lead to more offensive opportunities.
Del Bel Belluz doesn't get the attention other top prospects get. But that doesn't diminish how important he could be down the road for the Blue Jackets. Should he reach his upside, he could become a top-six center who can impact the game in various ways. When considering what this team might look like in five years, don't forget about DBB. His game is intriguing. Let's see if he can get the most out of it in the coming years. Given how smart he is, I wouldn't bet against him.