For the first time in over a decade, the St. Louis Blues have a top-10 pick. Their last top-10 selection was right-handed defenseman Alex Pietrangelo who was selected fourth overall in 2008. In 12 seasons with the Blues, he played 758 games, scored 450 points, averaged 24:38 of ice time per game, was named to two NHL All-Star Games, served as the team captain from 2016-2020, and led the franchise to their first Stanley Cup. Since his departure in 2020, the Blues have been searching for a replacement for their former number-one defenseman.
Related: 2023 NHL Draft Guide
With the tenth pick in the 2023 NHL Draft, it's believed that general manager Doug Armstrong will opt for the best player available. Considering the organization is deep (at least at the top) in forward prospects, with Jimmy Snuggerud, Zachary Bolduc, Zach Dean, and Jake Neighbours, the idea of landing a future top-pairing right-handed defenseman with their first pick would be the perfect scenario. There are varying opinions as to who that top-pair defender is, but the consensus is that Austrian-born David Reinbacher is the best this class has to offer.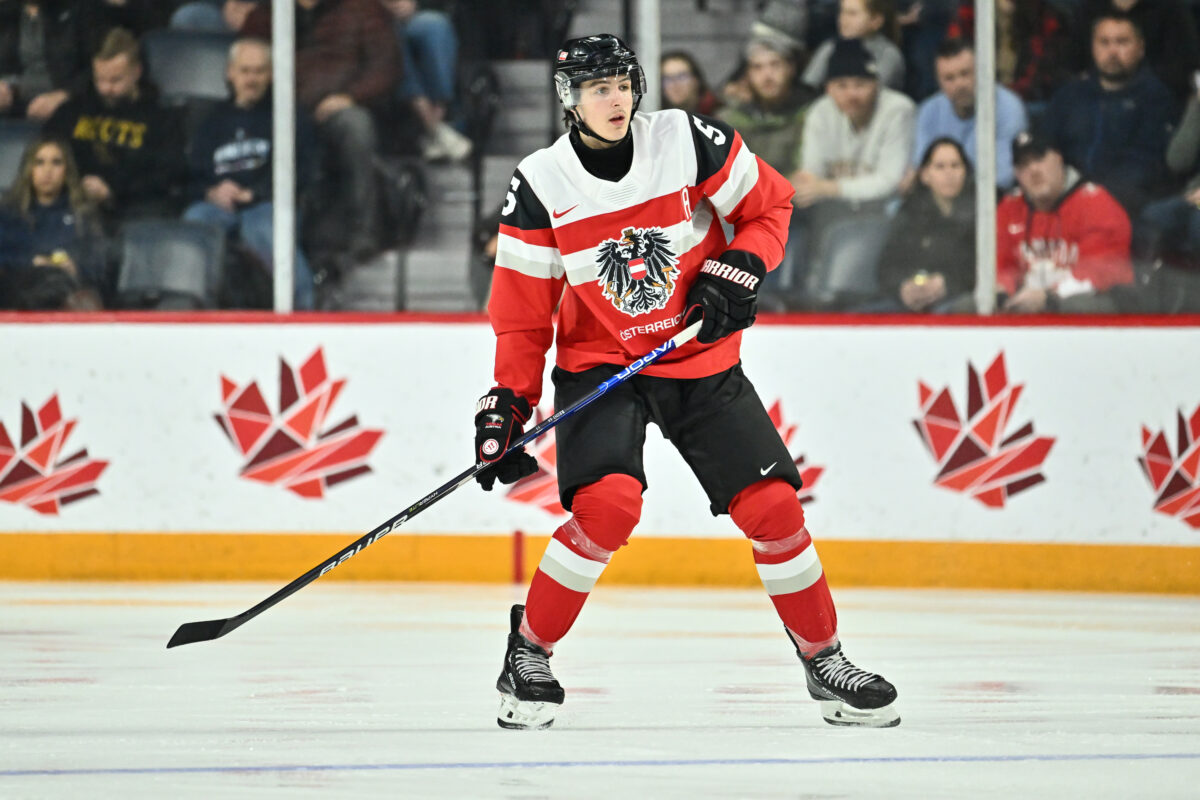 Scouting Report
Age: 18
Hometown: Hohenems, Austria
Size: 6-foot-2, 187 pounds
Shoots: Right
Position: Defenseman
Statistics: 46 games, three goals, 19 assists, 22 points, 26 penalty minutes (EHC Kloten – Swiss League)
Related: David Reinbacher – 2023 NHL Draft Prospect Profile
---
Latest News & Highlights
---
At 6-foot-2, 187 pounds, Reinbacher is close to the ideal size for a two-way defenseman in the NHL. At the very base level of his game, he's a shutdown defender who is capable of closing gaps quickly in his own zone with his above-average speed and utilizes his stick well to cover passing lanes. He has a high hockey IQ, often eliminating scoring chances in the D-zone, finding and making outlet passes through the neutral zone, or setting up offensive scoring chances. While playing with older men in Switzerland's top professional league, the Swiss League (SL), the 18-year-old posted 22 points in 46 games while logging significant ice time.
As aggressive as he is defensively, he's less so at the other end of the ice. While he has plenty of offensive skills, that side of his game is less dynamic. Most of the time, he looks to make the safe and more efficient play rather than attempting a deep stretch pass through the zone or a clapper from the blue line. But his simplified game also allows him to set his teammates up for better production. He's not the greatest skater but has good enough speed and edges to maneuver through all three zones.
Where Reinbacher Fits With the Blues
Reinbacher would instantly become the Blues' top defensive prospect and rank either first or second overall in their pipeline. He's viewed as an NHL-ready player at just 18 years old, but I expect the Blues would like him to play at a lower level while they're re-tooling the big club. Their current defense is a mess, without an opening for Reinbacher. However, all of that could change this summer after the draft.
Top-Pairing Potential
Similar to what they saw in Pietrangelo at 18, Reinbacher has the potential to be a top-paring defenseman with a similar build and style of play. He's an excellent all-around defender who is smart and has no glaring holes in his game. The fact that he is a right-shot makes him even more valuable. He may not be around for the Blues to select at 10, so it's possible they may have to make a jump to secure the future 1/2 d-man.

Other Blues First-Round Targets for the 2023 NHL Draft: