The St. Louis Blues are coming to the end of their offseason with NHL training camp just around the corner. Players are beginning to pack their things and cross off final tasks on their to-do lists with only several days left. On Sept. 16, an interview with veteran defenseman Marco Scandella was released on 'Hockey Sense' with Andy Strickland discussing his offseason injury rehab and readiness ahead of the coming 2023-24 season. With only a few words spoken into his first answer, Scandella confidently preached his readiness, excitement regarding his overall health, and that he could be in the best shape and preparedness that he has been in years.
Scandella Dives Into Injury History
In May 2017, the Minnesota Wild announced that Scandella underwent arthroscopic surgery on his left hip during the playoff quarterfinals against the Blues (from 'Wild's Marco Scandella undergoes successful hip surgery,' Twin Cities Pioneer Press, May 2, 2017). However, he also started to experience back pain about five years ago. Upon review of his MRIs, doctors told him that his right hip was not looking good as well. Continuing to rehab and work through his injuries, Scandella expressed pain when opening up the hip and that what he was experiencing was coming from the back injury as well. He went on to describe pain radiating down his knee and right leg preventing him from skating to his full potential on that side.
RELATED: Blues' Perunovich Gets Bigger Opportunity with Krug Injury
---
Latest News & Highlights
---
"You don't want to let your team down and when you know you're not at your best, you know, it definitely weighs on you mentally," Scandella said during the interview on 590 The Fan. "But that's part of the grind and part of what we signed up for as hockey players. Guys play hurt all the time. It's not the first time that anyone's played hurt. But I'm happy to get back to being able to move and defend the way that I know I can."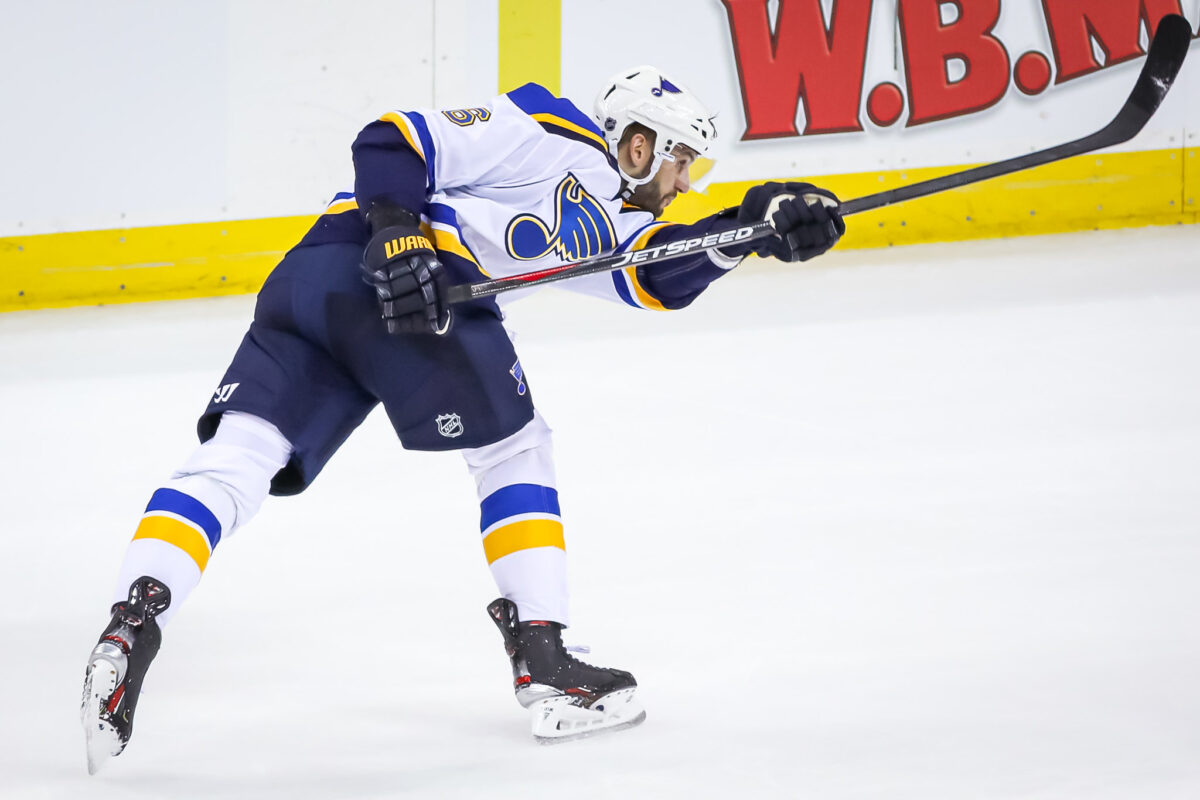 Now fully recovered, he has taken the summer as an opportunity to properly train and prepare. Scandella continued to express his frustration regarding both the physical and mental hurdles with the inability to play at the level that he knew he could play at on a nightly basis. The offseason provided him with a good opportunity to learn new routines to help his preparedness with new stretching routines, better nutrition, and what he can do off the ice to keep his body in the best condition for his time on the ice. With these new routines, his skating should return to form.
Offseason Experience at Bio-Steel Camp
During the offseason, Scandella was invited for the second time to take part in the Bio-Steel camp with players like Connor McDavid, Connor Bedard, Cale Makar, Brayden Schenn, and other players around the league. He explained the high intensity of the four-day camp recapping the hour-long practice and hour-long game with a workout mixed in each day as well. The camp provided a great opportunity for the veteran defenseman to work with others, discuss on and off-ice preparedness, and get ready for training camp.
Scandella Believes Blues Are Underrated
Ahead of training camp, Scandella stated that he has been working with a few of his fellow teammates. While it is unclear who he will be paired with to start the season, he has gone through a few drills with Scott Perunovich, mixing in with Justin Faulk and Colton Parayko as well. Near the end of his interview, he stated his belief that the Blues are being underrated coming into the 2023-24 season and expressed confidence in his club's four forward lines, goaltenders, and new coaching staff. Though he is unable to express what adjustments the club is looking to make defensively for the coming season, he stated that they are looking to emphasize the strong skaters on the team like Nick Leddy, Perunovich, Faulk, and Parayko.
The Blues will need to make adjustments not only to their style of play but with the abundance of defensemen on their roster. With approximately eight defensemen looking to take six spots on a nightly basis, the team could be looking to make a trade and ship one of the veterans out. Scandella will be among a group of players that could be on that shortlist if his play begins to work itself back to form, ultimately increasing his trade value. With one year left on his contract at $3.275 million, he could become a trade deadline trade chip for the Blues.