Depending on your perspective, the 2016-17 edition of the Calgary Flames is either a scrappy underdog team that overcame a sluggish start to make the playoffs or a star-studded cap-spending club that only lived up to its potential in the second half of the season. Either way, the Flames qualified for the postseason for the second time in three seasons (and for the second time under general manager Brad Treliving) and they face a formidable first round challenge in the form of the Anaheim Ducks.
For those of you just joining the Flames bandwagon, here's what you need to know about the gentlemen in red, black and gold.
Forwards
Nominally, the Flames' top line features center Sean Monahan (jersey number 23) between speedster Johnny Gaudreau (13) and checking forward Micheal Ferland (79). Arguably two of the best recent Flames draft picks, Gaudreau and Monahan have emerged as the heartbeat of the team's offense – although they both had slow starts this fall after signing big money deals last summer.
None of these three guys are defensive stalwarts, but they provide each other with complementary strengths in the offensive end. Monahan is an able distributor of the puck and reads defensive zone schemes really well. Gaudreau is basically a magician with the puck and is able to use his speed, hockey sense and positioning to create scoring chances for everyone he's on the ice with.
Ferland joined the line late in the season, promoted from the fourth line, and he brought a fourth-line mindset to the top line: crash and bang. A true north-south player, Ferland plays the "direct" style of game that Flames head coach Glen Gulutzan has called for. He's not a big name, but he's got a very strong shot and scored a ton of key goals down the stretch.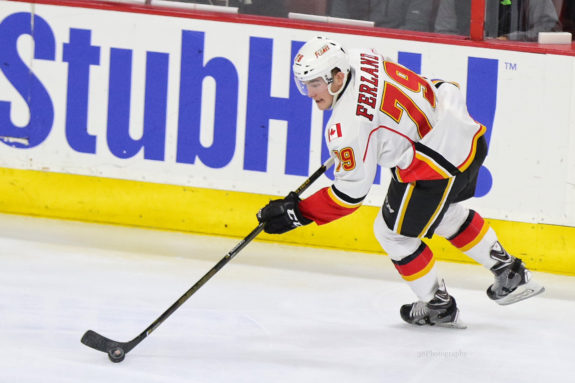 If you ask Flames fans, the actual top line for the team all season has been the "3M Line": Mikael Backlund (11) between veteran winger Michael Frolik (67) and rugged rookie Matthew Tkachuk (19).
Backlund's been a fan favourite for years, but the 2007 first round pick has seemingly struggled to put together a consistent season until now. Considered a leading contender for the Frank J. Selke Trophy as the NHL's top defensive forward, Backlund has combined a strong 200-foot presence with a nose for the net this season. Frolik has been almost as consistent as Backlund this season, earning time in every game situation and providing strong play in every zone.
The surprise of the season has arguably been Tkachuk, who earned a full-time NHL job as an 18-year-old and has become Calgary's answer to Brad Marchand or Ryan Kesler – a pain-in-the-butt agitating presence that can also score clutch goals and shut down opposing players.
The third line for the Flames are a set of spare parts, a trio of players that have played further up in the lineup but draw in together because there's nowhere else to put them: Sam Bennett (93) between Kris Versteeg (10) and Alex Chiasson (39). The sophomore, Bennett was moved to center this season after debuting primarily on the left wing (beside Backlund and Frolik). He's been inconsistent, but has found his confidence in the position in recent weeks.
Some of the credit for Bennett's confidence has to go to his linemates: both Versteeg and Chiasson have quietly emerged as very effective complementary players. Both use their speed and size well, even the diminutive Versteeg. Versteeg has been a strong presence on the Flames' power play, while Chiasson has been an underrated contributor to the penalty kill.
This trio has gelled together enough over the last few weeks of the season that it's become a line that consistently generates scoring chances rather than trying to not give up too many the other way. In the event the Flames lose a body to injury or need to shuffle lines, any of these three guys can slot into the top two lines.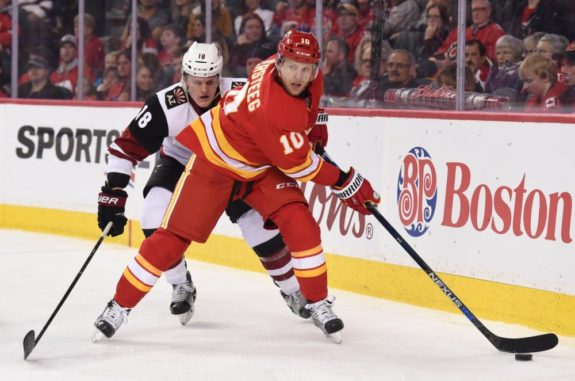 The fourth line is arguably the biggest weakness for the Flames. Center Matt Stajan (18) has quietly been very effective with a rotating cast of characters, scoring some key goals and occasionally moving up to center the third line at times. But he's been placed with Lance Bouma (17) and Troy Brouwer (36), neither of which has had a particularly strong season.
Bouma's role as an energy player that can contribute offense has been usurped by both Ferland and Tkachuk. Brouwer was brought in ostensibly to anchor the top six as a veteran winger, but he's fallen down the rotation throughout his lacklustre first season in Calgary. These guys seem destined to play a physical role in the postseason, but not much more than that.
Calgary's likely healthy scratches on the forward side include youngster Curtis Lazar (20) and AHL veteran Freddie Hamilton (25). Both are perfectly acceptable fourth line options, but neither has really done enough to work their way into the lineup on a consistent basis.
Defensemen
In terms of Calgary's defensive group, there's the pairing of captain Mark Giordano (5) and Dougie Hamilton (27) and then there's everybody else. Placed together in mid-November, Giordano and Hamilton have become like extensions of each other.
Giordano is hard-hitting and is a more direct to-the-net player than a creative on-ice presence. Hamilton is more creative with the puck and uses his speed and size very well – somewhat resembling former Flame blueliner Jay Bouwmeester, but with more offensive punch. This is easily the team's top pairing (and second place is not close), shutting down the other team's top lines and chipping in with considerable offensive of their own.
The secondary pairing features smooth-skating T.J. Brodie (7) with rugged stay-at-home defender Michael Stone (26). Brodie has spent his season with a rotation of partners since Giordano and Hamilton were put together. Acquired prior to the trade deadline from Arizona, Stone is arguably the best of a fairly bad bunch and his strength is how simple his game is.
Much like Ferland plays a style of game that complements Monahan and Gaudreau, Stone arguably plays a more direct type of game that better complements Brodie's strengths than any of his prior partners. He's not great, but he's the best partner Brodie has had this season, and he's allowed Brodie to jump into the rush frequently.
The third pairing features veteran Deryk Engelland (29) alongside newcomer Matt Bartkowski (44). Engelland has been solid if unspectacular as a depth option for the Flames this season, usually playing beside somebody that was slumping or needed a change of pace. Bartkowski was signed out of the AHL's Providence Bruins and provides Engelland with a very low-risk, low-reward partner – particularly compared to the players Engelland has played with this season. This pairing is here to lean on opponents, not to score goals.
The extra defender is Dennis Wideman (6), a veteran two seasons removed from a very impressive offensive output but whose under-performance this season (on both sides of the puck) was one of the drivers behind Treliving acquiring Stone and Bartkowski to solidify the defensive group down the stretch.
Goalies
The top goalie for the Flames is Brian Elliott (1), who was brought in for that role at the 2016 NHL Draft but didn't really grab hold of that spot until mid-January. Elliott struggled early in the season behind a team learning a new system under a new coach, but seemed to find his confidence (and his consistency) as the season wore on.
His back-up is Chad Johnson (31), one of the most steady netminders in the league. Johnson fell into the number one role through November and December while Elliott was struggling, but he's been effective in spot starts since then. The net this postseason is definitely Elliott's, but Johnson is no slouch, and both have benefited from the Flames figuring out their defensive schemes – loose pucks and second chances have really been reduced since the beginning of the regular season.