The Chicago Blackhawks are in a very strange position heading into the 2018-19 season. After years of being the class of the National Hockey League, they are trying to rebuild on the fly and remain competitive.
Building around an aging core to reopen a championship window is very hard to do, but it has been done in the past. The Boston Bruins and Pittsburgh Penguins are the most recent success stories, but those teams had an influx of talented young players. The Blackhawks have some impact players in the pipeline, but it's unknown if they can have the same effect in Chicago as players like Jake Guentzel, Charlie McAvoy, Matt Murray, and David Pastrnak did in Boston and Pittsburgh.
It has been three years since the Blackhawks last drank from Lord Stanley's Cup and the decline since has been steady. They lost a tough seven-game series to the St. Louis Blues in 2016, were swept out of the first round by the Nashville Predators in 2017 (after winning the Western Conference) and missed the playoffs last season.
For the first time in a long time, general manager Stan Bowman had a significant amount of salary cap space to work with this summer. However, bringing in veterans like forward Chris Kunitz and goaltender Cam Ward along with depth defenseman Brandon Manning didn't exactly prime the fan base for another long postseason run. The mystery surrounding the health of All-Star goalie Corey Crawford has also put a major damper on the buzz heading into the new season.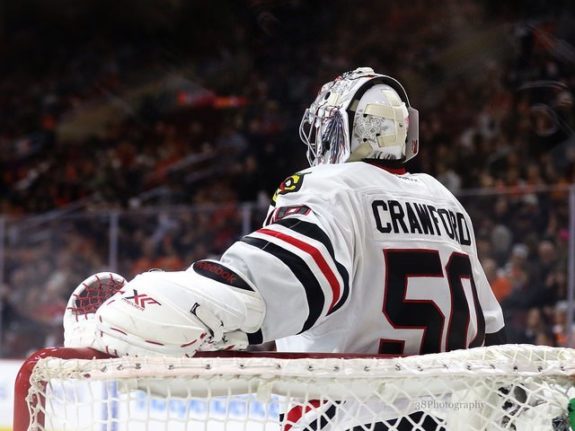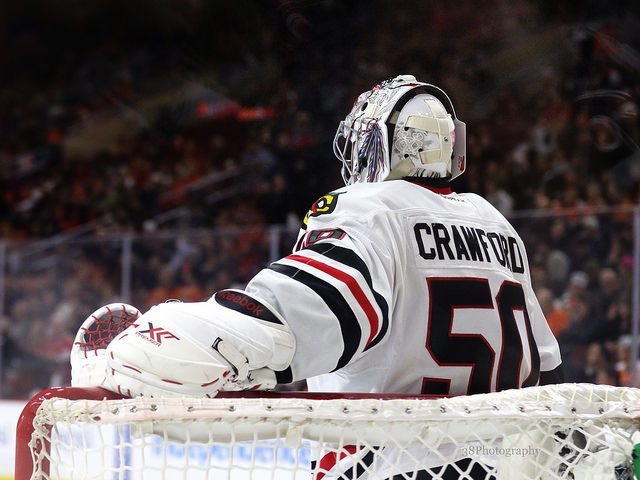 The Blackhawks will need a lot to go right if they want to compete in a very tough Central Division, especially with teams like the Blues, Predators, Colorado Avalanche and Winnipeg Jets all make improvements this offseason. Veterans like Duncan Keith, Brandon Saad, Brent Seabrook, and Jonathan Toews will need to have rebound seasons. Young players like Alex DeBrincat and Nick Schmaltz will have to continue their progression, while prospects like Victor Ejdsell and Dylan Sikura will have to live up to their potential. The team will need all of this and to stay healthy, which has already been a major problem during the early stages of training camp.
2017-18 Record: 33-39-10, 76 points (7th in Central Division, 13th in Western Conference, 25th in NHL)
Offseason Moves
Key Roster Additions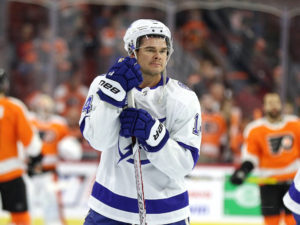 Cam Ward
Chris Kunitz
Brandon Manning
Marcus Kruger
Dominik Kahun
Jordan Schroeder
MacKenzie Entwistle
Andrew Campbell
Key Roster Losses
Marian Hossa
Vinnie Hinostroza
Jean-Francois Berube
Jordan Oesterle
Lance Bouma
Anthony Duclair
Cody Franson
Thomas Jurco
Tanner Kero
Jeff Glass
2018 NHL Entry Draft
Adam Boqvist, D (1st round, 8th overall)
Nicolas Beaudin, D (1st round, 27th overall)
Jake Wise, C (3rd round, 69th overall)
Niklas Nordgren, RW (3rd round, 74th overall)
Philipp Kurashev, C (4th round, 120th overall)
Mikael Hakkarainen, C (5th round, 139th overall)
Alexis Gravel, G (6th round, 162nd overall)
Josiah Slavin, LW (7th round, 193rd overall)
Forwards
(Previewed by Gail Kauchak)
Projected Lines
Chris Kunitz – Jonathan Toews – Alex DeBrincat
Brandon Saad – Nick Schmaltz – Patrick Kane
Victor Ejdsell – Artem Anisimov – Dylan Sikura
John Hayden – Marcus Kruger – Andreas Martinsen
Extras: Dominik Kahun, David Kampf, Luke Johnson
These are the lines head coach Joel Quenneville favored to start the preseason but projecting the Blackhawks' lines automatically comes with a disclaimer. Coach Q is notorious for not sticking with a lineup. The man likes to experiment and players are forced to go with the flow.
The center position seems set in stone. Toews, Schmaltz, Anisimov, Kruger are the safest bets down the middle. Disclaimer: Youngsters Kampf and Johnson have shown enough promise to cause a shake-up at center.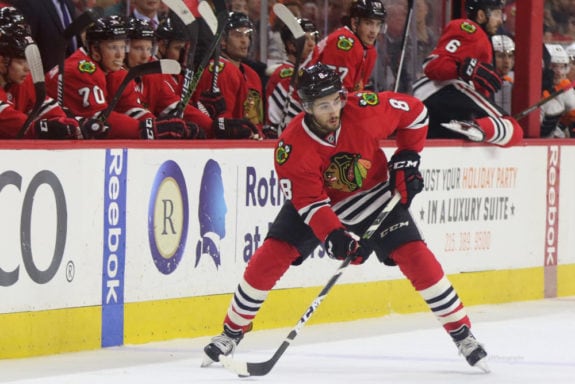 Kunitz is being deployed on the first line right now, although he's more of a third or fourth line forward. I think he's serving as a veteran place-holder until someone else proves they can take that spot. For example, Sikura will have every opportunity to prove himself as a top-six forward and Kahun has been a pleasant surprise. Ejdsell could also fit in on one of the top lines but Coach Q isn't ready to make these moves. Instead, we could see these players on the third or even fourth lines, especially to start the season.
However, these youngsters will be the most likely to get a shot at one of the top lines as the season progresses. I'd love to eventually see a fourth line of Kunitz-Kruger-Hayden. Martinsen might not have as much skill as some of the youngsters but he has more experience, and Q has an affinity for his veterans. Do you see what I mean? Nothing is guaranteed. But here are a few forwards that could make the most impact this season.
Jonathan Toews
The Blackhawks' long-time captain hasn't been able to produce as he's accustomed to going on three years now. What's going on? Aging could be a part of it, as he turned 30 in April. Injuries could also be a part of it, as Toews has dealt with ongoing back and concussion issues over the course of his career. Finally, as the Hawks' top-line center, he takes on face off and defensive responsibilities that arguably hamper his offensive production.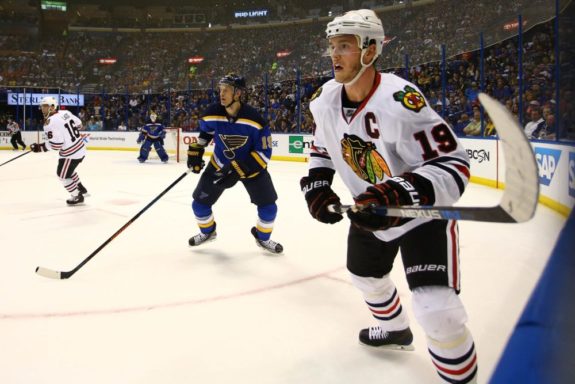 A new season is about to begin and we'll see if Toews can change his fortunes. Last year, Saad was brought back into the fold to try to jump-start Toews. Unfortunately, it didn't work. The two often dominated possession-wise, yet weren't able to finish. Could Toews benefit from new linemates, namely DeBrincat, the Blackhawks' top goal scorer last year? It looks like Quenneville thinks so, as he's had them on the top line together since training camp began.
The Blackhawks were eliminated from the playoffs in the first round in 2017 and didn't make the postseason in 2018. This has allowed Toews to benefit from two longer offseasons, giving his body a chance to recuperate. There might also be some relief for him this season. More on this below.
Brandon Saad
Saad came back last season and spent most of his time on the top line with limited success. Was it too much pressure for the 25-year-old winger? Maybe.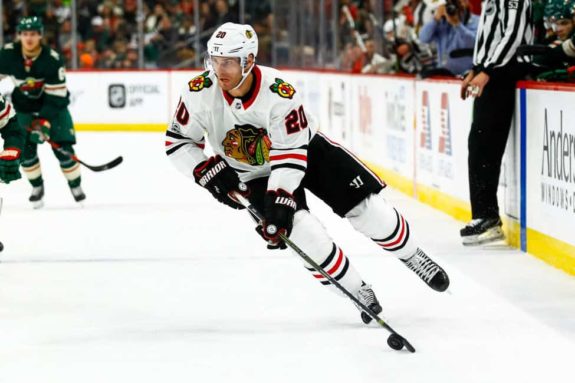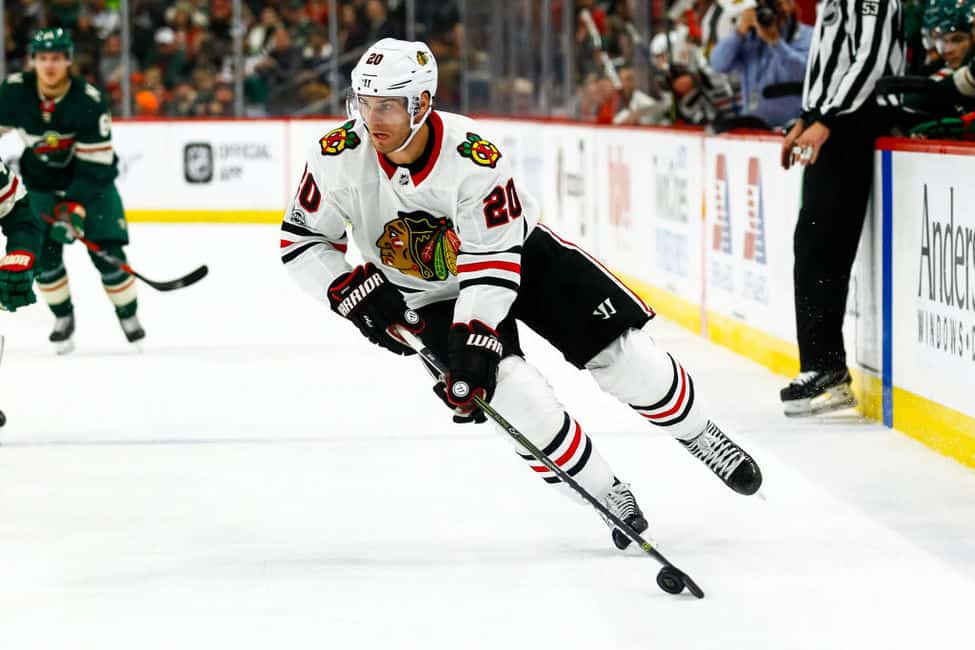 Saad could benefit from of a change of scenery this year. He's been lining up on the second line with Schmaltz and Kane in the preseason. While the other two are skilled playmakers, Saad could be the glue that holds them together and could provide a physical presence as well as the defensive awareness that neither Schmaltz nor Kane possesses. He also has the ability to rush the net as Anisimov used to do on a line with Kane and Artemi Panarin.
According to John Dietz of the Daily Herald, Quenneville has faith in Saad stepping up his game. "He did some good things (last season)," Quenneville said. "I just think there's more to his complete game, whether he's having the puck more or his shot's better, he uses his speed in the right way, be better defensively."
Marcus Kruger
If Kruger can remain healthy, he should be a huge addition to the Blackhawks. Why is a fourth-line center so important? After all, isn't the line only supposed to take up ice time and push people around to give the more skilled players a breather? Not in Coach Q's system. Kruger and his linemates may not be around to score goals but they have a crucial role to play. They are expected to shut down the opponent's top lines and flip the ice to create scoring chances.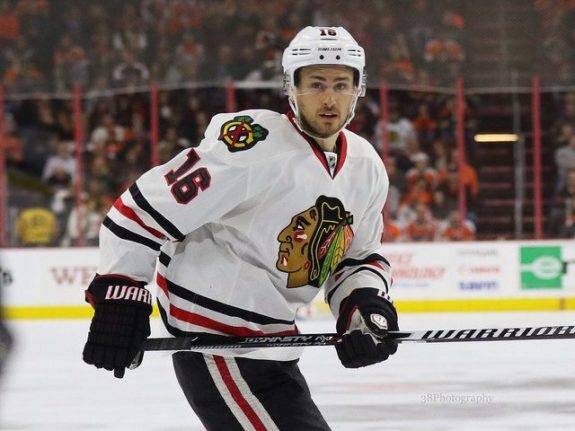 Kruger is expected to lead the charge in this role. In the past, he was counted on to take and win a majority of the team's draws in the defensive zone. He is also penalty kill specialist, leading the team in short-handed ice time when he last played in Chicago. If he picks up where he left off, it will take the pressure off Toews to win defensive draws and spend time on the penalty kill time. It should also allow Toews and his line more opportunities on offense, providing a positive a "trickle-up" effect.
Defense
(Previewed by Meghan Dillon)
Projected Pairings
Duncan Keith – Brent Seabrook
Erik Gustafsson – Jan Rutta
Brandon Manning – Henri Jokiharju
Carl Dahlstrom, Brandon Davidson
It's no secret that defensive pairings are much harder to project than offensive lines. Keith is usually on the top pairing with Seabrook on the second as the bottom two try to make their way up to play with Keith or Seabrook. Training camp is all about figuring out who plays the best with the star defensemen even though the pair and the team took several steps back in the 2017-18 season. They need to improve this season, but eyes are also on 25-year-old Murphy.
Duncan Keith
Keith knows last season was an embarrassment, as he told the Chicago Sun-Times, "It's been frustrating. It's been a difficult year."
He is known for getting the job done defensively and improving the longer he's out on the ice. This has worked for him in the past, but time has a way of catching up. Keith is now 35, not the ideal age for a star defenseman. If the two-time Norris Trophy winner wants to improve, he should spend less time on the ice, make the best use of his time and not burn himself out. Spending over 25 minutes on the ice every game is exhausting, even for someone as talented as he is.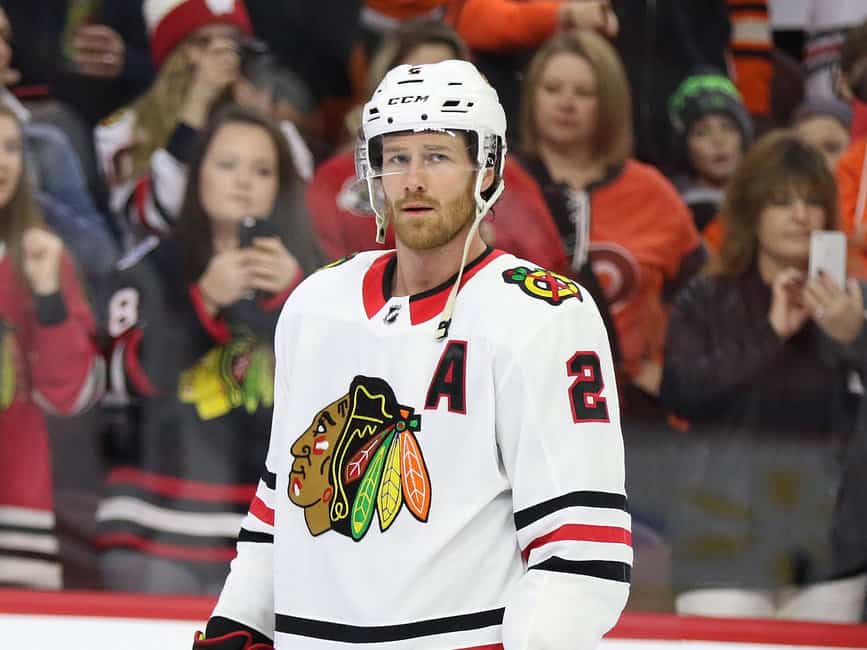 If Keith can return to the player he was during the 2015 Stanley Cup Final when he took home the Conn Smythe Trophy, the Hawks' blue line will be better. More realistically, if he can improve his numbers from last season, it would be a huge relief for the Hawks.
Brent Seabrook
Seabrook may not have Keith's grandeur, but his three Stanley Cups and over 1,000 games played speak for itself. Despite an "injury scare" last weekend, he looks ready to go for the season. Seabrook spoke of the injury to Chris Wescott of NHL.com saying, "To be honest, when doc gave me the news I freaked out. Obviously, I put a lot of effort into the summer, trying to get my body where it needs to be to have a good season and have a good camp. I think that's where it's going to start for us here this season, is right now and during camp."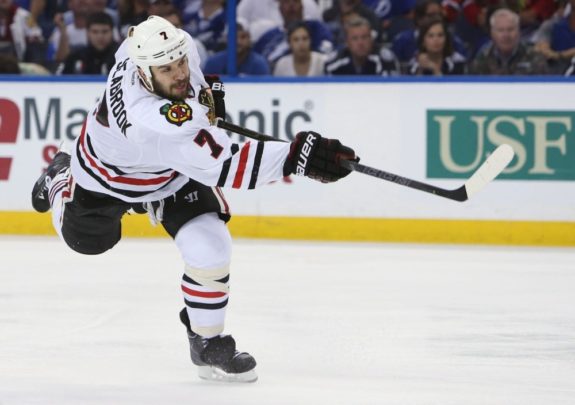 He is known for making strong defensive plays but the game has changed in the past few seasons. Like Keith, he isn't getting any younger and needs to step it up to keep up with the speedy young forwards that dominate the league. Like most veterans on the Hawks' roster, Seabrook upped his training regimen during the offseason and looks better than he did last season. If he and the rest of the Hawks stick to their plan to have a strong start, the light at the end of the tunnel for this season will be brighter than last year.
Connor Murphy
When it comes to younger defensemen, eyes are on Murphy. Unfortunately, he will be out 8-12 weeks with a back injury. Murphy's focus for the season quickly shifted from proving himself to be a top NHL defenseman to hoping he has a spot when he returns. Henri Jokiharju, 19, is one of the most promising young defensemen in the league and could to take his place. If Jokiharju lives up to the hype, Murphy will likely have to fight to keep a spot on the team.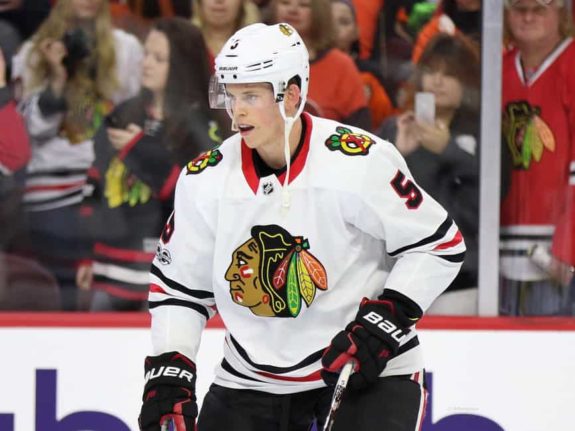 At this point, all Murphy can do is try his hardest to get healthy and perform well when he returns later in the season. He has yet to prove that he was worth trading three-time Stanley Cup champion Niklas Hjalmarsson to the Arizona Coyotes in the summer of 2017. He went from having a lot to prove to everything to prove. There are no guarantees when it comes to Murphy's future with the Hawks, but like Keith and Seabrook, it would make a big difference if he improves on last season.
Goaltending
Now we get to the most mysterious position on the Blackhawks' roster. Goaltending has not been an issue recently with Crawford establishing himself as one of the top netminders in the game. However, recent health problems have put his playing status in limbo and the Blackhawks could be in serious trouble because of it.
Crawford has been skating and working out on his own during training camp and has spent about 30 minutes a day working with goaltending coach Jimmy Waite, but he has yet to practice with the rest of the team. Quenneville recently hinted that Crawford is close to becoming a full participant in practice but that remains to be seen.
Joel Quenneville said Corey Crawford has picked up his workload and "getting closer to getting hopefully in a practice." Coach Q added Crawford practicing next week "could happen." #Blackhawks pic.twitter.com/ujNY5tBRmV

— Eric Lear (@BHTVeric) September 23, 2018
Crawford will not start the season on the active roster since it's hard to believe that he would be ready for game action without facing NHL shots during training camp or the preseason. This means the Blackhawks will turn to Cam Ward to start the season as their number one goaltender.
The 34-year-old goalie signed a one-year contract with the Blackhawks in July after playing 668 games with the Carolina Hurricanes. Ward is far from the player he was when he won the Conn Smythe Trophy for posting a .920 save percentage (SV%) and a 2.14 goals-against-average (GAA) on his way to the 2006 Stanley Cup. His numbers have been on the decline for a while and he has only had one season with an SV% of over .910 since 2013.
Anton Forsberg will be back for his second season with the Blackhawks and should start the season as Ward's backup if Crawford is on injured reserve. Forsberg did not do himself any favors last season, letting in too many soft goals. Every time it looked like he had turned a corner to become a consistent netminder, he'd let a puck trickle between his legs or fail to catch a fluttering shot.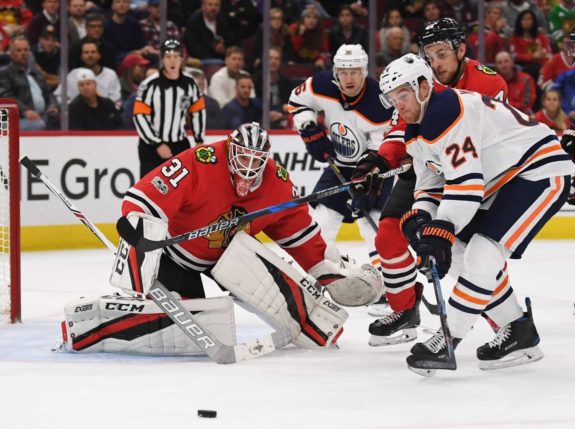 It will be very interesting to see what happens with Forsberg if and when Crawford returns to the roster. He would have to clear waivers in order to be sent to the AHL and there is a decent chance that someone would claim him. This could lead to a trade with a team desperate for goaltending. A late-round draft pick for Forsberg is much better than losing him for nothing on the waiver wire. Forsberg will start the season in Chicago, but where he finishes is anybody's guess.
Breakout Player: Henri Jokiharju
Last season, DeBrincat had a breakout sookie season, leading the Blackhawks with 28 goals. There are a lot of candidates to be this year's breakout player but Jokiharju is the best bet. Before training camp started, Jokiharju had a 50/50 chance to make the opening night roster. After playing well in camp and thanks to injuries to Murphy and Gustav Forsling, Jokiharju is all but a lock to make his NHL debut against the Ottawa Senators on Oct. 4.
The Blackhawks need the 19-year-old defenseman to be as good as advertised if they want to compete for a postseason spot. They are hopeful he can do for the Blackhawks' defense what McAvoy did for the Bruins last season.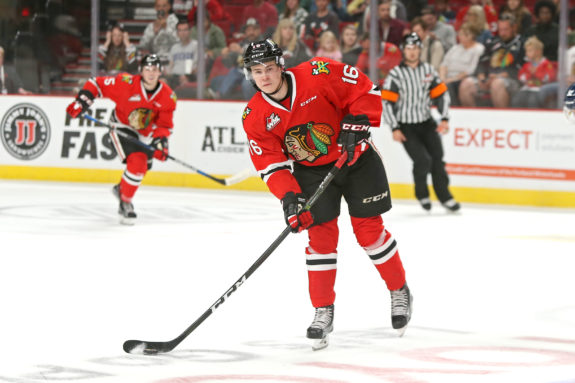 He has been solid in camp. Despite not being the biggest guy on the ice, he has held his own against larger players. He has shown off his excellent skating ability and vision on the ice. He is, by far, the best skating right-handed defenseman on the current roster and Quenneville is impressed with what he has seen out of his young defender so far.
Player with Most to Prove: Patrick Kane
Kane's first year without Panarin on his left wing was not terrible but it was not outstanding either. His 27 goals and 49 assists were his lowest output since 2014-15 when he missed 21 games due to a broken clavicle. Seventy-six points is a good season but when you scored 195 points over the previous two seasons combined, the bar has been set pretty high.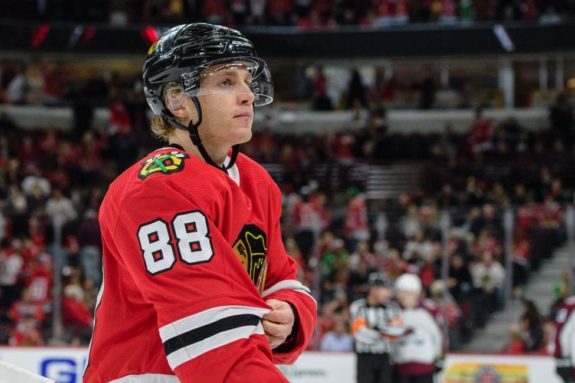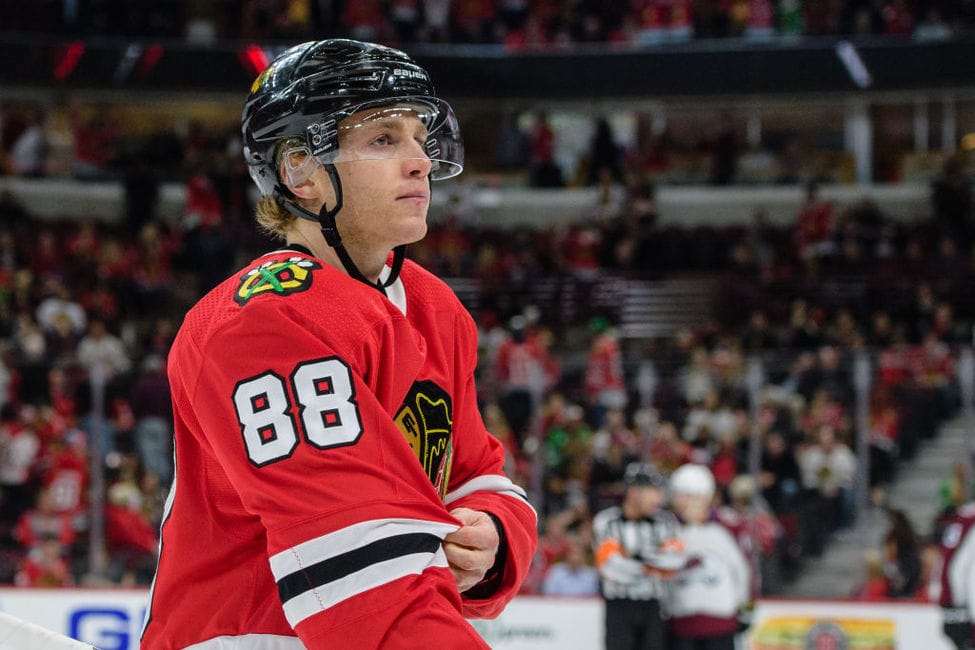 Even though he finished the season as the Blackhawks' leading scorer, Kane had an inconsistent season. When the team was struggling in January and February but still within reach of a wild-card spot, Kane's production took a dive. In the 26 games between Jan. 1 and Mar. 1, he had just seven goals and 21 points and was held off the scoresheet in 15 of those games.
To put it in perspective, Kane went pointless in 21 total games during the 2015-16 season when he won the Hart Trophy. The Blackhawks went 9-15-2 during that stretch sealing their fate. His poor play was not all Kane's fault but the team cannot afford a prolonged cold streak from their star winger this year.
First Players in Line for a Call-Up
Forwards
Heading into training camp Luke Johnson was on top of the list for a call-up but now it looks like he has a good shot at making the opening night roster. Even if he starts the season in Rockford, it won't be long before he makes his NHL debut if he continues to progress at this rate. The 2013 fifth-round draft pick had his best professional season with 13 goals and 30 points for the IceHogs last year. He added four goals and four helpers during Rockford's playoff run.
"He's really improved each year, how he's trained, how he's taking care of himself, his quickness in the game," Quenneville said of Johnson. "Bigger, stronger, faster. He always had a pretty good head for the game but he's got some bite to his game as well and has made some nice plays. Some physicality, some tight areas. From the faceoff circle, he's been really effective."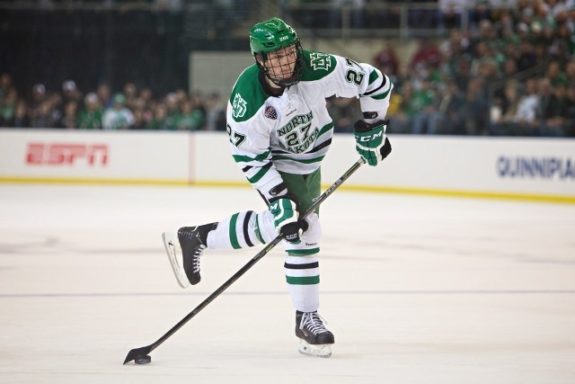 The final roster spots will be decided over the next three exhibition games. There are 17 forwards left in training camp, 11 of which are locks for the opening night roster. That means six players will be battling for the last two or three spots. Whoever doesn't make it out of the group featuring Ejdsell, Fortin, Highmore, Johnson, Kahun, and Kampf will be among the first forwards called up when the need arises.
Defense
The preseason injuries to Forsling and Murphy have opened up a spot on the Blackhawks' blue line this month. Jokiharju is likely to start the season with the big club and determining the first defenseman called up depends on who doesn't make the final cut. Quenneville has hinted that he would like to start the season with seven defensemen and the Hawks have 10 defenders left in camp. Assuming Jokiharju is a lock, that leaves four players battling for one spot.
Davidson, who is in camp on a PTO, is the most likely candidate to start the year as the seventh defenseman. He brings some decent size and 152 games of NHL experience. However, the team's 2018 first-round draft pick is a wild card. Many felt Boqvist would have been sent back to the London Knights (OHL) but he has played well enough to be considered for an NHL spot.
Peek a Boqvist #CHIvsDET pic.twitter.com/IYEaYWSp0s

— Chicago Blackhawks (@NHLBlackhawks) September 20, 2018
It is hard to imagine Boqvist playing the entire season in Chicago but the Blackhawks could give him a small taste within the first nine games before sending him back to juniors as they did with Saad, dressing him for two games to start the 2011-12 season before he was returned to the OHL.
This leaves Carl Dahlstrom as the odd man out and likely to be the first player recalled from Rockford. However, Forsling is expected to be back by early November so the distinction could go to him if he proves worthy of a call-up.
Season Outlook
The Blackhawks are coming off their worst season since 2006-07 which was before Kane, Toews and Quenneville arrived on the scene. It is hard to imagine the team will do worse than the 76 points accrued last season but it is unlikely they'll do a whole lot better.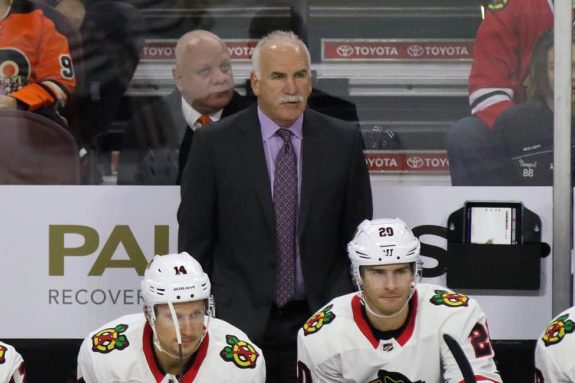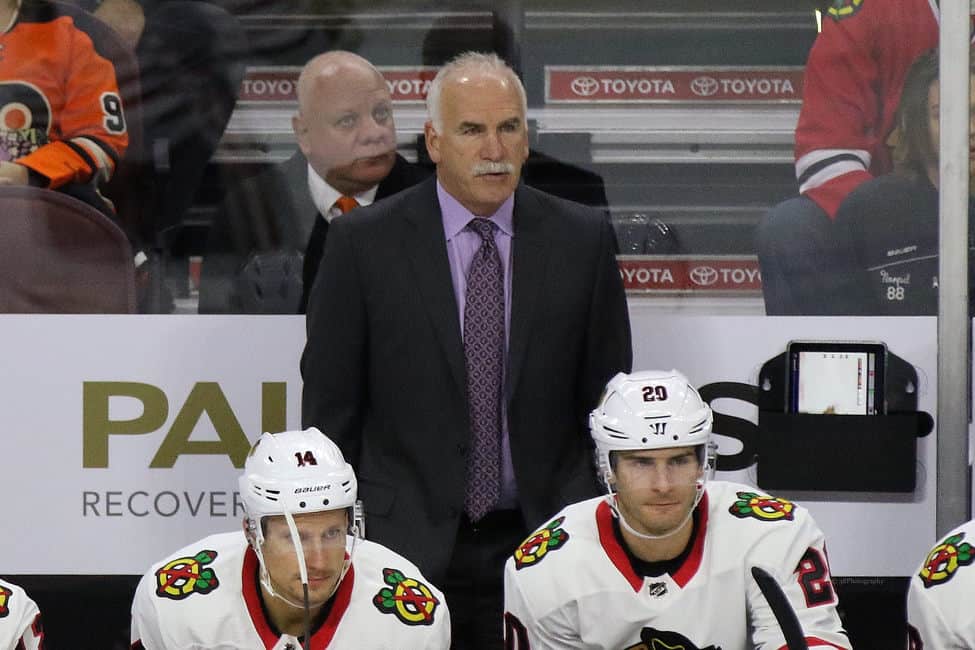 The team will need a lot to go right in order for them to be competitive in one of the toughest divisions in hockey. Crawford will have to be healthy enough to play and return to All-Star form. If he doesn't return until November or December, it might already be too late. They cannot afford to dig themselves in an early hole trying to catch teams like the Avalanche, Blues, Jets and Predators.
There are just too many questions about the lineup to expect a 100-point regular season. Will veterans like Keith, Seabrook and Toews bounce back or will they continue to trend downwards? Will DeBrincat follow up his fantastic rookie season with another big year or will he suffer the "sophomore slump?" Will Saad's bad luck carry over from last season? Can this defense prevent teams from getting the puck to the net? My advice for Blackhawks fans is to go into the 2018-19 season with low expectations so they don't disappoint you.
2018-19 Record Prediction: 34-34-15, 83 points (6th in Central Division, 12th in Western Conference, 22nd in the NHL)