The Arizona Coyotes enter the 2023 NHL Draft in a very good position. They have a total of 12 picks across the board and have the sixth and 12th overall picks in the first round. With the draft just ten days away, the Coyotes have plenty of options at the 12th selection. Two of those options include forwards Oliver Moore and Colby Barlow, who both present the Coyotes with interesting play styles that could be beneficial.
Related: 2023 NHL Draft Guide
---
Latest News & Highlights
---
Moore has been highly touted for his extreme speed, likely being one of if not the best skaters in this year's draft class. Barlow is known for his goal-scoring ability and leadership on and off the ice. While there are many more options at the 12th selection, these two will be the primary focus of this article.
Oliver Moore
Moore played this past season with the United States National Team Development Program (USNTDP) and had a great year, recording 31 goals and 75 points in 61 games. When watching his game, the first thing you'll notice is his killer speed; he is very elusive and is one of the best skaters in this draft. If he can use that to create more scoring chances consistently, he'll be even more of a game-changer.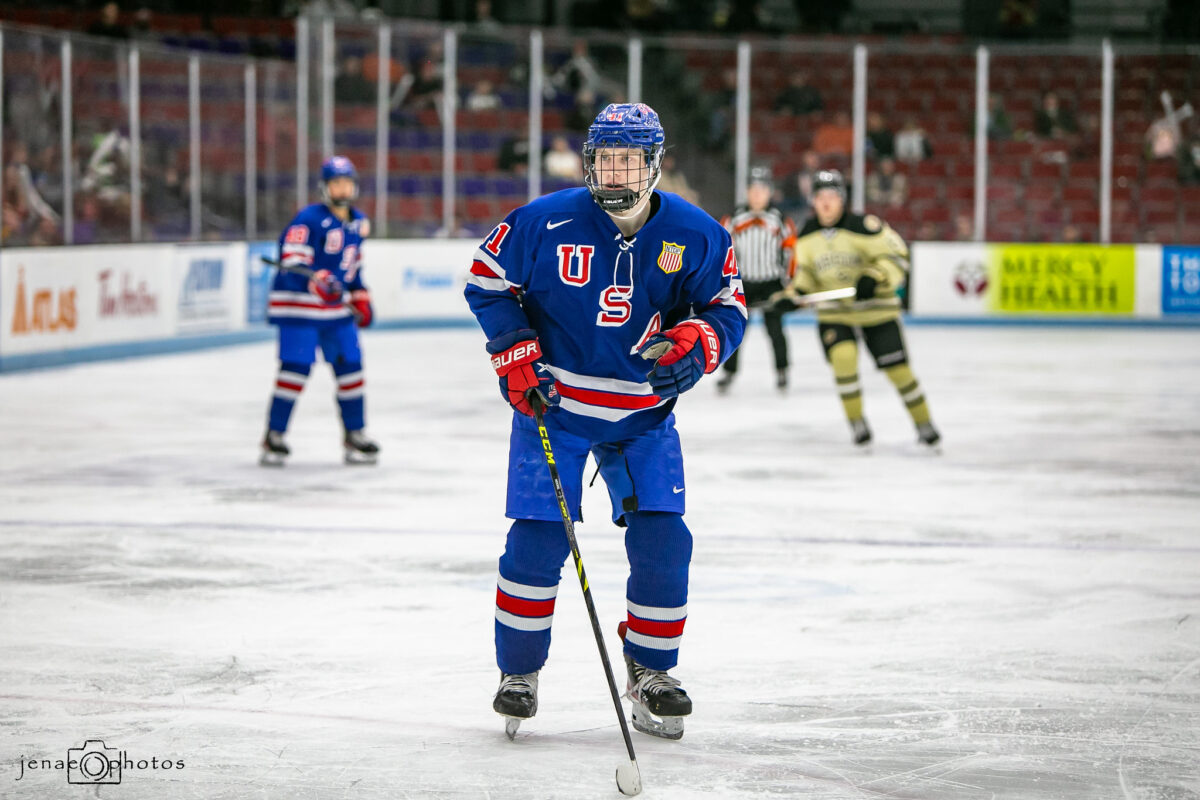 Moore is already committed to the University of Minnesota, where he'll play with the likes of Logan Cooley, Jimmy Snuggerud, and more. He'll be bringing his quick shot, which he used to his advantage this year, as he placed fourth across the whole USNTDP in goals. He also has a very high hockey IQ, which allows him to create space on the ice and make things happen. While he hasn't nearly gotten the attention of his teammates Will Smith, Ryan Leonard, and Gabe Perreault, he's established himself as a first-round talent in this year's draft.
The Coyotes need high-end talent; this year's draft will likely give them that with picks six and 12. If the Minnesota native is available at 12, it would be hard to pass up on him. Whether the Coyotes use 12th overall on Moore or not, he has a bright future ahead of him and will look to shine with the Gophers.
Quotables
"Moore might be the fastest skater in the draft, and one with the potential to become a real game-changer. Moore is the USNTDP's second-line center, so he's often been overlooked by the high-flying top line led by Will Smith. But some believe Moore might have the highest ceiling. Some time with the University of Minnesota will be beneficial. He's a great dual-threat offensive forward that generates much of his line's scoring chances and, again, his speed is his biggest asset."

Steven Ellis, Daily FaceOff
"Moore is the second most involved player in offensive transitions in North America behind Connor Bedard. He's sending almost a quarter of his passes to dangerous areas of the ice, and is among the higher-end shot generators in the class. Put this with his superb skating and edgework, dogged mentality of being hard on pucks defensively, and his puck skill: Moore has risen to the top 10 of our rankings and still could climb higher. I'd like to see him carry the puck into the dangerous areas of the ice in the offensive zone and not just on the rush, but he's been showcasing his offensive acumen the last few months." 

Austin Garret, Smaht Scouting
Colby Barlow
Similar to Moore, Barlow has gotten heavily overlooked with the talent up top in this year's draft. He had an impressive year with the Owen Sound Attack of the Ontario Hockey League (OHL), with 46 goals and 79 points in 59 games. Yet, despite the exceptional year, he's not getting nearly the attention he deserves.
One of the key factors in Barlow's game, both on and off the ice, is his leadership. He was named captain as a 17-year-old, which was the youngest in franchise history for the Sound Attack. But while his leadership qualities are among the best in this year's class, what is he like as a player? He nearly finished the year with 50 goals, which is no accident, though he is a true playmaker. He also doubled his assists from his previous season, which showed growth in creating chances for teammates.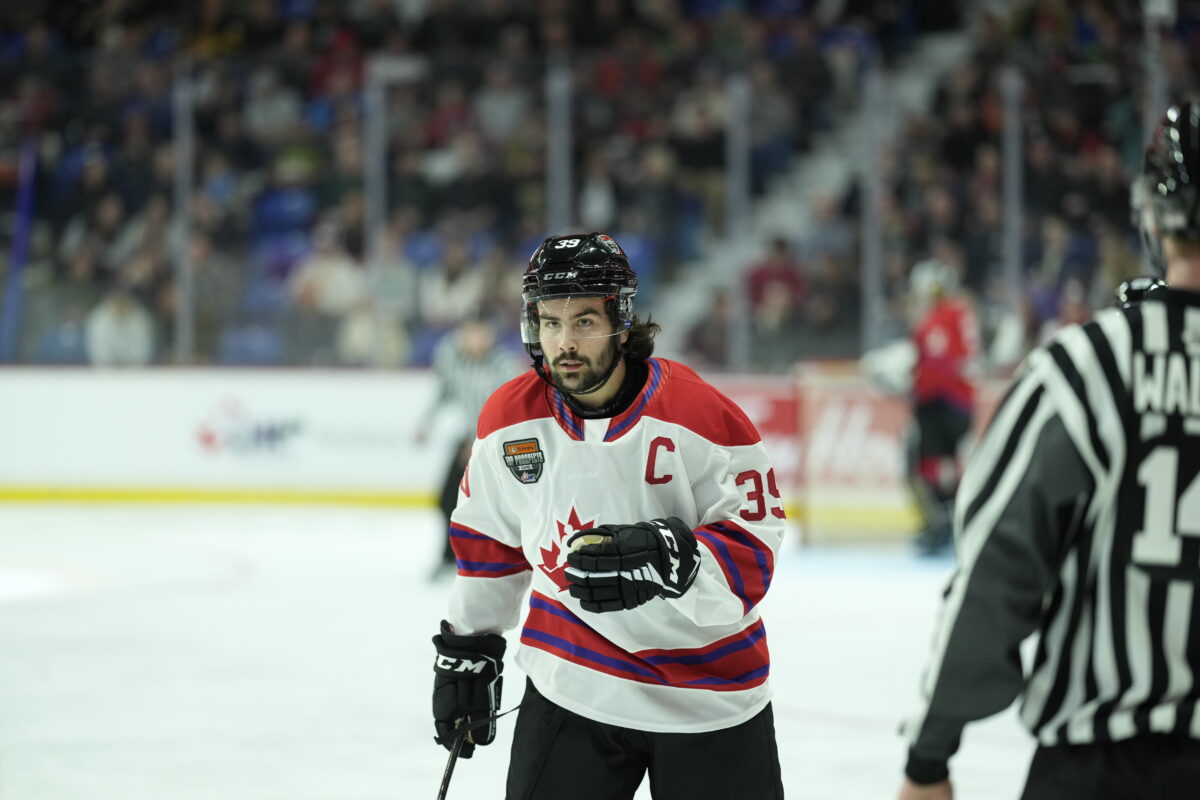 Another aspect of Barlow's game that'll pop out is his willingness to play defence, as he's an extremely good two-way forward. But due to all the talent up top, he will likely be a top-20 pick. This could allow the Coyotes to take the Ontario native at pick No. 12. He has tremendous upside, and his maturity off and on the ice may be the deciding factor.
Quotables
"Barlow should find quite a bit of success at the NHL level and can be an effective top six goal scorer at the next level. If he can unlock that power stride, it will only lead to more points at 5v5 in the NHL. The NHL is all about speed and timing. With improved speed and if paired with top six distributors, he could put up 40+ point seasons at the next level and play a Tyler Toffoli-like role. "

Josh Tessler, Smaht Scouting
"The reality is, Barlow has a very safe projection as a complementary piece on a scoring line who can be on the ice to protect a lead or when a goal is needed. Goal scorers who play both ends effectively are rare. These types typically transition to the NHL very well."

Brock Otten, McKeen's Hockey
Coyotes Face Win-Win Situation
The Coyotes have players like Moore, Barlow, and plenty more available at No. 12. But at the end of the day, if the decision is between these two, Barlow could win out. He presents the Coyotes with much to like about his overall game; he has the maturity and mindset you want from a first-round pick. This isn't disregarding Moore's game, but Barlow has a lot of intangibles that will likely help him succeed in the NHL. Needless to say, the Coyotes enter the 2023 NHL Draft with plenty of options, which should make for an entertaining draft day for general manager Bill Armstrong and company.
---
---