After selecting forward Mavrik Bourque with their first-round selection at the 2020 NHL Draft, the Dallas Stars had four remaining picks during the second day (rounds 2-7).
Related: Stars Elated Bourque Falls to Them at Pick 30
They did have to wait a while to make their second selection though. Dallas had traded their 2nd Round pick to the Vegas Golden Knights back in 2017 (Marc Methot) and their third-rounder to the New York Rangers (Mats Zuccarello) at the 2019 NHL Trade Deadline.
Future Stars
Once they finally were on the clock in Round 4 the Stars nabbed left-winger Antonio Stranges from the OHL's London Knights. For their pick in Round 5, they looked overseas and selected Swedish center Daniel Ljungman from Linkoping HC. 
In Round 6 Yevgeni Oksentyuk was the choice, a Belarusian left winger who played in the OHL with the Flint Firebirds and was teammates with Stars' prospect Ty Dellandrea. With their final pick (185th overall) of the two-day event, Dallas opted for a goalie, selecting Remi Poirier from Gatineau of the QMJHL.
The Stars' 7th Round pick had been traded to Buffalo in 2018 in a deal for defenseman Taylor Fedun.
So just who are the new kids on the block in Dallas? Let's check them out.
Antonio to Dallas
Stranges, 18, has played for London the past two seasons and has compiled 74 points (32g-42a) in 127 games. Our experts at THW had him ranked anywhere from 38th to 88th overall pre-draft, so it was a savvy move by GM Jim Hill and his staff to snag Stranges when he was there at 123rd overall.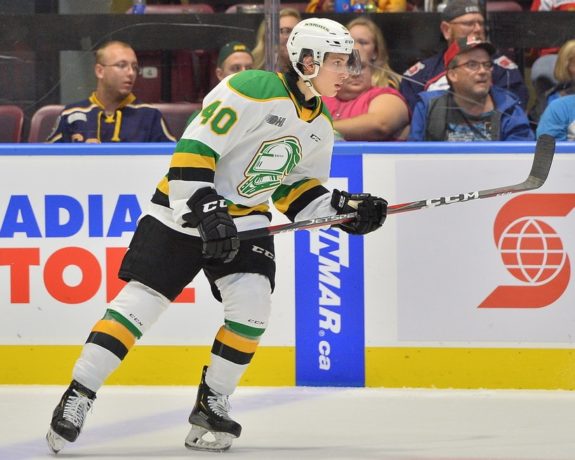 The Knights and head coach Dale Hunter seem to constantly produce solid NHL players and the expectation is that Stranges will be no different. He's a smooth skater with the ability to be a playmaker, and one of his assets is also his patience with the puck. He probably needs a bit more seasoning in the OHL before he's ready to turn pro.
How Swede It Is
Ljungman, 18, is currently playing in the SHL with Linkoping. Like Stranges, our experts had him ranked higher (anywhere from 71st to 92nd overall) than where he ended up being selected at 154th overall. He's a player with a smaller frame at the moment, but he has a sneaky good shot.
At the 2019 Hlinka Gretzky Cup, he represented Sweden and led the team with five points (4g-1a) while winning a bronze medal. Was that tournament his high point? So far, yes, as Ljungman has been referred to as pedestrian during the course of the season while playing in the Swedish junior league. 
Oksentyuk, 19, led Flint in points with 78 (33g-45a) this past season. He helped Belarus to a second-place finish at the 2020 World Junior Championship Division I with seven points (1g-6a) in five games. He went undrafted during the 2019 NHL Draft, so the Stars are hoping that they found someone who slipped past the other 30 NHL clubs.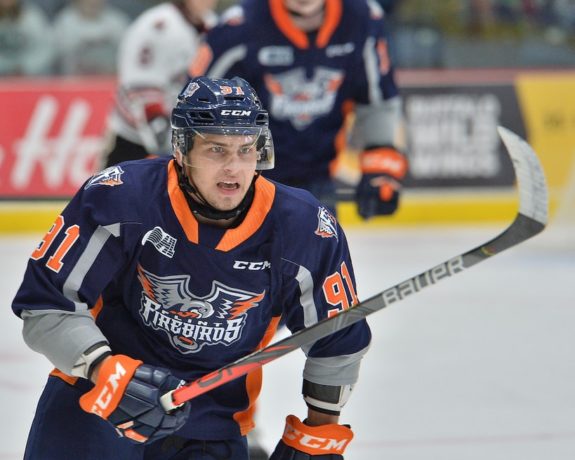 Before joining Flint (drafted fifth overall in the CHL Import Draft), Oksentyuk played in the top Belarusian men's league and had 18 points (6g-12a) in 49 games (2018-19). He definitely has some offensive skills, and like Ljungman he will have to add some muscle if he wants to make the jump to the next level.
Glove Love
Poirier, 19, has already started his third season with Gatineau and is 2-1-0 with a 2.59 GAA and a .934 save percentage. Last season he finished 19-22-3 with four shutouts, a 3.49 GAA and a .900 save percentage.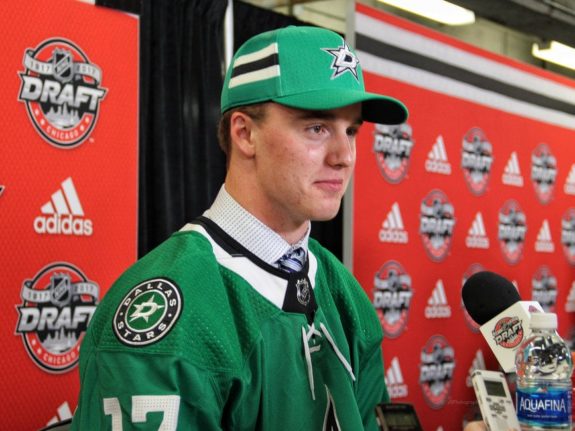 The Stars have some depth at the goaltender position, so there is no need to rush Poirier at all. Jake Oettinger and Colton Point are ahead of him at the moment and likely aren't going anywhere anytime soon with Ben Bishop and Anton Khudobin locked in at the NHL level for the next three seasons.
Outlook
The Stars opted for skill over size mainly and with a total of only five picks, they tried to maximize the value of each selection. Late round picks don't always pan out, but one never knows right after the draft if they are going to become Henrik Zetterberg or Henrik Lundqvist – who were taken 210th and 205th overall.
"You're looking for the best player available, and it just kind of worked out this year that the best players were skilled guys," Nill said when discussing his selections once the Draft was completed. "They are a little on the smaller side, that's just the way the draft fell. But it worked out well."
---
---
Dan Rice is in his 9th year of reporting for THW & has covered NJ Devils home games for 15+ years at various websites. He began his journey working for legendary broadcaster/writer Stan Fischler from 2002-04 & completed an internship at the ECHL; he also has been writing features for the NWHL (nwhl.zone) website since 2016.