Opened:
Oct. 17, 1999
Home Team:
Los Angeles Kings
Owner:
Anschutz Entertainment Group (AEG)
Capacity:
18,230
Location:
1111 South Figueroa Street, Los Angeles, CA
Former Names:
Staples Center
(1999-2001)
Crypto.com Arena is a multi-purpose indoor arena in Downtown Los Angeles. The L.A. Live development's main attraction is located next to the Los Angeles Convention Center complex along Figueroa Street. The arena opened on Oct. 17, 1999; it was previously known as Staples Center until December 2021, when Crypto.com acquired the naming rights. The arena is the flagship attraction of the locally-based Anschutz Entertainment Group.
It is owned and operated by the Arturo L.A. Arena Company and Anschutz Entertainment Group. The arena is the home venue to the Los Angeles Clippers and Los Angeles Lakers of the National Basketball Association (NBA), the Los Angeles Kings of the National Hockey League (NHL), and the Los Angeles Sparks of the Women's National Basketball Association (WNBA). The Los Angeles Avengers of the Arena Football League (AFL) and the South Bay Lakers of the NBA G League were also tenants; the Avengers folded in 2009, and the D-Fenders moved to the Lakers practice facility at the Toyota Sports Center in El Segundo, California for the 2011–12 season. Crypto.com Arena hosts over 250 events and nearly 4 million guests annually. 
It is the only arena in the NBA shared by two teams and one of only three North American professional sports venues currently hosting two teams from the same league. MetLife Stadium, the home of the National Football League's New York Giants and New York Jets, and SoFi Stadium, the home of the National Football League's Los Angeles Rams and Los Angeles Chargers, are the others. Crypto.com Arena is the venue of the Grammy Awards ceremony and will host the basketball competition during the 2028 Summer Olympics. In 2024, the Clippers are scheduled to leave Crypto.com Arena for their own building, Intuit Dome.
Following the January 2020 death of NBA legend Kobe Bryant, his daughter Gianna, and seven others in a helicopter crash, the city of Los Angeles designated Aug. 24 as Kobe Bryant Day, on which they announced that between the boulevards of Olympic and Martin Luther King Jr., Figueroa Street will be renamed Kobe Bryant Boulevard to honor his memory; this area includes the address of Crypto.com Arena.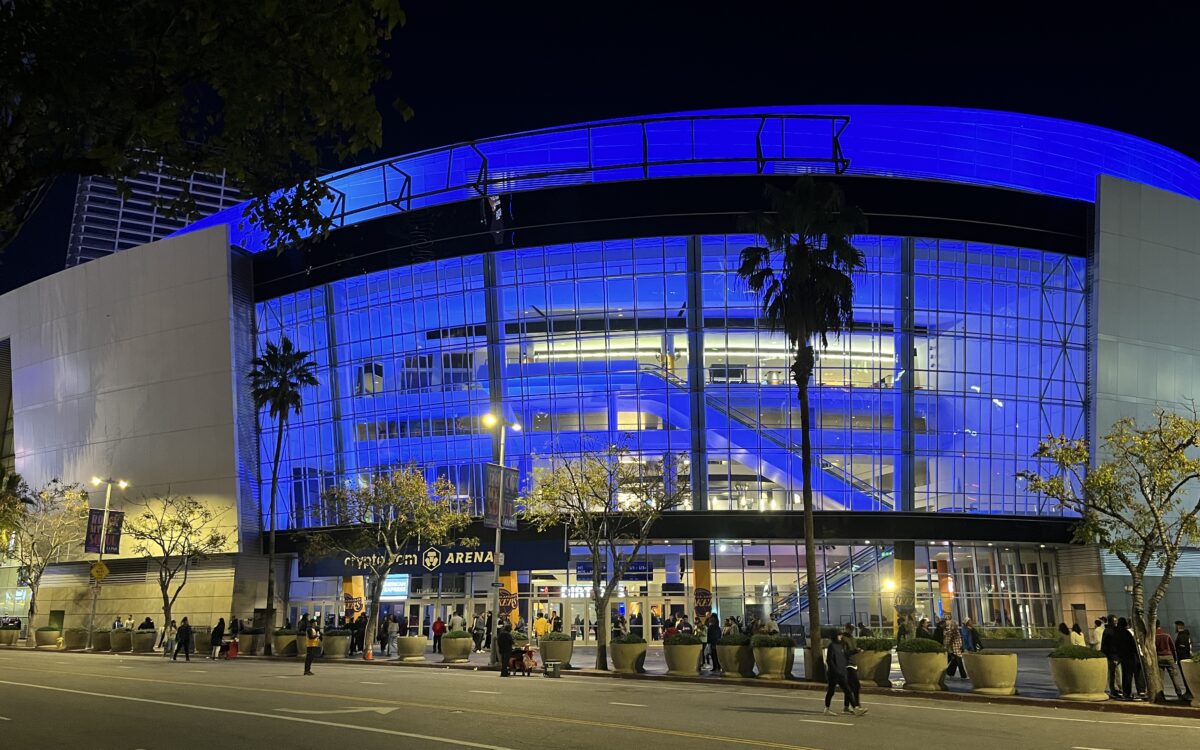 First Games
Oct. 20, 1999 – Kings vs. Boston Bruins (2-2 tie)
Nov. 3, 1999 – Lakers vs. Vancouver Canucks (103-88 win)
Notable Events
Stanley Cup Final – 2012, 2014
NHL Entry Draft – 2010
NHL All-Star Game – 2002, 2017
NBA Final – 2000, 2001, 2002, 2004, 2008, 2009, 2010
NBA All-Star Game – 2004, 2011, 2018
U.S. Figure Skating Championships – 2002
World Figure Skating Championships – 2009
Pac-10 Conference men's basketball tournament – 2002 to 2012
Democratic National Convention – 2000
UFC 104, UFC 184, UFC 227
Wrestlemania 21
Sources