Opened:
Oct. 15, 1983
Home Team:
Calgary Flames
Owner:
City of Calgary
Capacity:
19,289
Location:
555 Saddledome Rise SE, Calgary, AB
Former Names:
Olympic Saddledome (1983–95)
Canadian Airlines Saddledome (1995–2000)
Pengrowth Saddledome 
(2000–10)
Scotiabank Saddledome is a multi-use indoor arena in Calgary, Alberta, Canada. Located in Stampede Park in the southeast end of downtown Calgary, the Saddledome was built in 1983 to replace the Stampede Corral as the home of the Calgary Flames of the National Hockey League and to host ice hockey and figure skating at the 1988 Winter Olympics.
The facility also hosts concerts, conferences, and other sporting championships and events for the Calgary Exhibition and Stampede. It underwent a significant renovation in 1994–95 and sold its naming rights, during which its original name Olympic Saddledome, was changed to Canadian Airlines Saddledome. The facility was named Pengrowth Saddledome in 2000 after Pengrowth Management Ltd. signed a ten-year agreement. It adopted its current name in October 2010 as Scotiabank signed on as the title sponsor.
The Saddledome is owned by the City of Calgary, which leases it to the Saddledome Foundation, a non-profit organization, to oversee its operation. Since 1996, it has been managed by the Flames. The Saddledome was damaged during the 2013 Alberta floods in June and July but was repaired and reopened for the 2013–14 NHL season.
The arena's roof is shaped like a horse saddle, thus earning the name "Saddledome."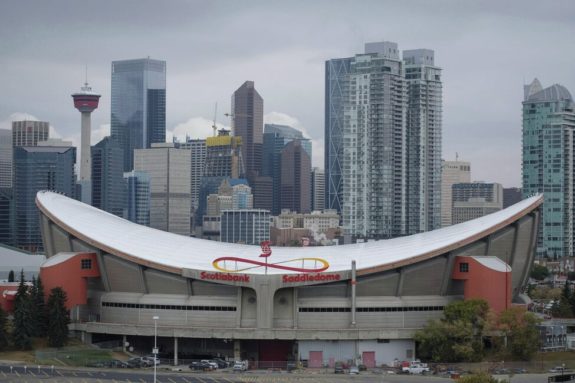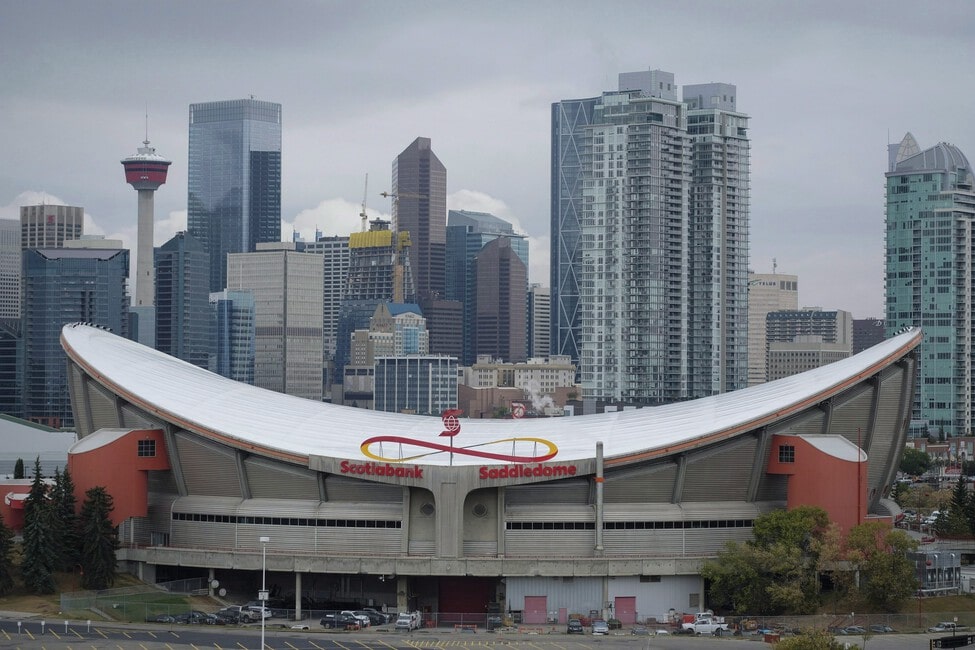 First Game
Oct. 15, 1983 – Flames vs. Edmonton Oilers (4-3 loss)
Notable Events
Winter Olympics (ice hockey & figure skating) – 1988
Stanley Cup Final – 1986, 1989, 2004
NHL All-Star Game – 1985
NHL Entry Draft – 2000
NLL All-Star Game (Lacrosse) – 2005
NLL Championship's Cup (Lacrosse) – 2004, 2009, 2014, 2019
World Junior Hockey Championships – 2012
Brier Championship (Curling) – 1997, 2002, 2009, 2015
Tournament of Hearts (Curling) – 1995
World Figure Skating Championship – 2006
UFC 149
Sources