For previous installments of this series, please see Draft Schmaft: The Toronto Maple Leafs in the NHL Entry Draft First Round (I), Part II 1968-70, Part III 1971-72, Part IV 1973, Part V 1974-77 and Part VI 1978-1980.
The early 1980s were a dark period for the Toronto Maple Leaf franchise. Despite the exodus of so many good NHL players through the 1970s, the Leafs were still a decent team with Sittler, Salming, McDonald et al. But as owner Harold Ballard's moods shifted, core players were shipped off and the Leafs began routinely residing in the NHL's basement.
The franchise drafted no lower than seventh between 1981 and 1989, acquiring some very good players along the way. Unfortunately, poor personnel decisions and factors such as injuries did not see the high drafting translate into on-ice success.
1981-1984
1981 – #6 Jim Benning D
Beyond Dale Hawerchuk, there was little consensus on who the second-best prospect was in 1981.
Players available included Ron Francis, Al MacInnis, Grant Fuhr and Bobby Carpenter, all of whom were drafted in the first round. Drafting in the sixth position, then general manager Punch Imlach selected defensive prospect Jim Benning.
The defenseman enjoyed 2 very productive seasons with the Portland Winter Hawks, scoring 71 points in 71 games during 1979-80, then surpassing that with 28 goals and 139 points in 72 games the next season. He was an offensive catalyst for Portland, a key cog for their team.
With Borje Salming and Ian Turnbull aging, Benning seemed a good pick – granted he needed some work to improve his defensive side, but his offensive skills made him a good candidate as a future power play point man.
Unfortunately, things never quite worked out for Benning and the Leafs. Imlach later said he believed Benning absolutely required time in the minors to learn the defensive side of the game. Instead, Imlach had been fired before Benning's first season.
Management played Benning immediately – he was in 74 games, netting 31 points but going -27. He improved in subsequent years, including a career high 51 points and only a -4 rating in 1983-84. But the following year his 44 points went with a -39 rating, then he suffered a number of injuries and he was demoted to the AHL.
He was traded December 2, 1985 with Dan Hodgson (40 Leaf games, 25 points) to Vancouver for Rick Lanz.
Verdict: Jim Benning was mishandled by Leaf management. He was drafted as a youngster with potential to be the greatest Leaf blueliner ever, but was rushed to perform on a terrible team. Under less pressure and much older in Vancouver, he became a decent defender. For Toronto, Rick Lanz was a serviceable player. Early in his career, he'd been an offensive threat but a severe injury altered his career. He had 59 points in 151 games with the Leafs, but was eventually released and played just 1 more NHL game with Chicago.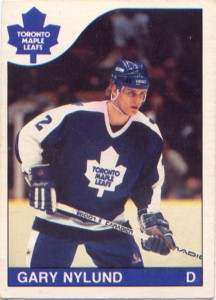 1982 – #3 Gary Nylund D
Having finished out of the playoffs and holding the 3rd overall pick, the Leafs repeated themselves, going after highly-regarded Portland Winter Hawk defenceman Gary Nylund in 1982.
Whereas Benning had been compared (unfortunately) to Bobby Orr, Nylund was seen by many observers as a Larry Robinson-type; some good offense, but big-bodied and destined to be a tough defender.
Nylund was ranked the top WHL prospect, and had been a key member of the 1982 World Junior team from Canada that captured gold. In 209 WHL games he posted 138 points and 512 penalty minutes, and similar to other Leaf prospects Benning, Bob McGill and Fred Boimistruck, Nylund was pressed into NHL service immediately after being drafted.
He suffered a knee injury in the pre-season and another early in the season, limiting him to only 16 games in 1982-83. Management wished Nylund to get pro experience, but because he was still junior eligible, he could not be sent to the minors to rehab. He missed a significant portion of the following season.
Nylund did play over 70 games each of the next 2 seasons, but really never developed into the top defenceman the organization hoped for. In fact, Nylund was among the worst in plus/minus for the Leafs, going -27, -37 and -32 after returning from his knee rehab. He did provide an element of toughness, evidenced by his penalty minute totals of 103, 99 and 180 over that same time span.
Verdict: Scott Stevens, Ron and Rich Sutter, Phil Housley, Dave Andreychuk and Ken Daneyko were all selected after Nylund in the first round. Nylund could have been a very good pick, however the early injuries and the practice of rushing youngsters into the Leaf lineup delayed Nylund's development.
He is notable as the first NHL player to move to a different team via free agency when he accepted an offer from Chicago and he was a dependable, if unspectacular, defender in amassing a total of 608 NHL games and over 1200 penalty minutes. As compensation for the free agent loss, the Leafs were awarded Jerome Dupont, Ken Yaremchuk and a 1987 4th round draft pick.
Dupont played 13 games as a Leaf, no points. Yaremchuk (brother of Gary, whom the Leafs drafted 2nd round 1981) played 47 Leaf games, scoring 19 points before leaving for Europe.
With the draft pick the Leafs selected Joe Sacco, who played 60 Leaf games and had 24 points in the early 90s before being claimed by Anaheim in the Expansion Draft. In all, Sacco would play over 700 NHL games, scoring just over 200 points.
For the Leafs organization, it meant the total compensation in return for Nylund was 120 games and 43 points spread over 3 players. Nylund, for his part, retired in 1993, later becoming a coach (an assistant with Surrey of the BCHL in 2012), and a firefighter (he was given an award for bravery in 2004 having saved 2 of his comrades in a chemical blaze).
"I was always happy to be a Leaf and I was proud of that," Nylund said. "They were my favourite team when I was growing up and I was thrilled to be drafted by them. My heart still bleeds blue even though Toronto hasn't done so well in recent years. I'm still a Leaf at heart."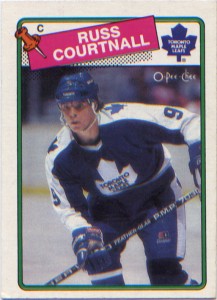 1983 – #7 Russ Courtnall C/RW
The 'Brian Lawton' draft was actually very solid. It saw Yzerman, LaFontaine and Barrasso drafted in the top 5. In a draft heavy on forwards, the Leafs picked up a good winger in Russ Courtnall, drafted 7th overall out of Victoria.
Courtnall was a slick, speedy forward – a good skater and a good playmaker. He'd been ranked the 10th best pick by Central Scouting, scoring 97 points in only 60 junior games. Unlike recent Leaf draftees, he did not join the NHL club immediately. Instead, the Leafs allowed him to go back to Victoria. He also competed in the World Juniors and in the Olympics in Sarajevo in 1984. But, the team of that era had its issues, and among them became a scoring problem.
After Rick Vaive (52), Bill Derlago (40) and John Anderson (37), no Leaf had more than 20 goals in 1983-84. Courtnall was brought up for 14 games that season, scoring 3 goals and 12 points, though it was apparent his speed was going to be his greatest asset.
In 1984-85 he played 69 games scoring 12 goals and 22 points. But in 1985-86, he broke through centering the Hound Line with Gary Leeman and Wendel Clark. Courtnall (now 20 years old) had 22 goals and 60 points, while Clark (19) scored 34 goals and Leeman (21) added 32 points. It seemed the Leafs had found a great young trio.
Courtnall hit 73 points the following season, but a combination of minor injuries (groin, knee, virus, back spasms) and coach John Brophy's desire for more toughness saw Courtnall's effectiveness decline with Toronto.
Verdict: It's no secret to any Leaf fan that GM Gord Stellick made what is considered one of the worst swaps in team history when he sent Courtnall to Montreal for John Kordic and a 6th round pick in 1989 (Michael Doers). It seems coach Brophy had no interest in a speedy forward with little ability to play tough, and 9 games and 2 points into the 1988-89 season, the deal was made.
In 382 games Courtnall contributed 113 goals and 146 assists for 259 points – numbers below what was expected of the 7th overall pick. After leaving Toronto, Courtnall played almost 650 more NHL games and put up almost 500 points.
John Kordic, while remembered fondly by some, played 104 Leaf games, amassing 10 goals, 6 assists and 446 PIM before being traded with Paul Fenton to Washington for a 5th round pick which the Leafs used to take Alexei Kudashov. Kudashov played only 25 games with Toronto, scoring once.