A scout recently told me that two of the most important traits that organizations are looking for when drafting a prospect are high-end character and work ethic. Simple stuff, but they're not so simple to uncover. General managers nowadays are looking to find players who will unite a locker room and build a camaraderie with their teammates that everyone benefits from. Someone who will lead by example not just on the ice but off it as well. That's how teams identify future captains, and that's how teams advance in the playoffs, as we just witnessed with the Florida Panthers this past season. Those kinds of players become key assets in winning the Stanley Cup.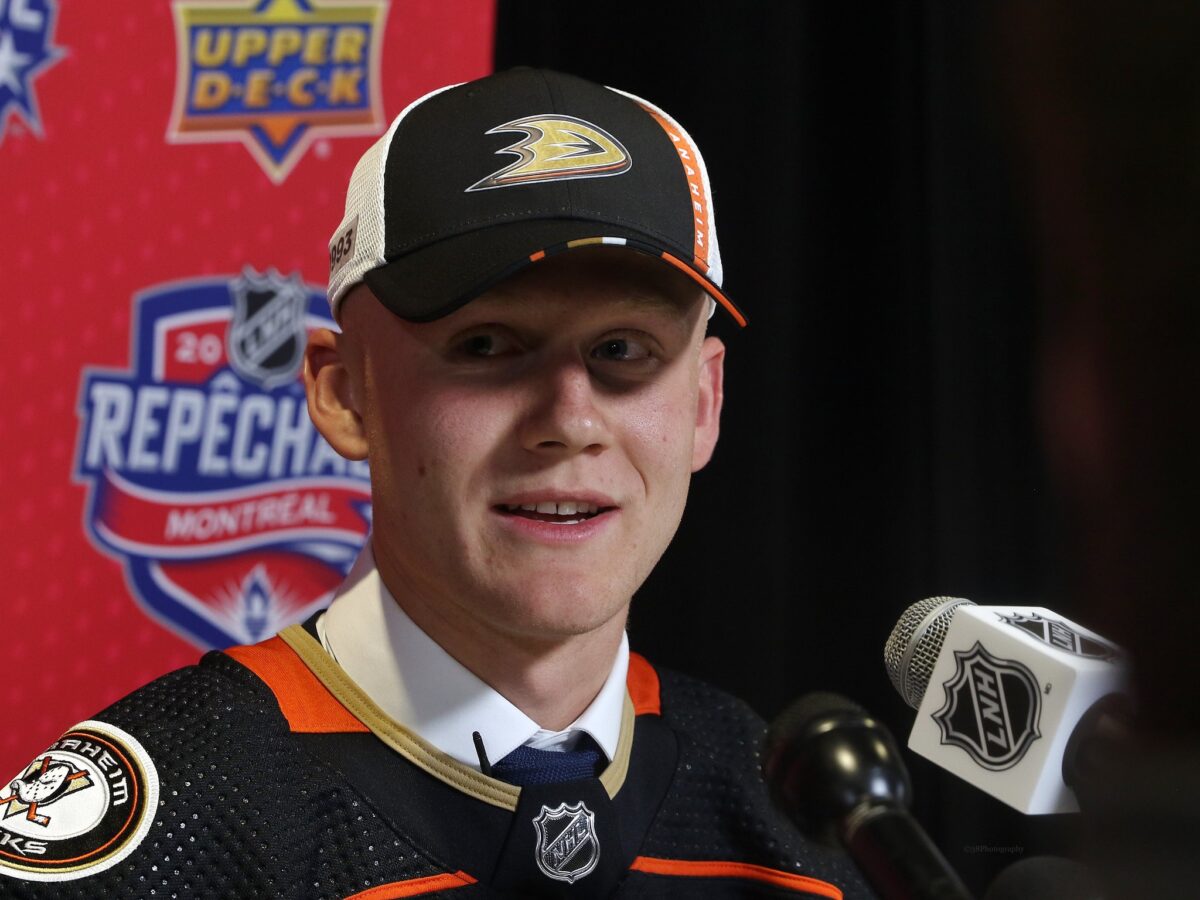 Nothing these days is closed-door anymore, especially as we watch the evolution of the digital space grow right before our very eyes. Players these days have to figure out a whole new world of technology when it comes to dealing with the media. Teams desperately search for players who are smart and can navigate through this league with their strong merit. Guys who can handle pressure while also building up their teammates. In other words, "character counts," and Anaheim GM Pat Verbeek — in his first draft with the club — may have found "quite the character."
On July 7, 2022, the Ducks, who had just missed the playoffs for a fourth straight season, headed to the draft in Montreal with two first-round picks. Their own at number 10 and the 22nd-overall pick acquired from a 2022 deadline deal with the Boston Bruins. With the 10th pick, the Ducks selected defenseman Pavel Mintyukov, a no-brainer selection at the time. But it was their second pick towards the end of the first round that raised eyebrows when they selected Nathan Gaucher.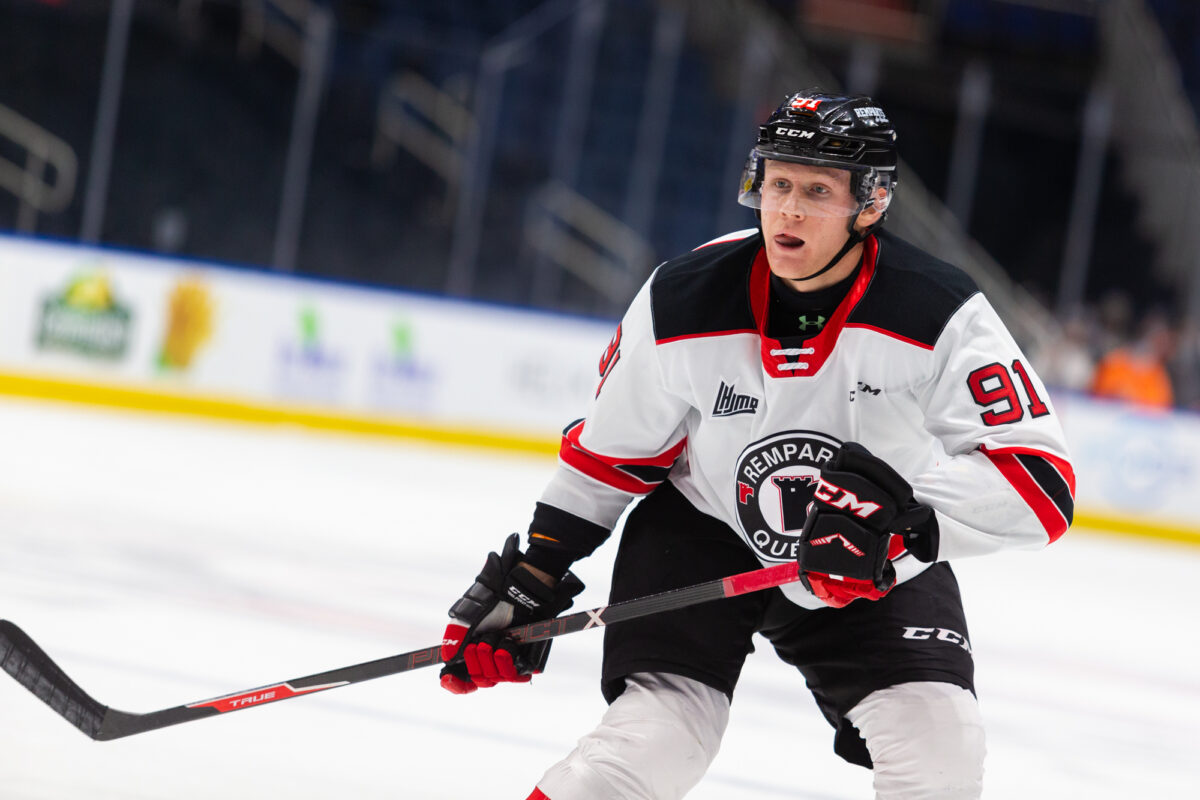 The team needed to fill that third-line center void behind Trevor Zegras and Mason McTavish. But who was this 18-year-old pivot from the Quebec Remparts of the Quebec Major Junior Hockey League (QMJHL)? Gaucher had just finished up his third season with the Remparts, posting 31 goals and 26 assists in 66 games while registering an impressive plus-30. The Quebec City native also impressed scouts by being named an alternate captain for the team. The 6-foot-3, 209-pound center is a skilled two-way forward who is known for his strong work ethic at both ends of the ice, something the Ducks sorely lack in their system.
Related: Pat Verbeek's Plan to Turn the Anaheim Ducks Into a Contender
---
Latest News & Highlights
---
Gaucher really took off in his fourth and final season with the Remparts, recording 22 goals and 24 assists in only 44 games while posting a plus-35. Wearing the "A" once again, he then stepped up his game in the playoffs, with 16 points in 18 games as Quebec went on to win the Memorial Cup. He also took home the Guy Carbonneau Award for the best defensive forward in the QMJHL. But that wasn't all. In between that, he played a key role in back-to-back World Junior Championships for Team Canada, the first as the youngest player on the team, the second with the "A" on his sweater — once again demonstrating his skills to lead on and off the ice.
A GM can never underestimate how important those leadership skills are, especially in their young prospects. Teams are always looking to add seasoned veterans to their rosters to help guide the next generation of players through their experiences in the league. But when a fresh-faced 18-year-old shows up at your rookie camp displaying early signs of those high-end qualities, you have to be excited for your future. Gaucher has accomplished just that in his short time with the Ducks staff.
Related: Ducks Prospects Who Could Play in the NHL in 2023-24
"He's a wonderful kid," Ducks director of player development Jim Johnson beamed of the first-round pick. "He's one of those guys you want to be around all the time. I see it with his teammates. That's what we're trying to create not only with Nate but with a lot of these guys. We've gotta try to get more out of them and help them become more of a vocal leader."
NHL Ready
The question now becomes, "Is he ready for the NHL?" From a size standpoint, he most certainly is. Gaucher is an intimidating force on the ice, retrieving loose pucks, battling along the boards, and will likely be a problem for opposing goalies with his net-front presence. There is no role too big or too small for him, and that has to have Verbeek and his staff ecstatic. The Ducks are hoping his demeanor will leave a lasting impression on their younger prospects.
I had the chance to watch Gaucher at development camp this past July, and I can honestly say I was very impressed. He was flying all over the ice in both zones with his natural skating ability, but he also showed good composure with the puck, making quick, smart passes to his teammates while also showing off his physical style of play. He can and will play a majority of different roles for the club up and down the lineup, demonstrating his "team first" approach.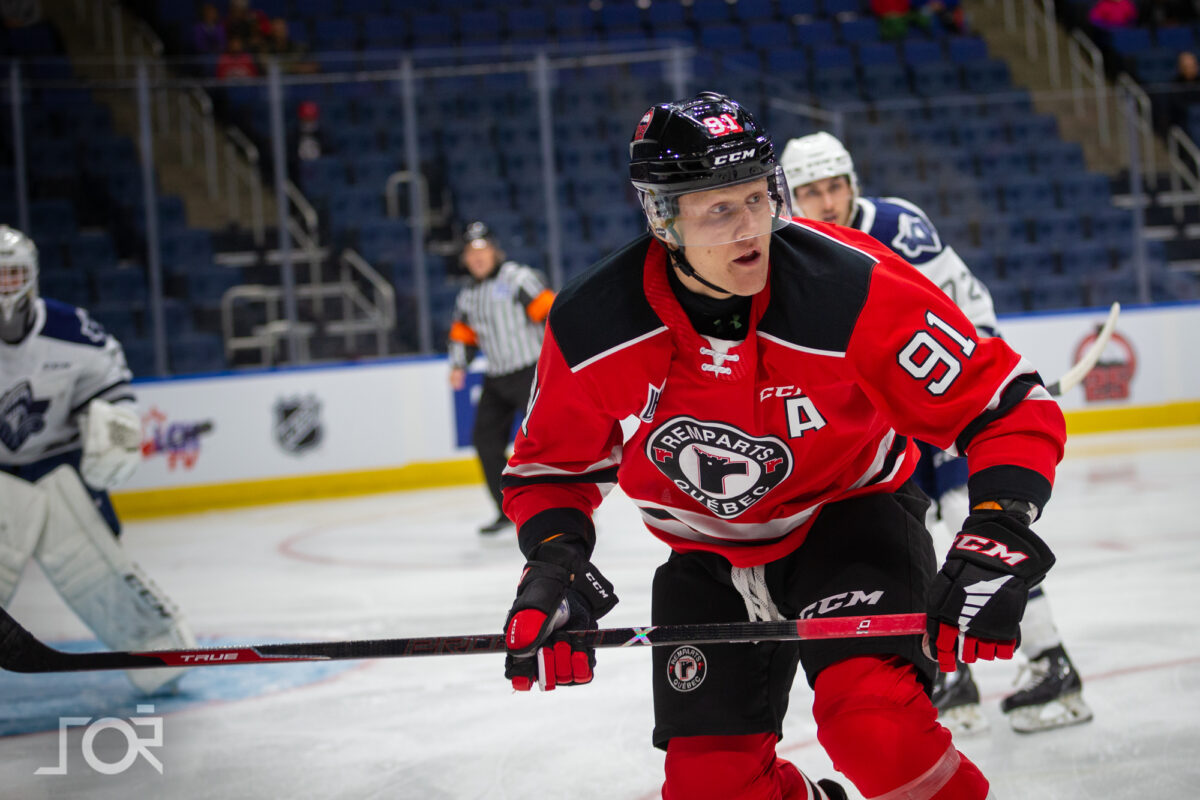 His junior options are extinguished, and he will begin his pro career this season in Southern California with the Ducks or Anaheim's American Hockey League (AHL) affiliate, the San Diego Gulls. Injuries have already played a major factor in roster decisions, as center Isac Lundestrom will miss up to half the season while he recuperates from a torn Achilles. There is an opportunity for the 19-year-old to make a big impression at training camp this month, and I can't fathom counting him out from making the big club right out of the gate.
The drive and desire will make it a very difficult decision for management, as those traits are hard to find with young prospects. Gaucher's ability to lead by example will go a long way with the organization and could become a key asset for the team's success in the future. Will he wear the "A" one day in Orange County? It's too early to tell. But you can bet he'll work his butt off for it, and that's exactly the way he wants it.
---

---