The San Jose Sharks entered the Christmas break with 17 wins and 17 losses (two of those losses came in overtime). There is good news, as covered in this link, and there is bad news. For the Sharks, there are several significant concerns that did not make the five item cut for this article. The health of Logan Couture stands out. It is the most unknown. Taking the word of the Sharks medical team has proven dicey in the past, but assuming they got this one correct, Couture should return fully healthy soon enough.
The diminished play of several players jumps out. Forwards Chris Tierney and Tomas Hertl both looked poised for major steps forward this season. Hertl was another full year removed from his knee injury and had upgraded his fitness levels. Tierney had a strong finish to last season. Neither has reached their optimistic expectations.
The third period is area that also came close. The third period comeback in the last game prior to Christmas against Los Angeles helped cover up what has been pretty ugly for most of the season. In that game, the Sharks outscored LA 3-0 in the period. Prior to that game, the Sharks have given up ten more goals than they had scored in the third period, only three other teams had fared worse. Even with great third period against the Kings, the Sharks are tenth worst in goals allowed in the third period and 7th worst in goals scored.
The closest call that did not make the top five is the play of back-up goalie Alex Stalock. A key requirement for a back-up goalie is to play well in intermittent starts. Stalock has not delivered on that.
Tommy Wingels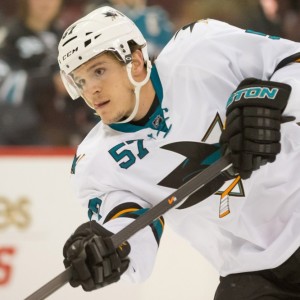 Tommy Wingels is a good hockey player whose game seems to have deserted him so far this season. Wingels is best known as the team's top hitter, something that has not changed this year. But Wingels did more than hit, he kicked in on offense and played respectable defense. The latter two are absent this year. He seems to have no chemistry with his teammates on the various line combinations he's been on this year. Wingels played 70+ games in each of the past two seasons, managing 36 points in one season and 38 points in the other. With 34 games in the books, Wingels has only nine points, roughly half the scoring pace. Further troubling is his plus-minus, sitting at minus-10, a career low point. His 'goals for' percentage is a miserable 32%.
Likely due to his physical style, Wingels has had a history of peaking earlier in the season and fading in the latter parts of the season. It is definitely cause for concern.
Peter DeBoer
I've been concerned about the new coach since before we knew who the new coach would be. Much of the concern was based on the issues around prior coach Todd McLellan and the questionable support he got from his superiors. Shortly after Peter DeBoer took the job, my concerns grew larger. My biggest concern was DeBoer's ability to be his own man in the job. It included having the ability set a different course from McLellan. DeBoer needed to establish his own way forward, with a willingness to make substantial changes. Alas, when it comes time to make a decision, DeBoer seems to channel his WWTMD: what would Todd McLellan do? One example is how DeBoer is over-using Patrick Marleau, just as McLellan did. And yes, Marleau is next up on this list.
My sense is the issue runs far deeper. General manager Doug Wilson is the de facto decision maker, not just at the GM level, but also well into the coaching level. DeBoer is not his own man in this role, which is not healthy for the team.
Patrick Marleau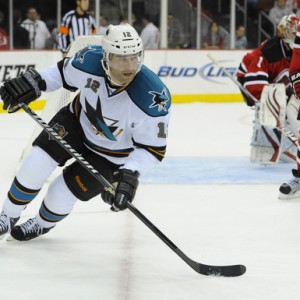 Once again, Patrick Marleau finds his way into the concern column. Again, it is the same set of things. Too much ice time, a struggling two-way game and a much too large minus number. On the season, Marleau is minus-12. Last season wasn't any better and over the past 82 games, he is minus-28. Last season, the only players that finished -21 or worse played for one of the following dregs: Arizona, Toronto, Edmonton, Carolina or Buffalo – the five worst teams in hockey. This season, headed into the Christmas break, every player that is minus-10 or worse (27 in total) plays for a team that has at least as many losses as wins (including OTLs). Sharks players Marleau, Burns, Wingels and Tierney are all minus-10 or worse.
For Marleau, it isn't pretty and it isn't promising. Last season, Marleau was minus-1 after 34 games, his struggles came in the second half of the season. It shouldn't have been a surprise to see a 35 year-old playing big minutes fade in the second half of the season. It won't come as a surprise this year either, as Marleau is a year older and averaging more ice time this year than last. The most concerning part? This is a fixable issue that is not getting fixed.
Brent Burns
Brent Burns is an amazing athlete, but he has some flaws in his game. The biggest flaw is his ability to defend. He can do great things while defending, but it is not enough. With Burns, his aggressive approach to offense and a gambler's mentality on defense results in a lot of 'goals against'. Statistically, he isn't worst on the team in that category (adjusted for ice time), but he's pretty far down on the list.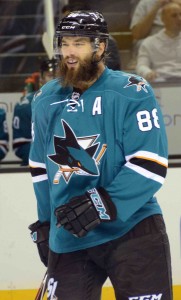 Almost as troubling, Burns is running out of partners to pair with. I'll get to his primary partner, Paul Martin, in a moment. In the past couple seasons on defense, Burns has gone through more unsuccessful partnerships than a Kardashian.
One area that seems to fly under the radar is that Burns doesn't create a lot of even strength goals for the team. This seems odd, given that he leads all defensemen in even strength goals with 11. Erik Karlsson is next best with eight and only six defensemen in the league have five or more. Yet it seems that unless Burns himself is doing the goal scoring, the offense doesn't happen. The Sharks have scored only nine even strength goals with Burns on the ice that were scored by someone other than Burns. Given that Burns is on the ice for close to 40% of the even strength game, nine goals from his teammates is an absurdly low number. In comparison, with Marc-Edouard Vlasic on the ice at even strength, the other Sharks players have scored 20 goals – over twice as many – even though Burns has 20% more even strength ice time than Vlasic.
Burns sits at a minus-13, among the worst in the league. He is hurting on both sides of the statistic, too many goals allowed with him on the ice and not nearly enough scored. The biggest concern to me? That the Sharks don't seem concerned enough to try something different.
Paul Martin
Paul Martin was brought to San Jose for one reason, to fix Brent Burns. Getting Burns to change his game was never in the cards. However, mitigating the issues Burns creates from his aggressive play and defensive lapses was something Sharks general manager Doug Wilson expected the savvy Martin would be able to accomplish. And for the first month and a half of the season, it looked like Martin had done it.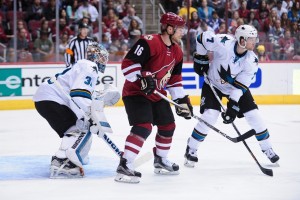 Wilson paid plenty for Martin. His cap hit is a shade under $5 millon and is sixth highest on the team, second only to Burns among Sharks defensemen. The issue is compounded by the fact that Martin is 34, and will be 35 prior to the start of the playoffs. Martin's four-year deal covers him through age 38, which means the Sharks will likely be overpaying for at least a couple of seasons on the back end of it. The Sharks are paying for Martin's effectiveness now.
The problem has been Martin's last month. Martin made a very successful return to Pittsburgh as a member of the Sharks on November 21. He had a goal and an assist, his only two point game of the season. He was plus-2 for the game, something he has done only one other time this season. And he was the game's second star. Seventeen games played into his Sharks career, Martin had seven points and was plus-4.
For Martin, things turned down on a dime. Since the Pittsburgh game, Martin has gone -11 in only 14 games. Sometimes a bad game or two can dominate the statistic over a relatively short period, but not so in this case. Martin has been a minus player nine times and plus player only once in this 14 game stretch. Surprisingly, he has often seemed the greater defensive liability than his partner Burns. Burns has gone -10 in this same timeframe and it has often been Burns vainly attempting to bail out Martin, not the other way around.
At the point when the chemistry between partners should be kicking in, it disappeared. What started out as a pairing that worked has become the NHL equivalent of a Superfund clean-up site. Martin has a critical role to play, and as he struggles, he drags down the team's two highest paid defensemen. Right now, he is struggling in a major way. Which is a very big concern.