The Halifax Mooseheads announced that they will kick off their 30th season in the Quebec Major Junior Hockey League (QMJHL) with some star power as they will retire Nathan MacKinnon's No. 22.
Related: Halifax Mooseheads Have Become Contenders  
---
Latest News & Highlights
---
He will be only the fourth player to have his jersey retired by the Mooseheads. He shares the honour with Jody Shelley (25), Jean-Sebastien Giguere (47) and Alex Tanguay (18). Late public address announcer Pat Connolly also has a banner in the rafters. 
Making Halifax Mooseheads History 
MacKinnon, who was the first Moosehead player to ever be selected first overall in the NHL Entry Draft, was instrumental in Halifax capturing a Memorial Cup championship in 2013. The Cole Harbour, N.S. native's career in junior hockey will be recognized as part of the Moosehead's 30th anniversary celebrations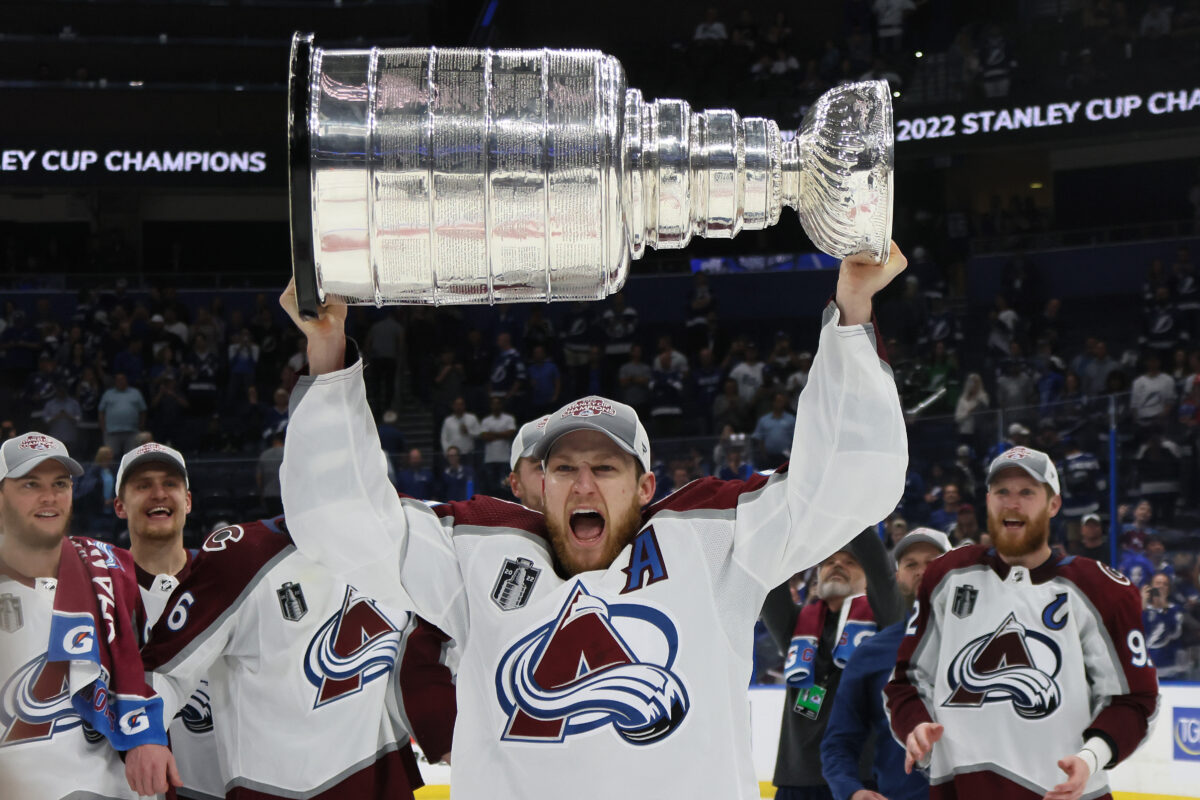 His arrival with his hometown club was almost as dramatic as his play on the ice. Just after he was selected first overall by Baie-Comeau Drakkar, Mooseheads general manager (GM) Cam Russell, who is also a Cole Harbour native, traded two players and three first-round picks to get the star player onto his hometown team. 
In his two seasons with the Mooseheads, MacKinnon scored 63 goals and 155 points in 101 regular season games. He also added 61 points in 34 playoff games. He was masterful in the playoffs as he led the team to its first and only Memorial Cup title in Saskatoon in 2013. He scored a hat trick in the Final, acting as the offensive leader for Halifax in their 6-4 victory over the Western Hockey League's (WHL) Portland Winterhawks. He also finished as the tournament MVP. 
One of MacKinnon's teammates on the Colorado Avalanche right now is Jonathan Drouin. Drouin signed as an unrestricted free agent in the summer of 2023 after the Montreal Canadiens chose not to re-sign the highly skilled, yet mercurial winger. There is little doubt that MacKinnon was excited by Drouin's arrival, reuniting the pair of Mooseheads 2013 heroes. In the 2012-13 season, the pair helped the Mooseheads to a 58-6-3 record, while leading the QMJHL in total goals for with 347; the next closest team was the Rouyn-Noranda Huskies with 283, a full 64 goals behind. 
Halifax's head coach at the time, Dominique Ducharme, saw a lot of magic from MacKinnon and Drouin during that season. But when asked which moment stood out, he spoke about the Memorial Cup Final, "We'll rank it No. 1, right?" Ducharme said. "Because of the outcome, because of the meaning of the game — you can't have it bigger than that. They were great tonight."
A Rare Honour 
Mooseheads president Brian Urquhart said in a news release, "Nate grew up idolizing the Mooseheads, starred for the team, led us to a Memorial Cup and now he's one of the best players in the world. It will be a very special night for Nathan, his family and all Mooseheads fans." 
MacKinnon grew up in Cole Harbour as an ardent Mooseheads fan, and his family were also billets. One player, Frederick Cabana, who wore No. 22 in his four years with the club, had a major impact on MacKinnon. That is why he chose to wear that number, as a tribute to Cabana, the big brother he had always wanted. 
"It's a true honour to have my jersey retired by the Mooseheads. I can't wait to share this moment with everyone back home in Moose Country"

– Nathan MacKinnon 
MacKinnon, 28, was the first overall pick in the 2013 NHL Entry Draft by the Colorado Avalanche. Since then, he has gone on to play 709 NHL games, scoring 284 goals and 759 points, and winning the Stanley Cup in 2022. Russell, the engineer of the historic trade for MacKinnon 12 years ago said: 
"Watching Nathan's career take off after joining the Mooseheads and now into a Stanley Cup Champion has been incredible to see. We are so proud to share this night with him and his family."

– Cam Russell 
Halifax is planning to make its 30th anniversary a season-long event. They will start with honouring MacKinnon, then have a special anniversary jersey and several promotional events sprinkled throughout their home games. All of this as they also celebrate setting a franchise record for the number of season ticket holders. This comes at a good time in the team's cycle of building a winner, as they boast an exciting young team who have experience as well, having lost in the 2023 QMJHL Final. The home opener takes place Sept. 22 at Scotiabank Place when the Mooseheads host the Charlottetown Islanders. 
---
---