As quickly as they were down after the Toronto Maple Leafs played a stinker in their second game of the season and their first back-to-back against the Ottawa Senators on Friday night, they were up again after a dominating second game against the same young and improving Senators' team. One difference between these back-to-backs was a total breakout performance from the Maple Leafs top line. No doubt, the team is hoping for more of the same when they host the Winnipeg Jets this evening in Toronto.
Related: Toronto Maple Leafs Become Chapter in Jimmy Vesey's Puzzling Career
In this edition of Maple Leafs News & Rumors, I'll report on some players who've played well after three games of the season. Second, I'll look at the possible impact of some moves the team was forced to make after young Nick Robertson's injury. Finally, I'll speculate about what might happen with the team going forward.
Item One: Maple Leafs Top Line's Breakout Game
The Maple leafs have to hope the latest game wasn't a fluke. In that game, the team's top line of Auston Matthews, Mitch Marner, and Joe Thornton totaled seven points (three goals, four assists) in a 3-2 victory over the Senators.
Marner scored three points, with a goal and two assists. Both Matthews and Thornton recorded two points. Thornton scored his first goal and added an assist in a Maple Leafs' uniform; and, Matthews also recorded an assist and scored the game's winning goal in the third period.
Their most recent production follows a fallow spell when, between the three of them, they only had two assists in the Maple Leafs' first two games. Saturday's game only hints at the possibilities of what these three forwards could do if they continue to gain chemistry.
Related: Toronto Six 2021 Season Preview
Thornton spoke for his young partners when he suggested, "I think we'll continue to keep growing as a line because we are having fun and we get excited before every game. I think you can tell each game we're getting better, and that's a real good sign."
Thornton also spoke about the unique possibilities of playing with both Marner and Matthews. With "the amount of attention these two guys get, I've just got to get open for them and just be ready to shoot the puck and get ready to distribute." He obviously knows his place on the line.
We'll see how the top line does when it faces the Jets tonight.
Item Two: Jack Campbell Is Solid in His First Start of the Season
Jack Campbell allowed two goals on the 19 shots he faced in Saturday's 3-2 road victory against the Senators. Campbell wasn't tested much, but he stopped everything he needed to. He only gave up even-strength goals to Nick Paul and 19-year-old German rookie Tim Stutzle.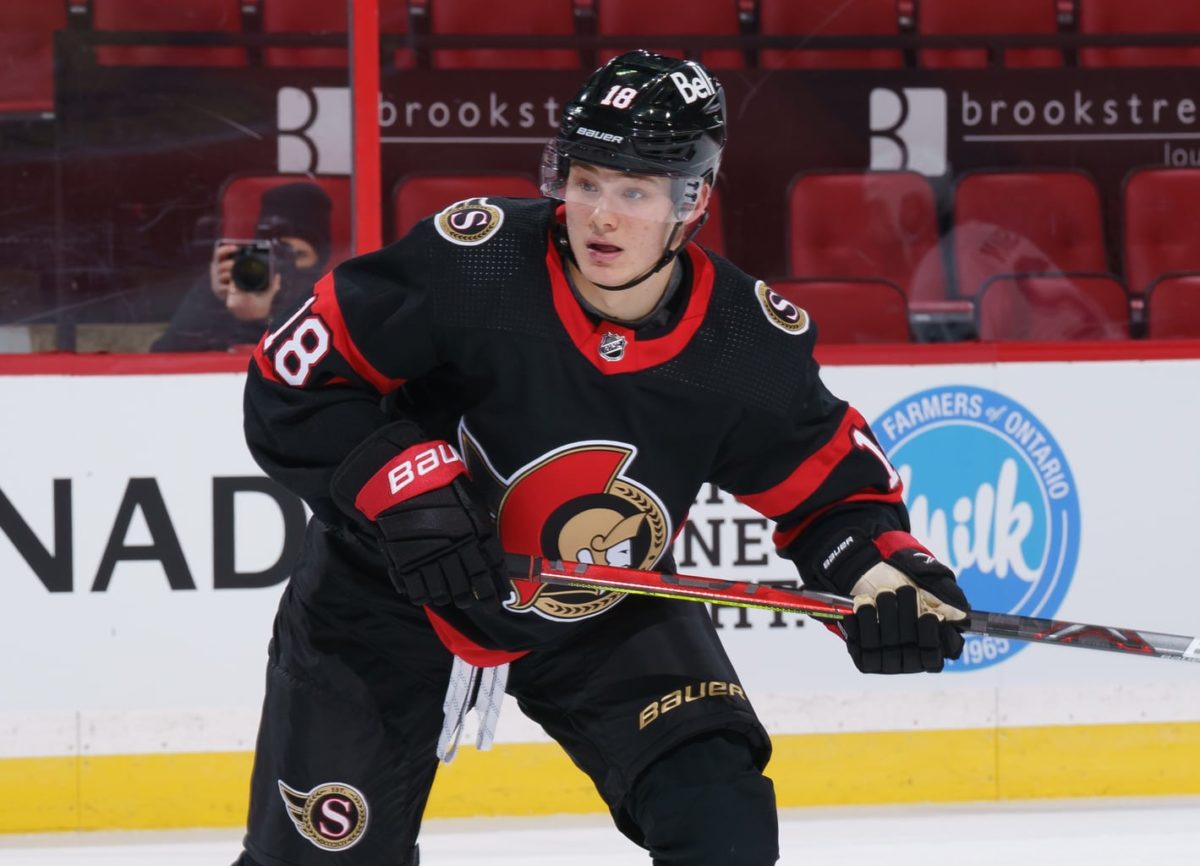 The Paul goal bounced off his shoulder and he was able to put it in the net before Campbell could move. Stutzle's goal was a thing of beauty. Taking it off a short hop, the youngster put it exactly where it had to go. Neither goal, really, was stoppable. By the way, in a Sportsnet video, Campbell said later that he wanted to shake Stutzle's hand after his first goal – odd guy, right?
Campbell did a good job giving Andersen a rest, and he seems to be a capable backup goalie. Interestingly, the Maple Leafs don't have another back-to-back game until Feb. 17-18. However, they'll play seven games over the next 14 days. Right now, we really can't know how head coach Sheldon Keefe is going to deploy his goalies.  However, I'm betting Campbell will have his chances in the net, even without back-to-back games.
From my perspective, Campbell played well enough to have another shot sooner rather than later. Given the unique structure of the 2020-21 season, one has to believe coach Keefe won't overuse Andersen. Campbell looks like he's part of the solution.
Item Three: Justin Holl Is Enjoying Early Season's Success
One player I really noticed during the game was Justin Holl. He seems to be playing with confidence and his partnership in a shutdown role with steady defenseman Jake Muzzin seems to be working again this season. Surprisingly, Holl is also scoring. He has two assists in the season's three games. He's also averaging 22:06 minutes of ice time this season.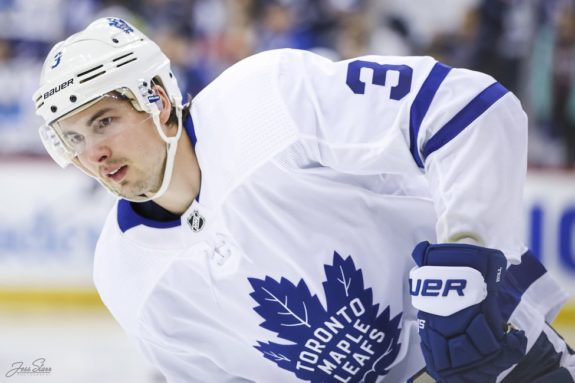 Holl's made the most of his increased role on the team's defense. He's averaging about four minutes more per game this season than last season when he averaged 18.31 minutes per game. If he keeps playing at the same level and is given the same time on the ice, Holl will easily have a career scoring year. In the 68 games he played last season, he scored 18 points. He'll do better this season, even in fewer overall games.
Item Four: Pierre Engvall Is Promoted to the Taxi Squad
Toronto recalled Pierre Engvall to the taxi squad on Sunday. Engvall was among the players assigned to the AHL before the beginning of the season. He scored 15 points in 48 games with the Maple Leafs last season, but this season coach Keefe wasn't happy with his play during training camp and made him a surprise cut. The 6-foot-5 forward will provide depth and could get into the bottom-six in the near future.
What's Next for the Maple Leafs?
It's too bad, for a number of reasons, young Nick Robertson was injured during Saturday night's game. With him out of the line-up, the Maple Leafs are scrambling to stay under the upper limit of salary-cap space. As a result, the team had to make two moves I'm certain it didn't want to.
First, they put goalie Aaron Dell on waivers. He's certain to be picked up by another team. Second, they put Jason Spezza on waivers. Although that business decision carries with it a certain logic, I'm certain general manager Kyle Dubas didn't want to do it.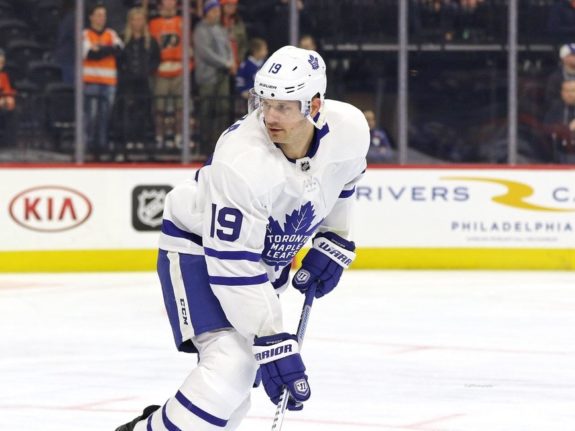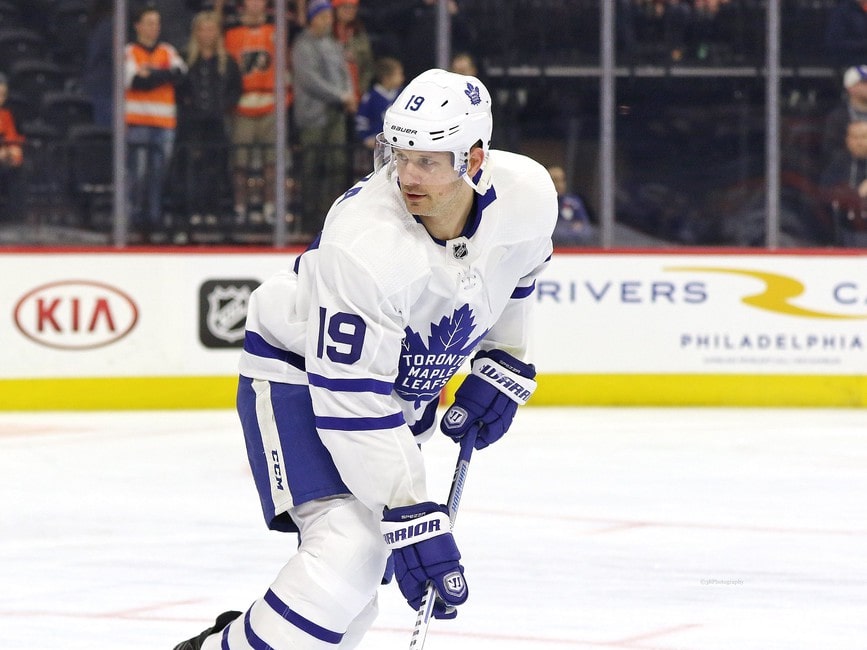 In an article written on Sunday, hockey insider Chris Johnston noted that if Spezza were claimed off waivers he'd simply retire. However, that might not mean he'd be done as a Maple Leafs' player. The team could nullify his contract and he could simply sign another one with the team.
Although it's hard to say what will happen for sure, it's likely the Maple Leafs won't get rid of Spezza. He's playing in a depth role, but he's producing well. For example, in just over six minutes of ice time, Spezza took 10 face-offs during Saturday's game. He won them all. That's an important contribution.
Related: Maple Leafs Rumors: Is There Room for Both Spezza and Thornton?
Spezza might be playing less than eight minutes per game, but he's making that time count. He also, according to reports during the offseason, happily assumed a mentorship role with Robertson and other Maple Leafs' prospects. I'm not sure what Spezza's hopes are for a future after hockey, but could a coaching job be looming?
---
---
The Old Prof (Jim Parsons, Sr.) taught for more than 40 years in the Faculty of Education at the University of Alberta. He's a Canadian boy, who has two degrees from the University of Kentucky and a doctorate from the University of Texas. He is now retired on Vancouver Island, where he lives with his family. His hobbies include playing with his hockey cards and simply being a sports fan – hockey, the Toronto Raptors, and CFL football (thinks Ricky Ray personifies how a professional athlete should act).
If you wonder why he doesn't use his real name, it's because his son – who's also Jim Parsons – wrote for The Hockey Writers first and asked Jim Sr. to use another name so readers wouldn't confuse their work.
Because Jim Sr. had worked in China, he adopted the Mandarin word for teacher (老師). The first character lǎo (老) means "old," and the second character shī (師) means "teacher." The literal translation of lǎoshī is "old teacher." That became his pen name. Today, other than writing for The Hockey Writers, he teaches graduate students research design at several Canadian universities.
He looks forward to sharing his insights about the Toronto Maple Leafs and about how sports engages life more fully. His Twitter address is https://twitter.com/TheOldProf