The top prospects in the Toronto Maple Leafs system took part in the Traverse City Tournament in hopes of leaving a lasting impression on the coaching staff and management. It's also a great opportunity for fans to see what the players of the future have to offer.

The Maple Leafs finished the tournament 2-1, with the last game being a very entertaining matchup against the Detroit Red Wings. While it would've been nice to go 3-0, there was still a lot to be happy with regards to the performances of the Maple Leafs rookies. Here are five players that stood out in a big way for the blue and white.
Easton Cowan
There were many skeptics about the Maple Leafs selecting Easton Cowan 28th overall in the 2023 NHL Draft. Well, that talk can be put to rest as Cowan was a major standout for the Maple Leafs. He progressively got better with each game, tallying two points against the Dallas Stars and added a goal and two assists against the Detroit Red Wings. In the end, he ended up leading the team in scoring with six points. 
The Maple Leafs bet big on Cowan and while it's still early in his development, they may be seeing some early rewards. His relentless ability to pursue the puck and engage with his opponents was on display every time he was on the ice. He was extremely creative with his playmaking, but also showed great awareness to attack and create havoc in front of the net. His high energy and compete combined with his individual skillset definitely made him the best player for his team.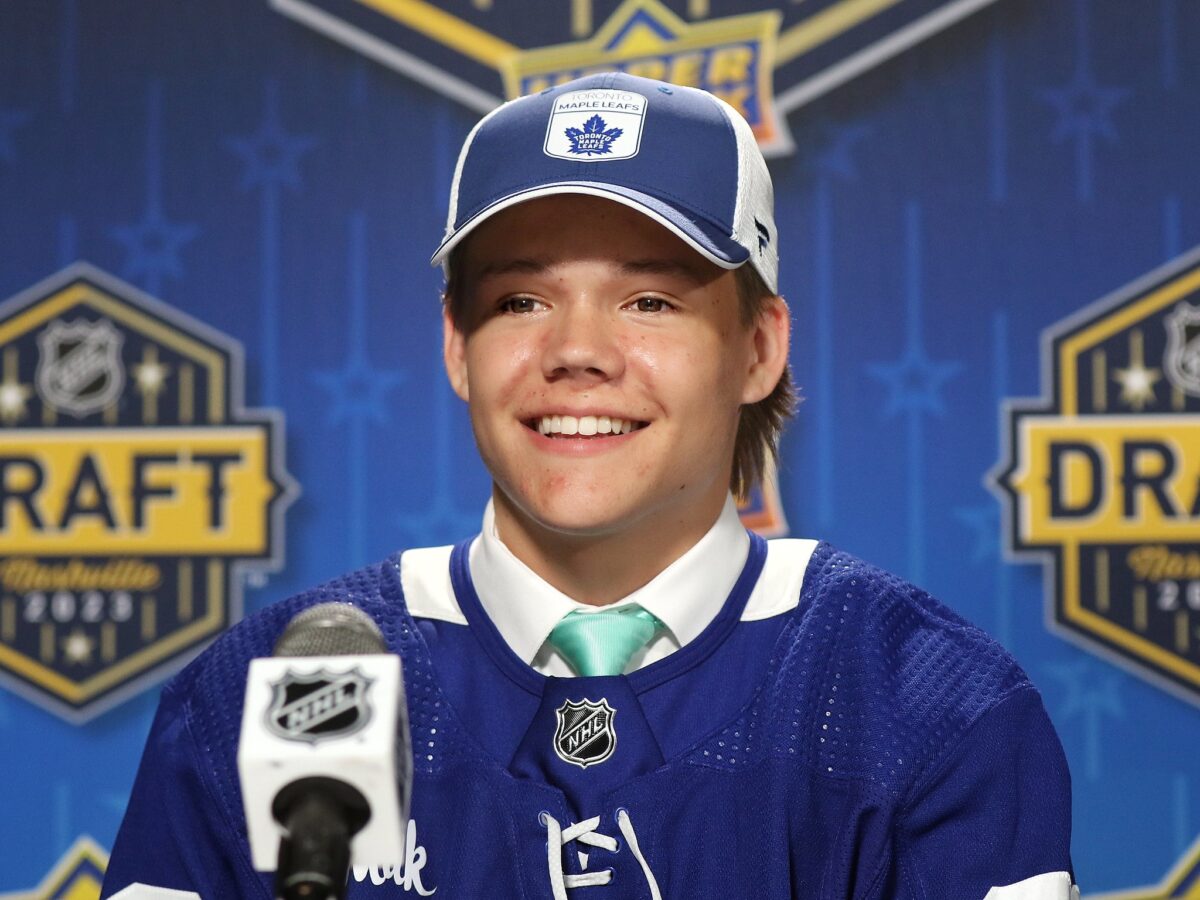 In his first major games with the other top rookies, Cowan really made his mark and showed that he was well worth the selection. Heading back to the London Knights of the Ontario Hockey League, he should be feeling confident about his play at the tournament.
Matthew Knies
Matthew Knies showed why he is heading to the NHL and a possible option for the Maple Leafs as a top-six forward. In two games played, he was seen on the top line with Fraser Minten and Max Ellis and they created some great chemistry. 
Related: Maple Leafs' Prospect Report: Akhtyamov, Hildeby & Kokkonen
---
Latest News & Highlights
---
Knies didn't waste any time in displaying his strengths in the games against the Columbus Blue Jackets and Dallas Stars. Overall, it seemed he got quicker adding a little jump into his first few strides. He displayed great patience with the puck as well as strength and puck protection skills that makes him such a dangerous player. He even showcased his creativity, making slick passing plays, working give and go's and getting into the shooting lanes with ease.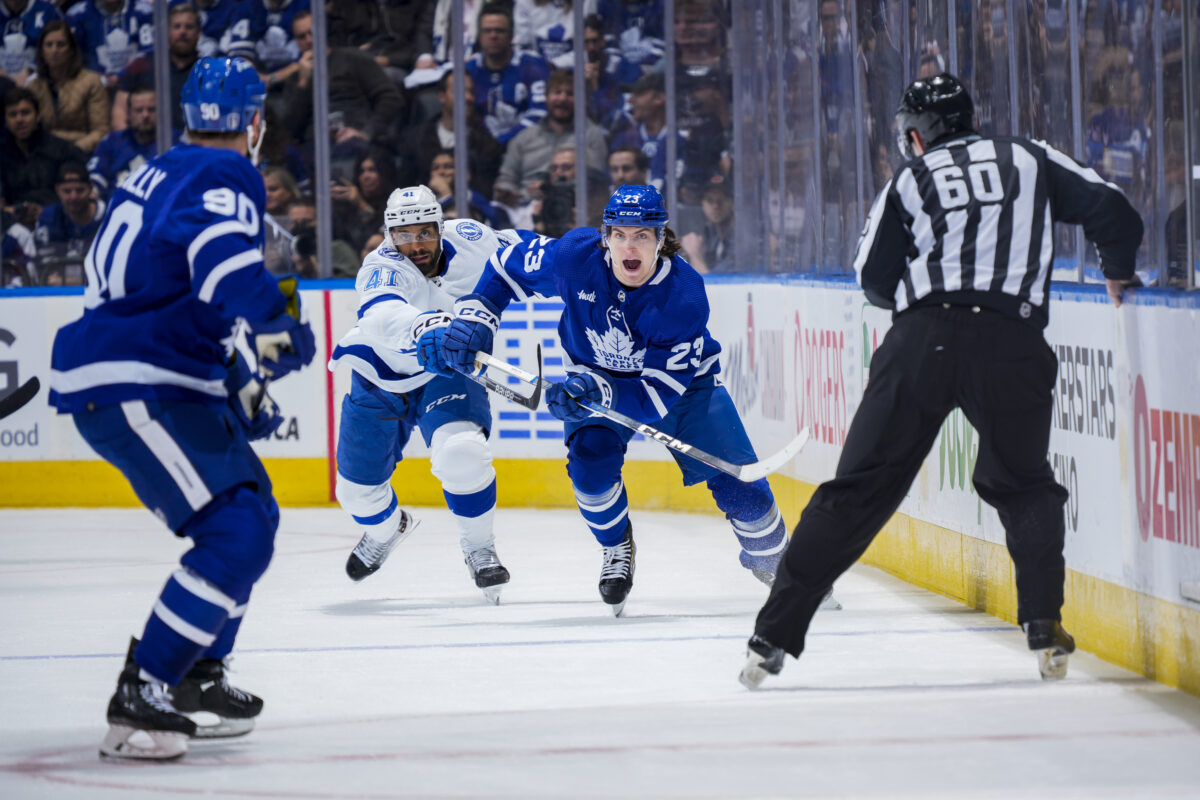 Knies was one of the top names coming into the tournament and he stood out in a positive way. The pro experience at the end of last season and the playoffs really benefitted him going into this tournament and into the post season.  
Dennis Hildeby
Considering the Maple Leafs have very few homegrown talents in the crease, seeing Dennis Hildeby perform well in the games that he was in, is a breath of fresh air.
The 22-year-old, 6-foot-6, 234-pound Hildeby showed great consistency, confidence and composure in the crease. He tracked the puck well, showed great movement in the paint and he made a number high danger saves. Even when there was traffic in front of him, he didn't panic and fought his way through it all to keep the puck out with his quick reflexes. He was extremely impressive against the Stars allowing one goal against. 
His impressive play continued against the Red Wings and even though he allowed 3 goals against, he wasn't to blame for all of them. The first goal was a result of a turnover by Mikko Kokkonen and the puck just squeaked between his legs and trickled in. The second one, he might've wanted to have back, but it was a perfectly executed shot by Cross Hanas. On the third goal, Amadeus Lombardi was there for a rebound after he made a nice stop on Hanas seconds before.
Hildeby will be looking to be one of the main backstops for the Toronto Marlies in the American Hockey League this season. His play at this tournament should help him on that path as he continues with his development.
Fraser Minten
Minten's impact was felt both on and off the ice in regards to his leadership abilities. He provided the play that can change the momentum of a game, but was also being a vocal presence off the ice as well. He was already looking to provide more leadership with the Kamloops Blazers, but seeing this with the Maple Leafs shows he's keeping his word.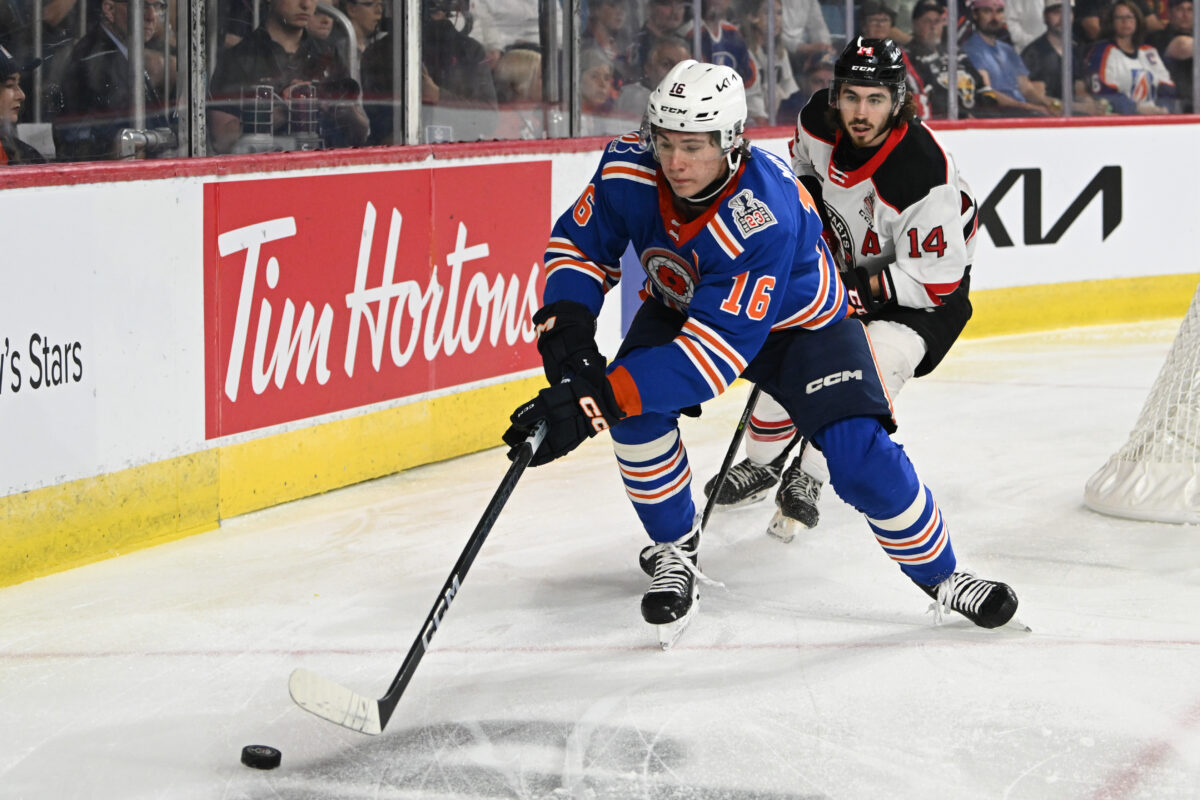 Minten got some great experience at the 2022 tournament and he took on a bigger role this time around. He was physical, he showed great attention to detail and was a big part of the Maple Leafs offense, getting shots off or setting plays up for his teammates. He provided great support in the offensive zone, making himself available every chance he could get. He truly was a dual threat and was just as impactful away from the puck. He showed great poise with his play and showed that he can be a dominant factor on the ice. 
Max Ellis
Max Ellis was a very pleasant surprise during this tournament. In his first season with the Toronto Marlies, he finished with 20 points in 49 games as a rookie. 
Related: Maple Leafs May Finally Fold Hand, Trade Nick Robertson
There was a lot to like when it came to his energy, puck pursuit and speed. His willingness to constantly battle, attack the net and not shy away from the rough areas of the ice was on display. He was able to utilize his speed to find the open ice and his shot has improved as well as there seems to be more power behind it. While it's most likely that he'll be heading to the Marlies once again, he's shown that his intensity along with the skill that he possesses is a really big asset to his game.  
Honourable Mentions
Brandon Lisowsky: While he may be flying under the radar, Lisowsky had a strong showing with his creativity with the puck, skill and shot. He was extremely noticeable in the game against the Red Wings, scoring a hat trick. Two of the goals, found its way in front of the net and on his second he had a fantastic snipe off a great feed from Tverberg. 
Mikko Kokkonen: Kokkonen's two-way game was on full display. He was extremely effective with his playmaking offensively, but was also a factor defensively, taking away lanes and being a factor defending the rush. He'll be looked to as a major factor on the Toronto Marlies blueline this season.
Ryan Tverberg: Tverberg had great energy, was all over the ice and didn't quit on any play hunting down the puck. He did a great job to intercept plays and quickly transition the other way. Made a number of strong plays, leading to a few important goals during the tournament. 
Jacob Frasca: Jacob Frasca continued to catch my eye whenever he was on the ice. A free agent invite, Frasca's offensive game, ability to get in on the forecheck, heavy shot and his ability to take the sight away from goaltenders with his 6-foot-4 frame was on display. He scored twice and came in looking to prove something and possibly earn a contract. Was it enough? 
Who were you impressed with at the Rookie Tournament? Have your say in the comment section.