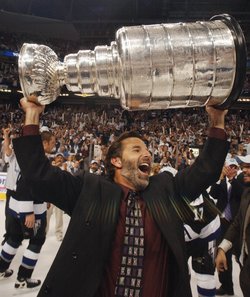 John Tortorella and Brad Richards are not mutually exclusive.   Quite the contrary.  They go way back.  That said, it appears the New York Rangers have reached the point where only one can return to the Big Apple next season.  Let's break it down and see which one should start packing his bags.
The History of Torts and Richie
Richards has played most of his career – 755 out of 993 games – under John Tortorella, both in Tampa and in New York. Along the way, he's picked up a Conn Smythe, a Lady Byng Trophy, and a Stanley Cup in 2004.  Torts reaped the benefits of his star center's efforts, earning a Jack Adams Award the same year.
The pairing was split in 2008, when Richards was dealt to the Stars at the trade deadline.  After three full seasons in Dallas, Richards was set to hit the open market as a free agent. Numerous suitors came calling, literally.  The Prince Edward Island native and his management team set up shop in Missisauga, Ontario, where they courted a number of GMs from around the league.  Ultimately, Richards opted for a Broadway reunion with his former coach. The deal?  Nine years, $60 million.
Reunited and It Feels So…  well…  Okay, I Guess.
Broadway's newest star debuted with the team on October 7, 2011.  With points in his first five games, it looked like he'd be a hit.  For the most part, he was.  Despite posting his lowest points-per-game in over a decade (0.80), Richards helped the Rangers finish atop the Eastern Conference. His 41 assists and nine game-winning goals led the team. Even in the postseason, New York's newest acquisition paced the club, leading them in goals (6), assists (9), and points (15). Despite his scoring struggles, the team had a solid year. One they hoped to build on.
The lockout and subsequent lack of training camp certainly didn't help the team when the 2012-13 season finally began. It also did nothing to help Richards break out of his continued statistical decline.  The losses piled up for the Rangers… and for Richards.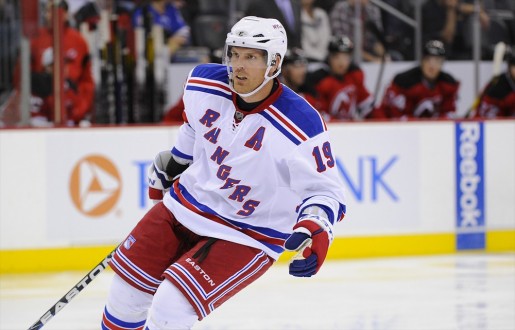 He lost his scoring touch, posting a career-low points-per-game of just 0.74. He lost the first-line center role to third-year forward Derek Stepan, who led the Rangers in scoring.  He lost the winger he was acquired to set up in Marian Gaborik, dealt to the Blue Jackets at the trade deadline.  He lost the job as second-line center to Derick Brassard, coming from Columbus in the Gaborik deal.  He lost the ice time he was used to, dropping from over 20 minutes a game down to less than 15. In the Rangers' Game 3 playoff loss to the Bruins, he saw only 5:58 of ice time at even strength. He even lost his girlfriend.  Is there anything left for him to lose?
Ineffective and overpaid, Richards is stuck, as are the Rangers. Once again, a high-profile free agent acquisition was unable to succeed in New York, failing spectacularly and hitting career-lows on the scoreboard. (See also: Scott Gomez, Chris Drury, Bobby Holik, etc., ad infinitum.)  Do the bright lights of Broadway shine too brightly for its expensive mercenaries?  Or is it the sheer weight of their bloated contracts – and the astronomical expectations that accompany those deals – that crush the talents and abilities of otherwise-solid hockey players?
The Cost of Cutting Your Losses
If you determine that it's the player's fault, you have to cut your losses.  Those losses, though, are substantial.  Thanks to the near-CBA-circumventing structure of the deal, Richards has already received a significant chunk of his money.  His cap hit of $6.7 million per year is spread out over the life of the contract, but the actual salary payouts and signing bonuses are front-loaded.  Through this season, Richards has already been paid $24 million of the $60 million he was due to be paid over nine years. An amnesty buyout would cost the team another $24 million (based on the 2/3rds buyout calculation), though it would avoid any cap hit.  That's $48 million for two – no, one-and-a-half – seasons of play.   That's $48 million for 36 goals and 64 assists in the regular season, which works out to $480,000 per point.  It'd end up being a very expensive two-year disaster — and a very profitable two years for Richards.
Buying out Brad Richards creates a major problem for Rangers' General Manager Glen Sather. It forces him to admit he made yet another high-priced mistake.  There's no lockout or CBA negotiations to allow him to turn over the roster.  There's no Bob Gainey to fleece in a trade.  With one mark against him for the Drury buyout – which is still on the books through this season – this can't feel good for Glen Sather.
If Sather doesn't want to admit that he's wrong – if he thinks Brad Richards can somehow return to a higher level of play – there's only one other place to lay blame:  Head Coach John Tortorella.
Is it the player? Or is it the coach?  Thursday, we'll take a look at whether it's the coach that needs to go.
[ With Tortorella having been relieved of his coaching duties, no need to explore that possibility further…  For the record, I still think Richards has played his last game as a Blueshirt]
---
Follow Josh on Twitter – @joshsmith29
---
Josh is a life-long hockey fan. He grew up as a fan of the New York Rangers, but thanks to their general mismanagement and years of mediocrity, has developed a great appreciation for every team across the league.
He's been writing about hockey on various sites since 1995. In addition to his work at The Hockey Writers, he also keeps tabs on the referees over at ScoutingTheRefs.com.