Henrik Lundqvist is onboard with the Rangers' rebuild that should really begin to pick up steam in the next few months. That might mean sitting and watching it happen more than The King would prefer over the next few seasons.
The irony of the goaltender whose number will one day hang in the rafters of Madison Square Garden being committed to the Rangers' focus on the future is that such an admirable stance may very well require Lundqvist to gradually begin to step aside.
Not substantially at first, of course. On the books for three more seasons at an annual salary cap hit of $8.5 million, a cynic might suggest that Lundqvist couldn't go somewhere else even if he wanted to.
No, he'll certainly be seen as a stabilizing force in goal for a young team in 2018-19, and this first-class athlete has proved this season that he isn't going to complain about poor defense in front of him after facing a nightly barrage of shots. It seems likely that Lundqvist will continue to have plenty of nights like that next season with young defensemen going through the arduous and lengthy process of learning how to succeed in the NHL (though in fairness, the Rangers' veteran blueliners weren't much better at defending the net than the youngsters were in 2017-18).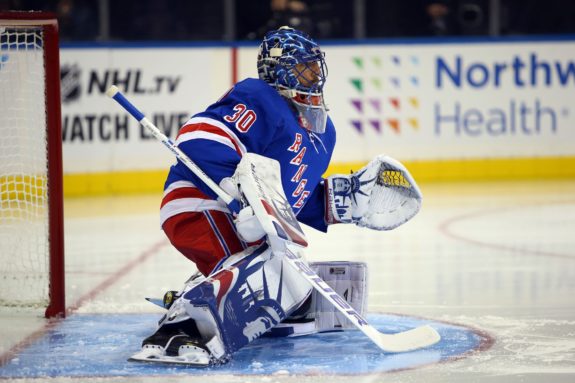 But a youth movement is a youth movement, and management's mission to build a team for the future and to move beyond the past has swept through the roster since the trade deadline. Even the goaltender isn't exempt, and fans and management appeared to get a very promising look at Lundqvist's possible eventual successor and will continue to do so – if, as expected, the team decides to proceed with the encouraging experiment with youth in goal that began late this season.
Georgiev the Future in Net?
Alexandar Georgiev's results in 10 games were a bit uneven, but the 22-year-old showed enough promise and poise in big moments to open eyes among management. Georgiev went 4-4-1 with a 3.15 goals-against average in those games and 3-1-0 when facing 40 or more shots, allowing as many as three goals only twice in those four contests.
The 37-save effort in the Rangers' 4-3 overtime victory over Pittsburgh on Mar. 14, in which he stopped a questionable penalty shot awarded to Evgeni Malkin with 11 seconds remaining in regulation, is difficult to ignore.
"Your heart kind of drops when you find out it's a penalty shot, but (Georgiev) did an unbelievable job," forward Chris Kreider told NHL.com after the game. "He's been so good for us. He battles. It's easy to play in front of a guy like that."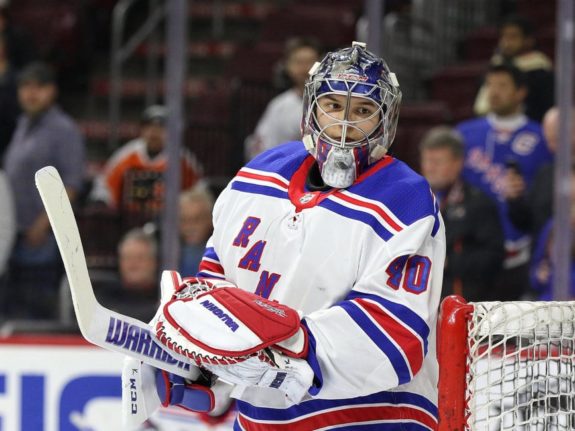 So it seems that the plan to gradually work youngsters into key roles and minutes is going to apply in goal, too. Whether it's the confident Georgiev or the organization's top goalie prospect, Igor Shestyorkin, it appears that Lundqvist will play mentor and supporter to his potential replacements as he waits patiently for the Rangers to become competitive again.
At least, somewhat patiently.
"Next year has to be about winning and nothing else," Lundqvist told The New York Post. "I understand that the end now has been about the young guys getting used to the league and getting confidence, but next year is not about the process.
"It's about winning games."
Perhaps, but that hinges on how fast younger players develop and whether general manager Jeff Gorton and Co. want to be aggressive in free agency. It also seems unlikely that Georgiev (or Shestyorkin) won't be allowed to continue/begin their development while handing a decent amount of the workload.
Lundqvist's Workload Might Start to Decline
So, how much will The King play in 2018-19?
It's worth remembering that a priority of coach Alain Vigneault – and John Tortorella before that – was limiting Lundqvist's regular-season workload, the goal being to keep him fresh going into the playoffs. That obviously won't be the stated preseason priority next season, but attempting not to wear down a 36-year-old goaltender – he'll turn 37 on Mar. 2 – remains a sound strategy.
This time, the added benefit is playing an up-and-coming youngster(s), rather than a veteran backup, if again the club decides against signing one.
While Lundqvist will finish with just over 60 games this season, more or less in line with his typical totals, the vastly different circumstances now surrounding the Rangers – and Georgiev's mostly strong work – might indicate that's about to change.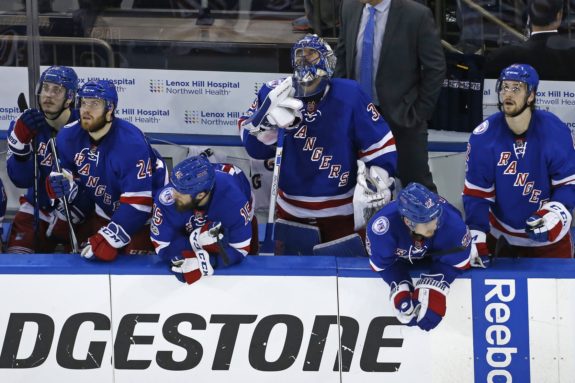 It's possible Lundqvist won't even hit the 60-game mark next season – and that would be OK. As unpleasant as it might be, the club needs to think about a successor to the best goalie it's ever had, and employing Georgiev or Shestyorkin for only a handful of games wouldn't be a responsible approach for a young player that needs experience and would be better served getting it in Hartford if he isn't going to get much in the NHL.
Could we see Lundqvist fail to hit 60 next season, then a more or less even distribution of games played between he and another goalie the following one, and a continued shift in workload in 2020-21, that being the final year of his contract?
That might not be what Lundqvist envisioned when he told the New York Post that "I'm in" for the rebuild on Broadway. With the Rangers looking forward, though, it seems quite possible that management sees The King's situation that way.