The following feisty players get it done on and off the ice. In this case, off the ice is the 2 to 5 minutes they spend per visit in the sin bin after a minor or major infraction – a place they know very well indeed. We are definitely not talking Lady Being candidates here! The toughest NHL Players
For this review, I have arbitrarily chosen 100 PIM per 82 games last season (pro-rated as necessary) as the minimum amount to qualify for these rankings.


Let's take a look at the Top 10 forwards first, with a follow up article on the Top 10 defenseman in this category to come.
10. David Clarkson: He stepped up his game in his second full season, almost becoming a member of the elusive 20-20 club; 20 goals and 20 fighting majors – falling just 3 goals shy. It'll be interesting to monitor if he can turn that trick this season. In the following tilt, Clarkson does what a good many hockey fans would love nothing more to do – throw headshots at Sean Avery.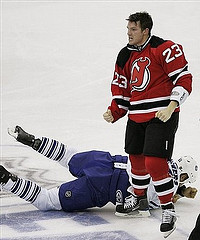 httpv://www.youtube.com/watch?v=EoytsAY5bvA
9. Brandon Dubinsky: The two-way forward possesses leadership skills and does what he has to do to help his team win. He notched 41 points on the year to go with 112 PIMs. One of his greatest games of the season came on November 24, 2008, when he scored a Gordie Howe hat trick against the Phoenix Coyotes. He squared off against Daniel Carcillo protecting the Rangers' netminder Henrik Lundqvist in the first, taking a 5 minute major for fighting to get the donnybrooks portion out of the way. In the second period, he then scored a wraparound goal, which turned out to be the game winner. Dubinsky then completed the 'Gordie' with an assist to Dan Girardi, who scored a power play goal from the blue line in the third stanza. The Rangers won the game 4-1 and Dubinsky along with Lundqvist and Zherdev were named the three stars. From Wikipedia, then "Ranger coach Tom Renney called the feat a 'Gordie Orr hat trick' claiming that Dubinsky 'didn't do that well in the fight."
8. Steve Ott:  "Otter" also landed the # 4 position in THW's Rafal Ladasz's Top 10 Dirty Players list. The abrasive and fearless checking forward registered an impressive 46 points in 64 games, while spending the equivalent of about 7 games (based on his ice time) in the penalty box. Ott showed some class and insight in picking up for Jarome Iginla in the Ethan Moreau accident/incident, stating Pat Quinn's subsequent comments were very harsh (Calgary Herald).
7. Milan Lucic: After his 1st place finish in THW's Top Hitters list, "Luch" might be a little disappointed with his placing here.  The 6'4", 220 lb savvy 2nd round pick of the Bruins recently had the Bruins show him the money in signing a 3 year, $12.25 million contract. Lucic's exploits in his breakout sophomore campaign are well documented. 42 points in 72 regular season games and 9 points in 10 playoff games, all managed while spending 136 minutes as a sin bin, front row spectator.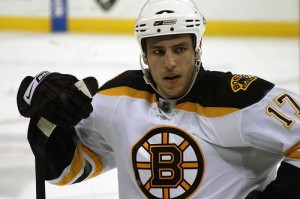 6. Alexandre Burrows: From an undrafted QMJHL grad to being named Canada's top ball hockey player in 2006 to Canucks role player to Canucks unsung hero. This agitator supreme has added a scoring touch to his game with a breakout 28 goal campaign and has already scored 3 goals in 5 games this season, spending some time on the top line with the Sedins. The gritty, pesky two-way forward finished tied for 17th in the league with 150 minutes in the sin bin.
5. David Backes: Amazingly, the only player to finish in the top 10 in the NHL in total penalty minutes, but with less than 5 fighting majors. He had three fighting majors. Shane O'Brien's nine fighting majors made him the only other in the top 10 with less than 10 fights under their belt.
4. Scott Hartnell: "Bird Dogg" (his nickname) has been in the sports headlines recently for allegedly snacking on Kris Letang's finger. Hartnell continued to rack up the penalty minutes last season and was also a 30:30 man – notching 30 goals and 30 assists. The young power forward is known for his poise, defensive play and versatility – able to play all three forward positions.
3. Corey Perry: One-third of THW's proclaimed third best line in hockey, is a deft stick-handler with outstanding offensive instincts. He maintains his agitator ability, but will likely be looked upon to decrease his penchant for taking bad penalties. You don't want to take away from a player with his ability on how he plays the game, but the Ducks need this guy on the ice and not taking in the great views the sin bin has to offer.
2. Brenden Morrow: It was almost easy to overlook Morrow given that he only played 18 games last season. The ultracompetitive forward made his presence felt in those games though with 15 points and 49 PIMs – on pace for 223, which would have been good enough for second in the league. The captain of the Stars is one of the best two-way power forwards in the league. His presence was sorely missed last season with his knee injury. He is out of the blocks fast this season with 5 points in 4 games.
1. Ryan Getzlaf: It's quite amazing to see a guy who registered 91 points, good enough for 6th in league scoring, to be even be mentioned amongst these guys, let alone come out on top of the list. Getzlaf is a rare blend of a power physical player with one with a superior offensive acumen for the game. The 24 year old's game also seems better suited for the professional game than the junior game. He has taken his scoring to the next level since arriving in the big league. Like the 3rd ranked Corey Perry (his linemate), Ryan is not immune from taking a bad penalty. If he can cut some of those bad calls out of his repertoire, you have to think this young gun can crack the 100 point plateau.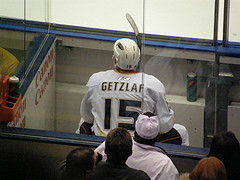 *Honorable Mentions:
Ethan Moreau: Oiler Captain is a great leader and steps up for teammates physically and is not shy of fisticuff action either.
B.J. Crombeen: The Blues somehow sneaked this former 2nd round pick off waivers from the Stars and after joining the Blues he chipped in with 11 goals in 66 games. The physical forward had 16 fights for the year as well.

Ben Eager: The 6'3", 227 lb physical energy forward was 13th in the league in PIMs, while scoring 11 goals in a support role with the Blackhawks.