Goaltending is often considered the most important position in hockey. For some teams early in the 2018-19 campaign, they're starting to feel the effects of mediocre netminding.
With Sergei Bobrovsky being the most notable goalie to possibly hit the market in recent years, it's time to look at which teams might need some help. There are other tandems around the league where one goaltender might be looking for a new home, but for today let's focus on the teams that could use some help in net.
I'll preface the list by saying that it's subjective in terms of teams who have legitimate playoff aspirations. Teams like the New York Islanders who have average goaltending at the NHL level were left off of the list because they don't have realistic playoff expectations this year. Not to mention, they also have one of the best goaltending prospects in the league in Ilya Sorokin.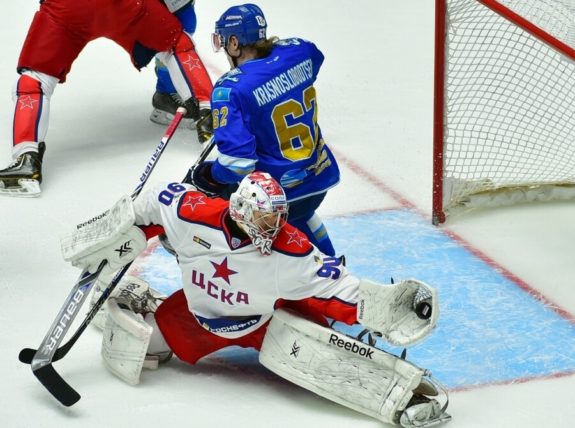 Other teams, such as the Vancouver Canucks and Detroit Red Wings, also don't make this list. Even though their goaltending at the NHL level is questionable, both teams have decent goaltending prospects and probably won't add a goaltender this season.
Teams like the (spoiler alert) Philadelphia Flyers do make this list. Even though Carter Hart is in the organization, the Flyers playoff hopes this year could be dashed because of goaltending. Hart, who just turned 20, might not be the saviour in net for another year or two, and the Flyers are expecting results now.
Calgary Flames
If there was a vote for one of the most Jekyll and Hyde teams in the NHL so far this season, the Calgary Flames might take the cake.
There might not be a player who epitomizes that better than Mike Smith. The Flames netminder has had some wild variety in his performances. The 36-year-old had a 43-save shutout effort against the Nashville Predators on Oct. 9, but also gave up six goals on 21 shots to the Pittsburgh Penguins on Oct. 25.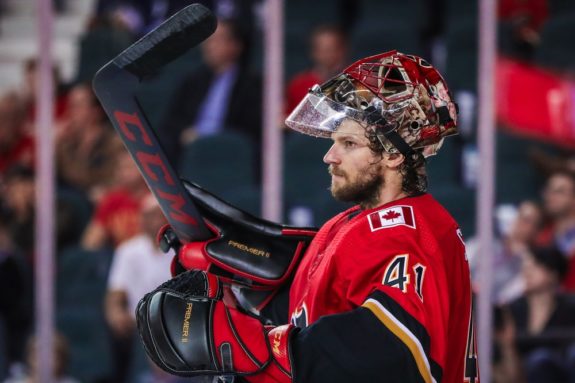 Behind Smith, 26-year-old David Rittich won the backup job, but it's likely no one in the organization considers him the long-term answer. This could be a question that doesn't get solved until the offseason, when Smith's contract is up. However, if the goaltending doesn't improve or gets worse before then, general manager Brad Treliving might be forced to make a move to keep his team in contention.
Carolina Hurricanes
It's the same story again this year in Carolina, except that now, the team feels closer to the playoffs than ever before.
They are outshooting teams by a wide margin, boast one of the best lines in hockey at the moment, and have a defence that stands out as one of the league's best. The one thing left to solve is who starts in net long-term for this team.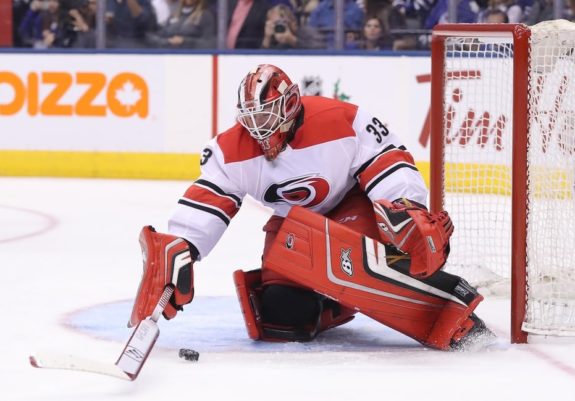 Current goaltenders Petr Mrazek and Curtis McElhinney both have sub-.900 save percentages. Scott Darling hasn't played yet, but last season was a forgettable one for him.
The bottom line is that, even with average goaltending, the Hurricanes should make the playoffs this season. If none of these guys can get the job done, and if Alex Nedeljkovic isn't ready for prime time, the Hurricanes will be forced to make a move.
Chicago Blackhawks
The Blackhawks arguably have the smallest need for goaltending among the teams on this list, but that all hinges on the health of Corey Crawford. This organization has seen what life looks like without Crawford, and it ain't pretty.
Cam Ward currently has an uninspiring .889 save percentage in seven starts this season. Even though he has improved in his last four starts, he shouldn't be trusted if Crawford gets injured again. Behind him, the Blackhawks have Anton Forsberg, who didn't inspire a ton of confidence last season either.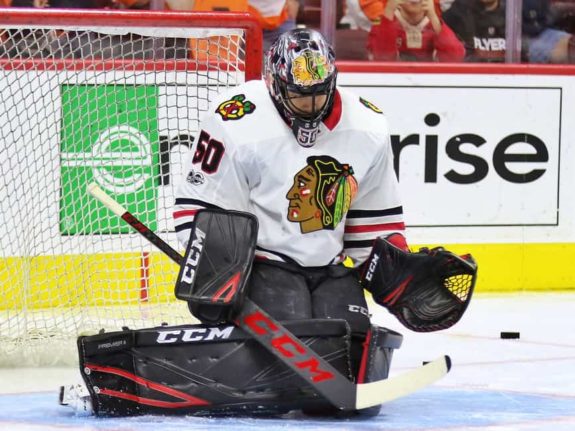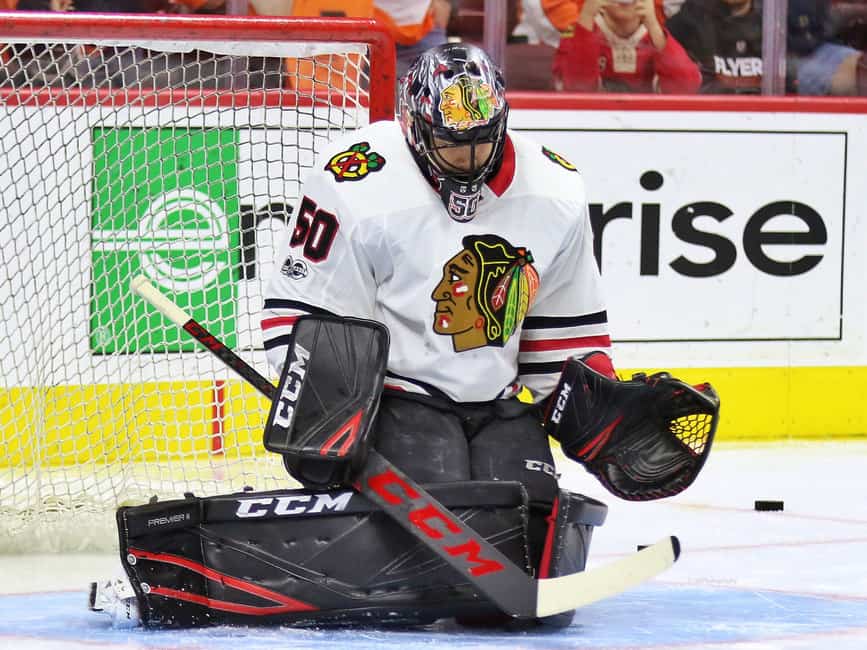 Crawford's health is a huge "what-if" for the organization. If he stays healthy, all is well. If not, the Blackhawks can probably kiss the playoffs goodbye once again.
This team needs solid goaltending to make the playoffs. Their defence is incredibly thin, and they currently give up the third-most scoring chances in the league at even-strength.
Florida Panthers
There probably wasn't a more devastating early-season injury than the loss of Roberto Luongo in Florida. After suffering an MCL sprain not even 60 minutes into the season, the Panthers have suffered from an uninspiring tandem of James Reimer and Michael Hutchinson.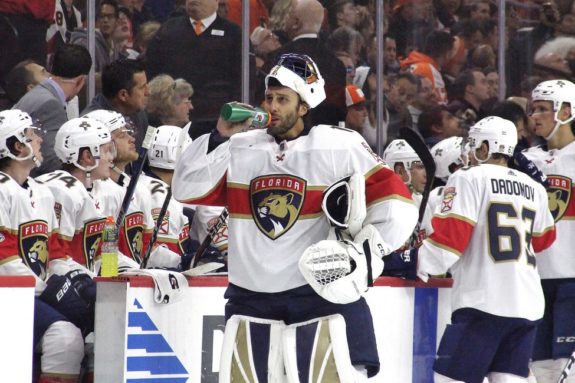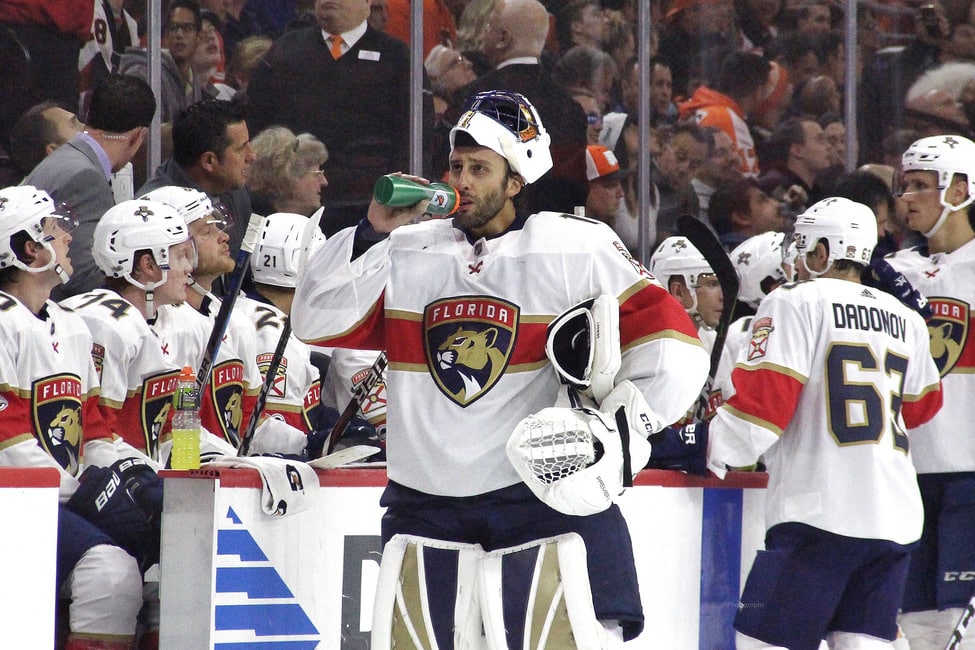 The Panthers are in a similar position to the Blackhawks, except that Crawford should have more in the tank. At 39 years old, there should be serious questions about Luongo's health moving forward. When healthy, he's shown that he can still play at an elite level, but he's also suffered from enough injuries that we can start to question how much he has left.
General manager Dale Tallon does have pieces in place to make a move. They have good forward depth and some intriguing prospects. The other option is that they might turn to Samuel Montembeault sooner rather than later, but at 21 years old he's still fairly unproven in terms of what he could do at the NHL level.
Philadelphia Flyers
Ron Hextall has shown a penchant for patience during his time as the Flyers general manager. His steadfast patience has been ironic considering who he was as a player, but his patience with the Flyers goaltenders has been tested early in the season.
Calvin Pickard, Brian Elliott, and Calvin Pickard have a combined .864 save percentage through 11 games this season. They've allowed more than three goals in eight of those 11 matchups, and their 46 goals-against is the worst mark in the league.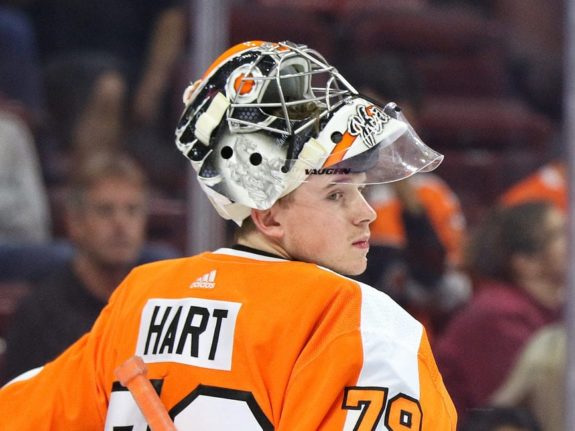 Even though the Flyers have enough talent to be a playoff team, their goaltending could turn them into this year's version of the Islanders. The difference between the 2017-18 Islanders and this year's Flyers, is that the Philly defence at least gives their goaltenders a fighting chance. Philadelphia has allowed the tenth-fewest scoring chances, yet their team save percentage ranks dead-last.
Carter Hart is the goalie in waiting for the Flyers, but he just turned 20 and is in his first pro season for the Lehigh Valley Phantoms of the AHL. Unless the Flyers plan on writing off this season, they might want to search for a goaltender to lead them to the postseason.
St. Louis Blues
After a bevy of offseason moves, the St. Louis Blues were primed for a return to the playoffs. The one glaring question mark remaining for the organization, was which Jake Allen would show up for them?
So far in 2018-19, it hasn't been the good one.
In nine starts so far, Allen has a .874 save percentage. He's been lucky to have only two regulation losses in nine starts for the Blues (3-2-3). A large chunk of that is due to the Blues offence being eighth overall in goals-for (36).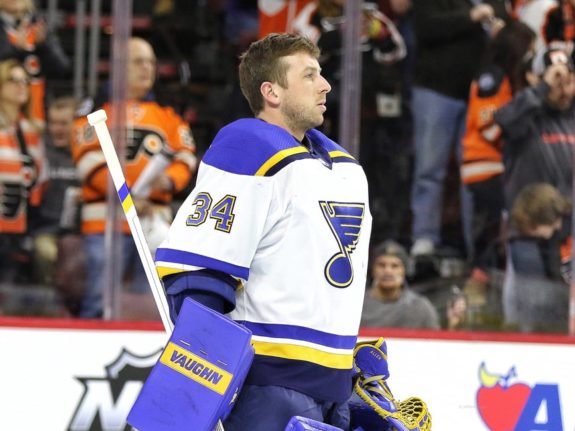 Allen's struggles have been evident for a while now. Between Jan. 1 and the end of last season, Allen posted a .896 save percentage in 26 games. It's certainly safe to wonder how secure his job is moving forward.
The Blues, much like many of the teams on this list, have the talent up front and on defence to make the playoffs. They do have a promising goalie prospect in Ville Husso, but Allen was once a promising prospect at the same age. St. Louis might be hesitant to hit the goaltending market after the Ryan Miller experiment in 2014, but their lack of competent goaltending will surely have them missing the playoffs in an ultra-competitive Central Division.
KPU Journalism Graduate. Trevor has been writing for The Hockey Writers since October 2014. He has contributed articles related to the Ottawa Senators, Vancouver Canucks, and other issues/stories regarding the game of hockey. Trevor currently lives in White Rock, B.C.