The '12 Days of Christmas' is a classic holiday song first published in its current form in 1908. In a nod to the classic carol, join The Hockey Writers as we count down the 12 Days of Hockeymas. Each day, we will provide you with a piece of hockey history as we eagerly await the start of the 2020-21 NHL season.
Other Oilers Hockeymas Articles:
Ever since the team's inception, the Oilers have had a wealth of great players don their uniform. No fewer than nine of whom have gone on to be inducted into the Hockey Hall of Fame. Everybody knows that Wayne Gretzky is the greatest Oiler of all-time, but where do the other eight Oilers' Hall of Famers fall?
On the eighth day of Oilers Hockeymas, I give to you, a ranking of the Oilers' other eight Hall of Famers!
8. Adam Oates
Joining the Oilers in the twilight of his career, Edmonton fans never got to see Oates in his prime. At his peak, he was one of the greatest playmakers of all-time, amassing over 1000 assists in his 18-year career. But with the Oilers, he was nearing the end of his time in the NHL and wasn't in the best physical shape of his career.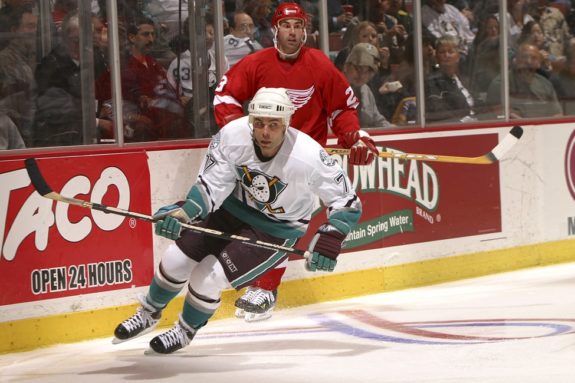 As an Oiler, Oates didn't bring much offense to the table, scoring only two goals and 18 points through 60 games. What he did provide the team with was much needed veteran leadership. (from 'Washington coach Adam Oates remembers his swan song as Oiler center,' Edmonton Journal, 23/10/2013) When he arrived on the scene, the Oilers were in a transitional period, marked by playoff misses and early exits, no longer seeing the success they'd had in the '80s and early '90s.
Players like Ales Hemsky and Shawn Horcoff, who would become key figures in the Oilers' locker-room for years to come were just entering the league and Oates mentored them, imparting onto them the wisdom he'd picked up from a long NHL career.
While Oates only spent one season with the Oilers, a season in which they were eliminated from playoff contention in their final game. The effect he had on the Oilers locker room is one that made a difference for years to come.
7. Chris Pronger
Similar to Oates, Hall of Famer Chris Pronger only spent one season with the Oilers, but unlike Oates, he was in his prime when he joined the team. Acquired by trade in 2005, he was only a few years removed from his incredible 2000-01 season where he scored at nearly a point-per-game pace and took home both the Norris Trophy for the best defender and the Hart Memorial Trophy as league MVP.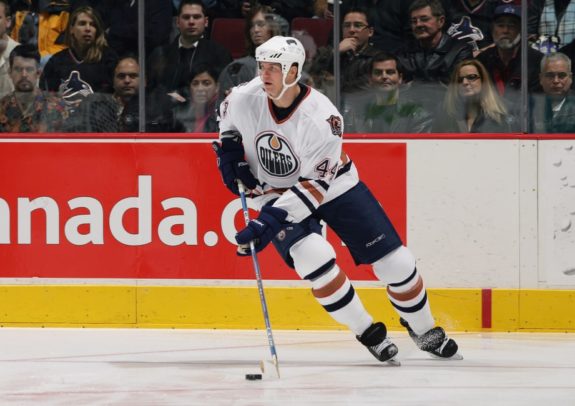 As an Oiler, Pronger continued his incredible form, finishing in the top 10 in Norris Trophy voting while logging massive minutes, averaging just under 28 per game. With Pronger at the helm, the Oilers would squeak into the playoffs as the eighth seed in the Western Conference, going on an unlikely Stanley Cup run. In the postseason, he upped his game to a whole new level, leading the Oilers in points and helping them get to Stanley Cup Final where they were ultimately stopped in Game 7 by the Carolina Hurricanes and a red hot Cam Ward.
6. Kevin Lowe
Unlike the previous two Hall of Famers on this list, Lowe was a long-time Oiler, playing over 1000 games with the team. While he was never the driving force behind any of the teams he played on, he was an integral player in all five of the Oilers' Stanley Cup victories.
While the cup-winning Oilers teams of the '80s have a deserved reputation for being offence first, it was Lowe's job to keep things steady on the back-end and be a rock defensively.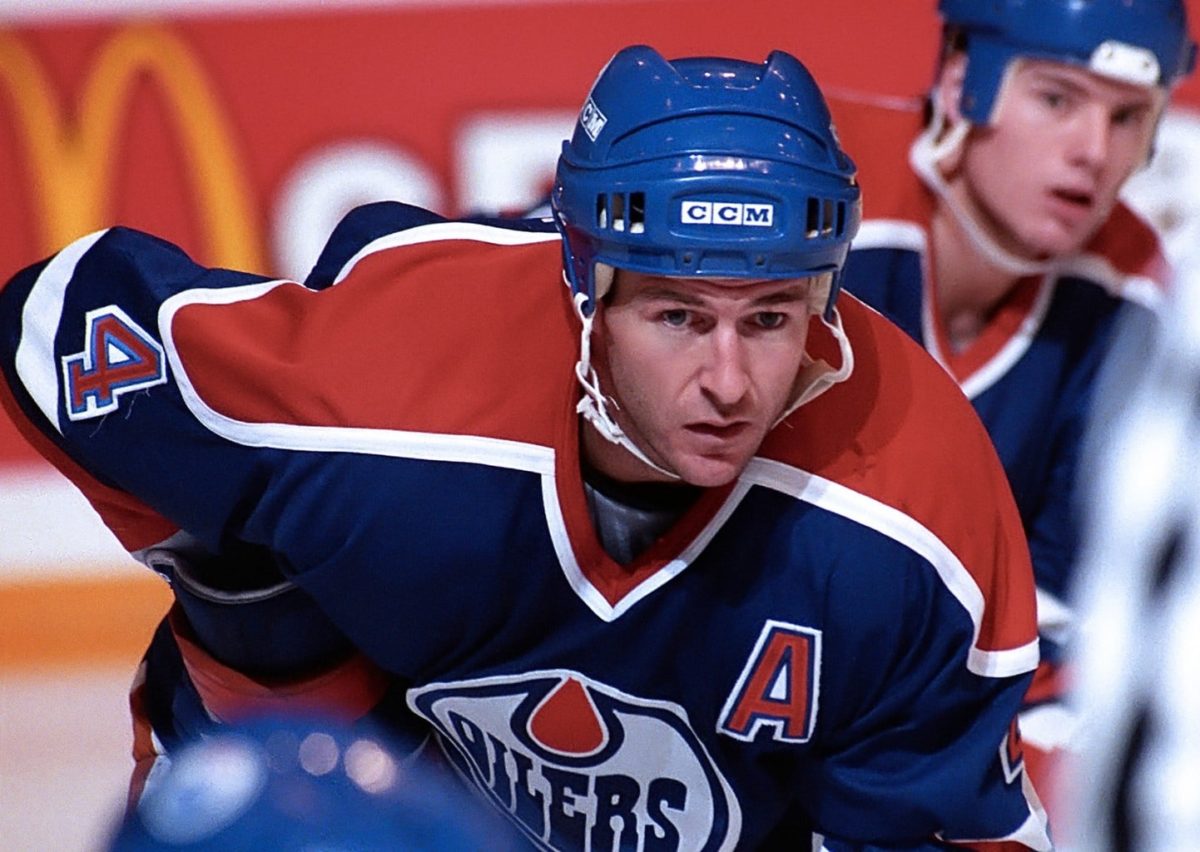 Lowe played in two stints with the Oilers, briefly serving as the team's captain after Mark Messier departed the team for New York in 1991. After his long career, he worked in various managerial positions, eventually landing a job as general manager of the Oilers. Lowe's eight-year stint as GM from 2000 to 2008 resulted in only one deep playoff run, being the 2006 Cup Final run, and he eventually handed the mantle of GM to Steve Tambellini after being promoted to President of Hockey Operations.
Lowe's selection to the Hockey Hall of Fame this past year was one of the more controversial ones, but he is undoubtedly an Oilers' great and without him, the team's Cup runs would have been far more difficult.
5. Glenn Anderson
An all-time great goal scorer, Glenn Anderson stepped onto the scene with the Oilers during the 1981-82 season, immediately establishing himself as a scoring threat. As a rookie, he put the puck in the net 30 times through his first 58 games. He would only get better in his 12 season tenure with the Oilers, where he would tally over 400 goals and more than 900 points.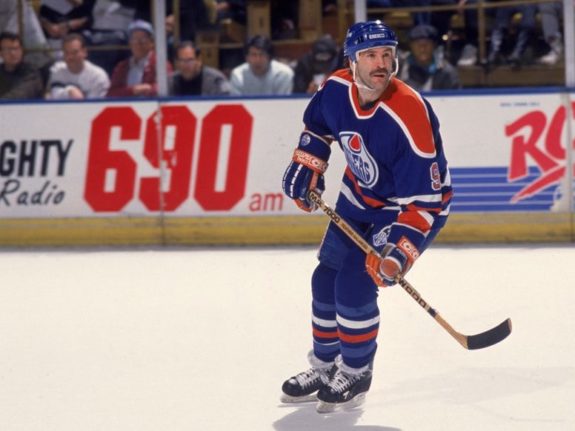 Anderson was a key member of the Oilers' dynasty teams and his performance in the team's playoff runs were essential to the four Stanley Cup wins that he contributed to. Scoring at a torrid pace and notching a number of key goals, he earned himself a reputation of being one of the greatest playoff performers of all-time. Of his 93 playoff goals, 17 of them were game-winners, tied for the sixth most playoff game-winning goals of all-time.
4. Grant Fuhr
Another Hall of Famer from the Oilers' dynasty teams, Fuhr was the backbone of Edmonton's dream team. With the run and gun style that the dynasty Oilers teams played, they needed an excellent goaltender between the pipes to prevent their opponents from capitalizing on the counter-attack. That security is exactly what Fuhr provided.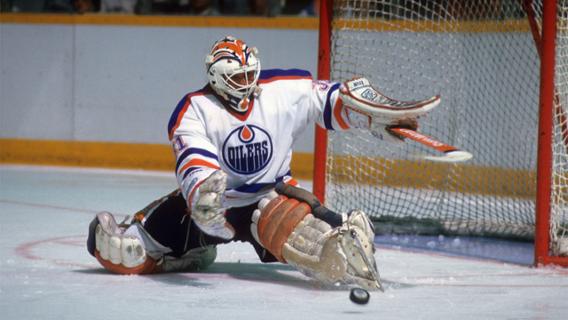 Despite his numbers being unspectacular for his era, as a result of the many chances he'd face on a nightly basis, Fuhr was recognized as being one of the greatest goaltenders of his time, finishing top ten in Vezina Trophy voting seven times during his 10 seasons with the Oilers, and winning the trophy once. In what was arguably his best season, in 1987-88, he finished second in Hart Trophy voting, falling behind only Mario Lemieux, making him the first goalie in seven years to finish that high in Hart voting.
"That's what [Glen Sather] taught us, you do what you do best," Fuhr said. "We knew we were going to give up some chances, you knew you were going to get work every night. You weren't going to stand around and get 15, 16, 18 shots on net. You knew you were going to get 35 every night, and that was OK."

[NHL.com]
One needs only to look at Fuhr's trophy case to see why he's a legendary goaltender. With five Stanley Cups, Vezina and William M. Jennings Trophies, six all-star berths, and six NHL records, there are only a handful of goalies more decorated than he is.
3. Jari Kurri
One of the most balanced players ever to play the game, Kurri was a danger to score every time he stepped out on the ice. Serving as the right-hand man to the "Great One," he almost always found himself in the right place at the right time to receive a pass from his linemate and threaten opposing goaltenders with his booming one-timer. His elite shooting and his ability to get to the right areas allowed him to hit the 40 goal mark seven times, lead the league in goals once, and become one of only nine players to score 70 or more goals in a single season. His scoring was a driving force behind all five of the Oilers' Cup wins, as he led the team in scoring in each of their Stanley Cup runs.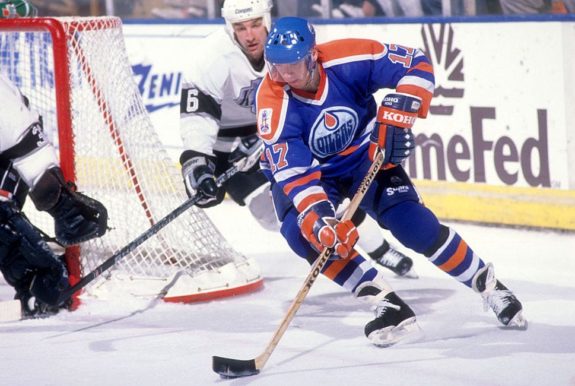 Despite his scoring prowess, Kurri wasn't all offense. When the other team had the puck and was looking to create offense of their own, he would backcheck hard to break up the play. Although he never won the award, he finished top five in Selke Trophy voting four times and rightfully earned a reputation as one of the top two-way defenders of the 1980s.
2. Paul Coffey
Arguably the most talented offensive defenceman of all time, Coffey was the perfect fit for the Oilers' dynasty teams. With his explosive stride and elite passing, he enabled his teammates in a way that no other defenceman could. By his second season in the NHL, he was already an electric player. That year, he put up 89 points, which at the time was the tenth highest-scoring season by a defenceman.
Coffey would lead all defenders in points in five consecutive seasons with the Oilers, from 1981 to 1986, amassing a whopping 570 points over that span. One of only five defencemen to score 100 points or more in a season, he hit the centennial mark five times, three of which came with the Oilers.
While it was commonplace for Coffey to send a breakout pass to Gretzky or Messier, giving them the opportunity to score, he was a threat to score himself. Possessing an extremely accurate shot, he scored 209 goals as an Oiler, setting the record for most goals by a defender in a single season along the way. That wouldn't be the only record he would set. By the end of his career, he owned 36 NHL records, as well as a very full trophy case, headed by three Norris Trophies and four Stanley Cups.
1. Mark Messier
One of the NHL's most prolific scorers ever, Messier compiled 1,887 career points, the third-most by any player in history behind only Gretzky and Jaromir Jagr. Over 1,000 of those points came with the Oilers, where he was a driving force behind the team's success.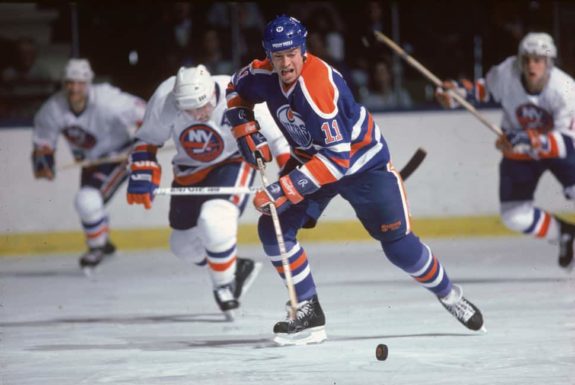 Messier excelled in all aspects of the game and could strip a player of the puck in his own end, thread the needle for the breakout pass, lay a heavy hit along the boards, and rifle the puck into the net, all in one shift. A two-time MVP that was blessed with size and skill, he was every coach's dream.
Not only a great hockey player, but Messier was also one of pro sports' greatest leaders. Working and playing hard, he led by example and motivated his teammates, drawing out of them an especially high level of play. His leadership was essential in each of the Oilers' Stanley Cup wins, especially in their fifth, where he led the team to do something that critics doubted they could… win a Cup without Gretzky.
Moving on from a franchise player is a tough blow for any team, even more so when that franchise player is Gretzky. But in spite of the loss of the greatest hockey player of all-time, the Oilers' off the back of an absolutely dominant performance by Messier were able to raise Lord Stanley's Cup once again.
"He was fundamentally a very good team-builder. I can't say enough about Mark Messier."

– Mike Keenan, Messier's former coach in New York and Vancouver
At the helm of the team, Messier scored 129 points in 79 regular-season games, leading the Oilers to the playoffs where he would continue his dominance and register 31 points en route to winning his fifth Stanley Cup.
Reflecting on Oilers' Greats
The Oilers have had a multitude of phenomenal players don their jerseys, with eight Hall of Famers playing for the team. These greats are often overshadowed by the "Great One" and don't always get the praise they deserve. From Oates to Messier, each Hall of Famer that played for the Oilers has made an impact and left their mark on the franchise in their own special way.
---
---