The Edmonton Oilers have now dropped six consecutive games, and have seen their playoff aspirations take a massive hit as a result. In February alone, the Oilers are 1-6-1 through eight games and are now 19 points out of the playoffs. If the Western Conference teams continue at their current pace (points-per-game), it could take 94 points for the Oilers to make the playoffs.
That means Edmonton would have to magically come up with 44 points in the remaining 25 games, or go 22-3-0 to keep pace mathematically. One thing they'd have to do during that miracle run would be finding a way not to allow the opposition to score on the first shot of the game. It's a mind-boggling stat how Edmonton has allowed the first goal on the first shot of the game 11 times this season.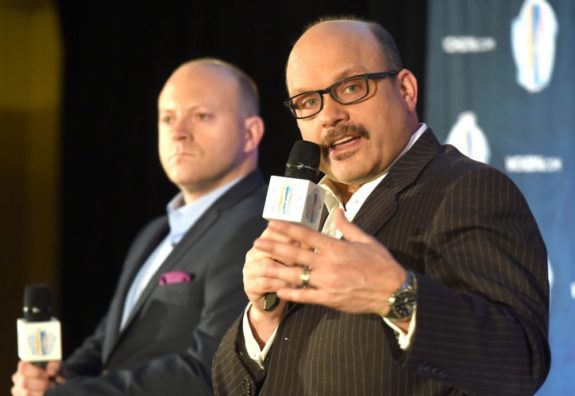 The Oilers are essentially sellers as the Feb. 26 trade deadline approaches. Patrick Maroon seems to be garnering a fair share of interest on the market as the two sides continue to negotiate a new contract. Darnell Nurse is also a priority this summer and will be a restricted free agent (RFA). Edmonton might be better off signing him to a short-term bridge deal, as some of the long-term comparables have set a hefty market price.
Related: Why the Oilers Aren't Making the Playoffs
It isn't all bad news for the Oilers, though. Kailer Yamamoto and Tyler Benson continue to have stellar seasons in the WHL and are giving hope for the future. Here are the rest of the headlines you may have missed out on this week.
Patrick Maroon & the Trade Deadline
While the Oilers and pending unrestricted free agent Patrick Maroon continue to negotiate an extension, his name is still within the rumor mill leading up to the Trade Deadline. A fan poll suggested that 57% of fans thought Edmonton should re-sign the left winger. Jim Matheson of the Edmonton Journal doesn't believe the Oilers should trade Maroon.
They'd need an adequate replacement and one that could still score 20 goals. Matheson, like many, believe Maroon is part of the solution in Edmonton, and not the problem. Elliotte Friedman believes the two sides will continue their dialog in hopes of finding a deal that works for both sides. If they don't, Friedman thinks the Oilers are working on contingency plans for the top-six power forward.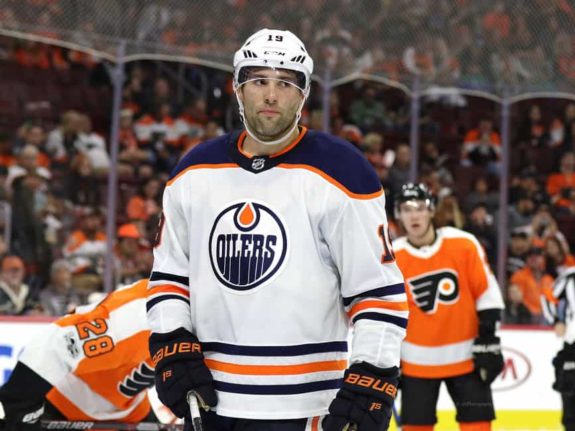 TSN's Frank Seravalli has Maroon at third on his Trade Bait board. Maroon doesn't have a no-movement (NMC) or no-trade (NTC) clause in his contract. His $1.5 million cap hit would be easily digestible for suitors as well. All that should help heighten the price to acquire him.
The Fourth Period speculates that Maroon could end up being traded to an Eastern Conference team. One of the teams apparently is the Pittsburgh Penguins, who also have interest in Mark Letestu. There are four other teams from the East that may be interested as well. They go on to list the Boston Bruins, Columbus Blue Jackets, Philadelphia Flyers, and Tampa Bay Lightning.
Related: Patrick Maroon & the Trade Deadline
The Boston Bruins are a team many believe might be front-runners in the Maroon sweepstakes. He'd be an ideal fit as they've got some younger guys on the depth chart that would be great fits in Edmonton. Danton Heinen, Zach Senyshyn, and Anders Bjork come to mind. Edmonton can ill-afford to lose another scoring winger, let alone let one walk for nothing via free agency this summer.
Trading Maroon likely won't bring the Oilers a king's ransom, but they should still get decent value in return. The question now is if Chiarelli can bring back that value, or get fleeced by another rival GM. We don't need to remind everyone about the Tyler Seguin, Taylor Hall, and Jordan Eberle deals.
Kailer Yamamoto Is Tearing Apart the WHL
Kailer Yamamoto has been Edmonton's consensus top prospect this season and has set the WHL ablaze since returning to junior. The 19-year-old has put up 34 points in just 14 games since the WJC. Yamamoto now has 14 goals and 46 points in 27 games with the Spokane Chiefs. That's an impressive 1.70 points-per-game, which is the highest of any Oilers prospect in the entire CHL.
Yamamoto has had multi-point nights in five of his last seven games. On four different occasions this season he's had four or more points. Spokane has reaped the rewards of Yamamoto's dominance as well – the Chiefs are 7-1-2 in their last ten games. Yamamoto might be far off from finishing as one of the WHL's top scorers this season, but that doesn't tell the story.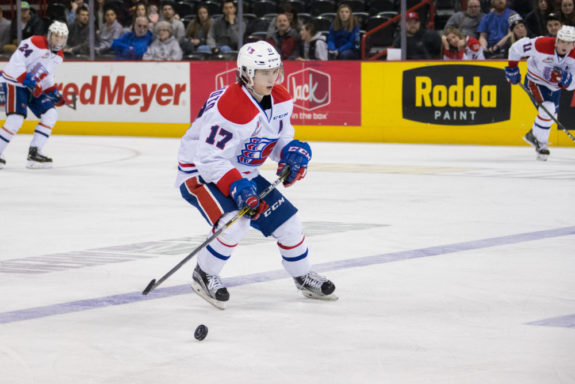 If you calculate his points per game with the same number of games as the WHL's leading scorer, Yamamoto would be a top-five scorer in the league. Glenn Gawdin currently leads the WHL with 104 points in 56 games.
He's been scoring at an incredible pace. You can only imagine the type of bump in production a guy like Jaret Anderson-Dolan would have if he had his linemate all season. For comparison's sake, think back to when the Oilers sent Leon Draisaitl back to junior midway through the 2014-15 season.
WHL TOP 5 SCORERS *IF YAMAMOTO PLAYED FULL SEASON*
Player
Draft
Jr. Team
GP
G
A
PTS
PTS/GP
Glenn Gawdin
116th, 2015, STL
Swift Current
58
50
59
109
1.88
Brayden Burke
Undrafted
Moose Jaw
53
28
74
102
1.93
Aleksi Heponiemi
40th, 2017, FLA
Swift Current
44
24
77
101
2.30
Jayden Halbgewachs
Free Agent, SJS
Moose Jaw
56
54
45
99
1.77
Kailer Yamamoto
22nd, 2017, EDM
Spokane
56
29
66
95
1.70
Related: Kailer Yamamoto Is Tearing Apart the WHL
Draisaitl joined the Kelowna Rockets, scored 53 points in 32 games, and ended up being named the Most Valuable Player at the 2015 Mastercard Memorial Cup. Right now, Yamamoto has a higher points-per-game average than Draisaitl's 1.66.
If Yamamoto played a full year in the WHL, he would've been the first player in Chiefs history to lead the team in scoring in three consecutive seasons. He has now moved into the franchise's top five for all-time assists and could be ranked amongst the top ten scorers in Chiefs history when the season is over.
Tyler Benson Back on Track for Oilers
Injuries have been the biggest concern for Edmonton's 32nd overall pick in 2016. Tyler Benson has been carrying the tag of "injury-riddled prospect" for a while but looks to be turning this around. He was limited to just 63 games over the course of two seasons and had double sports hernia surgery during the last off-season.
Related: Tyler Benson & the 2016 Oilers Draft Picks
He didn't skate at prospects camp, main camp, or for Team Canada at the Summer Showcase. After missing the first 12 games of the WHL season, Benson has regained some notoriety as a highly touted prospect for the Oilers. Since returning, Benson's played in 42 of 43 games for the Vancouver Giants and has 20 goals and 53 points in 44 games.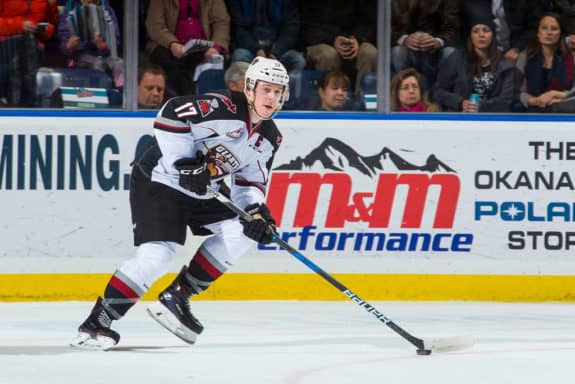 Only Yamamoto (1.70), and Kirill Maksimov (1.23) have a higher points-per-game than Benson's 1.21 when it comes to Oiler prospects. Benson has 17 multi-point games this season and has found chemistry with 2018 NHL Draft eligible prospect James Malm. If it's any indication of his success, Benson's points-per-game this year translates to 87 points over a full WHL season.
Related: Tyler Benson Back on Track for Oilers
Another judge of point production is the NHL-Equivalent (NHLE), which calculates what a players success translates to at the NHL level. Benson's NHLE is 29 points based on this year's totals thus far. Benson's NHLE is higher than what Jesse Puljujarvi is on pace for (25 points). It's more than what Jujhar Khaira (26), Zack Kassian (22), and Drake Caggiula (21) are on pace for as well.
That's not saying Benson is ready to step into an NHL job, but just that he might be closer to NHL-ready than some might anticipate. That's not to say Benson will play for the Oilers next year. He turns pro in 2018-19 and will be at the forefront of a complete retooling of Edmonton's farm system in Bakersfield.
What Will Darnell Nurse Cost the Oilers?
Another priority this summer is going to be re-signing defenseman Darnell Nurse. The 23-year-old is a restricted free agent (RFA) this summer and has already set several career highs in goals, assists, points and minutes played through just 55 games this year. Only Oscar Klefbom has averaged more minutes than Nurse this season.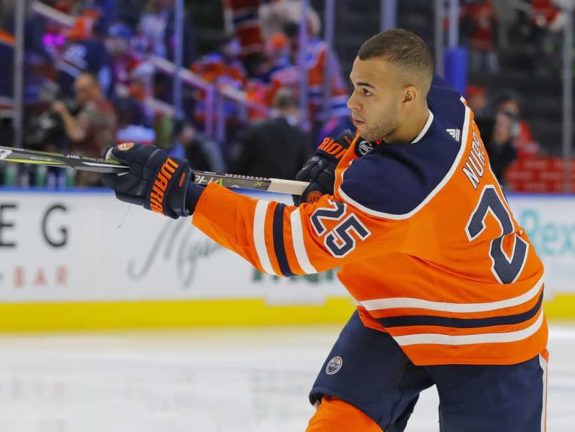 Nurse's emergence creates a dilemma. Despite having the sixth most expensive blue line in the Western Conference, Edmonton is still lacking a No. 1 defenseman. Its obvious Nurse is a part of the solution in Edmonton, but someone else might have to go to appease the cap situation. When you look at defensemen under the age of 25, and those coming off entry-level contracts you get a handful of comparables for Nurse.
CONTRACT COMPARABLES FOR DARNELL NURSE

PLAYER
AGE
TEAM
DATE
YRS
CAP
GP
G
PTS
TOI
CF%
Michael Matheson
23
FLA
Oct/17
8
$4.8M
53
6
19
20:57
47.9
Josh Manson
25
ANA
Oct/17
4
$4.1M
59
3
25
20:32
51.6
Damon Severson
23
NJD
Sep/17
6
$4.1M
54
9
17
19:21
51.7
Brett Pesce
22
CAR
Aug/17
6
$4.0M
51
3
14
21:02
52.6
Jaccob Slavin
23
CAR
Jul/17
7
$5.3M
59
5
17
22:48
52.9
Nikita Zaitsev
25
TOR
May/17
7
$4.5M
42
4
10
22:39
46.9
Jacob Trouba
22
WPG
Nov/16
2
$3.0M
50
3
20
22:10
50.4
Hampus Lindholm
22
ANA
Oct/16
6
$5.2M
46
8
19
22:43
53.1
Olli Maatta
21
PIT
Feb/16
6
$4.0M
59
3
20
19:01
52.2
Related: What Will Darnell Nurse Cost the Oilers?
The deals for comparables range from four to eight years in term, with the median number of years being roughly six. Excluding Trouba's bridge deal, the average value of the rest of the deals is $4.5 million. Using these comparables, is it fair to say the market value is a six-year $27 million contract? If Edmonton does that, they'll have $22.32 committed to just five defensemen for next season.