The 2022-23 season was a disappointing one for the Pittsburgh Penguins. They were inconsistent all season, in the playoffs and then out again down the stretch, and finally in the final week of the regular season, they were eliminated from the postseason for the first time since 2006.
In this series, we will look at groups of players, grade their season performance, and look at their future with the team, as the incoming general manager (GM) to be named assesses the situation. Here, we look at Jason Zucker, Jake Guentzel, and Brian Dumoulin.
Despite missing the playoffs, this season was a success for Zucker, who was healthy all season and saw his scoring touch return. For Guentzel, it was a bit of a dip, though still a solid year. But for Dumoulin, it was brutal at times, with the playoff absence just the final insult.
Jason Zucker Enjoyed a Rebirth
When Zucker played for the Minnesota Wild, he was a dependable 20-goal threat. But with the Penguins he had trouble staying healthy and managed just 17 goals in 79 games over two seasons. To say his turnaround this year was a surprise would be an understatement.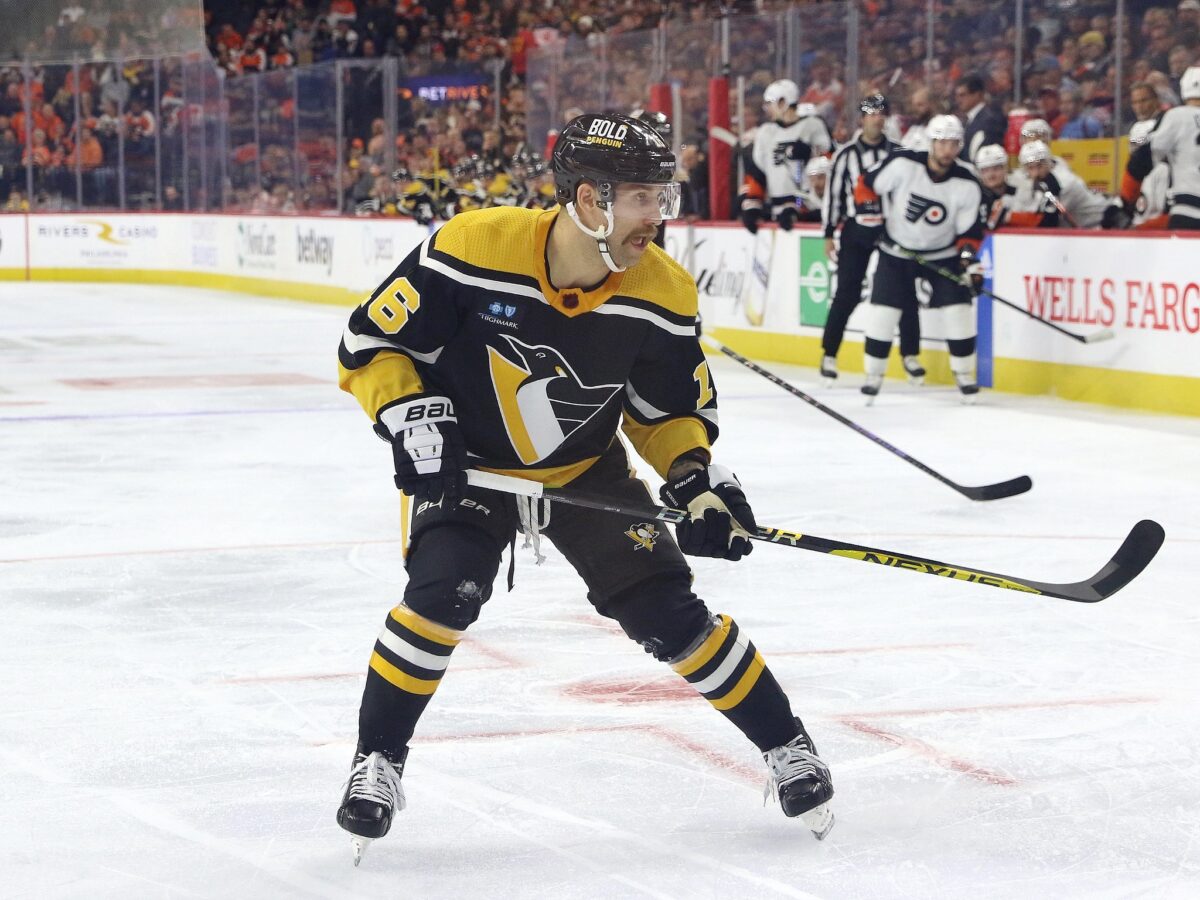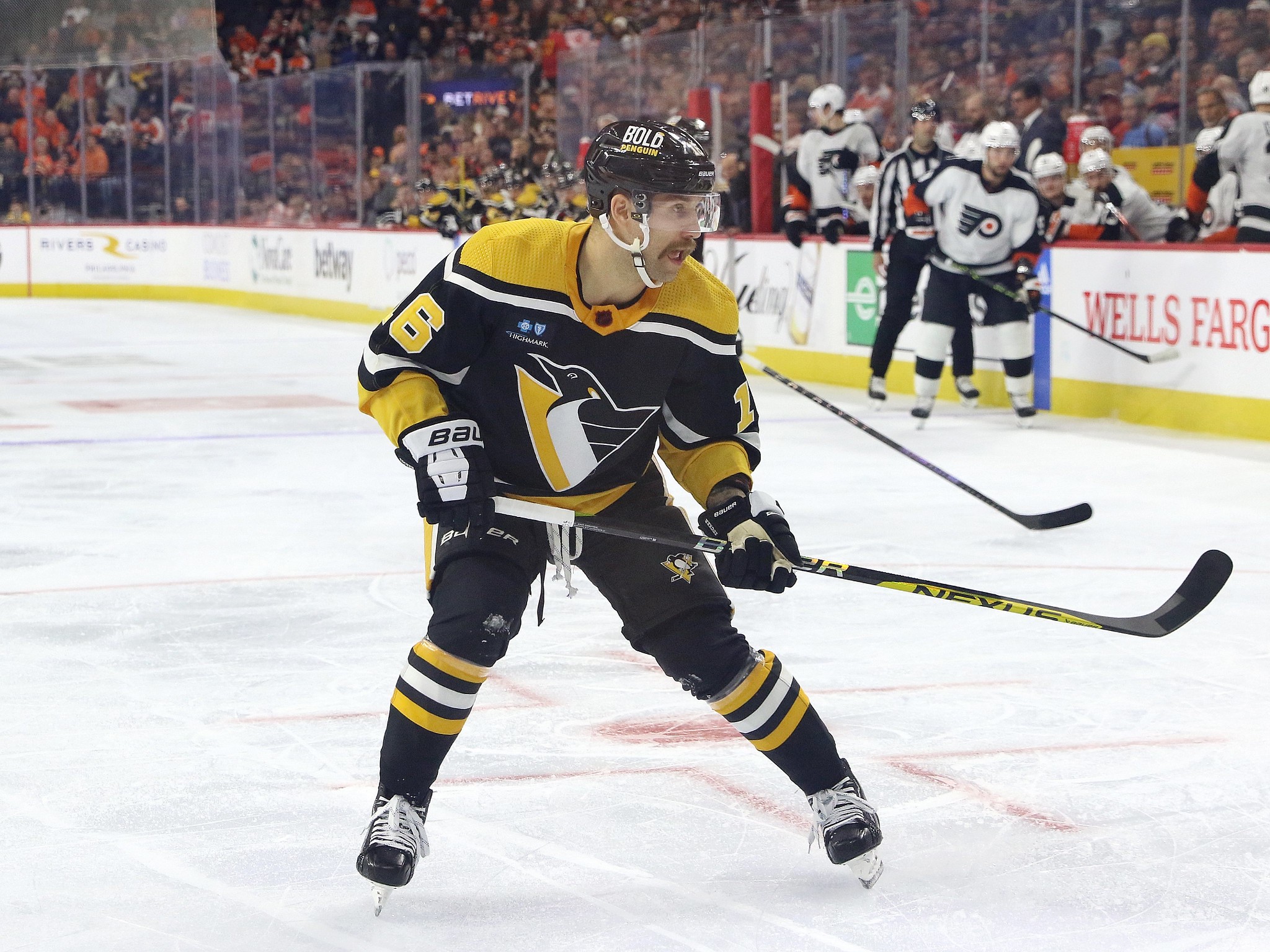 Playing on the second line with Evgeni Malkin, Zucker harnessed some of his center's "I'm score" energy and enjoyed a 27-goal renaissance season while leading the team with 197 hits. Not bad for a 31-year-old playing in the final year of his contract.
Zucker may have been a non-factor on the power play, but he tied Guentzel for even-strength goals with 25. He was also the man with the hot hand when the Penguins needed it. For a three-week span from Feb. 25 to March 12, the team went 7-1-1 with Zucker producing nine goals, two of which were game-winners.
Though he did cool off after that run, Zucker did produce for the Penguins down the stretch with three more goals, including a game-winner in a crucial victory against the Nashville Predators to keep his team's playoff hopes alive.
Related: Penguins: 3 Potential Free-Agent Destinations for Jason Zucker
While the Penguins ultimately failed to clinch a playoff spot, the blame hardly falls on Zucker's shoulders. The question now is where the incoming GM will find production to replace his should he decide to seek out a new team in free agency this summer.
Final Grade: A
Jake Guentzel Remained Consistent
Since Guentzel's breakout 2018-19 season, the winger has been a reliable threat, scoring at nearly a 40-goal pace for much of that time. His numbers are starting to remind me of former Penguin Joe Mullen.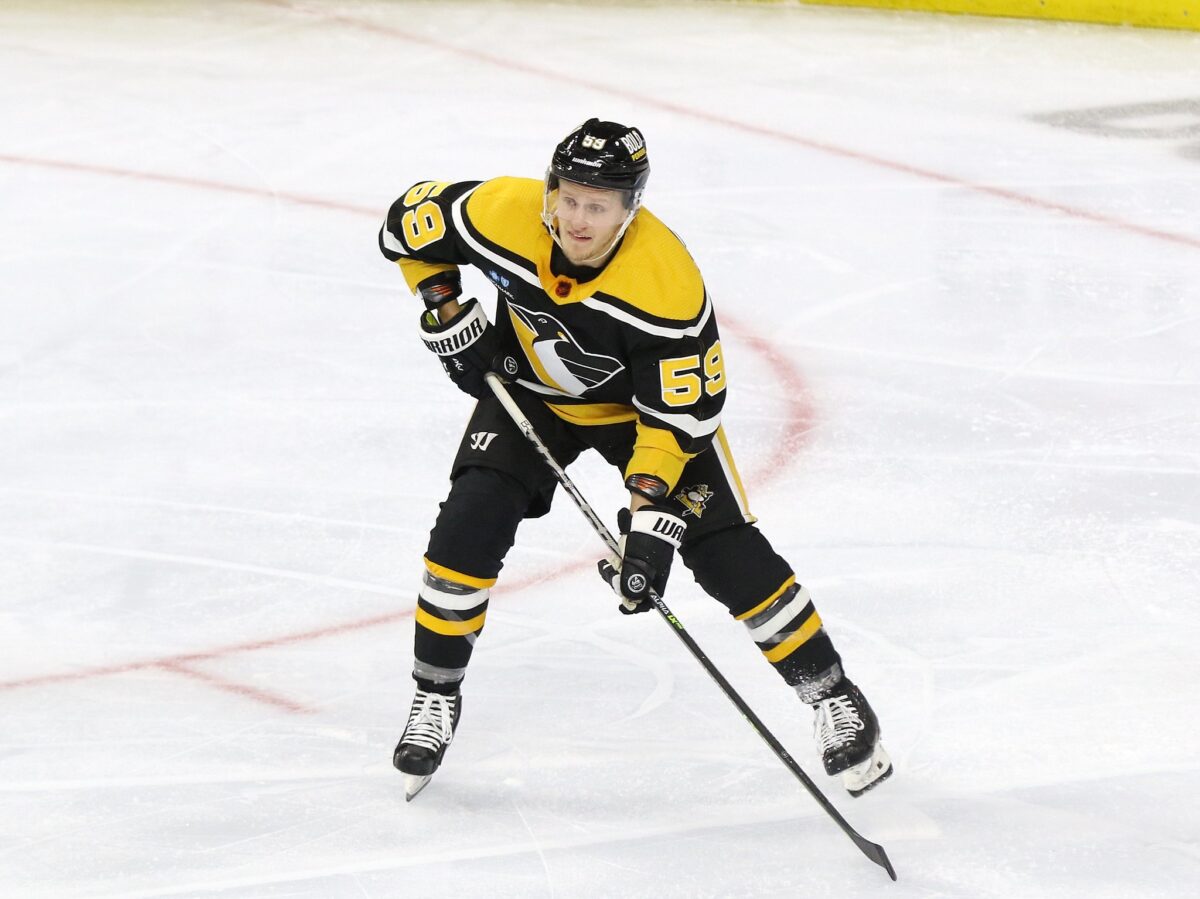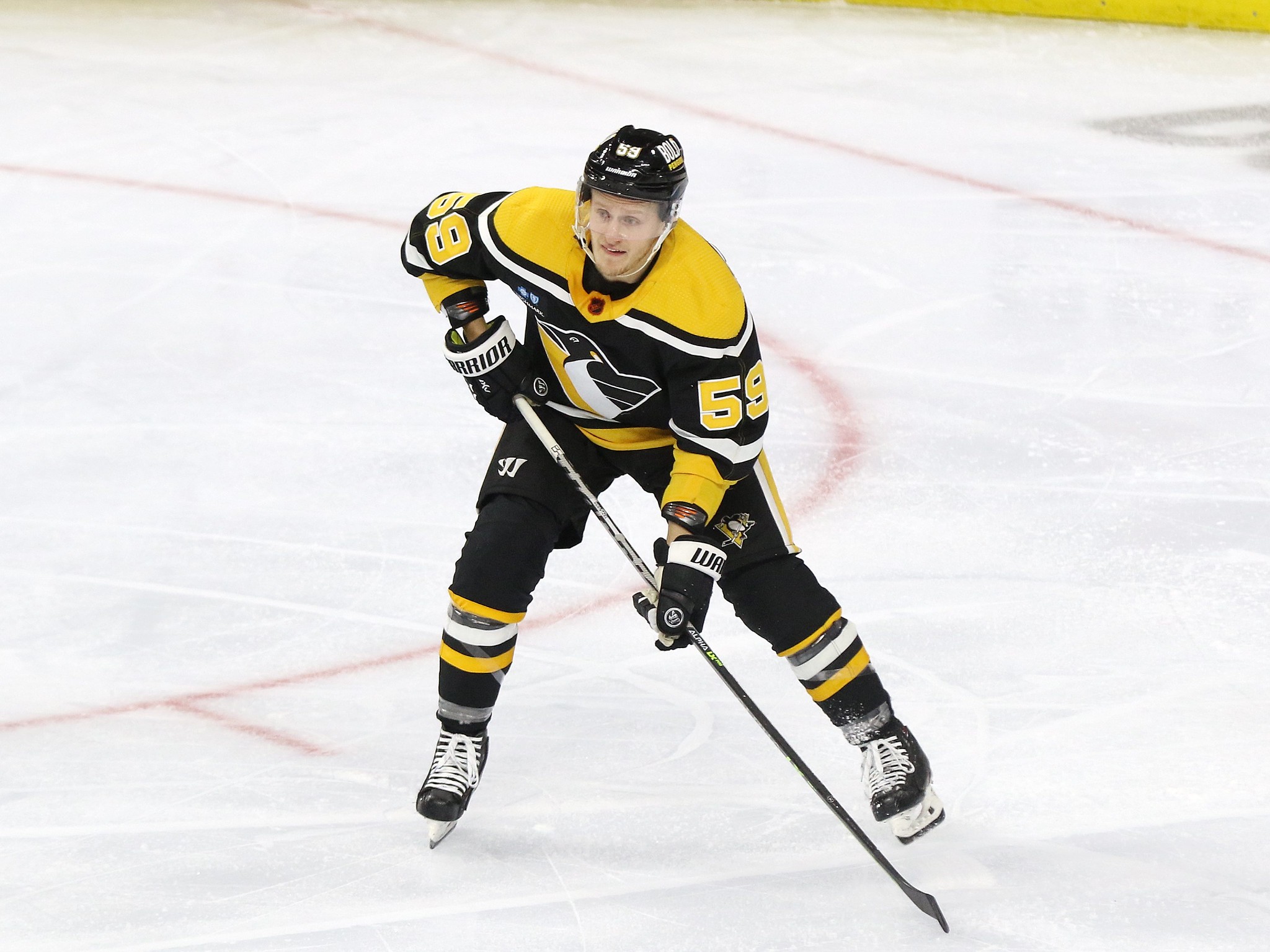 Sure, his 73 points did dip from his 84 points a year ago, but that's hardly anything to worry about. In fact, he has now scored 159 goals and 333 points in 331 games over these past five seasons.
---
Latest News & Highlights
---
With 36 goals overall, Guentzel led the Penguins' attack this season. His 25 even-strength tallies tied Zucker for team best, and his 11 goals on the power play tied Rickard Rakell and Malkin to pace the team.
Granted, he was weak defensively, also a mark of consistency for him, but his primary job is to put the puck in the net. And he did his job well, even down the stretch when the Penguins struggled to score while fighting for their playoff lives.
During the last quarter of the season, it felt like Zucker and Guentzel were scoring all the Penguins' goals, and in a 15-game stretch, Guentzel scored 11, including two game-winners. Five of those came in a span when the team went 3-3-0. However, he too went cold in five games in April, including the April 11 loss against the Chicago Blackhawks, when the Penguins were officially eliminated from the playoffs.
Guentzel has one more year left on his contract, and that combined with the sting of a playoff absence should help motivate the 28-year-old to get back over the 40-goal mark and his team in contention for another Stanley Cup run.
Final Grade: B
Brian Dumoulin Has Seen Better Days
The 2022-23 season is one Brian Dumoulin would rather forget. Not only did it see the end of the team's playoff streak, but it was a frustrating one for the longtime Penguins' defenseman.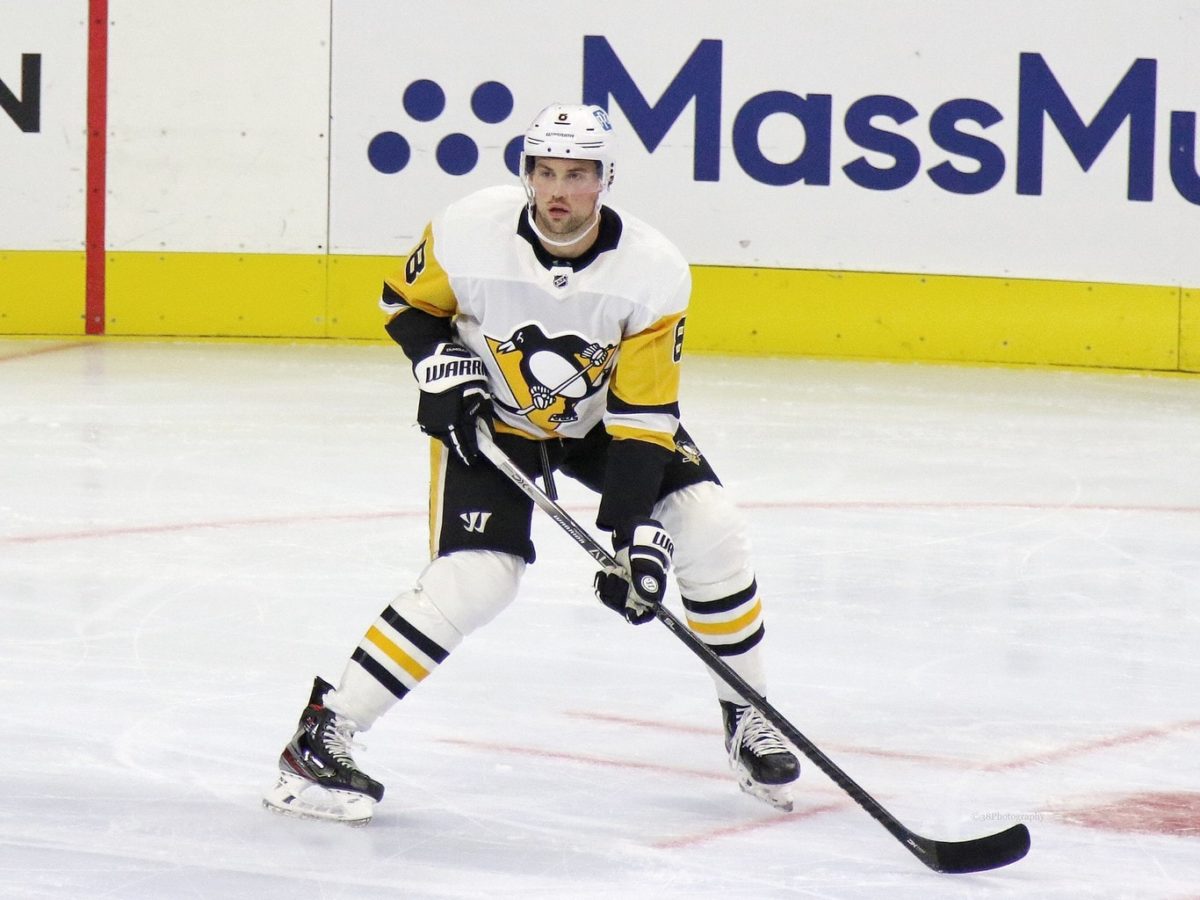 He's never been one to light up the scoresheet, so his scoring only a goal and 25 points was not the issue. It was that he was no longer as reliable at preventing goals.
In 82 games – the only Penguins blueliner to appear in the full schedule – he recorded a lowly minus-4 plus/minus rating, down from a plus-24 a year earlier. Though the stat is flawed, it is worth noting that Dumoulin was burned for more goals (115) than any Pittsburgh skater, and second only to goaltender Tristan Jarry.
Though he threw plenty of hits (123) and blocked plenty of shots (142), the once reliable stay-at-home defender looked far less fleet of foot than divisional foes like Jack Hughes. Dumoulin enters free agency this summer, so his future with the team is uncertain (from 'Penguins A to Z: Is this the end for Brian Dumoulin?' Pittsburgh Tribune-Review, 5/9/23).
Final Grade: D
Bottom Line
Missing the playoffs was a blow to the Penguins. The silver lining was that for Zucker and Guentzel, at least, they enjoyed solid seasons they can build on. For Dumoulin, it likely can't get worse.
Still, moving forward there is that uncertainty to deal with. Only Guentzel knows he's returning for sure. Zucker and Dumoulin may find themselves on a different team this summer, so, like them, we will have to wait and see what happens.