The first week of the season is becoming an annual tradition of roster complication and chaos for the Pittsburgh Penguins.
Front offices around the NHL probably don't feel bad for the Penguins — a team blessed with young star talent and the financial support from ownership to spend to the salary cap — but preseason transactions in recent years have left even diehard fans with more questions than answers.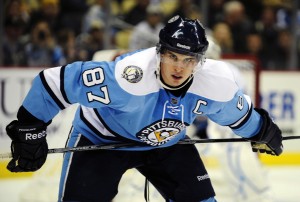 In 2010, training camp standout Eric Tangradi was briefly demoted to the Penguins' ECHL affiliate in Wheeling before being recalled in time for opening night.  The quick move allowed the Penguins to maximize salary cap flexibility as it related to Jordan Staal's long-term foot injury.  Had the team not shuffled Tangradi to Wheeling, the Penguins might have faced a cap situation a few weeks into the season where they would have been been playing with a less than full lineup.
The breakdown of The Tangradi Code (as termed by Eric Majeski) was a Penguins Payroll 101 intro class and, for the sake of space, is probably a prerequisite read for this year's analysis.  The same methods, misconceptions, and CBA legalese might come into play in the coming days for the Penguins and cap specialist Jason Botterill.
(Note: We may have missed critical pieces of information in this analysis and certainly welcome any questions and/or corrections in the comment section below.)
Last week we hinted at the potentially complicated situation Penguins GM Ray Shero and his staff faced when deciding on a lineup to start the season.  Opening Day 23-man rosters are due on Wednesday at 3pm, but the Penguins leave for Vancouver on Tuesday and chose to address their roster decisions early.
Monday brought the first moves in their gameplan:
Forward Jason Williams and defensemen Alexandre Picard and Brian Strait were re-assigned to Wilkes-Barre/Scranton of the American Hockey League (AHL). Defenseman Joseph Morrow was returned to his junior team, the Portland Winterhawks of the Western Hockey League (WHL).

Williams and Picard will have to clear waivers by Tuesday at noon before joining WBS.

Pittsburgh also placed forwards Sidney Crosby, Dustin Jeffrey and Nick Petersen and defensemen Robert Bortuzzo and Boris Valabik on injured reserve.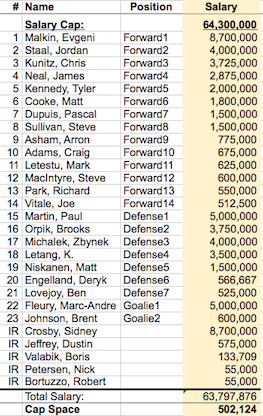 So what does this all mean?
Based on Monday's cuts, the Penguins are down to 23 active players and sit approximately $500k under the salary cap (players on injured reserve still count against the cap).  The CBA dictates that the cap hits of Valabik, Peterson and Bortuzzo are handled uniquely for the time being because the players were injured during training camp.  Their cap hits in the chart to the right reflect a pro-rated amount based on time spent at the NHL vs. AHL level last season.
Here are a few other things to keep in mind when dissecting the Penguins roster:
Alexandre Picard and Jason Williams both cleared waivers and were assigned to Wilkes-Barre of the AHL.  Neither player will need to clear re-entry waivers in the case of a recall because their minor-league salaries do not exceed the $105,000 threshold.
If Picard or Williams are recalled to Pittsburgh and then demoted again, they will not have to clear waivers as long as they do not appear in 10 or more games or spend 30 or more days on the NHL roster.
Injured players cannot be demoted.  Picard had been recovering from what looked to be a hand or wrist injury and Williams had been very limited in camp with a lower-body ailment, but their demotions indicate both players should be ready to go for Wilkes-Barre.
Players on Injured Reserve must miss at least seven days.
Shero told the Penguins website on Monday that "Crosby can be removed from IR when he is healthy because his injury occurred last season".
The same logic should apply to Dustin Jeffrey, who was recently cleared for contact.  Jeffrey is not eligible for a two-week conditioning stint in Wilkes-Barre at this point, but depending on a number of factors this might become an option in the future.
IR and LTIR (long-term injured reserve) are not mutually exclusive options.  This is often misreported.  The LTIR exception is merely an IR designation that allows the team to exceed the salary cap ceiling.  LTIR does not become an option for NHL teams until opening day.
In order for a player to be eligible for LTIR, he must be deemed unfit to play for 24 days and 10 regular season games by the team doctor. A team may take the LTIR exception at any point during the period the player is unfit to play and time already missed is counted retroactively.
Information on projected returns has been hard to come by for Crosby (concussion), Jeffrey (knee), Peterson (concussion), Valabik (knee), and Bortuzzo (knee).
There is no limit on the number of LTIR exceptions a team can invoke during a given season.
As the roster stands now, Shero and Botterill look to be within CBA guidelines for the salary cap and opening day roster.  After that the team will need to monitor a number of potential cap-crunch scenarios:
If a player on IR is ready to return, another active player will need to be demoted (and possibly placed on waivers).
It's hard to believe that Brooks Orpik (offseason abdominal surgery on July 20) will be ready to play by Thursday — or anytime soon.  He's already well behind his initial 6-8 week recovery timetable and just participated in his first full practice on Saturday.  He says he'll be very cautious with his recovery and won't be afraid to take more time off if the injury acts up again.
If Orpik does miss games, the Penguins will be left with six healthy defensemen on the active roster.  An injury to any of the six would lead to more roster shuffling and cap management.  This is a situation that could quickly unravel for the Penguins if injuries mount like they did early last season.  The team might be forced to take retroactive LTIR exceptions on players such as Jeffrey or Crosby — assuming they are eligible.
Needless to say, the work has just begun for Shero and Botterill.
 ___________________________________
Based on recent practices, preseason games, hints from Coach Bylsma and a few guesses, the lineup should look like this on Thursday:
Sullivan – Malkin – Neal
Kunitz – Staal – Kennedy
Cooke – Letestu – Dupuis
Asham – Adams – Vitale
Martin – Michalek
Letang – Engelland
Niskanen – Lovejoy
Fleury
___________________________________
It's amazing how quickly preseason injuries have affected the Penguins' stockpile of defensive depth.  If Picard was claimed off waivers on Tuesday the team would have been in a tight spot when it came to making future call-ups.  The cheapest defenseman (inclusive of bonuses) at the minor-league level on an NHL contract aside from Picard is Alex Grant at $790,000.  Grant probably isn't ready to handle NHL hockey at this point in his career and Shero might be forced to look outside the organization for a cheaper option if injuries mount as they did last year.
The Penguins were in touch with veteran blueliner Colin White two months ago — prior to his signing in San Jose (1 year, $1m) and at a time when the team was looking set on defense.  The conversation may have just been kicking the tires, but I think it highlights a potential weakness that Chris Mack astutely identified on Sunday:
This team, as mentioned earlier, has a sickening amount of depth, especially on defence. But no one on the blue line, aside from Orpik, is especially deft at physically moving opposing bruisers out from in front of Fleury and Brent Johnson.
The Penguins inability to protect the front of the net was clear in their first-round playoff loss to Tampa last year and will really be tested if Orpik has to miss any time to start the season.  Ben Lovejoy, Matt Niskanen, and especially Deryk Engelland will get an opportunity to show they can be physical and responsible third-pairing defensemen, but if they fail, don't be surprised if Shero shops for a veteran shutdown defenseman capable of filling the role.
___________________________________
All of this number-crunching demonstrates the importance of savvy contract negotiation for a team that operates at the league's salary cap ceiling.  Every dollar can mean the difference between being able to recall a certain player or not.
Over the summer, contract drama surrounding Tyler Kennedy and Jaromir Jagr pushed negotiations with AHL goalie Brad Thiessen out of the spotlight.  Thiessen was a restricted free agent and in late June was tendered a qualifying offer from the Penguins.  Under CBA rules, the qualifying offer was a standard two-way deal paying Thiessen $632,500 at the NHL level.
Thiessen has no NHL experience, but could have held out for more money coming off a season where he set Wilkes-Barre franchise records.  (Minor-league goaltender Mark Dekanich received a one-way contract with the Columbus Blue Jackets this year despite having just 50 minutes on his NHL resume.)  Instead, Thiessen declined the qualifying offer and signed a two-way deal at the league minimum of $525,000.
A source confirmed that Thiessen voluntarily lowered his NHL salary because the team offered him a slight raise on his AHL salary and, more importantly, the lower NHL number allows the Penguins greater flexibility for a call-up.  Thiessen knows it'll take an injury to Marc-Andre Fleury or Brent Johnson to get recalled to Pittsburgh this season, but he doesn't want an unfavorable salary or anything else to cause the team to look further down the depth chart for a solution.
"There's two great goalies in front of me [in Pittsburgh]," Thiessen told Penguins website writer Michelle Crechiolo at camp.  "I'm just trying to show that if there is an opportunity for me to play, that I can play."
Thiessen's case is proof the 'Penguins Dividend' is extending all the way to the AHL level.
___________________________________
Mike Colligan is the Pittsburgh Penguins correspondent at TheHockeyWriters.com and an NHL analyst at Forbes SportsMoney.  You can email him at MJColligan@gmail.com or follow his updates on Twitter: @MikeColligan