This article is what we might be reading at the end of this season if it all goes wrong for the Habs. The author is not a complete pessimist though, the article is joined with another one titled, you guessed it – "If it All Goes Right". I imagine, as usual, the truth will lie somewhere in the middle. But for now let's jump forward in time a few months and ponder the worst case scenario…
*****************
In reality, the chase for the playoffs ended March 12 at Buffalo. It was a microcosm of the season. The Canadiens couldn't score on Ryan Miller (or anyone else for that matter). Buffalo caught scoring chances because of another game filled with back-end mishaps. The scoreboard said 3-0, and the Canadiens dropped to 12th in the Eastern Conference.
The team was forced to rely too much on Tomas Plekanec. Scott Gomez had a bounce back season, alright. The dead cat bounce. He started out with points in three of his first four games but then went struggled mightily and brought the Canadiens second line down with him. Andrei Markov barely played, his knee injury turning out to be much more serious than originally thought and that put too much pressure on youngsters Alexei Yemelin and Raphael Diaz.
Carey Price had no chance. He wasn't bad, but he wasn't particularly great either. This team needed him to be great. Erik Cole was hurt and when he was in the lineup, he struggled. Max Pacioretty didn't develop a good preseason into a good season. Mike Cammalleri still couldn't find his scoring touch, scoring just 18 goals.
The youngsters David Desharnais and Lars Eller? They were even worse than a year ago. We were banking on improvement, we got none of it. Andrei Kostitsyn was great. He scored 25 goals but it looks more and more likely that he has played his last game in Montreal, and Pierre Gauthier – hoping to get a second half push – held on to him at the Trade Deadline so the Canadiens will get nothing for him. He doesn't want to stay and play for the coach.
This was supposed to be a season where the Canadiens jumped into the competitors in the NHL. They failed. Whether it was bad luck, or bad roster construction, this team wasn't ready to take the next step. They have a long offseason to think about it.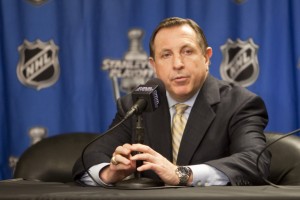 The team played in Jacques Martin's defensive shell, but it didn't work. Too many second chances for opponents, not enough offensive creativity. Once they let in the first goal, you knew they weren't going to win.
In the end the nail in the coffin was the Buffalo game. After which we all gave up hope. It was the entire Western road trip. It started with a loss to the Flames. Peter Budaj couldn't hold the fort and Jarome Iginla embarrassed Hal Gill. Then, they lost to the young Oilers. Taylor Hall, Jordan Eberle both scored in the first period, and they made the Canadiens look pedestrian. The Canucks. Oh, the Canucks. They are fighting for top spot in the West, and they schooled us. Carey Price is going to have nightmares of the Sedin twins on 2-on-1s and on the power play. He let in five, but none were his fault.
That brought us to Buffalo. Ville Leino and Christian Erhoff scored, then they added an empty netter. But that was it. 12 points out of 8th. Four teams to pass. It was over, and we're lucky that the Canadiens managed to stay in front of Ottawa and the Islanders. That really would have made this season bad. Not that it already wasn't.
It was hard to watch, and it's going to be interesting to see how the team goes from here. I've trusted Gauthier, but he has a lot of work to do. This team has the talent. They just weren't able to put it together, and looked silly trying.
It wasn't all bad. They had prospects have great years in the CHL. Brendan Gallagher, Michael Bournival and Nathan Beaulieu both had their best seasons after a great camp and Jarred Tinordi is captain of one of the best teams in the league and showed that he can move around on the ice.
They might all be able to make an impact next year. The organization needs a pick-me-up.
[The flip-side of this, 'If all goes Right' is found here..]
A freelance sports reporter in Montreal with a BA in Journalism from Concordia University, Jared has written about every sport from hockey to tennis online and in print. He will be covering the Montreal Canadiens for THW. You could follow him on Twitter at www.twitter.com/jaredbook.